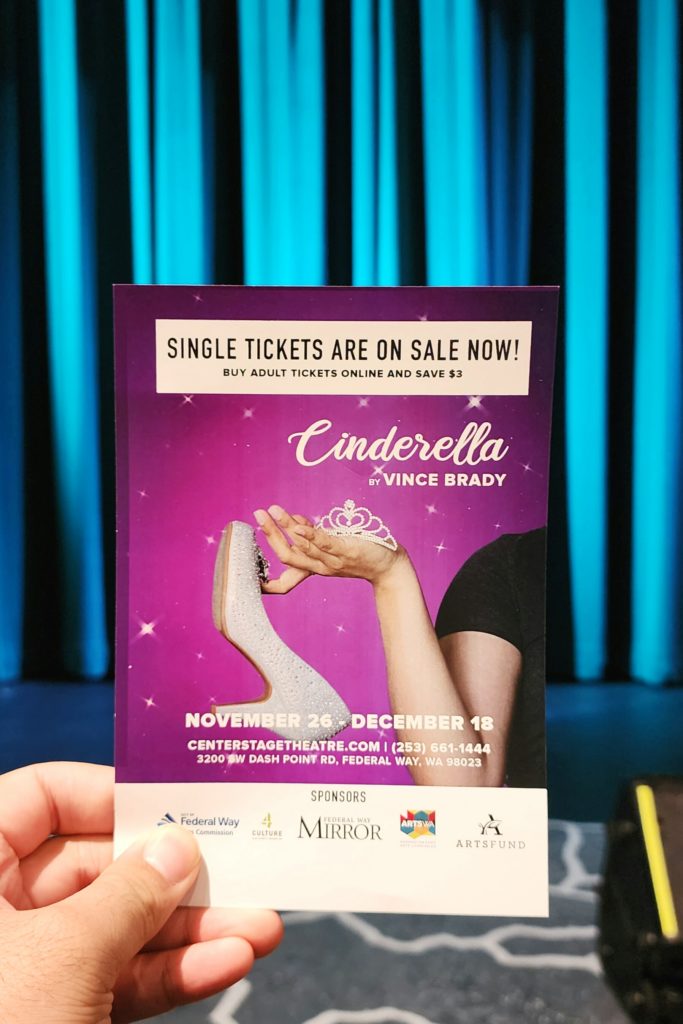 Elevator Thoughts (aka Tweet): Cinderella pantomime at Centerstage Theatre. 1st time seeing a British panto & was pleasantly surprised there was singing w/ a band. Even included #drag. Awesome Cinderella and Button actresses. Witty jokes. Feel-good family-friendly experience. #campy
Synopsis from the Theatre: Celebrate the most magical time of year with the most magical fairy tale of them all – Cinderella! For fifteen years Centerstage has enchanted audiences with its traditional holiday pantomime (the Panto). Young and old enjoy the sparkle, glitter, and chaos of this family-friendly laugh-a-minute traditional British treat. Audience participation is encouraged and enhances the cleverly choreographed mayhem. The Fairy Godmother, Cinderella, Prince Charming and, of course, the Wicked Stepsisters deliver holiday joy to everyone–from age 5 to 95!
Reviewed Performance: 11/26 Afternoon – Opening Day
Type: Pantomime
World Premiere: Yes? I think this theatre produces their yearly pantomimes new in-house. Please let me know in my social media post if you have information.
Live Band/Orchestra: Yes
Recommendation: See it if 1) you've never attended a pantomime, 2) you like pantomime, 3) or you want to take kids to a show.
Would I See It Again 3 Years from Now?: Yes if it was an Equity production
Rating Compared to Other Shows with the Same Production Value:
4.25 Stars (Out of 5 Stars)
Equity Actors: 1 actor out of 20-ish. The non-Equity main characters were very good.
Length: 2.75 hours – I'm surprised the kids in the audience were okay this long!
Intermission: Yes
Other Rave(s) Not Mentioned in Elevator Thoughts
Cleaver Quips: I smiled and laughed a lot during this show. Maybe it was the funny jokes. Maybe it was the novelty of panto.
High Kicks: Dandini (Jasmine Wright) performed impressive kicks!
Songlist: Included songs from musicals (like The Wiz, Hairspray, & Les Misérables) and pop culture.
Rant(s)
Time to Cure: This production could use more time to solidify and tighten up the performance. However, I attended the opening day and this problem will certainly improve as they continue to perform this show.
Microphones: They need to increase the volume of the minor characters and reduce the crackles from various microphones.
Other Thought(s)
Pantomime: This was my first time seeing a British "panto." I'm very curious how this novel experience compares to pantos performed in the UK. It was interesting how they frequently broke the 4th wall and encouraged the audience to yell things out. I know the kids certainly loved that.
Dress Transformation: This was the first time I've seen a costume transformation like how this production turned Cinderella's rags to a gown. It was definitely more cost-effective than what I'm used to seeing. However, it was still effective since the kids sitting behind me were trying to figure out how the trick was done. I won't spoil the stage magic for you though!
Wardrobe Malfunction: Someone's pants fell during a song and I don't think it was intentional. Fortunately, they weren't the focus during the scene. Oh, the magic of live theatre!
Kid Performers: I'm usually not a fan of seeing kids on-stage especially if they're not in a professional Equity production. That being said, it was refreshing to see this production mix amateur kids with older more experienced actors. I'd like to think that it's a good mentoring experience for the child performers and a better experience for the kids in the audience.
Theatre Company : Centerstage Theatre
Venue: Dumas Bay Centre
Venue Physical Address: 3200 SW Dash Point Rd, Federal Way, WA 98023
Price: Cheap
Dates: November 26 to December 18, 2022
Seating: Assigned
Parking: Free and plentiful lot parking.
Social Media Posts About this Performance from Shows I've Seen: Instagram | TikTok | Facebook | Twitter | YouTube
Buy a Ticket or Learn More:
Cast and Production Team: See under the multimedia below.
Other Video +/- Pictures: Pictures in video and under video are by Michelle Smith-Lewis.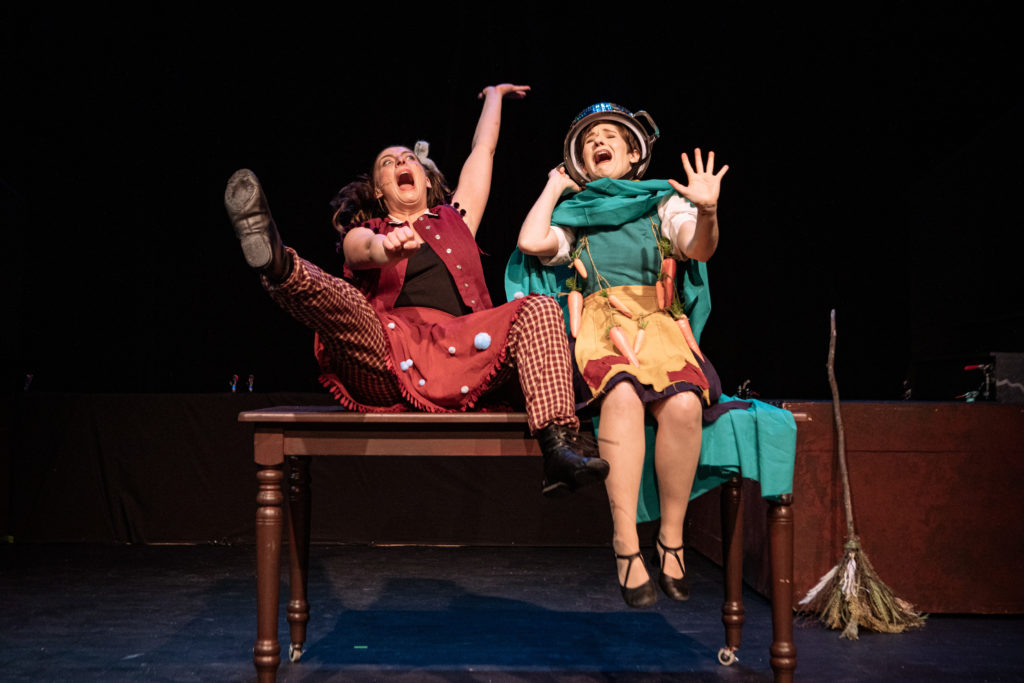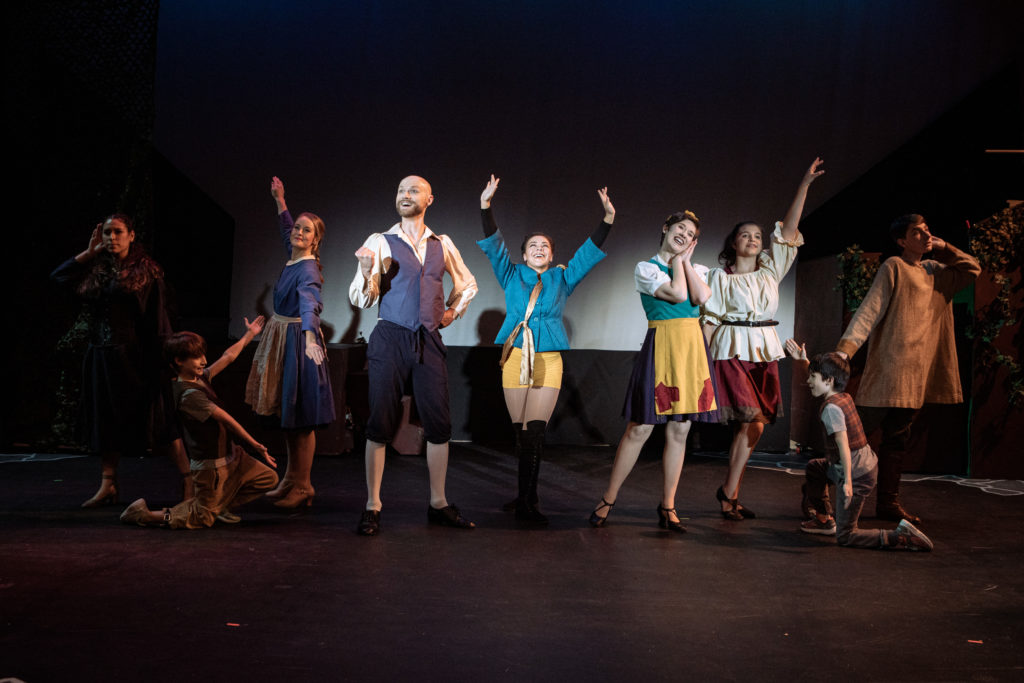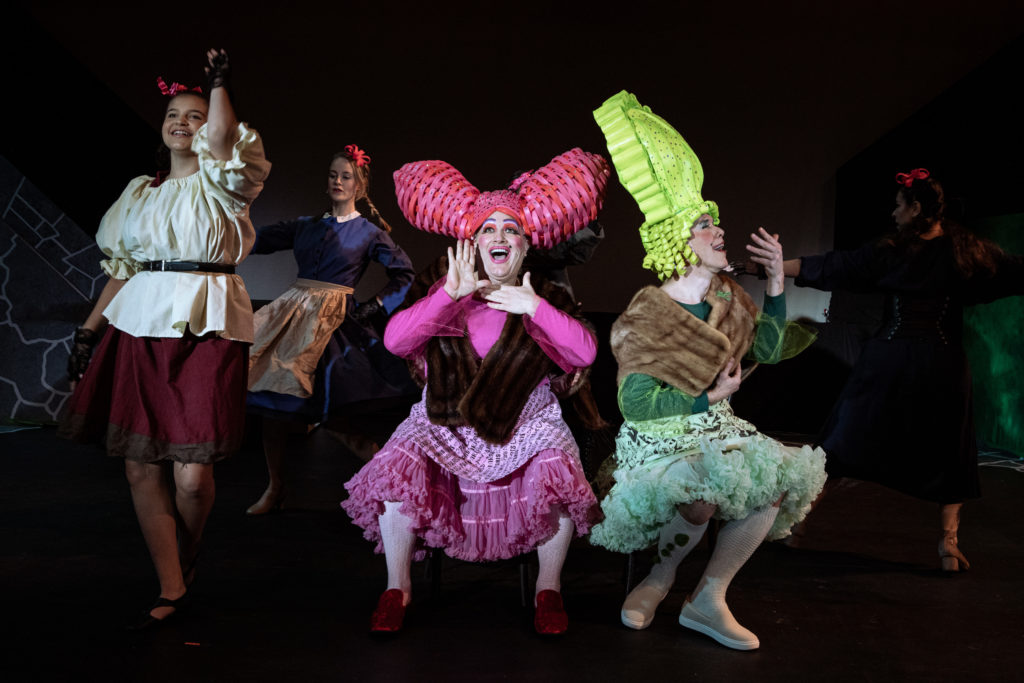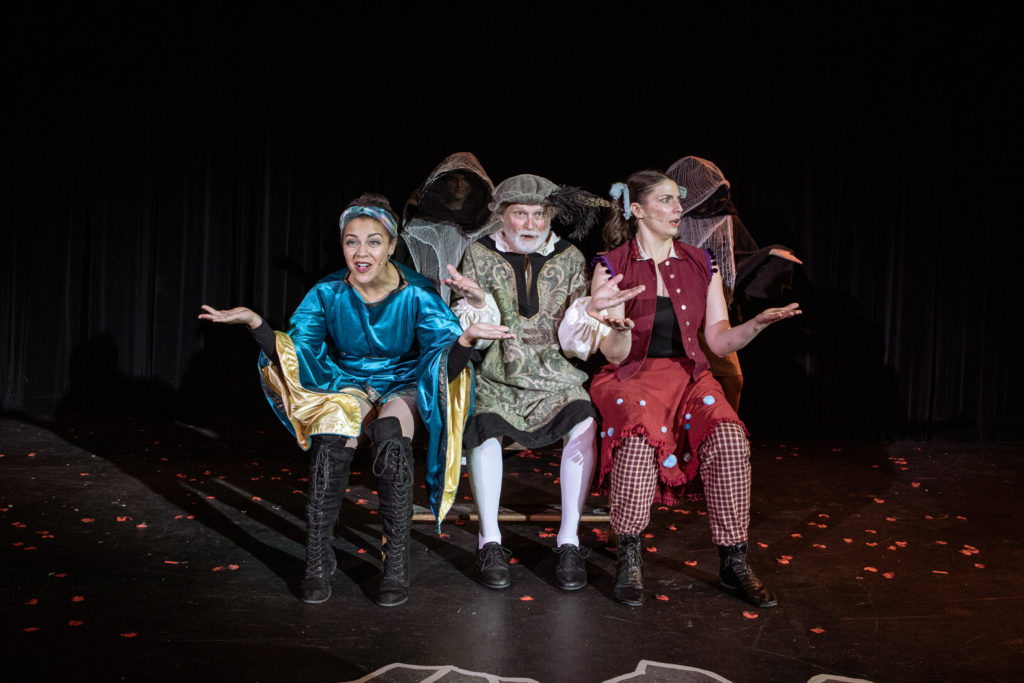 Role

Name

Cinderella
Jessie Selleck
Prince
Kyle Sinclair
Stepsister Kourtney
Brad Cerenzia
Stepsister Khloe
Bob Dedea (Equity Actor)
Fairy Godmother
Carrie Sleeper-Bowers
Buttons
Meghan Ames
Dandini
Jasmine Wright
Baron Hardup
Dale Bowers
Featured Ensemble
Leila Niedlinger (Dance Captain)
Dean Marshall
Colleen Michelle
Ensemble
Aimee Coronado
Keith Ordonez
Maddie Carlson
Will Johnson
Juvenile Ensemble
Matiya Searing (Young Cinderella)
Jonathan Martin
Jamie Martin
Juvenile Ensemble Understudy
Miriam Clark
Keyboard
Deborah Armstrong
Drums
Tai Taitano
Guitar
Cameron Schneider
Bass
Darren Olson
—
—
Director & Playwright
Vince Brady
Assistant Director
Helen Marion-Rowe
Stage Manager
Samuel Osborn
Assistant Stage Manager
Madeline Hiller
Choreographer
Cassie Jo Fastabend
Music Director
Deborah Armstrong
Arranger
Sam Peters
Scenic Designer
Niclas Olson
Costume Designers
Morgan Morgans
Trista Duval
Sound Designer
Benjamin Symons
Props Designer
Henry Behrens
Scenic Artists
Tori Dewar
Jasmine Johnson
Set Construction
Niclas Olson
Will Johnson