Elevator Thoughts (aka Tweet): "Hedda Gabler" Ibsen play by new theatre company General Gabler's Theatre at West of Lenin staring Natalie Schmidt and a cast of only female or non-binary actors. There's something alluring about an antihero.
Synopsis from the Theatre: Join us in 19th century Christiania (Oslo) at the spacious home of a woman with plenty of will but no room to exact it. She thought she made a wise deal with the man she just married. She would be his wife, and he would provide her with the safe and respectable means to occupy her active mind. But when it becomes clear that her husband can't fulfill his end of the bargain, her active mind quickly turns toward the dangerous.
Attended Performance Date: 8/11/23 (Closing Weekend)
Type: Play
World Premiere: No
Several or Few Scenes: I think it was just 3 scenes
Several or Few Settings/Locations: One
Prior Exposure/Knowledge Required: No
Defined Plot/Storyline: Yes, but there's only so much that can occur in a single room and 3 scenes. Most of the storyline was conveyed through storytelling and not action.
Recommendation: See it if you're okay with plays that contain few scenes and locations
Was This the First Time I Attended a Production of this Show: Yes
Would I See It Again 3 Years from Now: I'd consider seeing an Equity production
Rating Compared to Other Shows with the Same Production Value:
4 (Out of 5 Stars)
Equity Actors: 0
Total Number of Actors: 7
Perceived Pace of the Show: Slow to medium
Length (Including Any Intermission): 2 hours
Intermission Included: Yes
Other Rave(s) Not Mentioned in Elevator Thoughts
Favorite Characters/Actors: I enjoyed Judge Brack (played by Joyce Thi Brew) and Hedda Gabler (played by Natalie Schimidt) the most. They reminded me of the toxic interactions between Chuck Bass and Blair Waldorf in the Gossip Girl TV show especially with the negative, cold, controlling/calculating personalities of Hedda and Blair.
Other Musing(s) and Observation(s)
Moral of the Story: What message was the playwright trying to convey with this work? Was the play purely for entertainment value or was there a moral to the story?
Fire: The fire in Hedda Gabler reminded me of the circumstances surrounding the fire in Ibsen's Ghosts.
Theatre Company: General Gabler's Theatre
Venue: West of Lenin
Venue Physical Address: 203 N 36th St #204, Seattle, WA 98103
Price: Cheap
Ticket Affordability Options: Pay-what-you-can … even free!
Dates: August 4 to 12, 2023 – Sorry, for the late post! I attended a closing weekend performance.
Seating: General Admission Seating
Parking: There's paid lot parking or free street parking. I can usually find street parking behind the theatre closer to the water.
Like/Comment/Share my Social Media Posts About this Performance:
Instagram | TikTok | Twitter | Facebook | YouTube | Threads
Buy a Ticket or Learn More:
Other Video +/- Pictures: See pictures in video and under video by Joe Iano.
Cast and Production Team: See after pictures and video below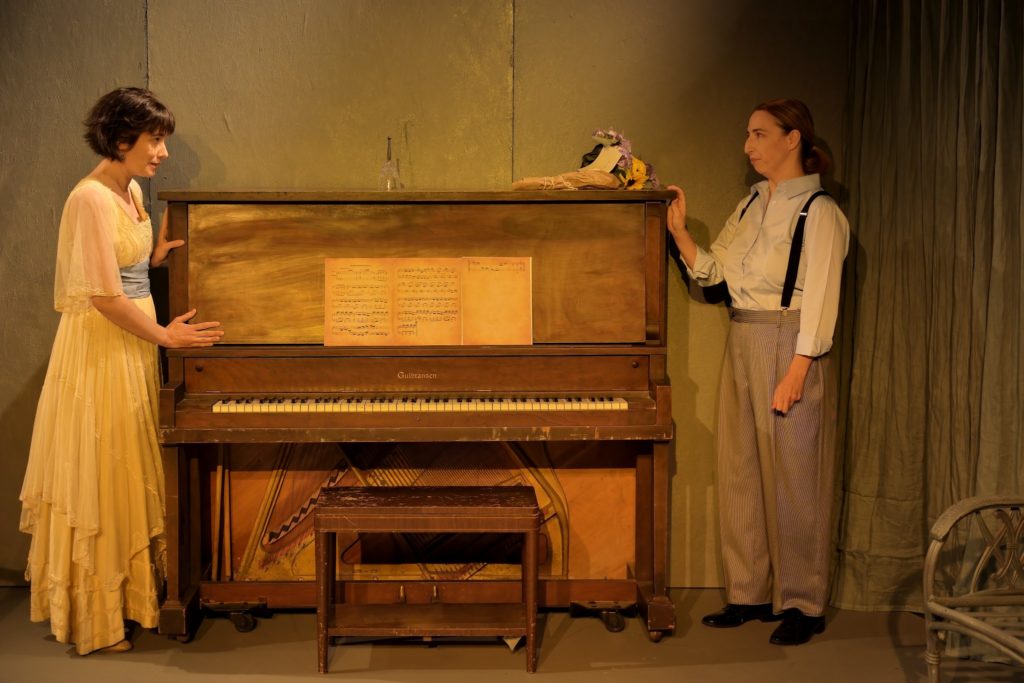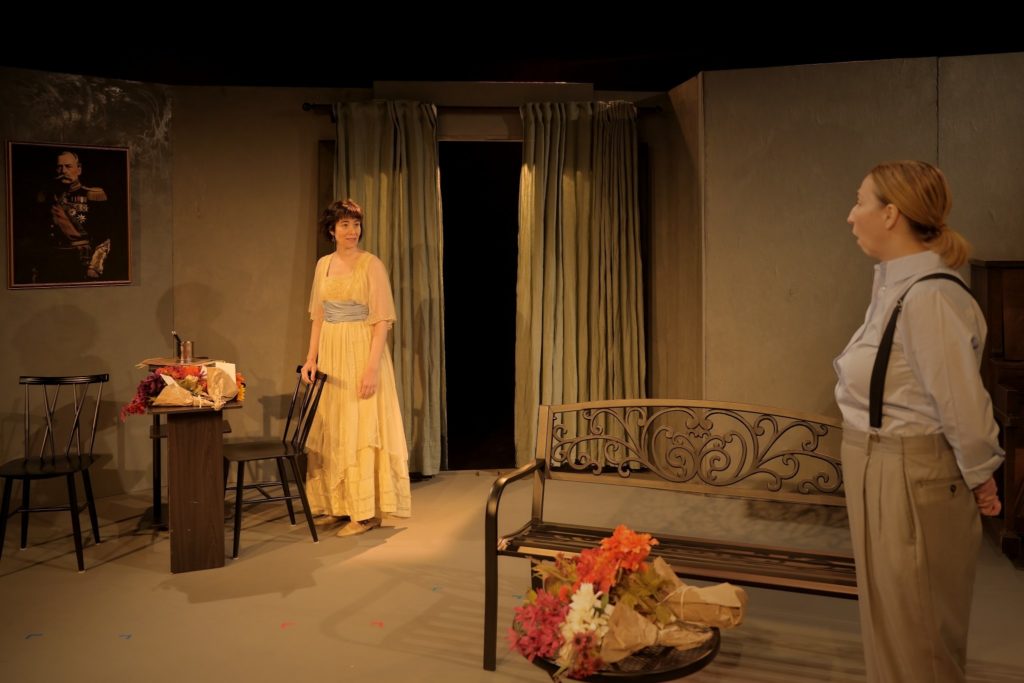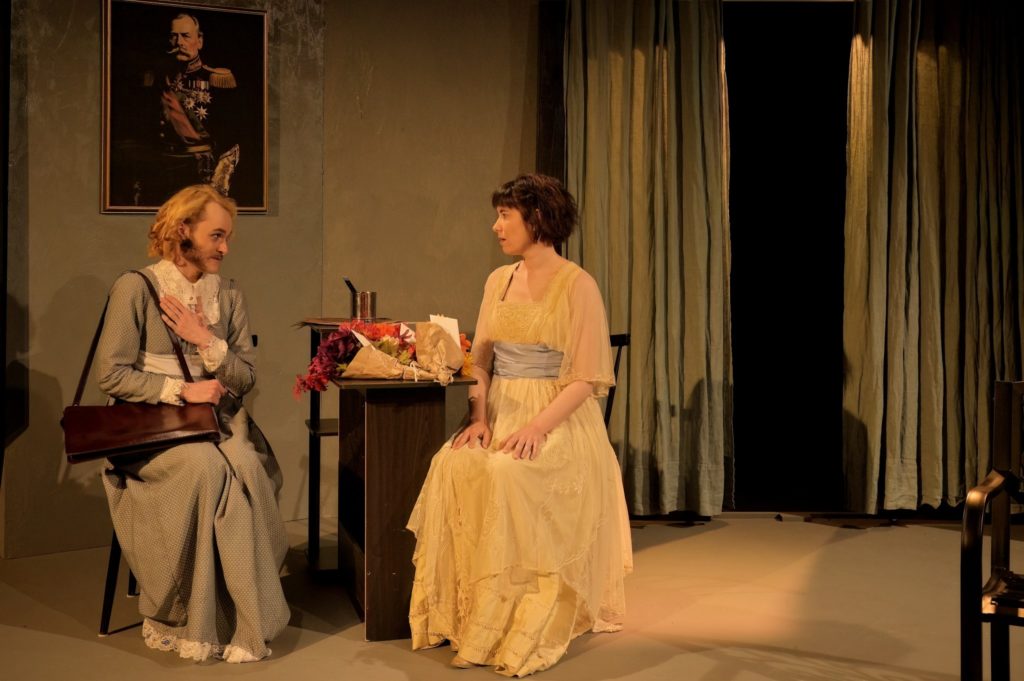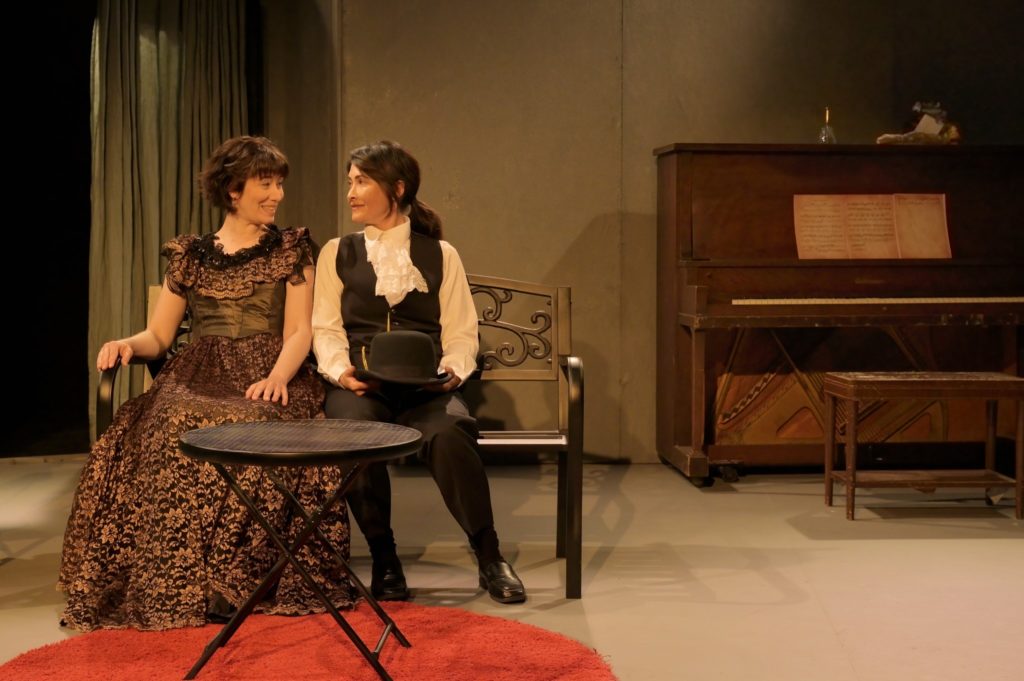 | | |
| --- | --- |
| Role | Person |
| Hedda Gabler | Natalie Schmidt |
| Jörgen Tesman | Ann Pielli |
| Judge Brack | Joyce Thi Brew |
| Thea Elvsted | Danny J. Hassett |
| Ejlert Lövborg | Aarti Tiwari |
| Juliane Tesman | CaroIynne Wilcox |
| Berte | Rebecca Pugh Parker O'Neil |
| — | — |
| Playwright | Henrik Ibsen |
| Translator | Eva Le Gallienne |
| Director | Helen T. Mariam |
| Stage Manager | Bailey Dobbins |
| Assistant Stage Manager | Indira Rampersad |
| Scenic Designer | Garrett Dill |
| Lighting Designer | Dani Norberg |
| Props Designer | Jessamyn Bateman-Iino |
| Sound Designer | Lisa Finkral |
| Costume Designer | Zoé Tziotis Shields |
| Choreographer | Rachel Blaze Ferguson |
| Composer | Fanny Mendelssohn Hensel |
| Production Photographer | Joe lano |
| Poster Designer | Adriana Lippy |