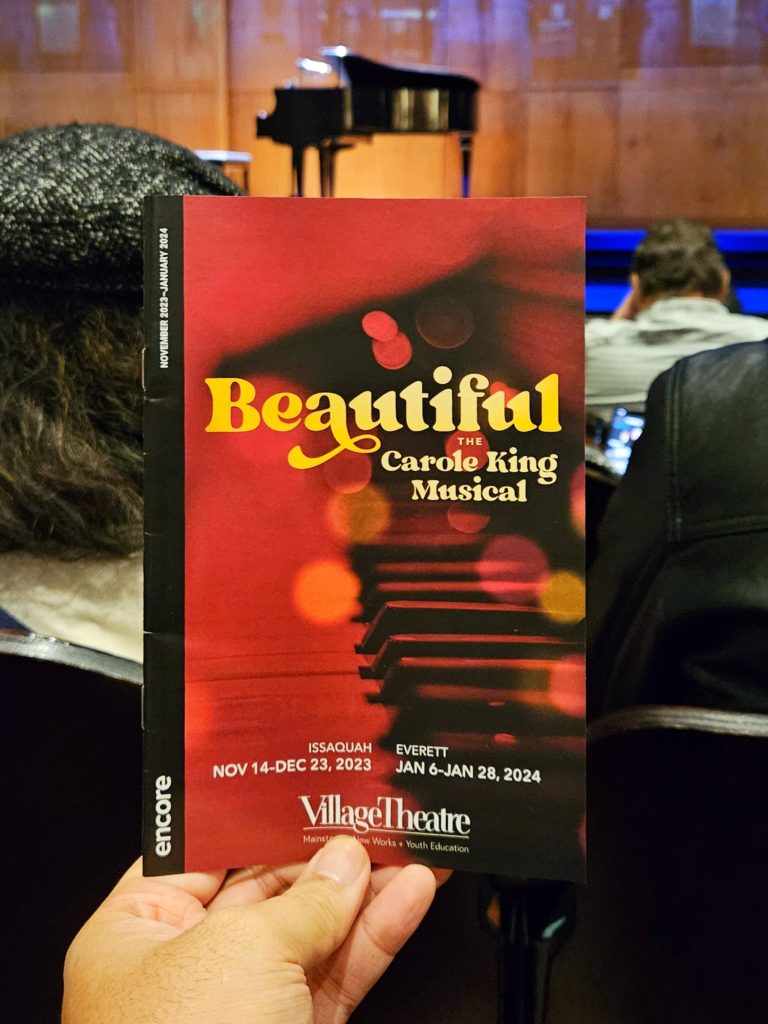 Elevator Thoughts (aka Tweet): Beautiful jukebox musical at Village Theatre featuring retro aesthetic & Carole King songs. After seeing the national tour twice & this local production once, I'd still see it again! Starring Sarah Rose Davis. Directed by Lisa Shriver & music directed by RJ Tancioco.
Recommendation
See it, especially if you enjoy Carole King's music.

Synopsis from the Theatre: She wrote the soundtrack to a generation. Beautiful tells the touching and true story of chart-topping musical legend Carole King's remarkable rise to stardom: beginning as an ordinary girl with extraordinary talent, charting her rock 'n roll songwriting with husband Gerry Goffin, exploring her relationship to fellow writers and best friends Cynthia Weil and Barry Mann, and forging her path to becoming one of the most successful and enduring solo artists in popular music history. Chock full of your favorite hits like "One Fine Day," "Will You Love Me Tomorrow," "The Locomotion," "(You Make Me Feel Like a) Natural Woman," "You've Got a Friend," and so many more, Beautiful is more than just beautiful music— it's an inspiring story of a groundbreaking female artist who forged her own path in the male-dominated music industry, finding her own true voice and moving the earth for us all.
Attended Performance Date: Opening Night 11/17/23 – See my previous preview posts here.
Type: Musical
World Premiere: No
Several or Few Scenes: Several
Several or Few Settings/Locations: Several
Static (Stationary) Set: No
Prior Exposure/Knowledge Required: You'll probably appreciate this musical more if you're familiar with songs from Carole King +/- her colleagues Gerry Goffin, Barry Mann, and Cynthia Weil. Don't let that stop you though because I was only familiar with "(You Make Me Feel Like) A Natural Woman" when I first saw the national tour 7 years ago. I didn't even know she wrote the song until I saw the show! Now, the musical soundtrack is one of my favorite albums on my theatre playlist.
Defined Plot/Storyline: Yes
Live Band/Orchestra: Yes
Equity Actors: 12
Total Number of Actors: 18
Perceived Pace of the Show: Medium speed
Length (Including Any Intermission): 2.5 hours
Was there an intermission? Yes
Was This the First Time I Attended a Production of this Show? No, I saw the national tour twice. I think this local professional production did the national tour justice.
Would I See It Again 3 Years from Now? Of course! But I'd probably only see professional productions like this.
Other Rave(s) Not Mentioned in Elevator Thoughts
"Some Kind of Wonderful" Harmony: Sarah Rose Davis (who played Carole King) & Jason Kappus (who played Gerry Goffin) made effortless, simple, sweet harmony in "Some Kind of Wonderful."
Funny Lines: The script is filled with funny sly punch lines like "marriage … when the fun part of life begins!"
Supporting Role Casting: The delightful Adam Marino was well-cast as Barry Mann, a neurotic Jewish hypochondriac. Avery Clark also portrayed a funny, likable musical producer Don Kirshner.
Costume Design: Cynthia Weil (played by Krystle Armstrong-Alan) always dressed so chic and trendy. Great wardrobe choices from costume designer Melanie Taylor Burgess.
"Uptown" Soloist: Nalicia Hennings powerfully delivered the "Uptown" song.
Choreography: Lisa Shriver developed charming choreography for the retro girl groups and boy bands.
Scenic Design: I loved Grace Laubacher's nostalgic 1960s set designs where the girl groups and boy bands performed on American Bandstand. It was reminiscent of Hollywood Squares. There was also a more modern motif of various straight lines of neon lights, which reminded me of the lights in 5th Avenue Theatre's Into the Woods. However, while I do love clean lines, old-timey glamour bulbs would have fit the theme better in the "On Broadway" number.
"One Fine Day" Staging Placement: When Carole King sang her ending reprisal in "One Fine Day," the on-stage cast faced away from the audience to show that she was grappling beside herself backstage. It was good artistic deviation from the national tour's portrayal since it further highlighted the contrast between the joyous song and what she was feeling inside.
Rant(s)
Piano and Strings: For a song that the script dialogue specifically calls for strings, it was disappointing to only hear synthesized strings in "Will You Love Me Tomorrow." But I suppose it's not very economical to hire a string section for just one song! Additionally, I noticed the synthesized piano sounded too artificial like a ratty old Clavinova with bad acoustics. I noticed this piano sound problem is common in live local (professional or not) theatre. I'm not sure that there's a good solution for this. Maybe upload more realistic audio samples in the existing keyboard or just buy a new keyboard?
Other Musing(s) and Observation(s)
Carole King: Sarah Rose Davis sounded similar to the Carol King performers in the national tour and the musical's original cast recording. I had to check the program to see if she was previously part of the original or touring production.
Weird Audience: The opening night audience strangely wasn't "giving" at the right moments. There were times I would have expected them to applause more enthusiastically. Even more peculiar, they went wild at the calmest song "You've Got a Friend" when they clapped way too long. That being said, it was a touching song/scene.
Ensemble: Most (if not all) ensemble performers took turns as the lead singer in their own song. I don't remember this from national tour … maybe it's because I sat so far back! I literally sat in the second-to-last balcony row of the Paramount Theatre the first time I saw this musical.
Theatre Company: Village Theatre
Venue: Village Theatre
Venue Physical Address:
Issaquah: 303 Front Street North, Issaquah, WA 98027
Everett: 2710 Wetmore Avenue, Everett, WA 98201
Price: Medium to Expensive
Tickets: https://villagetheatre.org/shows/beautiful/
Ticket Affordability Options: Check out their discount tickets page.
Dates:
Issaquah: November 14 to December 30, 2023
Everett: January 6 to 28, 2024
Seating: Assigned Seating
Parking:
Issaquah: Free street parking and certain free parking lots. Lot parking availability is very difficult to find though. I've basically given up on that. I usually end up parking on Rainier Boulevard North. As a last resort, you can always find parking at the library but it's a little far. Remember, there's a bottom floor parking lot under the library's main parking lot that most non-locals don't know about.
Everett: Free street parking and some paid parking lots/garages.
Like/Comment/Share my Social Media Posts About this Performance:
Buy a Ticket or Learn More:
Other Video +/- Pictures: See pictures under video by Auston James
Cast and Production Team: See after pictures and/or video below