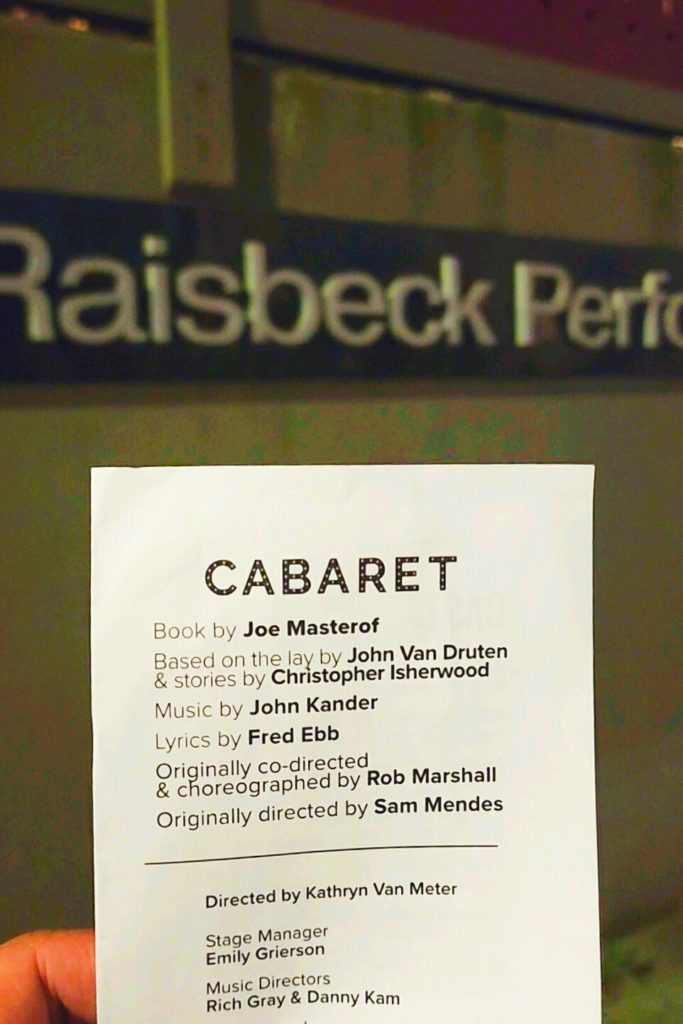 Elevator Thoughts (aka Tweet): Cabaret the musical sold out at Cornish College of the Arts. Novel immersive stage. Well-cast Cliff actor. Good ensemble, Emcee, & Sally too. #musical #theatre #Cabaret
Synopsis from the Theatre: In a Berlin nightclub, as the 1920's draw to a close, a garish Master of Ceremonies welcomes the audience and assures them they will forget all their troubles at the Cabaret. With the Emcee's bawdy songs as wry commentary, Cabaret explores the dark, heady, and tumultuous life of Berlin's natives and expatriates as Germany slowly yields to the emerging Third Reich. Cliff, a young American writer newly arrived in Berlin, is immediately taken with English singer Sally Bowles. Meanwhile, Fräulein Schneider, proprietor of Cliff and Sally's boarding house, tentatively begins a romance with Herr Schultz, a mild-mannered fruit seller who happens to be Jewish. Musical numbers include "Willkommen," "Cabaret," "Don't Tell Mama" and "Two Ladies."
Type: Musical
World Premiere: No
Live Band/Orchestra: Yes
Recommendation: See it especially if you like to support student actors. Unfortunately, this production already completed its run though. Also, the entire run was sold out at least 2 weeks before opening night. The only possible way to see a performance was through the waitlist.
Would I See It Again 3 Years from Now?: Always. I've probably seen 5 separate productions of this show. One of them was the professional tour.
Rating Compared to Other Shows with the Same Production Value:
4.25 Stars (Out of 5 Stars)
Equity Actors: None
Length: 2.5-2.75 hours
Intermission: Yes
Rant(s)
Cell Phone Check-in: I was completely baffled when they asked the audience to check-in their cell phone before entering the performance space. A theatre has never asked me to do that … and I've attended more than 360 shows since 2017. It didn't help that my cell phone case also incidentally included my pen so I was unable my write down more impressions of the performance for my review.
Set Movement: The frequent set movement and audience re-seating was a bit distracting.
Vocal Range: There were 1-2 male performers who couldn't reach the high notes. Consequently, they sounded a little off-key. Also, there were 1-2 female performers who could barely reach the low notes. Consequently, the audience couldn't hear them.
Character Age: Drama schools students tend to be young in their twenties, late teens, or even thirties. So, it's difficult to appropriately cast someone in middle-aged or senior character roles. I suggest drama schools either 1) choose performance pieces that don't contain major characters older than 40 years old, 2) invest heavily in makeup/wardrobe, 3) or recruit a non-student actor to perform these roles. I personally like option 3 the best. For example, UW School of Drama recruited alumnus Malcolm West in this year's production of Father Comes Home from the Wars.
Other Thought(s)
Audience Participation: The website said "This production is an immersive experience and will include and encourage audience participation" which made me a little nervous they'd want me to get up and dance. When it comes to theatre, I'd rather sit and (at most) clap. Theatre "pillow princess" here. 😛 In actuality, the actors thankfully didn't goad the audience to participate much more than a traditional non-immersive performance.
Immersive Theatre: One of the limitations of immersive, 360 degree, or arena theatre is that the audience doesn't always see everything. There was a scene in the second act where the audience kept looking at a back wall near the entrance where I couldn't see. Queue the FOMO! Leave me a comment on the social media links below to tell me what I've missed.
Theatre Company : Cornish College of the Arts
Venue: Skinner Theatre at Raisbeck Performance Hall
Venue Physical Address: 2015 Boren Ave, Seattle, WA 98121
Price: Cheap
Dates: November 17 to 20, 2022 – I would have prioritized this review earlier if the college gave me a press ticket. But apparently, they don't encourage reviewers, which baffled me. In my opinion, "there is no such thing as bad publicity!"
Seating: General Admission
Parking: Street parking (sometimes free) usually available within 3 blocks from the theatre. There's also various paid parking lots in the area. This part of downtown is closer to South Lake Union neighborhood so it's not that busy.
Social Media Posts About this Performance from Shows I've Seen: Instagram | TikTok | Facebook | Twitter | YouTube
Buy a Ticket or Learn More:
Cast and Production Team: See under the multimedia below.
Other Video +/- Pictures:
Role

Name

Sally Bowles
Adia Beaulieu
Helga/Fight Captain
Allison Renee Heath
(u/s Schneider)
Emcee
Anteia DeLaney
Max/Hans/Sailor
Carolyn Scherbinske
Fraulein Fritze Kost
Coco Justino
Cliff Bradshaw
Elias Capestany
Victor/Dance Captain
Elizabeth Blackmun
Herr Schultz
Fisher
Rosie
Genna Dow
(u/s Sally)
Frenchie
Gennavieve Smith
Customs Officer/Herman/Sailor
Grace Andresen
(u/s Ernst)
Fraulein Schneider
Hayley Martin
Lulu
Madison Neal
(u/s Kost)
Texas
Maggie Reichgott
(u/s Schultz)
Ensemble
Oliver Munguia
(u/s Will, Theo, Carolyn, Gray)

Olivia Sheaffer
(u/s Genna, Madison, Gennavieve, Allie, Maggie)
Ernst
Tagen Mathews
Sailor
Tony Caraveo
(u/s Emcee)
Bobby
Will Ehrlich
(u/s Cliff)
—
—
Upright Bass
Jon Butler
Drummer
Enzo Periera
Alto Sax
David Volpini
Pianist
Rich Gray
—
—
Book Author
Joe Masterof

(Based on the lay by John Van Druten
& stories by Christopher Isherwood)
Composer
John Kander
Lyricist
Fred Ebb
Director
Kathryn Van Meter
Stage Manager
Emily Grierson
Music Directors
Rich Gray & Danny Kam
Choreographer
Nicole Beerman
Sound Designer
Sandra Menjivar
Lighting Designer
Gwen Cubbage
Scenic Designer
Christopher Mumaw
Costume Designer
Isabella L. Price
Assistant Director
Tony Caraveo
Props Manager
Jessica Christensen
Technical Director
Matthew McCarren
Assistant Music Director
David Volpini
Fight Choreographer
Geof Alm
Intimacy Director
Sarah Harlett
Assistant Choreographer
Gennavieve Smith
Dialect/Vocal Coach
Kate Myre
Scenic Designer
Christopher Mumaw
Assistant Stage Manager
Sema Serifsoy-DiFalco
Costume Assistant
Ella Swenson
Assistant Dialect Coach
Elizabeth Blackmun
Carolyn Scherbinske
Dramaturg
Maggie Reichgott
Deck Crew
Sam Ingram
Olivia Freeman
Followspot Operator
Ella Accacia
Deck Crew
Charlotte Seaver
Visual & Performing Arts Production Manager
Gavin Yehle
Scene Shop Supervisor
Matthew McCarren
Theater Dept. Faculty Chair
Sheila Daniels
Props & Paint Supervisor
Jessica Christensen
Cabaret Faculty Liaison
Robin Lynn Smith
TH 147 Instructor
Amy LaZerte
Costume Shop Supervisor & Practicum Costume Advisor
Carl Bronsdon
Director of CSES
Pinky Estell
TH/PP Department Coordinator
Rachel Brinn
CSES Technical Supervisor
Marc Mixon