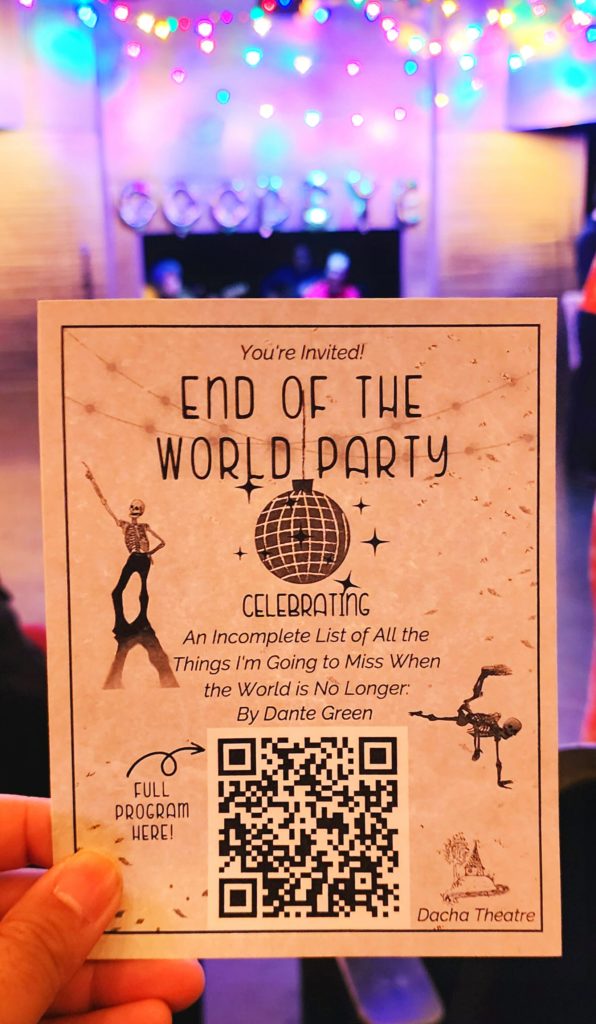 Elevator Thoughts (aka Tweet): An Incomplete List of All the Things I'm Going to Miss When the World is No Longer: w/ Dacha Theatre at Theatre Off Jackson. Experimental abstract allegorical musical about a house party rager before the end of the world. Very open to interpretation. #theatre
Synopsis from the Theatre: An Incomplete List of All the Things I'm Going to Miss When The World is No Longer: is an electro-synth musical at the end of the world. Following a global announcement of the exact time Earth, as we know it, will cease to exist, a community of young queer friends and lovers decide the only reasonable thing would be to gather together for one last rager. This musical invites you into a glance at the last party on Earth–interwoven through a retrospective of cherished and tragic memories–to celebrate and mourn the delights and deceptions of the human experience.
Reviewed Performance: 1/29/23 Evening on Opening Weekend – Sorry for the late review. I've been busy with my dad in town.
Type: Musical – This is uncommon for abstract experimental shows, which are usually plays instead
World Premiere: No
Defined Plot/Storyline: No – It was a mix of past, present, and maybe imagined vignettes.
Live Band/Orchestra: Yes
Recommendation
: See it if 1) you're into abstract, experimental shows that are open to interpretation 2) or you liked
Arlington
.
Was This the First Time I Saw a Production of this Show: Yes
Equity Actors: None
Number of Actors: 14
Length (Including Any Intermission): A little less than 2 hours. The show either needs to be shorter or needs to include an intermission!
Intermission: No
Other Musing(s) and Observation(s)
Coveralls: Was there any symbolism behind all the boilersuits? Or am I too far removed from what's fashionable these days? Major "coolaid and sneakers cult" vibes!
Out of Tune?: One of the actors sang out of tune and I was wondering if it was intentional or not because of the allegorical nature of the musical.
Audience Participation: Before the musical started, cast members filtered into the theatre like it was a house party. They interacted with the audience in character asking "Do you know this band that's playing?" or "Who do you know anybody at this party?" I actually didn't realize one of the people talking to me was an actor at first! If you don't want to interact with the cast before the show starts, just glue your eyes to your phone. 🙂 Additionally, halfway through the show, they asked all audience members to join on-stage if they wanted to. Half the audience acquiesced, and the cast continued to perform to the remaining audience members in their seats, which could be awkward if only one person decided to stay in their seat!
Moral of the Story: What was the message? I always struggle to grasp this in shows that are very abstract and experimental. Leave a comment in my social media post links below about what you think it is!
Theatre Company: Dacha Theatre
Venue: Theatre Off Jackson
Venue Physical Address: 409 7th Ave S, Seattle, WA 98104
Price: Cheap
Ticket Affordability Options: Every performance is pay-what-you-can. You can pay $1-50 per ticket online. It's all honor system. The standard price is $35.
Dates: January 27 – February 11, 2023
Seating: General Admission
Parking: Paid street parking is usually available north of the theatre on the hill close to the park. There's also paid parking lots nearby as well.
Like/Comment/Share my Social Media Posts About this Performance:
Instagram | TikTok | Facebook | Twitter | YouTube
Buy a Ticket or Learn More:
Other Video +/- Pictures: See below pictures under video and in video by Brett Love