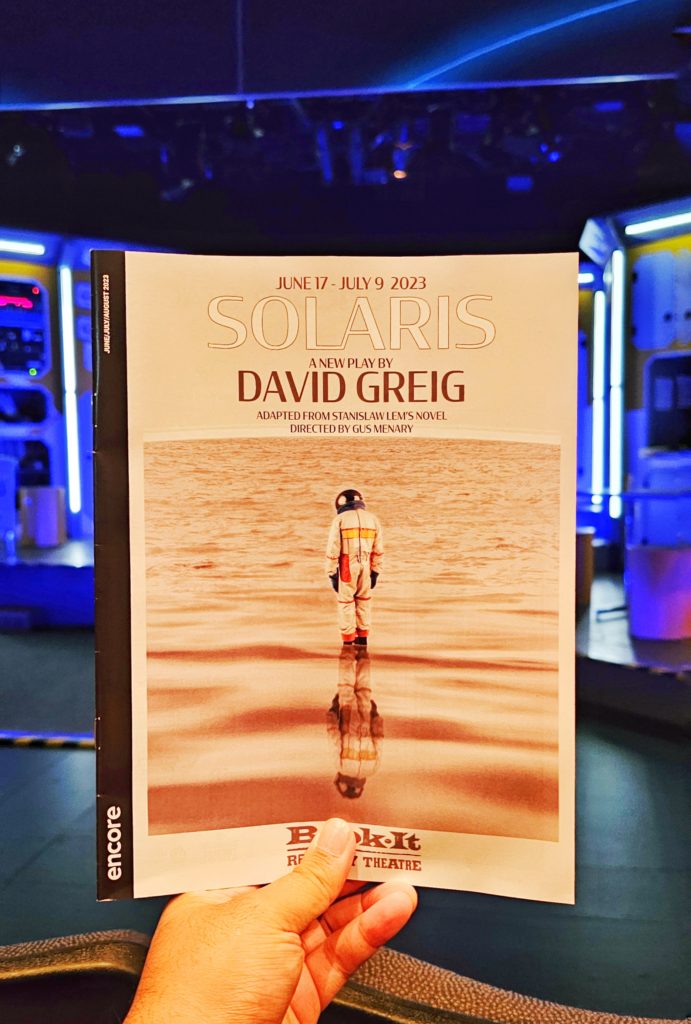 Elevator Thoughts (aka Tweet): Solaris play by David Greig based on Stanislaw Lem's novel. Starring Jay Woods & Ian Bond. Directed by Gus Menary. Book-it Repertory Theatre is closing its doors on a high note. Mysterious sci-fi story w/ many interesting layers. Timely piece in light of today's rapid AI neural network development. Great scenic design. I'd be interested to read the book one day. Contender for one of my favorite 2023 shows. #theatre
Synopsis from the Theatre: Solaris is a haunting story of love and loneliness on the edge of space that asks the big question: What happens when humans encounter, for the first time, a truly alien intelligence? For the scientists aboard the space station orbiting Solaris, the strange new planet is a manifestation of their life's work – a dream come true. To explore an unknown world, learn its nature and design, discover its secrets – isn't this the meaning of life? But as their mission forces them to confront their own unexplored grief and pain, science proves woefully inadequate, and they must each decide for themselves where the true boundaries to reality lie… and whether the ghosts from their pasts will help or hinder them in building humanity's future. This 1961 novel is a heady science fiction gem that suggests that the real final frontier might just be the hazy place where memory and reality intertwine. This heartfelt (and sometimes hair-raising) story presents a message about the dangers of intrusion into the realms of the unknown.
Reviewed Performance: 6/17/23 – Opening Night
Type: Play
World Premiere: No
Several or Few Scenes: Several
Several or Few Settings/Locations: Maybe 3 to 5 rooms on a space station
Prior Exposure/Knowledge Required: You might appreciate this more if you read the book. I did not read the book, but I might one day because the play was so good.
Defined Plot/Storyline: Mostly yes, but there's only so much action that can occur in 3-5 locations.
Recommendation: See it, especially if you like sci-fi
Was This the First Time I Attended a Production of this Show: Yes
Would I See It Again 3 Years from Now: I'd consider seeing another Equity production of this play
Rating Compared to Other Shows with the Same Production Value:
4.75 stars (Out of 5 Stars)
Equity Actors: 3 equity actors and 1 actor from the Stage Directors/Choreographers Society
Total Number of Actors: 6
Perceived Pace of the Show: It felt slow at the beginning, but the pace picked up a little as the story unfolded. In its defense, the slower pace also contributed to the mysterious ambience of the play.
Length (Including Any Intermission): 2.75 hours
Intermission: Yes
Other Rave(s) Not Mentioned in Elevator Thoughts
Non-traditional Alien Concept: The Stanislaw Lem created alien life form "characters" that weren't your run-of-the-mill ET aliens. I wonder if the Avatar movie borrowed concepts from the original Solaris book.
Consciousness: It was interesting to see how consciousness, sentience, and self-awareness can potentially evolve from nothing. Like I touched on earlier, this concept is vogue in today's AI craze. It kind of reminded me of Adam and Eve's inception.
Captions: The diary captions displayed periodically above the stage were well chosen. I assume they were actual quotes from the original book. I'd love to reread them already knowing how the story unfolds.
Escapism Theme: For some reason, I'm drawn to stories that deal with escapism, dreaming, and a Matrix-like existence. The last play I saw She Kills Monsters at SecondStory Repertory had a similar theme. Maybe that's why I'm into live theatre in general.
Humanity: Good commentary on the destructiveness of humanity and our effects on the environment. However, the solution in the play isn't feasible on Earth.
Bookends: Good use of bookends in the first and last scene
Rant(s)
Scarring: It wasn't clear what the characters were referring to when they talked about inducing a scar. The script should dwell on the subject more especially since the sci-fi lore sounded intriguing.
Table Jump: One character jumped on a table in distress. If someone was in such distress, they wouldn't jump on a table. They would lean on the table or collapse on the floor.
Other Musing(s) and Observation(s)
"Overture" Scene (Slight Minor Spoiler): Before the play began, the theatre broadcasted an overhead announcement like a plane or spaceship would take off in 3 minutes and then played sci-fi music in the background. The 3 minutes weirdly ended anticlimactically, but it wasn't a terrible experience since it introduced a feeling of mysterious anticipation before the play began.
Liquid Nitrogen: They should place dry ice in the liquid nitrogen container to simulate the vapors we usually see when dealing with liquid nitrogen in real life.
Theatre Company: Book-it Repertory Theatre
Venue: Center Theatre at Seattle Center Armory
Venue Physical Address: 305 Harrison St, Seattle, WA 98109
Price: Medium
Ticket Affordability Options: Check out the discount section of their ticketing page. Goldstar and TodayTix usually offer good options too.
Dates: June 17 to July 9, 2023
Seating: Assigned Seating
Parking: Paid street parking or paid lot/garage parking. I usually like to park on the street near the skating park (313 Taylor Ave N, Seattle, WA 98109) East of the theatre. It's more expensive on Climate Pledge Arena event days though so I ended up parking in South Lake Union since I'm cheap!
Like/Comment/Share my Social Media Posts About this Performance:
Instagram | TikTok | Twitter | Facebook | YouTube
Buy a Ticket or Learn More:
Other Video +/- Pictures: See pictures in video and under video by Anthony Floyd.
@showsiveseen "Solaris" #play by David Greig based on Stanislaw Lem's novel. Starring Jay Woods & Ian Bond. Director Gus Menary is leaving Book-it Repertory Theatre on a high note. #Mysterious #scifi story w/ many interesting layers. Timely piece in light of today's rapid AI neural network development. I'd be interested to read the book one day. Great scenic design. Contender for one of my favorite 2023 shows. Photos by Anthony Floyd. Review: showsiveseen.com/5995 #theatre ♬ Padam Padam