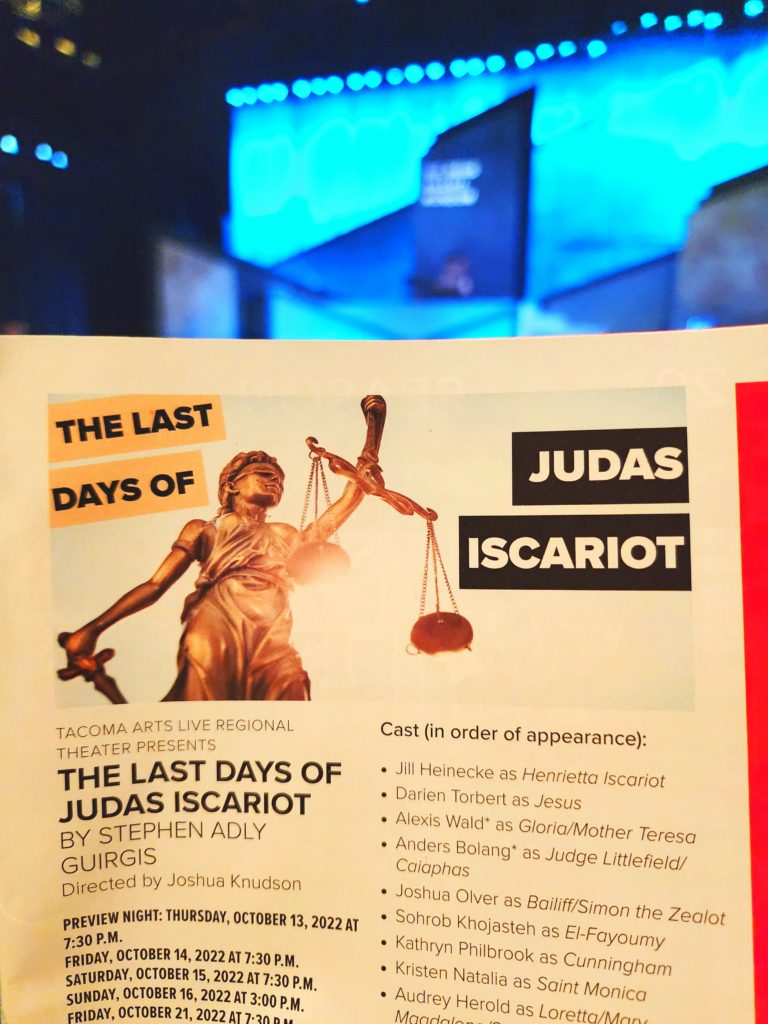 Elevator Thoughts (aka Tweet): The Last Days of Judas Iscariot play w/ Tacoma Arts Live at Tacoma Armory. Novel perspectives on Christianity. Best line was "I am erect!" Stunningly-designed experience from the lobby to the theatre. Modern angular courtroom stage/set was made to catwalk. Appreciated the ample seat legroom. #court #trial #purgatory
Type: Play
Recommendation: See it if you have some Christian background or education … regardless of if you're a Christian today.
Rating (Out of 5 Stars): 4 stars
Other Rant(s)
The duration was too long. Including intermission, I think it was more than 3 hours.
The chairs were uncomfortable. I heard several attendees sitting around me say this as well.
The unique acoustics of the Tacoma Armory made it difficult to understand the dialogue occasionally. Maybe modify the speaker placement. It didn't help that some lights or speakers contained noisy fans.
Understanding the play requires some Christianity knowledge (bonus points if you have Catholic background). People who didn't attend church growing up or who didn't study religion will find it difficult to enjoy this play.
While I appreciate representation of "my people," did they really need to make the ultimate villian of all time (Satan) flamboyant?
Other Rave(s)
I LOVED their makeover on the Tacoma Armory. They could definitely reuse the design (from the lobby to the stage) in a fashion show. It actually reminded me of a major Seattle fashion show I attended years ago.
What a huge varied interesting cast for a local show!
Theatre Company : Tacoma Arts Live
Venue: Tacoma Armory – 1001 S Yakima Ave, Tacoma, WA 98405
Price: $$ (Medium)
Dates: October 14 – 23, 2022
Seating: General Admission (Two Tiers) – Get the more expensive tier A (aka GA1)! I was in the lower tier seats and saw a lot of actors' backs. If you're in the higher tier, you'll sit on the side of the catwalk which is closer to the actors where you'll see less backs.
Social Media Posts: Instagram | TikTok | Facebook | Twitter | YouTube
Link(s):
Other Media: Photos in the video and under the video are by Jesse Gardner.