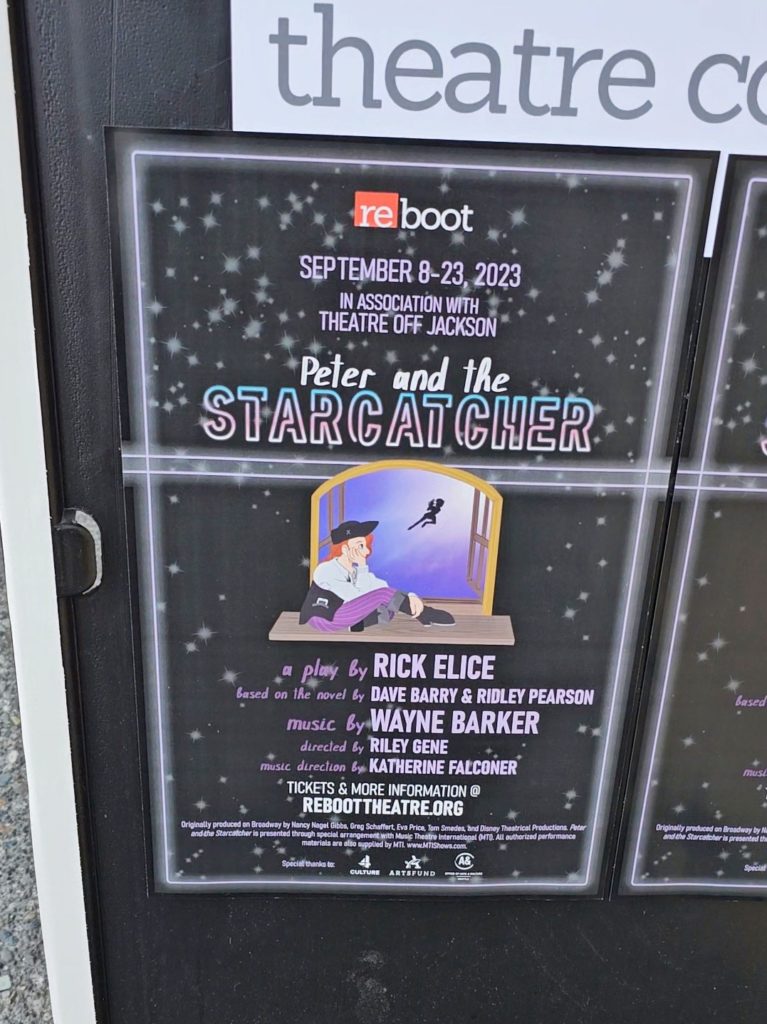 Elevator Thoughts (aka Tweet): Peter and the Starcatcher play (adapted from the book) with Reboot Theatre Company. Fun origin story of Peter Pan starring Rhys Daly, Mariah Lee Squires, and Karin Terry. Strong, energetic acting and vocal projection.
Synopsis from the Theatre: Peter and the Starcatcher playfully explores the depths of greed and despair… and the bonds of friendship, duty and love. A young orphan and his mates are shipped off from Victorian England to a distant island ruled by the evil King Zarboff. They know nothing of the mysterious trunk in the captain's cabin, which contains a precious, otherworldly cargo. At sea, the boys are discovered by a precocious young girl named Molly, a Starcatcher-in-training who realizes that the trunk's precious cargo is starstuff, a celestial substance so powerful that it must never fall into the wrong hands. When the ship is taken over by pirates – led by the fearsome Black Stache, a villain determined to claim the trunk and its treasure for his own – the journey quickly becomes a thrilling adventure.
Attended Performance Date: 9/9/23 (Opening Weekend)
Type: Play with music
World Premiere: No
Several or Few Scenes: Several
Several or Few Settings/Locations: Several
Prior Exposure/Knowledge Required: You'd probably enjoy this more if you're familiar with the Peter Pan story.
Defined Plot/Storyline: Yes
Live Band/Orchestra: The actors played the ukelele, trumpet, kazoo(?), and guitar during a few numbers. There were 1-2 songs with piano accompaniment, but I couldn't determine if it was live or recorded.
Equity Actors: 0
Total Number of Actors: 15
Perceived Pace of the Show: Medium to fast
Length (Including Any Intermission): 2.25 hours
Intermission Included: Yes
Was This the First Time I Attended a Production of this Show: No, I saw this at ArtsWest when I first moved to Seattle. But there were many scenes/elements in this production that I don't remember from the ArtsWest production. Maybe I'm getting older…
Would I See It Again 3 Years from Now: Probably not … it's a well-written show but two times is enough for me
Recommendation: See it, especially if you enjoy British-inspired humor/acting.
Other Rave(s) Not Mentioned in Elevator Thoughts
End of First Act: The song before the intermission was a grandiose showstopper, which is impressive for a show that's not even a musical!
Other Musing(s) and Observation(s)
Narration: The narration was in the style of the actors narrating each other's actions or their own actions. It reminded me of many past plays produced by the recently-closed Book-it Repertory Theatre.
Theatre Company: Reboot Theatre Company
Venue: Theatre Off Jackson
Venue Physical Address: 409 7th Ave S, Seattle, WA 98104
Price: Cheap
Ticket Affordability Options: You can self-select the $5 inclusion rate option on the website
Dates: September 8 to 23, 2023
Seating: General Admission
Parking: Paid street parking is usually available north of the theatre on the hill close to the park. You can also try free parking on Jackson Street closer to the I-5 bridge. As usual, there are paid parking lots nearby as well.
Like/Comment/Share my Social Media Posts About this Performance:
Instagram | TikTok | Twitter | Facebook | YouTube | Threads
Buy a Ticket or Learn More:
Other Video +/- Pictures: See pictures in video and under video by Colin Madison Photography.
Cast and Production Team: See after pictures and video below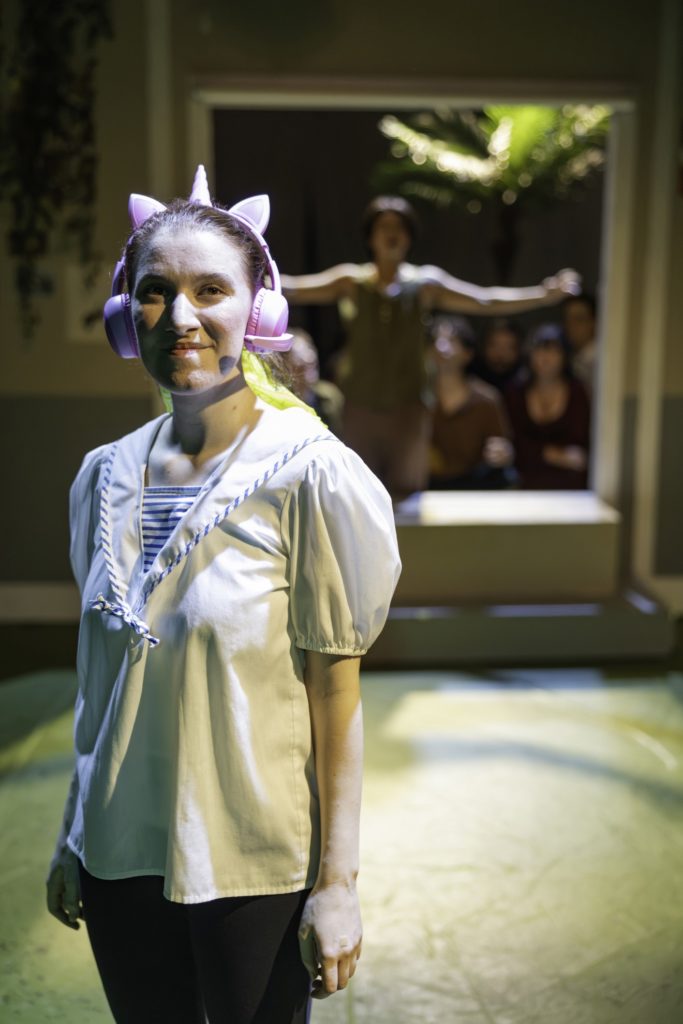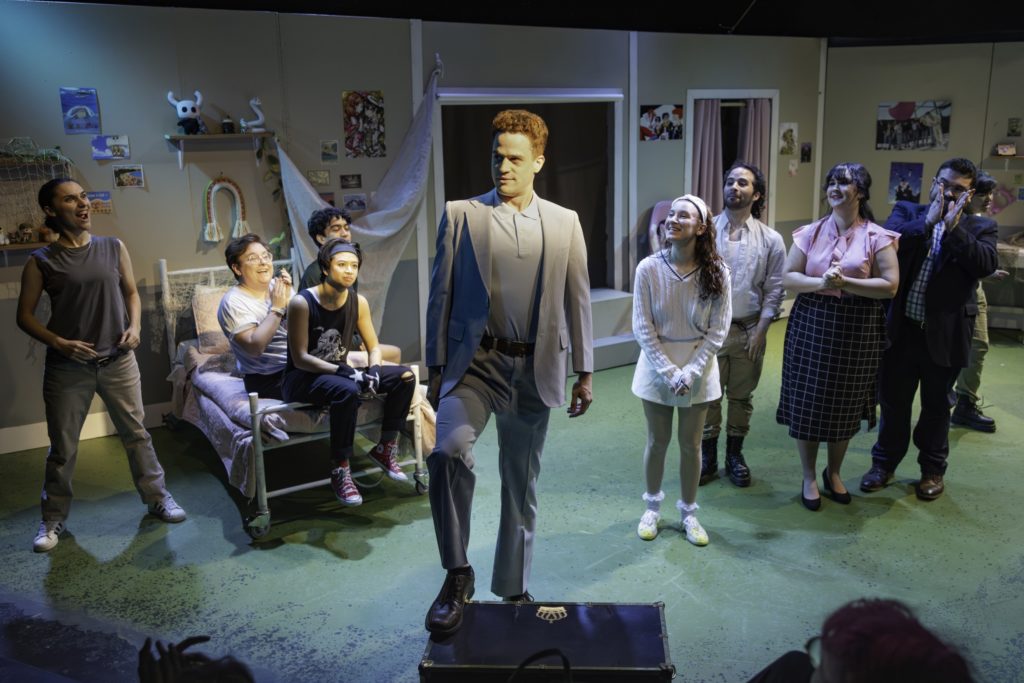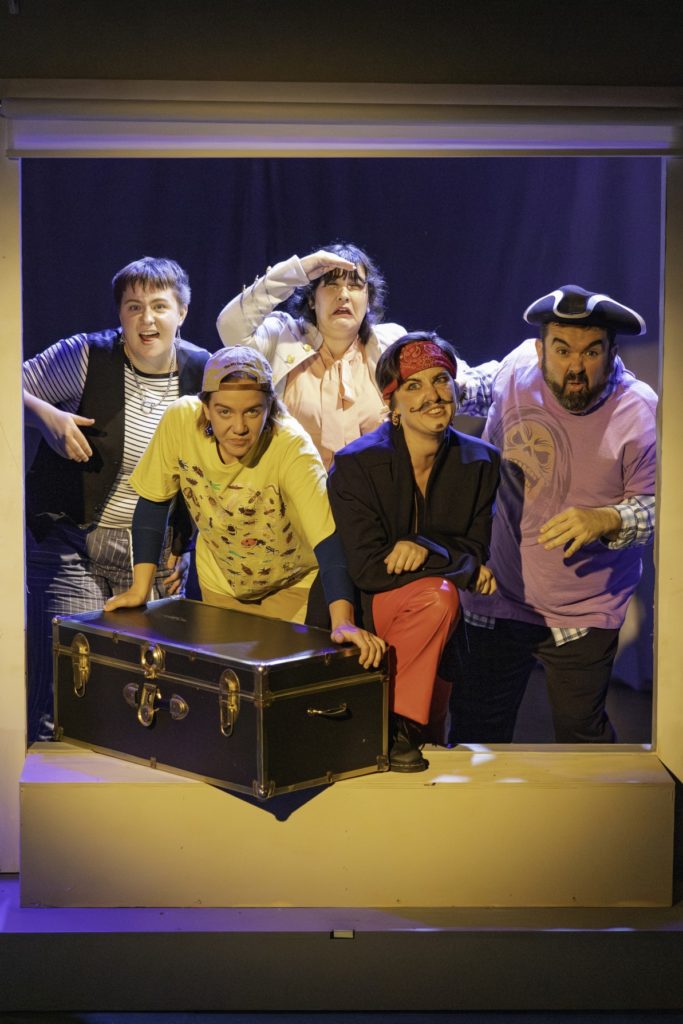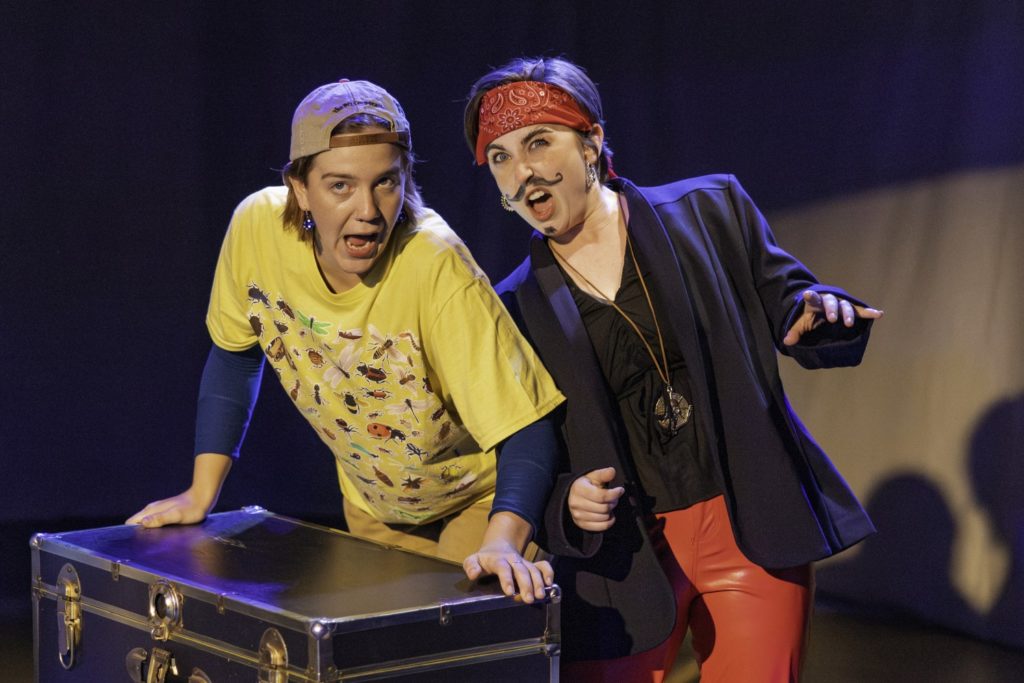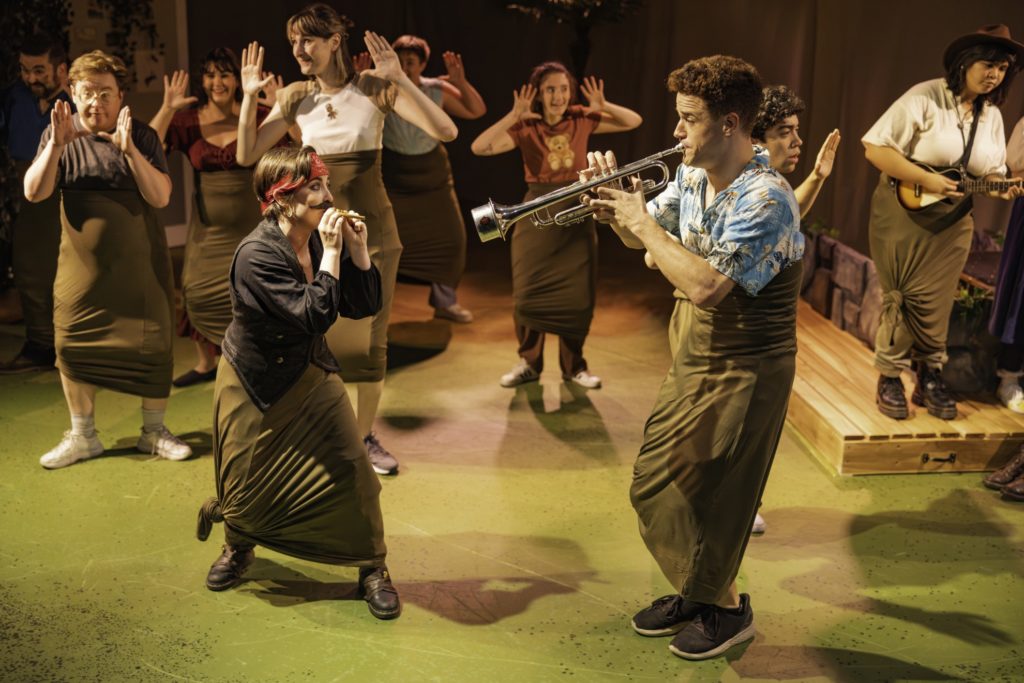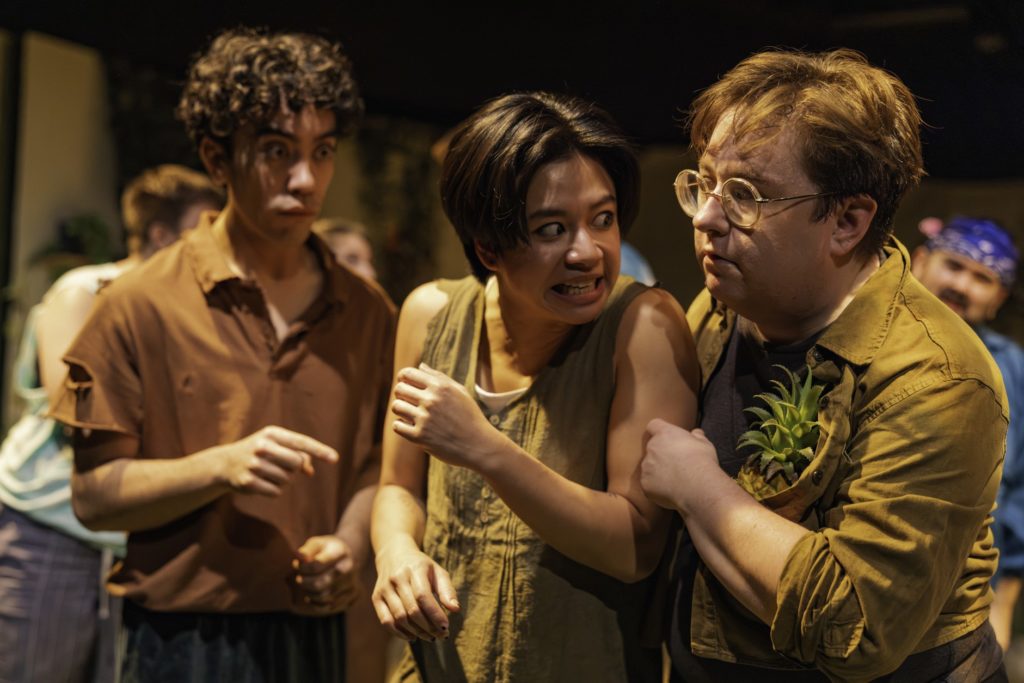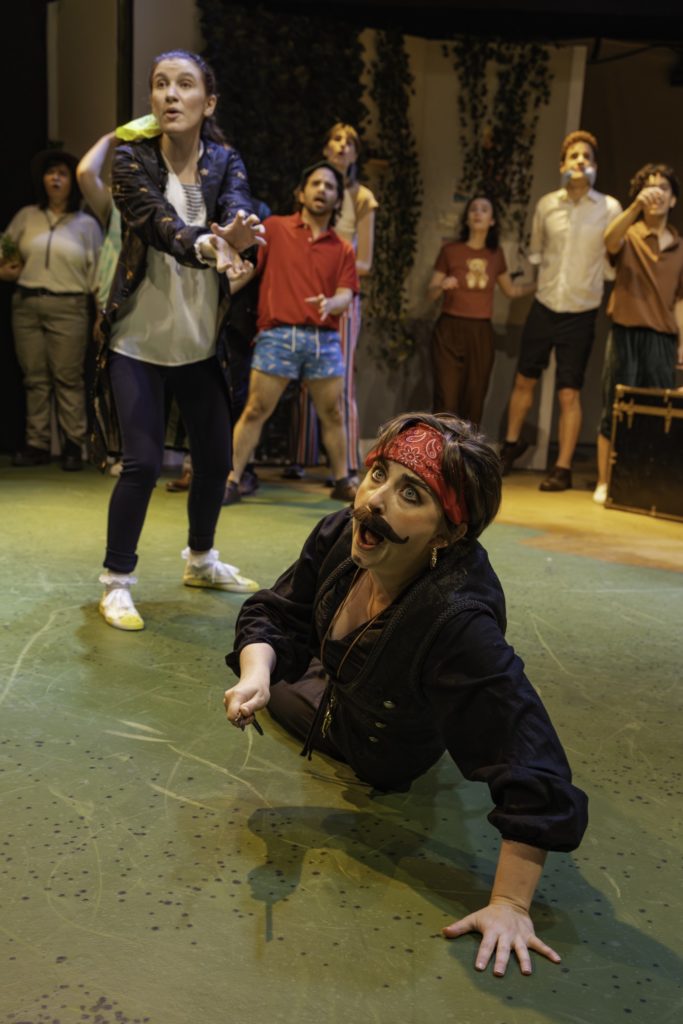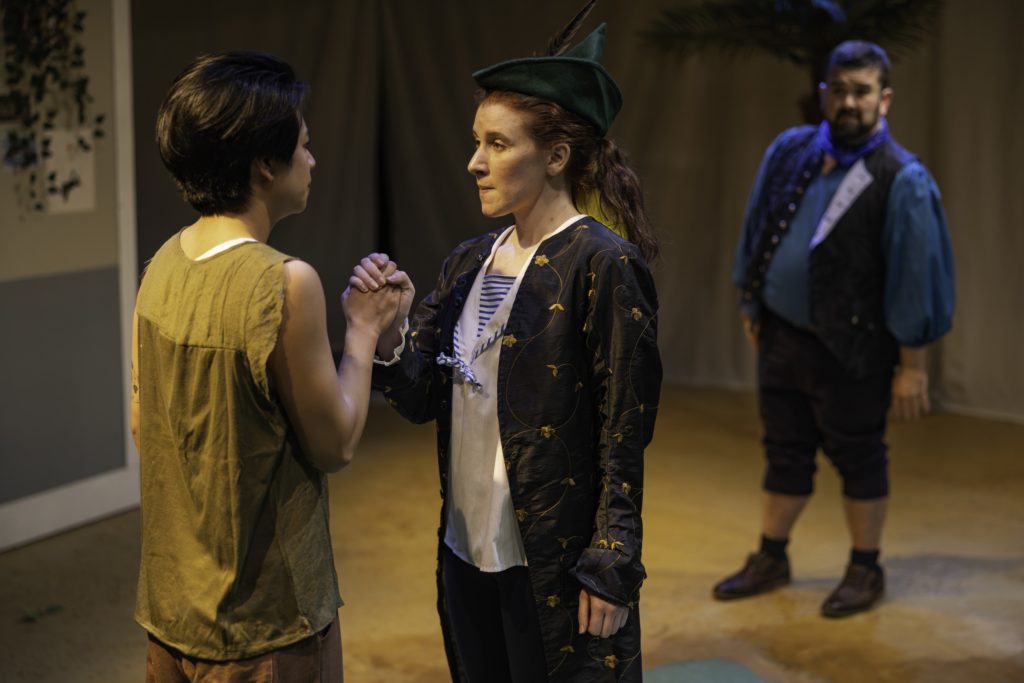 | | |
| --- | --- |
| Role | Name |
| Ted | Henry Behrens |
| Mrs. Bumbreak/Sanchez | Kendra Tamär Budd |
| Grempkin/Mack/Prawn | Rolando Cardona-Roman |
| Boy/Teacher | Rhys Daly |
| Bill Slank/Clam | Anamaria Guerzon |
| Prentiss | Morgan Gwilym Tso |
| Smee | Jayne Hubbard |
| Alf | Helene Minassian |
| Ensemble/Understudy | Adrian Prendergast |
| Ensemble/Understudy | Monty Rozema |
| Lord Aster | Dan Ruiz Salvatura |
| Captain Scott | James Schilling |
| Molly | Mariah Lee Squires |
| Black Stache | Karin Terry |
| Ensemble/Understudy | Miles Wingett |
| — | — |
| Director | Riley Gene |
| Playwright | Rick Elice based on a novel by Dave Barry and Ridley Pearson |
| Composer | Wayne Barker |
| Musical Director/Sound Designer | Kate Falconer |
| Stage Manager | Emily Grierson |
| Assistant Stage Manager | Valerie Reid |
| Associate Stage Manager | Ryan Long |
| Scenic/Props Designer | Robin Macartney |
| Lighting Designer | Jacob Viramontes |
| Costume Designer | Elsa Goodmon |
| Fight Director | Adrian Prendergast |
| Poster Designers | Brad Walker, Noel Pederson |
| Production Managers | Xandria Nirvana, Easterday Callahan |
| Photographer | Colin Madison Photography |