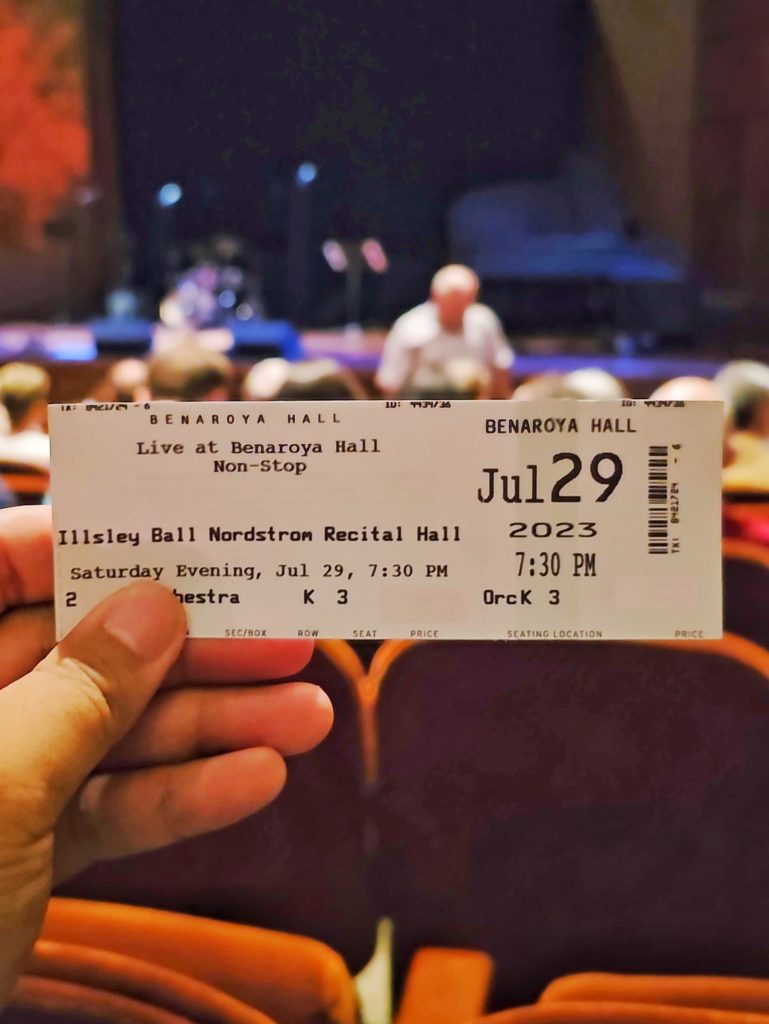 Elevator Thoughts (aka Tweet): "A Night of Broadway Hits" concert by Non-Stop Seattle band at Benaroya Hall featuring Bethanie/Madison Willis, Nalica Hennings (my favorite!), Po Leapai, & Charles Simmons. Been meaning to see this band for a while! Proud to have known all songs in their large repertoire except one. #musicals #musicalTheatre
Synopsis from the Theatre: Don't throw away your shot to see Non-Stop at Benaroya Hall this summer! This musical group performs songs from hit Broadway shows including Wicked, Rent, Hamilton, Little Shop of Horrors, In the Heights, Spamalot, Waitress, The Little Mermaid and many others! Non-Stop's band members have performed at Washington's favorite musical theater houses, such as The 5th Avenue Theatre, Village Theatre, Seattle Opera and Taproot Theatre! With five top vocalists and a large band, Non-Stop is sure to make you want to dance and sing along to some of your favorite Broadway and Disney tunes. If you see it once, we promise you'll be back!
Reviewed Performance: 7/29/23
Type: Concert
Prior Exposure/Knowledge Required: You should be familiar with popular mainstream modern musicals like Wicked, Rent, Little Shop of Horrors, In the Heights, Spamalot, Waitress, The Little Mermaid and ESPECIALLY Hamilton.
Live Band/Orchestra: Violin, Drums, Guitar, and Piano
Recommendation: See it if you like modern Broadway musicals especially those written by Lin-Manuel Miranda.
Was This the First Time I Attended a Production of this Show: Yes
Would I See It Again 3 Years from Now: Yes, if they have a new song list
Rating Compared to Other Shows with the Same Production Value:
4.5 stars (Out of 5 Stars)
Perceived Pace of the Show: Medium to fast
Length (Including Any Intermission): 2 hours
Intermission Included: Yes, which I thought was strange for a concert but fitting for a concert of musical theatre songs. I wish more non-Broadway concerts contain an intermission.
Other Rave(s) Not Mentioned in Elevator Thoughts
"Choral-ography": Most of the performers were not stiff and incorporated fun "background singer moves" … in a good way!
Rant(s)
Transitions: There were no transitional spiels between songs. Like small talk, song transitions offer no substance but are so important to avoid awkward pauses.
Other Musing(s) and Observation(s)
Set List: The repertoire contained too much Lin-Manuel Miranda (especially Hamilton). Some may argue there can never be too much Hamilton, but it's honestly not one of my top 10 musicals … blasphemy I know! Other than the Hamilton songs, the rest of the set list was diverse and well-selected. In future Broadway-themed concerts, I suggest they only perform 1-2 songs max from a single musical. Maybe replace a couple Hamilton songs with portions of The Book of Mormon, Kinky Boots, Hairspray, and Dreamgirls. Maybe throw in a classic musical like The Wiz.

| | | |
| --- | --- | --- |
| Song | Musical | Comments |
| Zero to Hero | Disney's Hercules Movie | |
| Wait for It | Hamilton | |
| When You're Home | In the Heights | Fun Choral-ography |
| My Strongest Suit | Aida | Great lead by Nalica Hennings |
| Make Them Hear You(?) | Ragtime(?) | |
| Suddenly Seymor | Little Shop of Horrors | |
| My Shot | Hamilton | |
| Satisfied | Hamilton | |
| Bend and Snap | Legally Blonde | |
| Seasons of Love | Rent | |
| You'll Be Back | Hamilton | Transitioned to intermission |
| Opening Up | Waitress | |
| Mama Will Provide | Once on This Island | |
| Wait for Me | Hadestown | |
| Take Me or Leave Me | Rent | |
| Yorktown (The World Turned Upside Down) | Hamilton | Nice violin solo |
| The Song That Goes Like This | Spamalot | |
| Part of Your World | Disney's The Little Mermaid | |
| Guns and Ships | Hamilton | |
| Defying Gravity | Wicked | |
| Waving Through A Window | Dear Evan Hansen | |
| 96,000 | In the Heights | |
| Schuyler Sisters | Hamilton | Encore |
Theatre Company: Non-stop Seattle Band
Venue: Illsley Ball Nordstrom Recital Hall at Benaroya Hall
Venue Physical Address: 200 University St, Seattle, WA 98101
Price: Cheap to Medium
Dates: July 29, 2023 – There was only one show, but they frequently perform various places in Puget Sound.
Seating: Assigned Seating
Parking: I usually walk or transit here especially since the light rail station is directly underneath Benaroya Hall. Other than that, there's obviously paid garage/street parking since this venue is in downtown. I think the cheapest garage lot is generally the Russell Investments Center garage (1301 2nd Ave #1950, Seattle, WA 98101). I don't recommend parking in the Benaroya Hall garage since it's really expensive and I imagine it takes a long time to exit after a performance.
Like/Comment/Share my Social Media Posts About this Performance:
Instagram | TikTok | Twitter | Facebook | YouTube | Threads
Buy a Ticket or Learn More:
Band: See after video below
Role

Name

Singers
Bethanie Willis
Madison Willis
Nalica Hennings
Po Leapai
Charles Simmons
Violinist
Alicia Rinehart
Drummer
Jamael Anthony Nance
Guitarist
Quinn Knobbe​
Pianist and Conductor
Aimee Hong