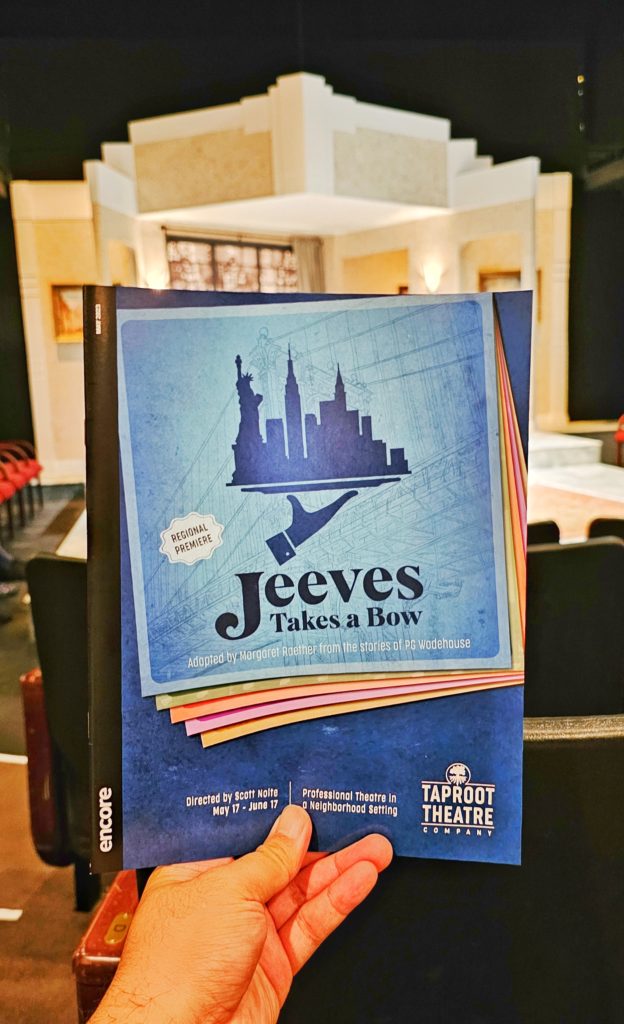 Elevator Thoughts (aka Tweet): Jeeves Takes a Bow play at Taproot Theatre directed by Scott Nolte adapted by Margaret Raether based on PG Wodehouse stories. Fast-moving light play … just how I like it! Chaotic comedy! Great job Jeeves understudy Mark Waldstein. It must be nice to have a butler to cushion your falls in life!
Synopsis from the Theatre: Bertie's back! And this time his talent for trouble trails him to the Big Apple. When childhood chum Binkey Binkersteth knocks, one knacky notion leads to masterful mayhem and soon the notorious Knuckles McCann is fitting Bertie for a Chicago overcoat. Fortunately, the unflappable Jeeves is close at hand with a stiff cuppa joe and a penchant for putting things right!
Reviewed Performance: 5/19/23 – Opening Night
Type: Play
World Premiere: No
Several or Few Scenes: Few
Several or Few Settings/Locations: One, the living room of a luxurious New York City apartment
Prior Exposure/Knowledge Required: No, but I suspect you'd probably appreciate the play more if you're familiar with PG Wodehouse's Jeeves character. I only knew about Ask Jeeves from the 1990s prior to this performance.
Defined Plot/Storyline: Not particularly extensive. There's only so much story that can unfold in a single room. It was more about comedic antics than unfolding complex plot.
Recommendation: See it, especially if you like chaotic comedies that Taproot Theatre tends to produce like The Nerd and See How They Run. Usually, I don't prefer shows with focused on hijinks and antics but this one was actually pretty good.
Was This the First Time I Attended a Production of this Show: Yes
Would I See It Again 3 Years from Now: Probably not, but it was good
Rating Compared to Other Shows with the Same Production Value:
4.5 stars (Out of 5 Stars)
Equity Actors: 2
Total Number of Actors: 6
Perceived Pace of Show: Fast
Length (Including Any Intermission): 2 hours that flew by. Time flies when you're having fun!
Intermission: Yes
Other Rave(s) Not Mentioned in Elevator Thoughts
Delightful Characters: Many amusing personalities filled this play with funny 1930s dialogue. The prude Vivienne Duckworth was probably my favorite since I grew up with her repressive moralistic mentality. Kelly Karcher's energetic portrayal of Vivienne reminded me of her previous Taproot Theatre role where she shined as Lydia in The Wickhams: Christmas at Pemberley. The flapper-like NYC stardom-obsessed Ruby LeRoy (played by Claire Marx) was a wonderful contrast to prim British Vivienne. Speaking of contrasts, there was an "opposites attract" storyline, which I always eat up. It's also worth mentioning Calder Shilling's (Bertram Wilberforce Wooster) and Miguel Castellano's (Nigel Bingham-Binkersteth, aka "Binkey") lively portrayals of their British characters.
Scenic Design: While the design didn't feel like 1910s-1920s era (seemed more 1980s-1990s), it was still visually pleasing. I was particularly drawn to the way high rise windows and the fire escape was designed.
Song: I was pleasantly surprised when Claire Marx sang a number in the second act. When I saw her name in the program, I remarked to myself that I usually see her in more music-related roles instead of pure acting parts. I'm glad she still briefly showcased her great musicality in her Ruby character.
Other Musing(s) and Observation(s)
Opening Remarks: The mundane opening remarks (like acknowledging the show sponsors) we hear before live theatre was pre-recorded like an old timey on-era NPR-like radio broadcast. Nice attention to detail.
Twist: Good unexpected twist with the gangster at the end of the first act!
Western Play Segment: Where did this chaotic scene come from? Very left field in my opinion.
Theatre Company: Taproot Theatre
Venue: Jewell Mainstage at Taproot Theatre
Venue Physical Address: 204 N 85th St, Seattle, WA 98103
Price: Cheap
Ticket Affordability Options: Pay what you can days, GoldStar, and TodayTix
Dates: May 17 to June 17, 2023
Seating: Assigned Seating
Parking: Paid lot or usually-free street parking. I always find free street parking on Greenwood Ave just South of the theatre.
Like/Comment/Share my Social Media Posts About this Performance:
Instagram | TikTok | Twitter | Facebook | YouTube
Buy a Ticket or Learn More:
Other Video +/- Pictures: See pictures in video and under video
@showsiveseen "Jeeves Takes a Bow" #play at @TaprootTheatre directed by Scott Nolte adapted by Margaret Raether based on PG Wodehouse stories. Opening night starring understudy Mark Waldstein & Calder Shilling w/ food from @Zylberschtein's. Fast-moving light show – just how I like it. Chaotic #comedy! Photos by Robert Wade & @Giao Nguyen. Review: showsiveseen.com/5611 #theatre ♬ original sound – Shows I've Seen