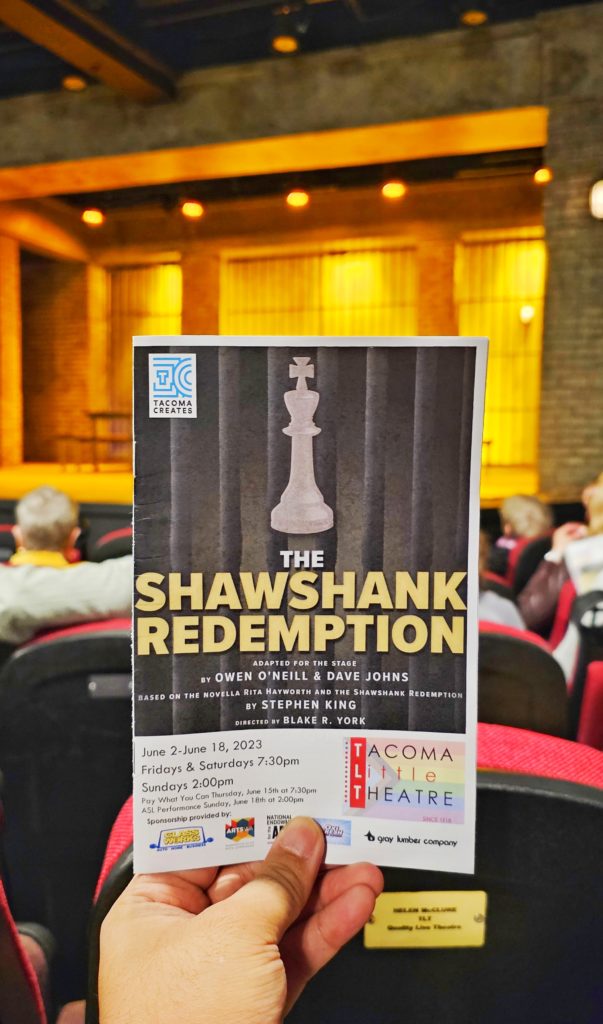 Elevator Thoughts (aka Tweet): The Shawshank Redemption play based on the Stephen King novel. Starring Mason Quinn & Mark Peterson. Directed by Blake R York. Must be awful at the mercy of fellow inmates & the prison system. So much potential for abuse of power!
Synopsis from the Theatre: Based on the novella by Stephen King, this adaptation of The Shawshank Redemption hearkens to the 1994 critically acclaimed film, bringing audiences to the edge of their seats. Andy Dufresne is convicted of the murder of his wife and her lover and sentenced to life imprisonment at Shawshank prison. While at Shawshank, Andy befriends some of the other inmates, namely a character known as Red. Over time Andy finds a way to live out life with as much relative ease as one can find in prison, leaving a message for all that while the body may be locked away in a cell, the spirit can never be truly imprisoned.
Reviewed Performance: 6/3/23 – Opening Weekend
Type: Play
World Premiere: No
Several or Few Scenes: Several
Several or Few Settings/Locations: Several locations at a prison facility
Prior Exposure/Knowledge Required: No, but I assume you'd appreciate it more if read the book or watched the movie. I saw neither but I was still able to enjoy it.
Defined Plot/Storyline: Mostly yes, but there's only so much plot that can occur in a single penitentiary
Recommendation: See it if you like prison dramas or dystopian stories
Was This the First Time I Attended a Production of this Show: Yes
Would I See It Again 3 Years from Now: Probably not
Rating Compared to Other Shows with the Same Production Value:
4 stars (Out of 5 Stars)
Equity Actors: 0
Total Number of Actors: 15
Perceived Pace of the Show: Medium speed
Length (Including Any Intermission): 2.25 hours
Intermission: Yes
Other Rave(s) Not Mentioned in Elevator Thoughts
Scenic Design: Nice harsh utilitarian design of an austere prison. I'm glad Tacoma Little Theatre didn't rely heavily on the projections during this production. While Tacoma Little Theatre usually produces decent-quality projections, the previous shows this season seemed to start leaning a little too generously on the stage technology.
Other Musing(s) and Observation(s)
Male Nudity: For a play with a warning about "some adult male nudity," I was surprised how little nudity was shown … at least for a PNW show. Coming from Texas, I noticed y'all love nudity here in the PNW! I was promised full wang! 😛
Theatre Company: Tacoma Little Theatre
Venue: Tacoma Little Theatre
Venue Physical Address: 210 N I St, Tacoma, WA 98403
Price: Cheap
Dates: June 2 to 18, 2023
Seating: Assigned Seating
Parking: Mostly street parking. I usually like to park one block away on North Yakima Ave. Season ticket holders and donors can access a free parking lot.
Like/Comment/Share my Social Media Posts About this Performance:
Instagram | TikTok | Twitter | Facebook | YouTube
Buy a Ticket or Learn More:
Other Video +/- Pictures: See pictures in video and under video by Dennis K Photography.