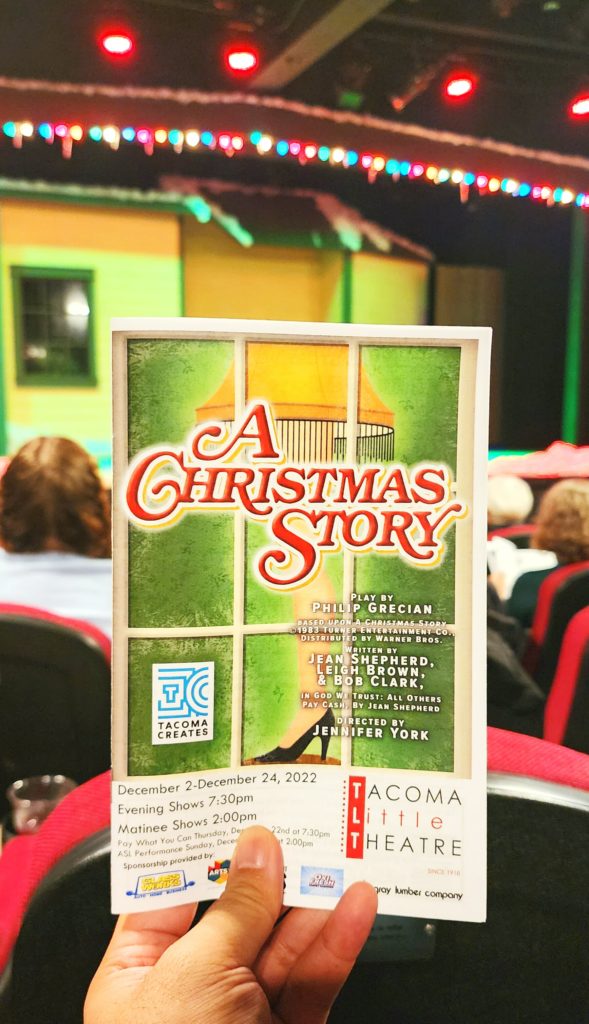 Elevator Thoughts (aka Tweet): A Christmas Story play (based on the movie) at Tacoma Little Theatre . Funny narration, delightful Randy, & cool rotating stage. "You'll shoot your eye out!" #xmas #theatre
Synopsis from the Theatre: Humorist Jean Shepherd's memoir of growing up in the midwest in the 1940's follows nine-year-old Ralphie Parker in his quest to get a genuine Red Ryder BB gun under the tree for Christmas. Ralphie pleads his case before his mother, his teacher, and even Santa Claus himself. The consistent response: "You'll shoot your eye out!" All the elements from the beloved movie are here, including the family's temperamental exploding furnace; Scut Farkas, the school bully; and Ralphie's father winning a leg lamp.
Reviewed Performance: 12/10 Evening
Type: Play
World Premiere: No
Recommendation: See it if either 1) you like traditional family-friendly Christmas plays 2) or you like the original movie.
Rating Compared to Other Shows with the Same Production Value:
4.25 Stars (Out of 5 Stars)
Equity Actors: 0
Length: 2 hours
Intermission: Yes
Other Rave(s) Not Mentioned in Elevator Thoughts
Favorite Line: Something like "Are you Democrat or Republican? I'm Presbyterian."
Rant(s)
Santa: Santa was hidden inside a department store North Pole set so the audience never saw him but we heard his voice.
Other Thought(s)
Relatability: The script didn't seem very relatable to POCs or younger theatre-goers like myself. Maybe I'd feel differently if I moved to the Midwest.
Theatre Company : Tacoma Little Theatre
Venue: Tacoma Little Theatre
Venue Physical Address: 210 N I St, Tacoma, WA 98403
Price: Cheap
Dates: December 2 – 24, 2022
Seating: Assigned Seating
Parking: Mostly street parking. I usually like to park one block away on North Yakima Ave. Season ticket holders and donors have a free parking lot access agreement.
Social Media Posts About this Performance from Shows I've Seen:
Instagram | TikTok | Facebook | Twitter | YouTube
Buy a Ticket or Learn More:
Other Video +/- Pictures: Pictures in video and under below video are by Dennis K Photography.