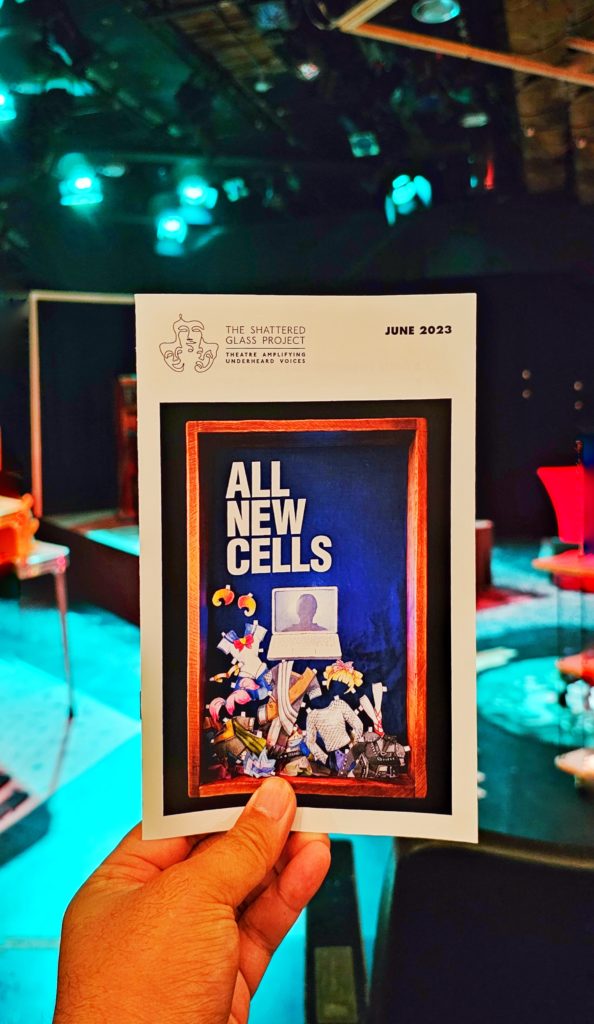 Elevator Thoughts (aka Tweet): All New Cells play at The Shattered Glass Project & Theatre Off Jackson directed by Alison Kozar. Starring Kasper Cergol, Kay Taylor Yelinek, Jasmine Lomax, & Zenaida Rose Smith. Neat prop/lighting design. Only 2 more performances! Wish I could rewatch to the first scene with my new perspective.
Synopsis from the Theatre: When Nils's ex-girlfriend dies suddenly, he is dragged back into a toxic online roleplay scene he swore he'd never return to. He'd been doing okay sticking to his seven-year plan for getting over their breakup – but now, everyone either blames him or expects him to have answers, and he's getting nasty anonymous messages that might be coming from beyond the grave. A nuanced examination of identity, trauma, assault, grief, and mental health through an online world.
Reviewed Performance: 6/15/23
Type: Play
World Premiere: Yes
Several or Few Scenes: A couple
Several or Few Settings/Locations: A couple
Prior Exposure/Knowledge Required: You should be familiar with online message boards
Defined Plot/Storyline: Somewhat yes. There were also many flashbacks.
Recommendation: See it if you're familiar with online bulletin boards, especially if you live in a matrix-like existence where you met all your friends online and you primarily communicate with them online. Definitely see this if you're into fanfic culture.
Was This the First Time I Attended a Production of this Show: Yes
Would I See It Again 3 Years from Now: Probably not
Rating Compared to Other Shows with the Same Production Value:
4 stars (Out of 5 Stars)
Equity Actors: 0
Total Number of Actors: 4
Perceived Pace of the Show: Medium speed
Length (Including Any Intermission): 1.75 hours
Intermission: Yes
Other Rave(s) Not Mentioned in Elevator Thoughts
Lighting/Scenic Design: There's something I love about simple rectangular frames with LED light trim that changes color. It reminded me Seattle Repertory Theatre's recent Lydia and The Troll. The spotlights dedicated to each character only extenuated the design.
Prop Design: The laptop/monitor screens and cell phones were thick plexiglass. It doesn't sound like much on paper but it conveyed a more futuristic feel. Plus, the transparency unobstructed the actors. An opaque monitor prop would have significantly blocked Moody's face.
End of First Act (No Spoilers): The end of the first act revealed a juicy unexpected twist. Good last line before the lights cut out … although I wonder how many people would know the reference.
Obsession: I was facinated with Moody's (played by Kay Taylor Yelinek) stalker-like fixation. Well-written and well-executed.
Rant(s)
Prop Movement: Props and furniture were moved during scenes, which was a little distracting. It would have been better to cut the lights and quickly move things around.
Blocking: The characters at stage center need better blocking when speaking to Nils, who was at upper center stage. It's usually not a good idea to turn your back to the audience unless the seating is arena theatre style or surrounding a thrust stage.
Other Musing(s) and Observation(s)
Costume Design: The characters looked sooo Seattle, which fit well with the story themes.
Theatre Company: The Shattered Glass Project
Venue: Theatre Off Jackson
Venue Physical Address: 409 7th Ave S, Seattle, WA 98104
Price: Cheap
Ticket Affordability Options: Self-select ticket prices as low as zero dollars depending on your financial situation
Dates: June 2 to 18, 2023 – Sorry, I didn't have time to see an earlier show!
Seating: General Admission
Parking: Paid street parking is usually available north of the theatre on the hill close to the park. You can also try parking on Jackson Street closer to the I-5 bridge. As usual, there are paid parking lots nearby as well.
Like/Comment/Share my Social Media Posts About this Performance:
Instagram | TikTok | Twitter | Facebook | YouTube
Buy a Ticket or Learn More:
Other Video +/- Pictures: See pictures in video and under video by Kirk Hostetter.
Cast and Production Team: See after pictures and video below
@showsiveseen "All New Cells" #play at The Shattered Glass Project + Theatre Off Jackson directed by Alison Kozar. Starring Kasper Cergol, Kay Taylor Yelinek, @jasmineissublime and Zenaida Rose Smith. Neat props & lighting design. Only 2 more performances! Wish I could rewatch the 1st scene w/ my new perspective. Photos by Kirk Hostetter. Review: showsiveseen.com/5843 #theatre ♬ LOVER AND PSYCHOPATH – Casey Baer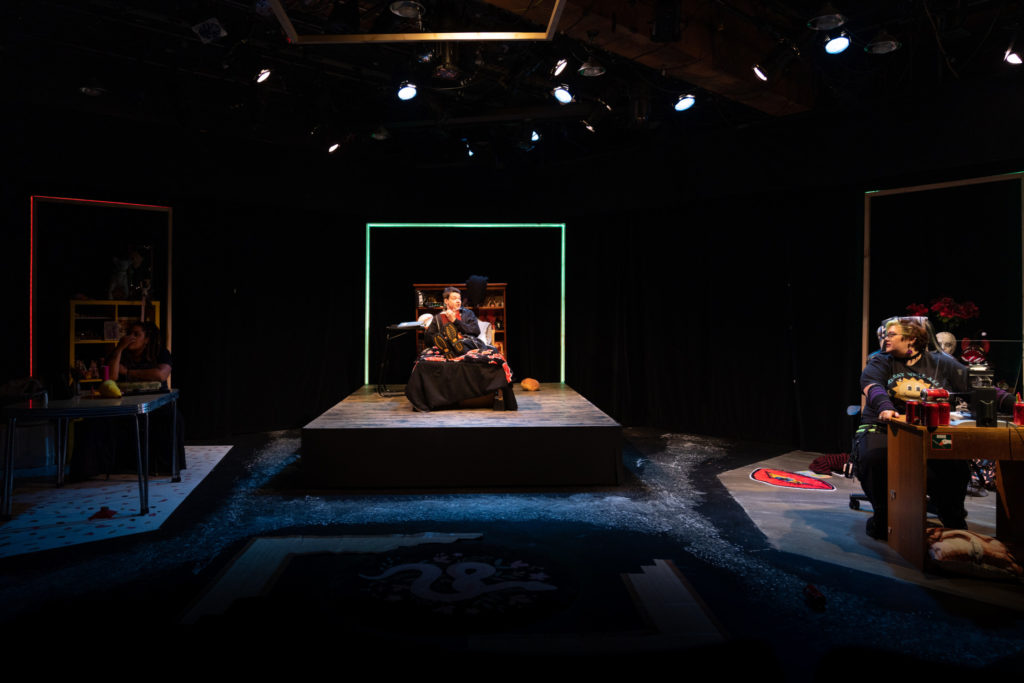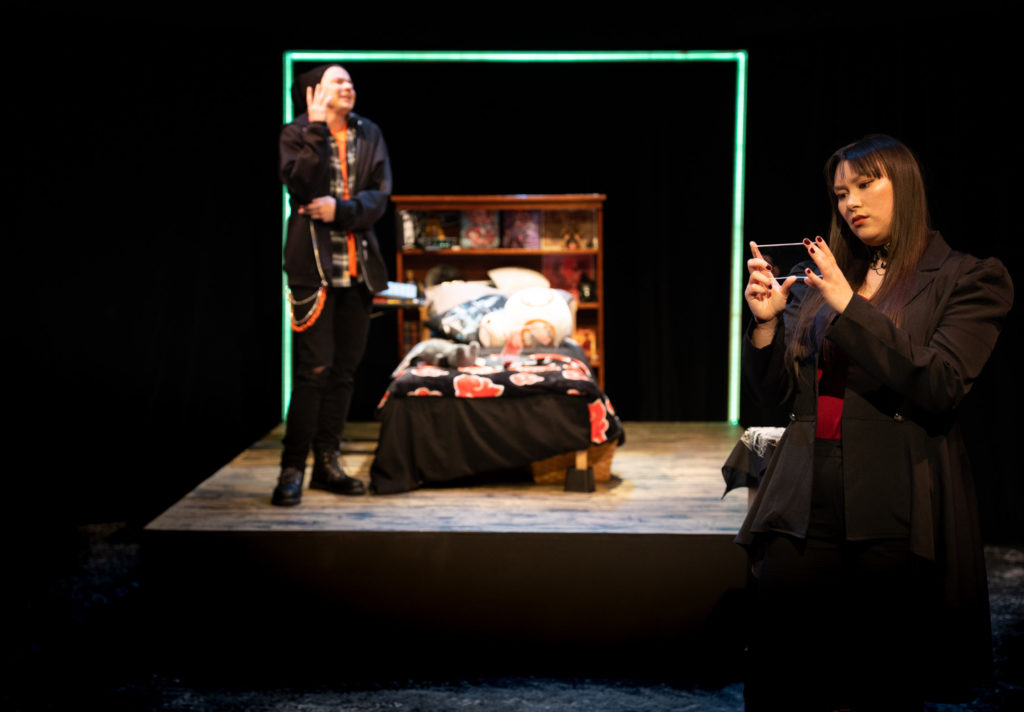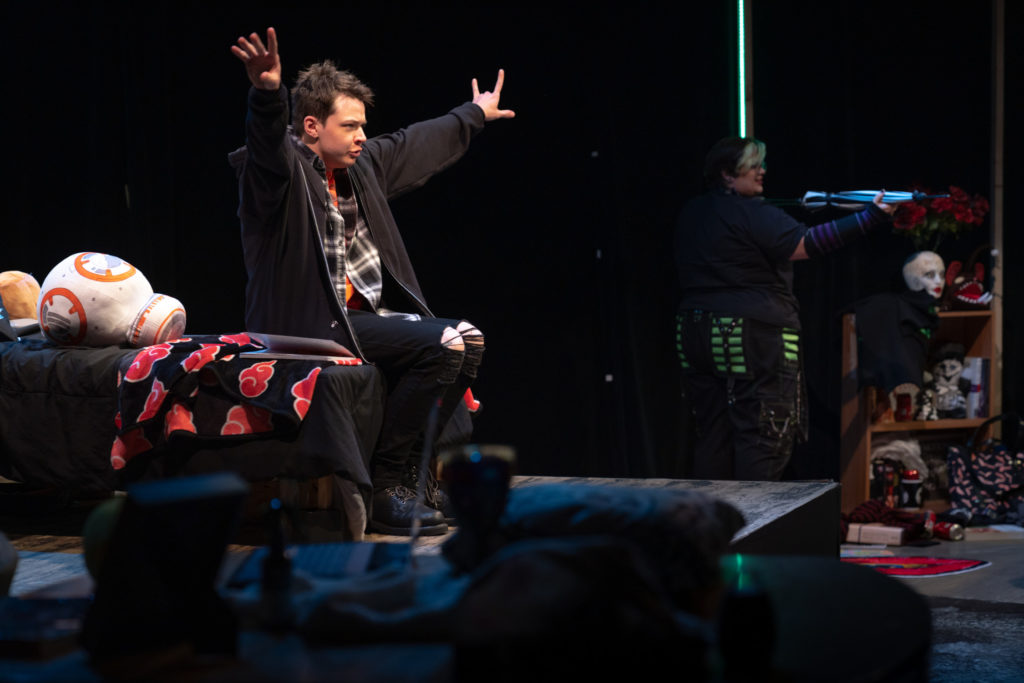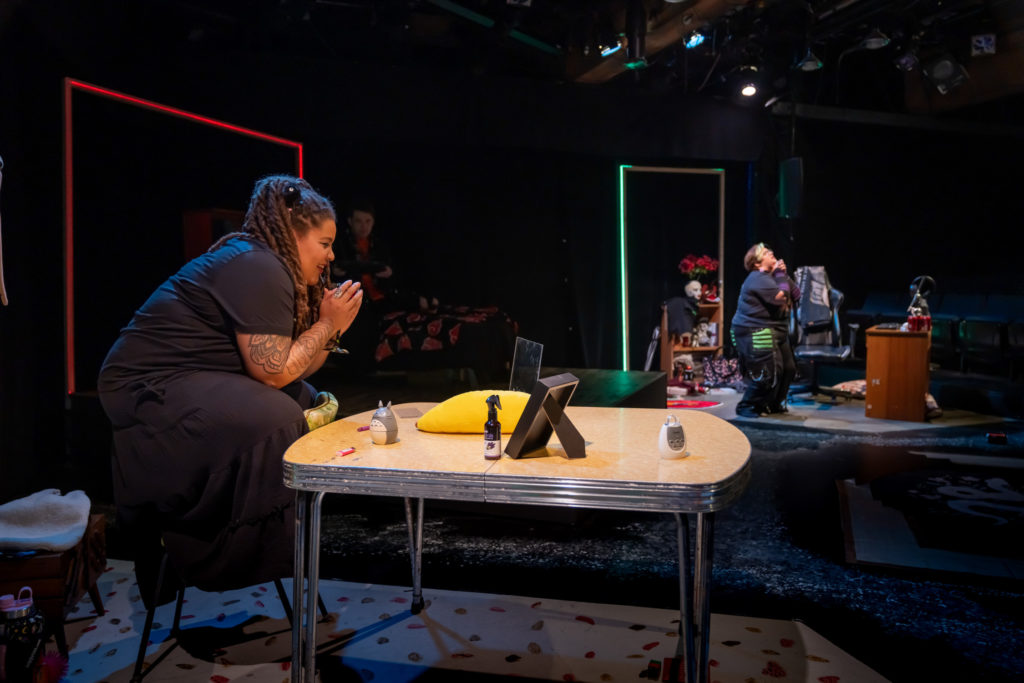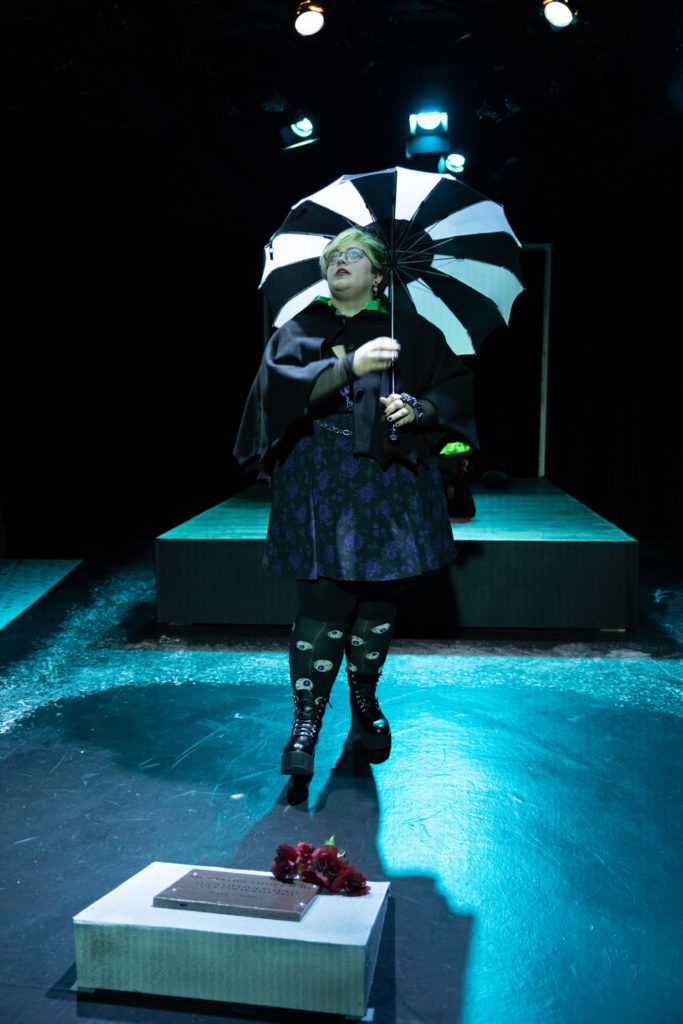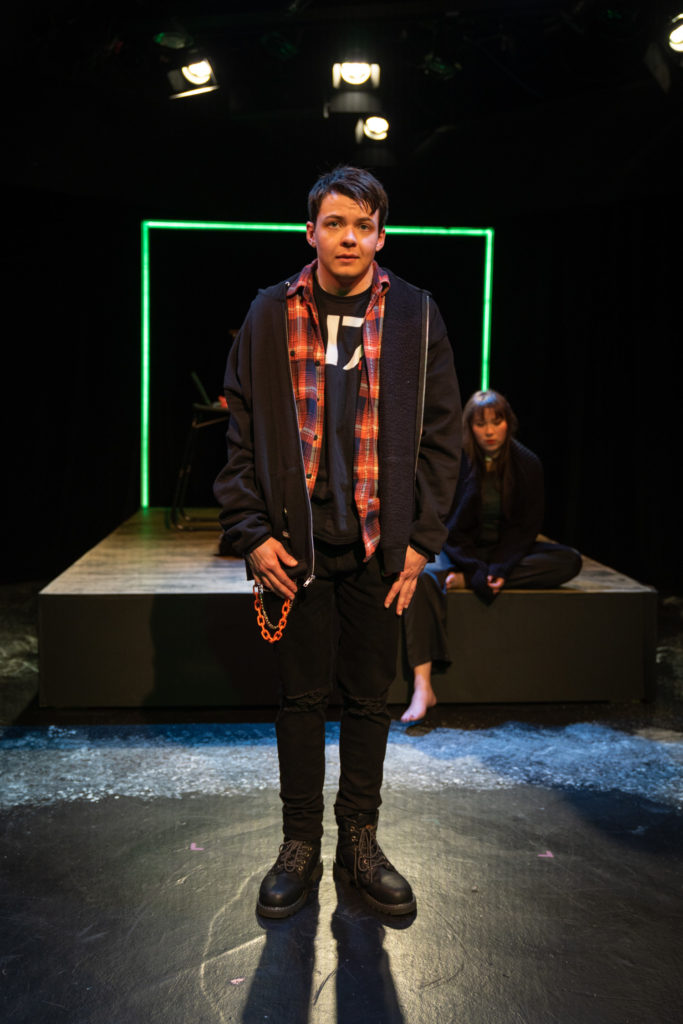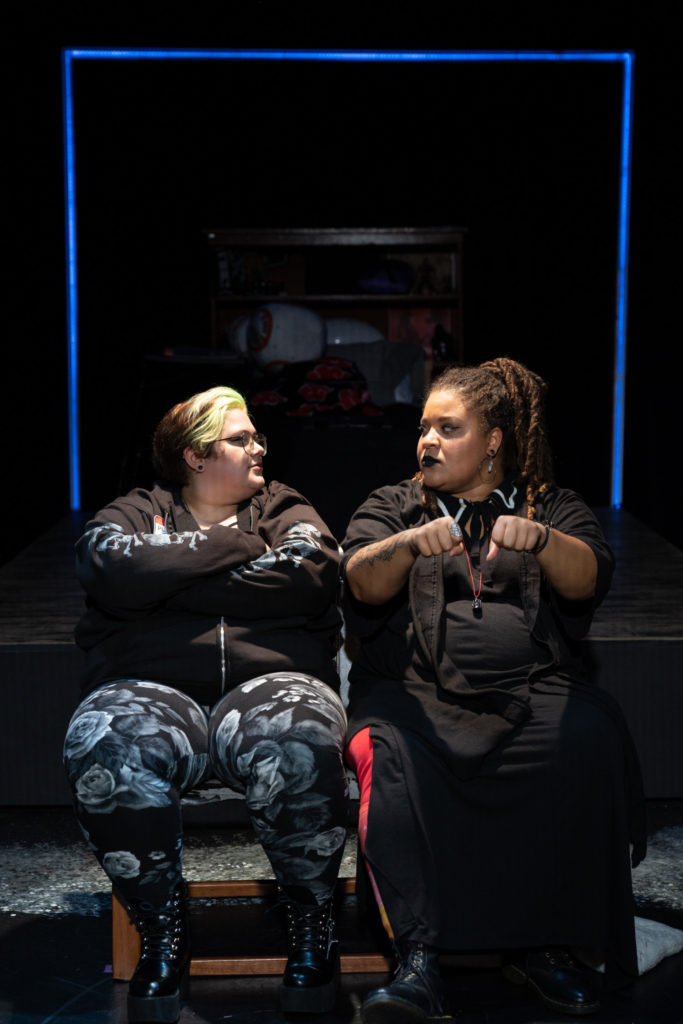 | Role | Name |
| --- | --- |
| Lux | Zenaida Rose Smith |
| Nils | Kasper Cergol |
| Moody | Kay Taylor Yelinek |
| Aeon | Jasmine Lomax |
| — | — |
| Playwright | Aliza Goldstein |
| Director | Alison Kozar |
| Intimacy Consultant | Francesca Betancourt |
| Properties & Set-Dressing Designer | Jessamyn Bateman-Iino |
| Sound Designer | Madelyn Zandt |
| Producer/Scenic Designer | Rebecca O'Neil |
| Social Media Manager | Carolynne Wilcox |
| Calling Stage Manager | Brandon Ellis |
| Lighting Designer | Chih-Hung Shao |
| Graphic Designer | Lara Kratz |
| Photography | Kirk Hostetter |
| Casting Director | Buddy Todd |
| Deck Stage Manager | Hana Oh |
| Costume Design | Fawn Bartlett |
| Production Assistant | Erin Lammie |
| Scenic Painter | Gwen Gothe |