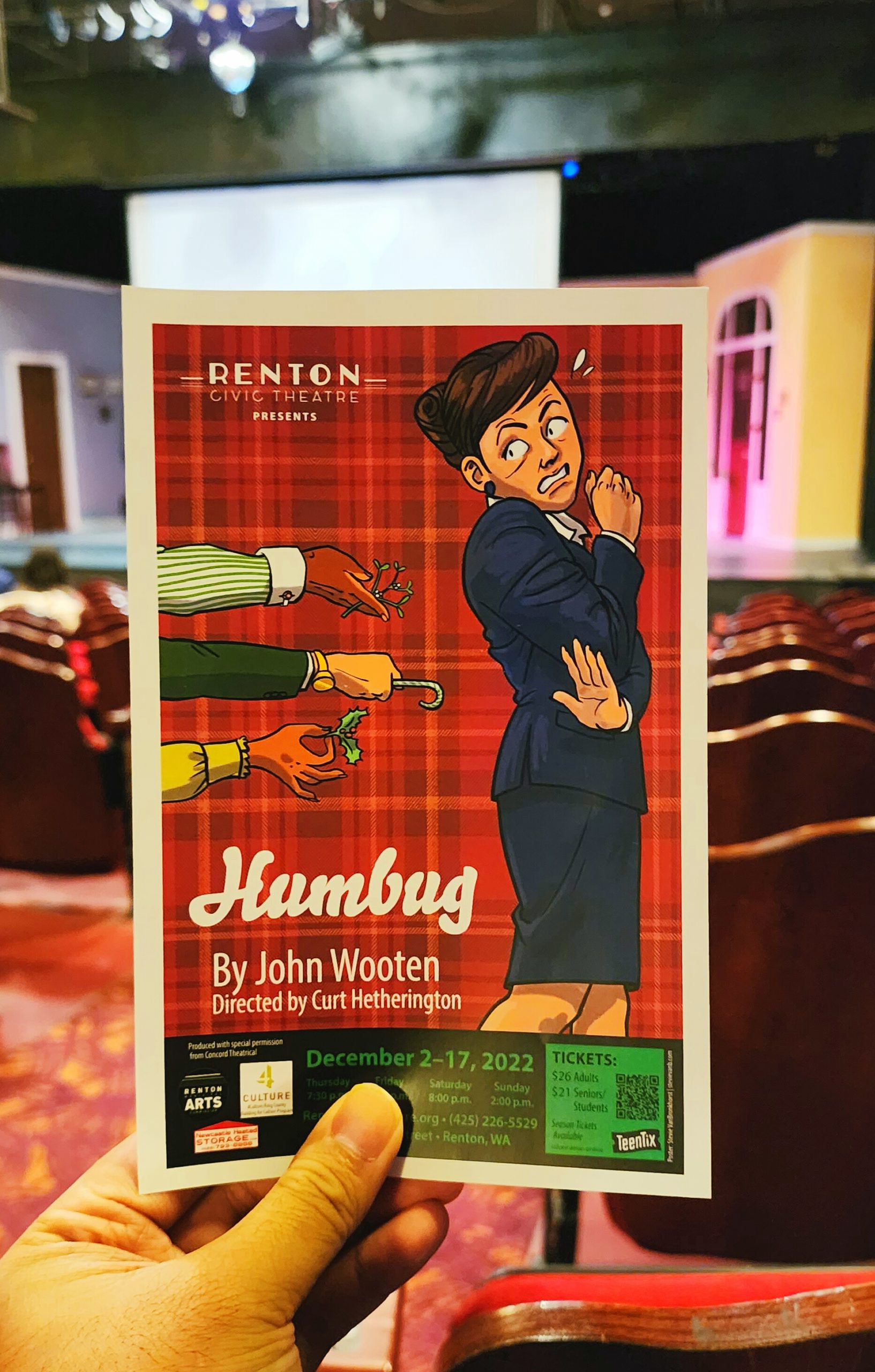 Elevator Thoughts (aka Tweet): Humbug play at Renton Civic Theatre. Modern take of A Christmas Carol where Scrooge is a cutthroat career-obsessed woman. Terminator was the ghost of #Christmas future! #theatre #CharlesDickens #xmas
Synopsis from the Theatre: As A Christmas Carol with a modern-day twist, Humbug follows the story of Eleanor Scrooge, a ruthlessly ambitious Wall Street executive who has an aversion to Christmas and an insatiable appetite for power. Locked in her office on a snowy Christmas Eve, Eleanor is determined to finish a corporate-takeover proposal until three "advisors" provide her with an eye-opening new appreciation for the holidays and the spirit of Christmas. An upbeat and moving adaptation of Dickens' holiday classic, Humbug is one for the ages. With a contemporary flair, it is a tale the whole family will enjoy!
Type: Play
World Premiere: No
Recommendation: See it if you like A Christmas Carol and you like supporting community theatre
Equity Actors: 0
Length: 75 minutes
Intermission: Yes
Other Rave(s) Not Mentioned in Elevator Thoughts
Favorite Line: When asked to help a man who collapsed, the ghost of Christmas present said "Back in my day we just bled em!"
Rant(s)
Scenic Design: I have a hard time believing the set depicted a 16th floor high rise office. It looked more like the first story of a building in historic downtown.
Theatre Company : Renton Civic Theatre
Venue: Renton Civic Theatre
Venue Physical Address: 507 S 3rd St, Renton, WA 98057
Price: Cheap
Dates: December 2 to December 17, 2022
Seating: Assigned Seating
Parking: Free street parking – I usually park West of the theatre on Morris Ave.
Like/Comment/Share my Social Media Posts About this Performance:
Instagram | TikTok | Facebook | Twitter | YouTube
Buy a Ticket or Learn More:
Other Video +/- Pictures: There are additional under below video