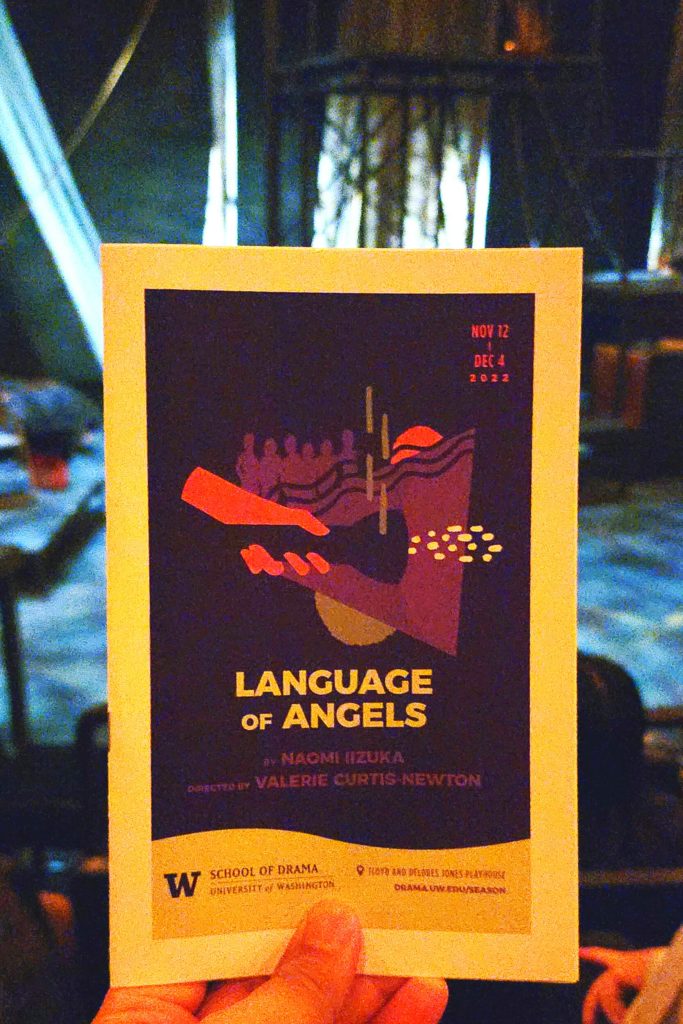 Elevator Thoughts (aka Tweet): Language of Angels play w/ UW School of Drama about chilling, haunting, mysterious tragedies in small town USA. Professional-quality production. Great acting, projections, sound effects, & set design. Novel use of darkness. Interesting accents. #theatre #karma
Synopsis from the Theatre: "I didn't get all that when I was little, all that stuff about angels and god in heaven. I thought it was all puffy clouds and angel babies playing harps. I didn't get the other part, the secret part, like some kinda sign. The language of angels, and how light burns." Many years after their friend Celie goes missing in the caves near a rural North Carolina town, many of her close-knit friends recall the inexplicable impacts of her loss. As the play unfolds, we see how Celie's disappearance continues to affect each of them in different ways. Against the echoes of Celie's ghostly cries, the survivors continue to struggle to unravel the mysteries of that fateful night. In this haunting yet touching play, Iizuka weaves a story on grief, loss, guilt, and karma into a play with elements of Japanese Noh drama set in Appalachia.
Type: Play
World Premiere: No
Reviewed Performance: 11/20 Afternoon
Recommendation: See it even if you don't like to watch student actor performances. This production had many professional quality elements.
Would I See It Again 3 Years from Now?: Yes if it was an Equity production.
Rating (Out of 5 Stars) Compared to Other Shows with the Same Production Value: 4.75
Equity Actors: None
Length: 80 mins
Intermission?: No
Other Rave(s) Not Mentioned in Elevator Thoughts
Favorite Line: Something like "I'm starting to look like my mom and she was ugly!"
Parking Lot Scene: Set looked very detailed especially with the leaves, grass, paint lines, and streetlamp. The occasional headlights were a nice touch too.
Darkness: Novel use of darkness … maybe even bordering on too much darkness. The theatre was so dark when I entered that it was difficult to take good pictures! You can see this by the distorted heavily-filtered picture above. A lot of times we focus on spectacular theatre lighting effects but we can't appreciate the light without knowing the darkness.
Cave Description: Good visceral descriptions of cave experiences. This play took me back to a negative personal caving experience in Enchanted Rock, TX.
Rant(s)
Ending: The ending was so abrupt! I was waiting to see more of the story and to see an explanation of the last 10 seconds! Maybe the sudden ending was intentional to leave the audience at the edge of their seats.
Multiple Stories: There were 5 separate stories and it was a little difficult to piece together each one.
Other Thought(s)
Production Run Dates: This would have been better staged in October for Halloween. Of course, there might have been school-related scheduling constraints. I think schools like to time their plays toward the end of the semester.
Title: Why does the title reference angels? Did angels equal spirits in this story? Leave me a comments in the social media links below if you have any ideas!
Theatre Company : University of Washington School of Drama
Venue: Floyd and Delores Jones Playhouse Theatre
Venue Physical Address: 4045 University Way NE, Seattle, WA 98105
Price: Cheap
Dates: November 17 – December 4, 2022
Seating: General Admission
Parking: Street parking (sometimes free) usually available within 3 blocks from the theatre. There's also a paid parking lot a block away going North.
My Social Media Posts About this Show: Instagram | TikTok | Facebook | Twitter | YouTube
Buy a Ticket or Learn More:
Cast and Production Team: See under the multimedia below.
Other Video +/- Pictures:
Role

Name

Seth
Ruby O'malley
Celie
Aurelia Ca'zorzi
Kendra
Hailey Henderson
JB
Gabriel Trimbur
Michael/Tommy
Jesimiel Jenkins
Allison
Iveliz Martel
Danielle
Chinelo Okpala
Billy
Nic Morden
—
—
Playwright
Naomi Iizuka
Director
Valerie Curtis-Newton
Stage Manager
Kimberly Le
Assistant Stage Manager
Weiyu Guo
Set Designer
Adair Maccormack
Costume Designer
Candace Frank
Light Designer
Trevor Cushman
Sound Designer
M.L. Dogg
Technical Director, Shop Supervisor, Production Manager:
Alex Danilchik
Master Carpenter
Tres Tracy Ballon
Charge Scenic Artist
Jennifer Law
Master Electrician
Jay McAleer
Costume Shop Manager
Ricky German
Costume Lead
Deborah Skorstad
Costume Specialist
Val Mayse
Prop Master
Andrea Bush
Assistant Scenic Designer
Lukas White
Assistant Lighting Designer
Landon Elder
Assistant Costume Designer
Antonio Torrez
Alex Mellor
Light Board Operator
Aurora Asay
Sound Board Operator
Taylor Freeman
Wardrobe Crew
Kalea Levy
Brionna Olson
Natalie Tassielli
Deck Crew
Noelle Bi
Evan Ponyah
Eric Wang
Logan West