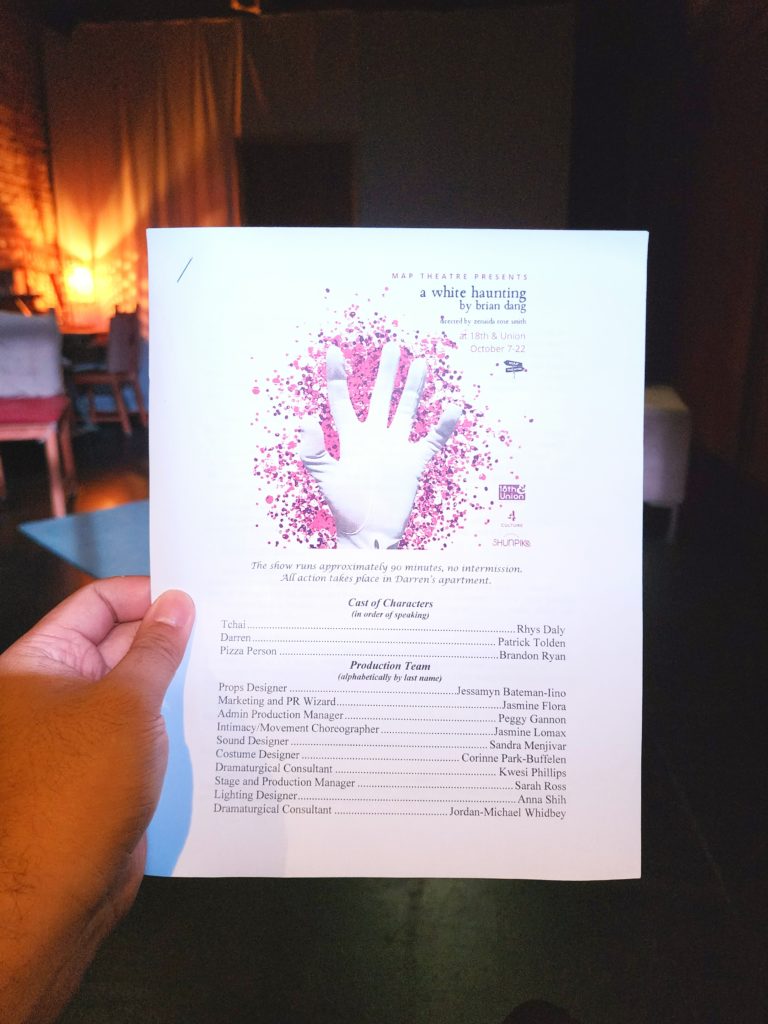 Elevator Thoughts (aka Tweet): a white haunting play w/ MAP Theatre at 18th & Union. A white axe-wielding psychopath interrupts an interracial date. High energy actors. Experimental theatre. Thought-provoking poignant commentary on race. Wondering what veiled symbolism I didn't grasp. Like did the phallus mean anything? #horror #theatre
Type: Play
Recommendation: See it if you like experimental theatre, art symbolism, race commentary, plays with only one scene, and/or community theatre
Rating (Out of 5 Stars): 3.5 stars
Other Rant(s)
The jumpy neurotic/manic nature of the Asian character was A LOT. But kudos to the actor who was able to tap into that persona.
There was a bit too much randomness. It would have been fine if the randomness was actually symbolism … in that case, it went over my head.
Turn down the A/C! This is coming from someone who loves A/C'ed rooms and turns it on in the fall. Maybe I was sitting in the vent's direct line of fire.
Other Rave(s)
Really good symbolism on racial themes. I'm so curious of what I gathered that was unintentional from the playwright and what went over my head.
Theatre Company : MAP Theatre
Venue: 18th and Union Arts Space – 1406 18th Ave, Seattle, WA 98122
Price: $ (Cheap)
Dates: October 7-22, 2022
Seating: General Admission
Social Media Posts: Instagram | TikTok | Facebook | Twitter | YouTube
Link(s):
Other Media: