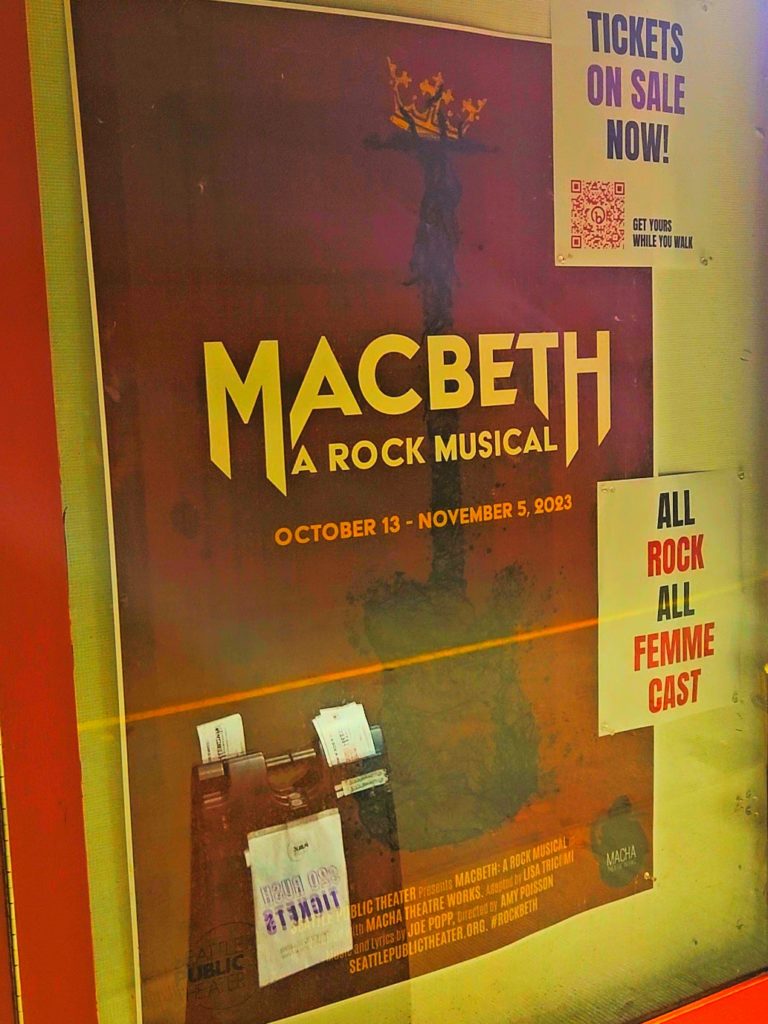 Elevator Thoughts (aka Tweet): Macbeth: A Rock Musical by an all-femme cast from Seattle Public Theater & Macha Theatre Works. Grungy punk costumes/music/aesthetic were perfect for Seattle. Great score. Entire production run sold out quickly, but rush tickets are still available!
Recommendation
See it, especially if you like Shakespeare and musicals. It's worth attempting obtaining rush tickets to this sold-out show. FOMO FTW!

Synopsis from the Theatre: The witches' prophecy swallows Macbeth whole and a murderous nightmare begins. Can Macbeth upend fate? In this all femme punk rock telling of a classic Shakespearean Tragedy, MacBeth's foul greed and hunger for power distorts his actions.
Attended Performance Date: 10/19/23 – I would have attended opening night a week earlier but it was already sold out! See my previous preview posts here.
Type: Musical
World Premiere: No
Several or Few Scenes: Several
Several or Few Settings/Locations: Several
Static (Stationary) Set: Mostly yes
Prior Exposure/Knowledge Required: You should be able to understand old Shakesperean English. As you might already know from my previous posts, I typically don't prefer Shakespeare plays since they're so difficult to understand. But this musical was one of the easier shows to comprehend in old Shakesperean English. It helped that the songs were more modern English. Additionally, you might enjoy this play more if you're already familiar with the Macbeth story or if you've seen the original play, both of which didn't apply to me. Despite this unfamiliarity, I still was able to enjoy the show and follow the general story.
Defined Plot/Storyline: Yes
Live Band/Orchestra: Yes, and occasionally during the show, they even spoke dialogue (as witches), walked on-stage, and sang.
Equity Actors: 1
Total Number of Actors: 15
Perceived Pace of the Show: Medium speed
Length (Including Any Intermission): 2.75 hours
Was there an intermission? Yes
Was This the First Time I Attended a Production of this Show? Yes
Would I See It Again 3 Years from Now? Yes, but maybe only a full professional production
Other Rave(s) Not Mentioned in Elevator Thoughts
Costumes: Lady Macbeth's red rubber costume and Macbeth's spiky/sparkly jacket of were well-chosen statement pieces.
Fire: The letter burning stage magic early in the show was pretty cool.
Favorite Song: Lady Macbeth (played by Meg McLynn) sang a song with I think Brandi Birdsong's and Melissa Owen's character that I wish I could hear again. Unfortunately, I can't even find an official soundtrack for this musical online!
Other Musing(s) and Observation(s)
Seat Choice: Like I mentioned from Seattle Public Theater's last musical, try to make sure your seat is close to the right side of the stage (when facing the stage) since the band on the left side might drown out the lyrics.
The Lion King: Some people sitting close to me mentioned similarities between The Lion King movie and Macbeth, which was pretty interesting to think about while watching the show.
Harmony: Many song portions where they sang in unison definitely had potential for more harmony to add more interesting song facets.
Vocal Ranges: While I support all-femme casting, I find the vocal range disparity distracting. I frequently mention this in previous reviews. Typically, when someone sings a part that was originally written for the opposite gender, it sounds like they're singing too high or too low. And there are songs in this musical originally written for a male vocal range. Songs should be transposed if singing a part that was originally composed for the opposite gender.
Theatre Company: Seattle Public Theater and Macha Theatre Works
Venue: Seattle Public Theater (aka Bathhouse Theatre)
Venue Physical Address: 7312 West Green Lake Dr N, Seattle, WA 98103
Price: Cheap
Tickets: https://app.arts-people.com/index.php?ticketing=spt
As I mentioned previously, the show is sold out. However, handicap/companion seats are still available online. Rush tickets are available on the day of the performance for $20 each. Box office opens one hour before each performance for rush ticket sales.
Ticket Affordability Options: You can self-select $10 price-accessible tickets.
Dates: October 13 to November 5, 2023
Seating: Assigned Seating
Parking: Free plentiful parking lot of Greenlake Park, which is adjacent to the theatre.
Like/Comment/Share my Social Media Posts About this Performance:
Instagram | TikTok | Twitter | Facebook | YouTube | Threads
Buy a Ticket or Learn More:
Other Video +/- Pictures: See pictures in video and under video by Joe Iano
Cast and Production Team: See after pictures and/or video below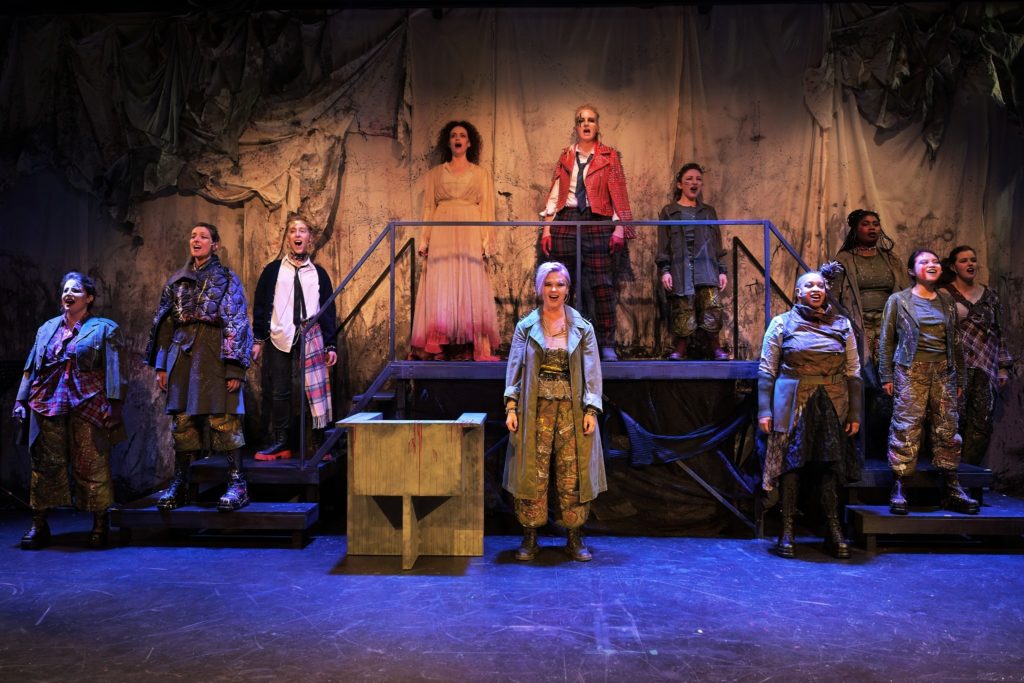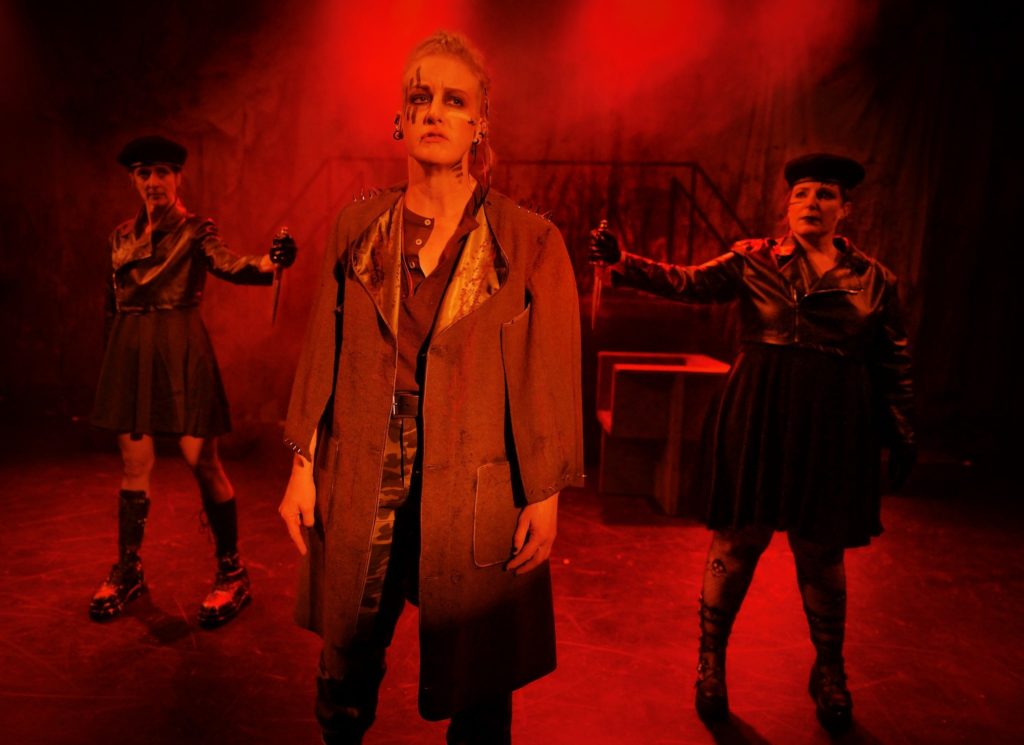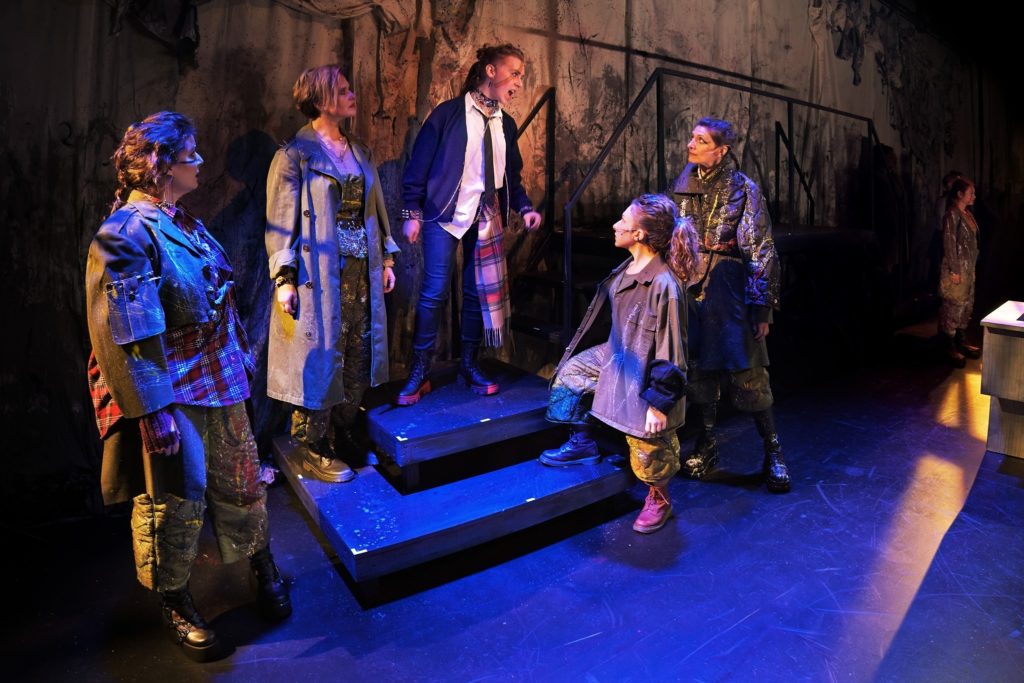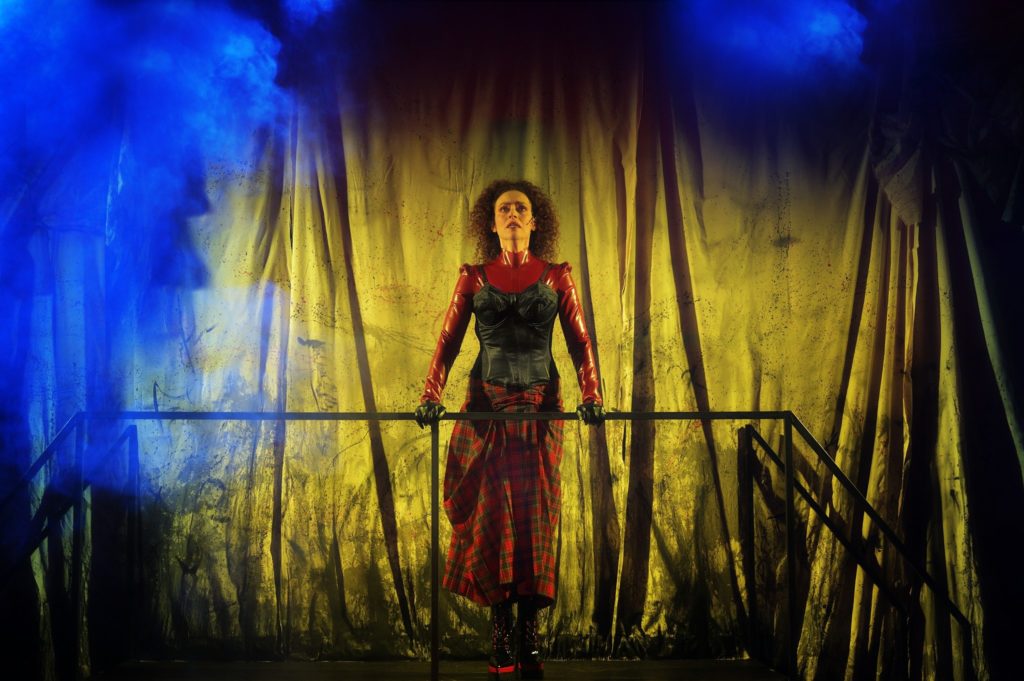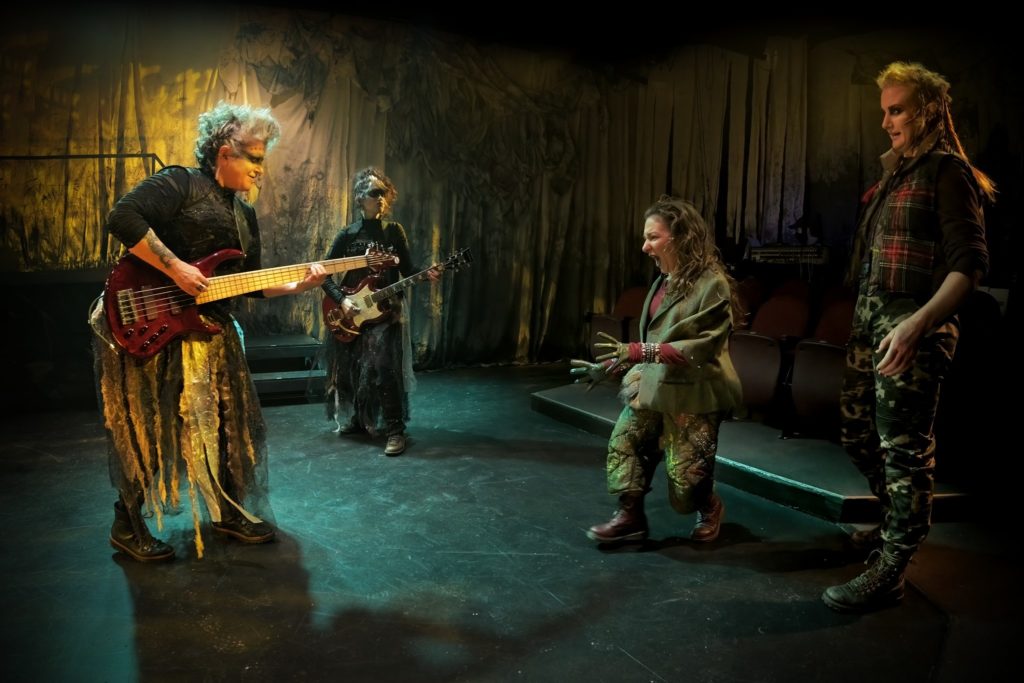 Name

Role

Cristin J Hubbard*
Macbeth
Melissa Owens
Captain / Doctor / Lennox
Meg McLynn
Lady Macbeth
Alyssa Keene
Ross / Murderer
Erin Stewart
MacDuff
Karis Ho
Fleance / Donalbain / Seyton
Brandi Birdsong
Duncan / Gentlewoman
Dani Davis
Malcom
Sydney Maltese
Banquo / Soldier
Jenn Ruzumna
Angus / Murderer
Melodie Gorow
Messenger
Sherri Jerome
Witch / Lead Guitar / Vocals
Alicia Healey
Witch / Bass / Vocals
Aimee Zoe
Witch / Drums / Vocals
Nick Bringhurst
Porter
Cordelia Carranza
Caitlin M Frances
Understudies
—
—
Amy Poisson
Director
Bailey Dobbins
Stage Manager
Melodie Gorow
Assistant Stage Manager
Nick Bringhurst
Music Director and Graphic Designer
Dani Norberg
Lighting Designer
Holly Hill
Costume Designer
Joe Popp
Composer
Leny Shen
Costume Assistant
Lisa Finkral
Sound Designer
Colin Pace
Sound Engineer
Lisa Tricomi
Adaptation/Book and Associate Director
Robin Macartney
Props Designer
Joe Iano
Photographer
Jayde McCarrell
Master Electrician
Parmida Ziaei
Scenic Designer
Daveh Hasting
Technical Director
Garrett Dill
Associate Technical Director and Builder
* Member of Actors' Equity Association