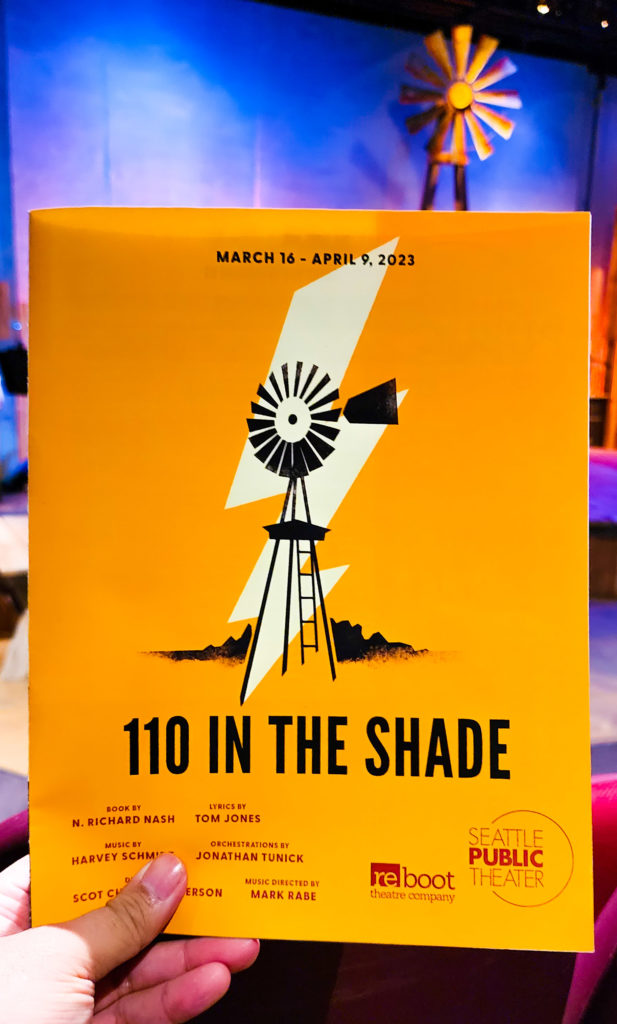 Elevator Thoughts (aka Tweet): 110 in the Shade musical w/ Seattle Public Theatre & Reboot Theatre Company. Wonderful production that touches on what it means to be a woman … through the lens of genderblind casting! Loved the juxtaposition between life choices of nomadic adventure vs quiet stability.
Synopsis from the Theatre: Reboot Theatre Company, known for its intriguing deep dives and fresh interpretations of theater, brings to life 110 in the Shade, a beautiful exploration of love, hope, and acceptance. From the creators of The Fantasticks, 110 in the Shade is a touching and intimate musical adaptation of the hit play The Rainmaker. Set in a small western town besieged by drought, Lizzie, intelligent and independent, struggles with the societal pressure to do as a "woman" should do. One blistering hot day, Lizzie's family urges her to marry the recently widowed Sheriff File, while charismatic stranger Starbuck comes to town with promises of being able to make it rain. Immediately suspicious, Lizzie tries to pick apart Starbuck's story, but realizes a deeper truth about herself along the way. While the source material was written in the 1950's, director Scot Charles Anderson will take a closer look at the seemingly simplified gender roles in classic Reboot style.
Reviewed Performance: 3/17/23 Opening Night
Type: Musical
World Premiere: No
Several or Few Scenes: Several
Several or Few Settings: Several
Defined Plot/Storyline: Yes
Live Band/Orchestra: Yes, they also included a banjo, bass, and a fiddle for that authentic country feel. Some cast members even played instruments like the guitar and ukelele!
Recommendation: See it!
Was This the First Time I Attended a Production of this Show: Yes
Would I See It Again 3 Years from Now: Yes
Rating Compared to Other Shows with the Same Production Value:
4.75 Stars (Out of 5 Stars)
Equity Actors: 0
Total Number of Actors: 12
Length (Including Any Intermission): 2.5 hours
Intermission: Yes
Other Rave(s) Not Mentioned in Elevator Thoughts
Rant(s)
Other Musing(s) and Observation(s)
Theatre Company: Reboot Theatre Company and Seattle Public Theatre
Venue: Seattle Public Theatre (aka Bathhouse Theatre)
Venue Physical Address:7312 West Green Lake Dr N, Seattle, WA 98103
Price: Cheap
Ticket Affordability Options: You can self-select ticket prices as low as $5 on the ticketing website for those who find the higher options a financial barrier to enjoying great theatre. There is also no seat placement difference between ticket prices.
Dates: March 16 to April 9, 2023
Seating: Assigned Seating
Parking: Free plentiful parking lot of Greenlake Park, which is adjacent to the theatre
Like/Comment/Share my Social Media Posts About this Performance:
Instagram | TikTok | Twitter | Facebook | YouTube
Buy a Ticket or Learn More:
Other Video +/- Pictures: See pictures in video and under video below by Colin Madison Photography