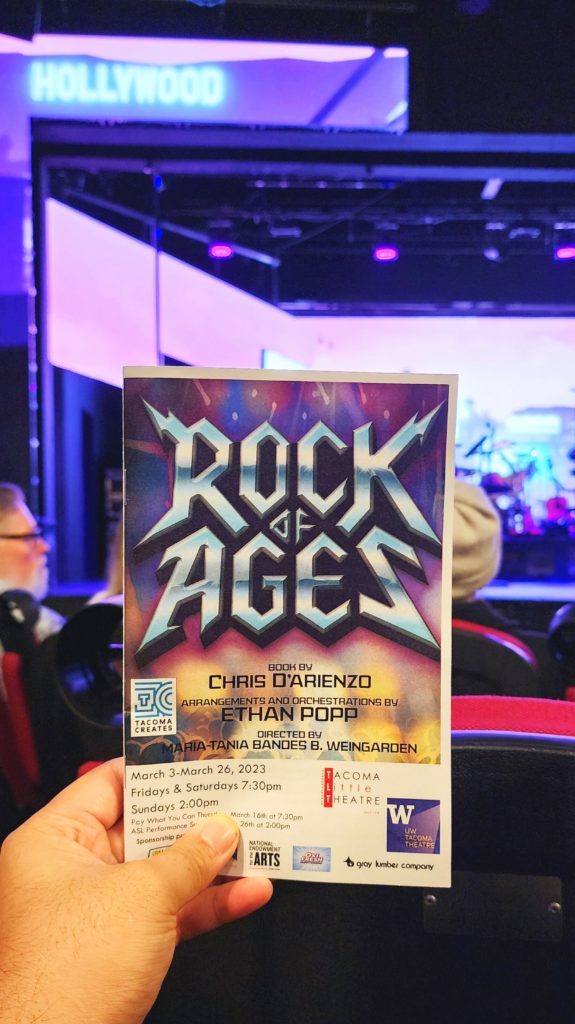 Elevator Thoughts (aka Tweet): Rock of Ages jukebox musical w/ Tacoma Little Theatre and UW Tacoma. Impressive production value for community theatre. Complete with a catwalk and stage sparklers! #RockOfAges #theatre
Synopsis from the Theatre: Aqua Net, Lycra, lace, and liquor flow freely at one of the Sunset Strips last legendary venues in the 1980s. A place where sex machine Stacee Jaxx takes the stage and scantily clad groupies line up to turn their fantasies into reality. Amidst the madness, aspiring rock star (and resident toilet cleaner) Drew longs to take the stage as the next big thing (and longs for Sherri, fresh off the bus from Kansas with stars in her eyes). But the fairy-tale is about to end when German developers sweep into town with plans to turn the fabled Strip into just another capitalist strip mall. Can Drew, Sherri, and the gang save the strip, and themselves, before it's too late? Only the music of hit bands Styx, Journey, Bon Jovi, Whitesnake, and more hold the answer.
Reviewed Performance: 3/12/23 Matinee
Type: Musical
World Premiere: No
Several or Few Scenes: Several
Defined Plot/Storyline: Yes
Live Band/Orchestra: Yes, a 5-piece live band
Recommendation: See it if they improve the sound balancing.
Was This the First Time I Attended a Production of this Show: No, I first saw Rock of Ages at 5th Ave Theatre
Would I See It Again 3 Years from Now: Maybe if it was a professional Equity production
Equity Actors: 0
Total Number of Actors: A whopping 26 performers! I assume the large cast size had to do with the joint production with University of Washington – Tacoma. There were times where it seemed too crowded on stage especially since actors had to share space with the live band.
Length (Including Any Intermission): 2.5 hours
Intermission: Yes
Other Rave(s) Not Mentioned in Elevator Thoughts
Production Value: Tacoma Little Theatre always surprises me with the production value of their shows. For example, there are always high-quality projections in the scenic background. Also, one of their previous plays, Murder on the Orient Express, utilized a rotating stage. And Rock of Ages featured a catwalk with stage sparkler machines! What will they surprise us with next?
Rant(s)
Sound/Volume Balancing: For having such high production value, it's a mighty dang shame I could hardly hear the performers sing or speak when the band was playing. Both the singers and the band seemed alright separately, but the volume wasn't balanced well together. Better sound balancing would make this show 1000x better.
Other Musing(s) and Observation(s)
Earplugs: I always worry when there are earplugs at the door. Thankfully, I didn't need them. Nice touch though for catering to those with sensitive eardrums.
Theatre Company: Tacoma Little Theatre and University of Washington – Tacoma
Venue: Tacoma Little Theatre
Venue Physical Address: 210 N I St, Tacoma, WA 98403
Price: Cheap
Ticket Affordability Options: PWYC (pay-what-you-can) on 3/16/23
Dates: March 3 to 26, 2023
Seating: Assigned Seating
Parking: Mostly street parking. I usually like to park one block away on North Yakima Ave. Season ticket holders and donors can access a free parking lot.
Like/Comment/Share my Social Media Posts About this Performance:
Instagram | TikTok | Twitter | Facebook | YouTube
Buy a Ticket or Learn More:
Other Video +/- Pictures: See pictures in video and under video below by Dennis K Photography.
Cast and Production Team: See after pictures and video below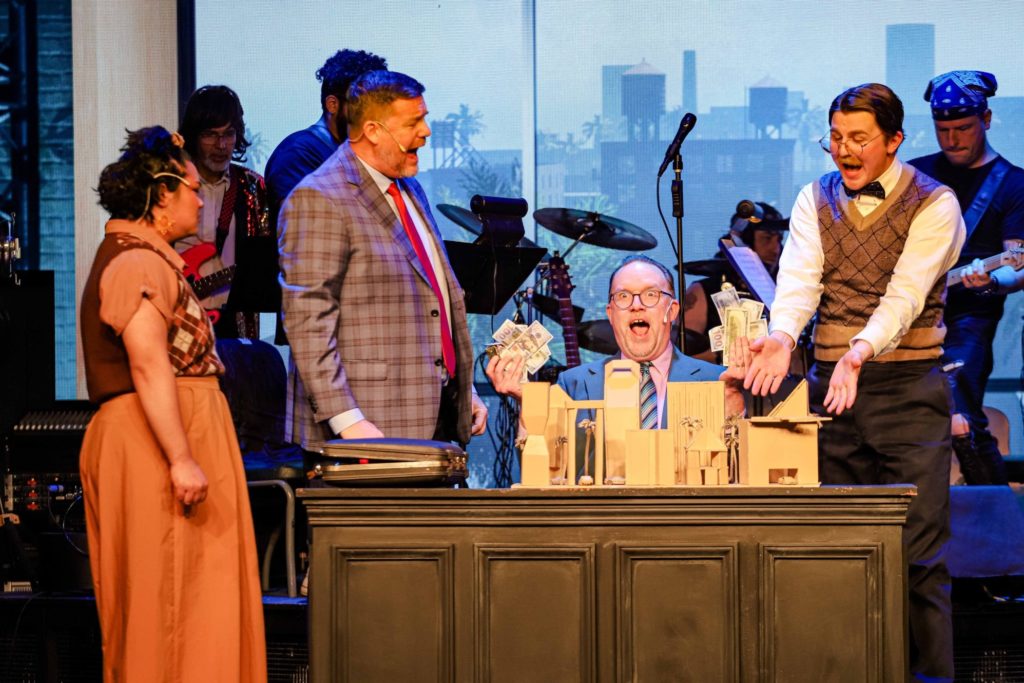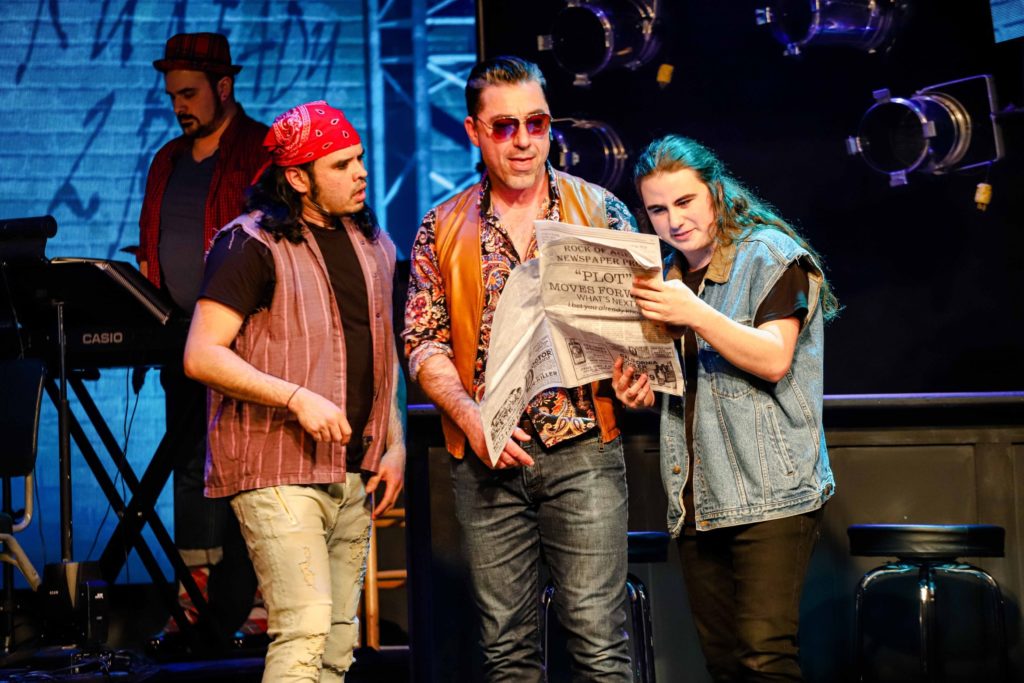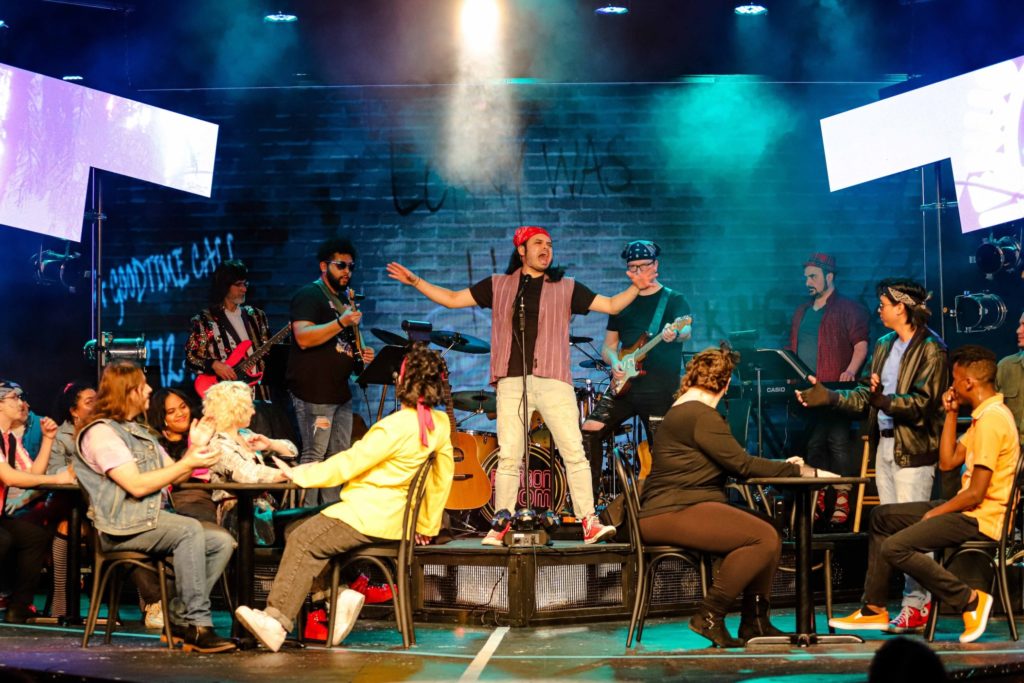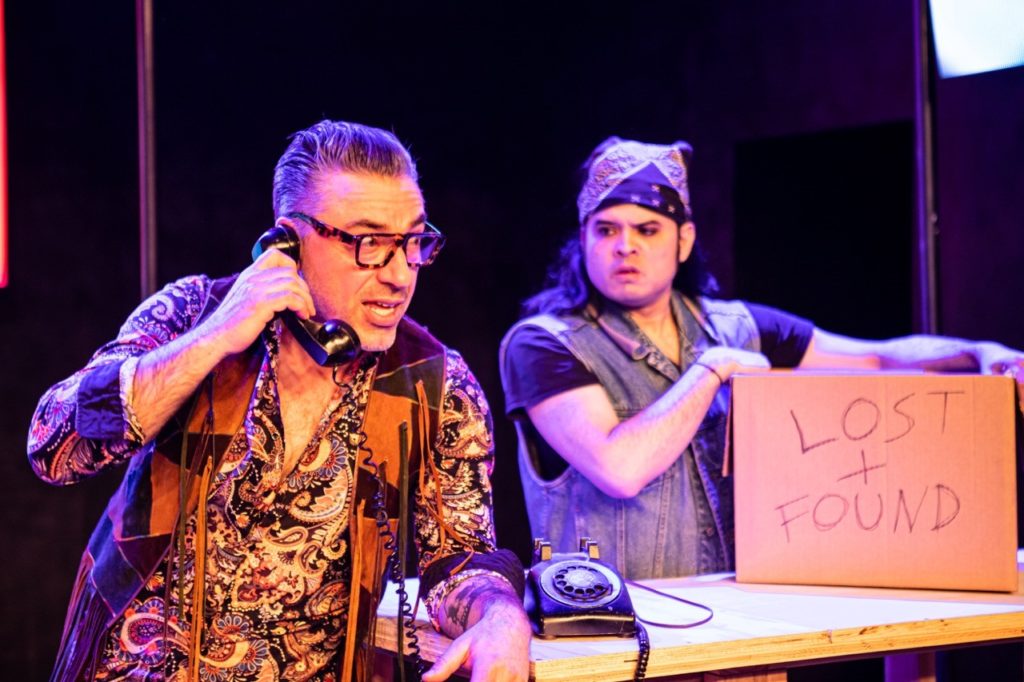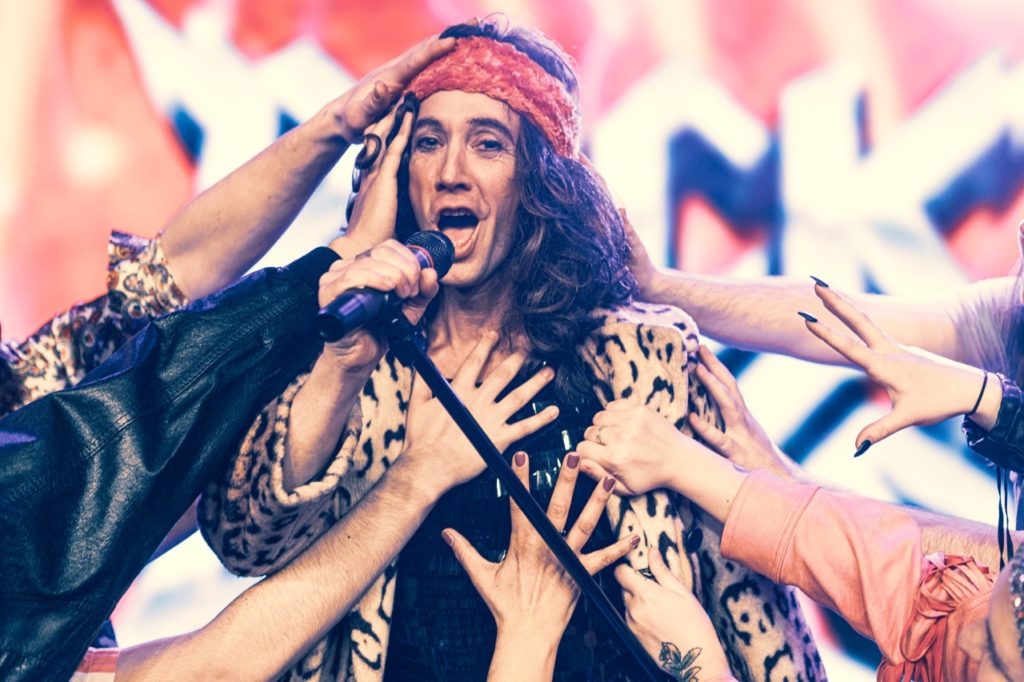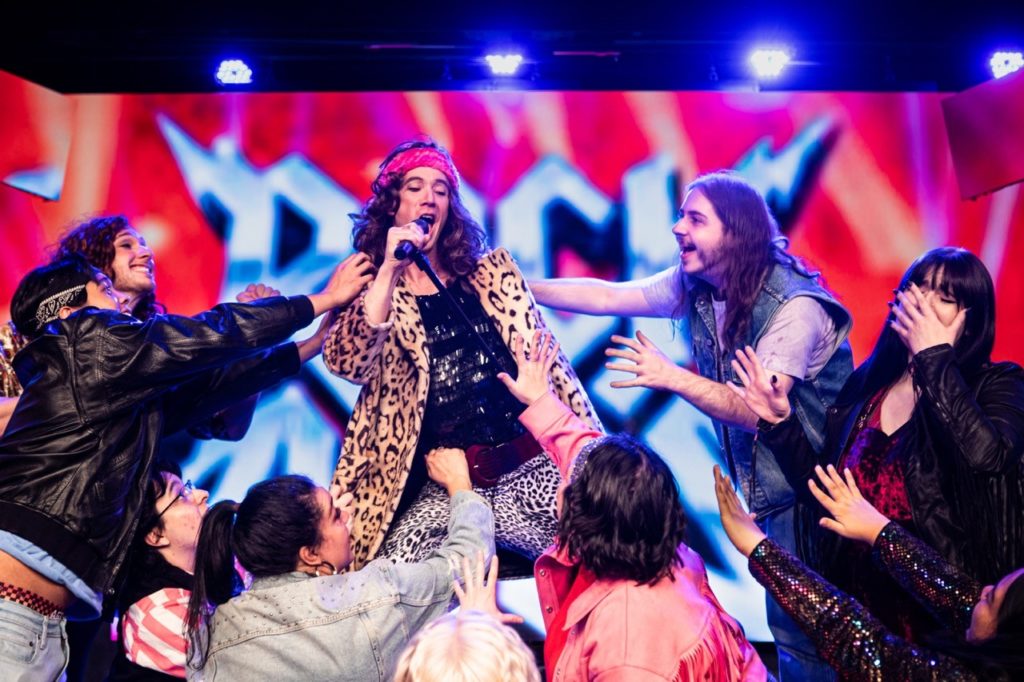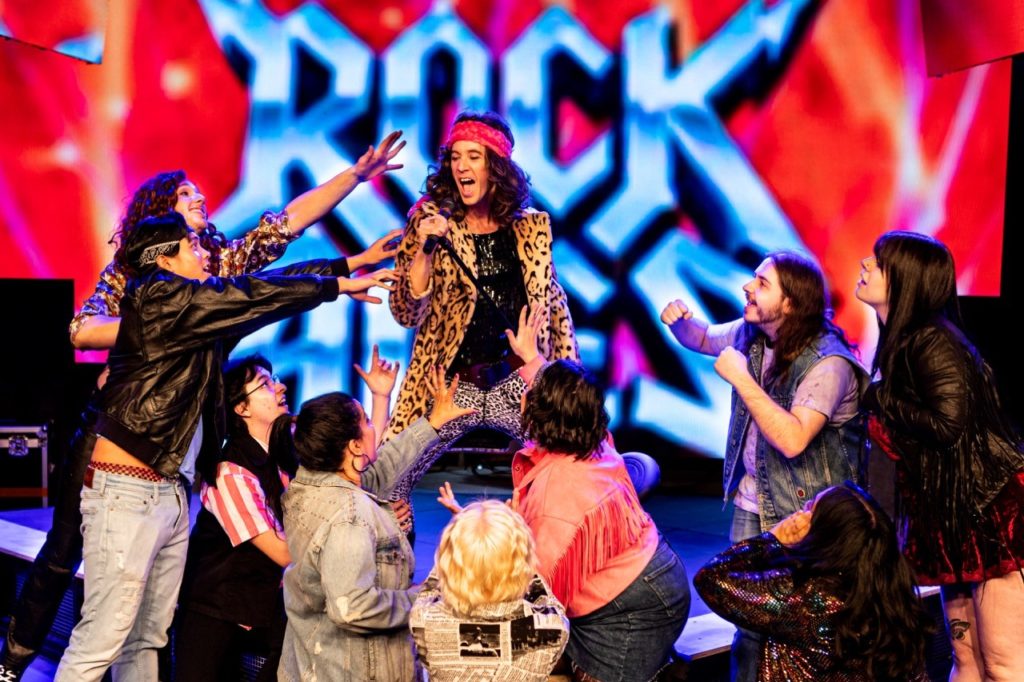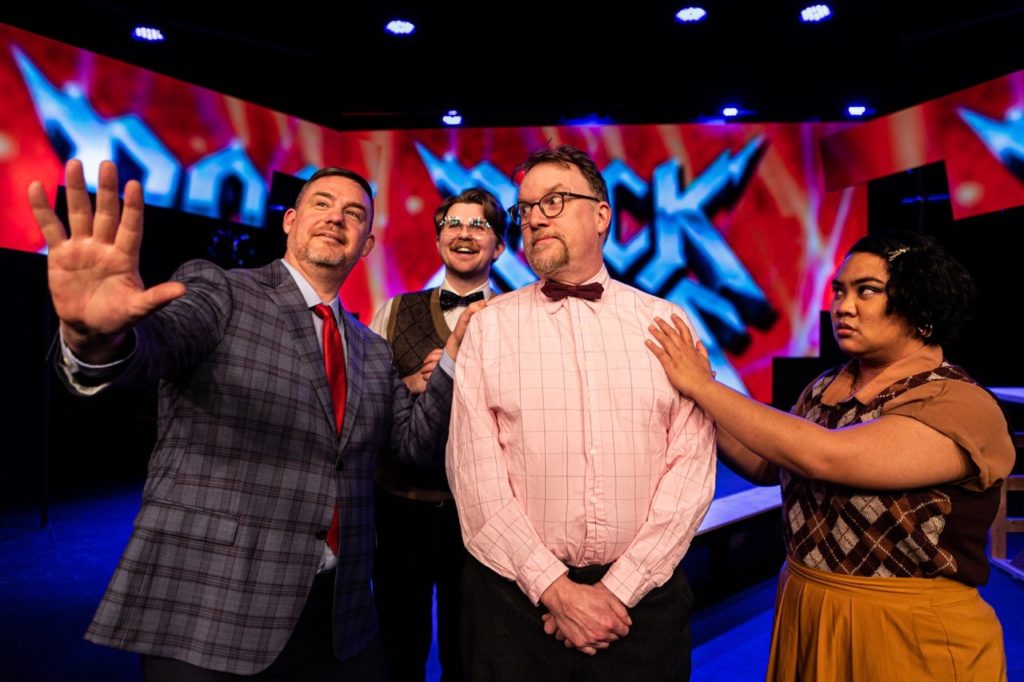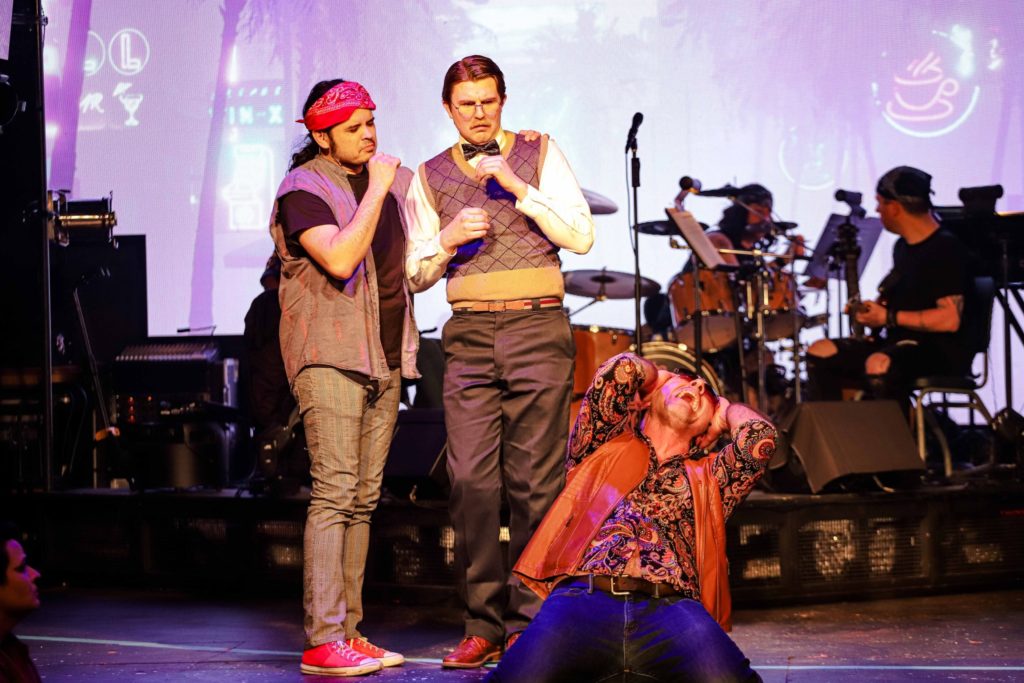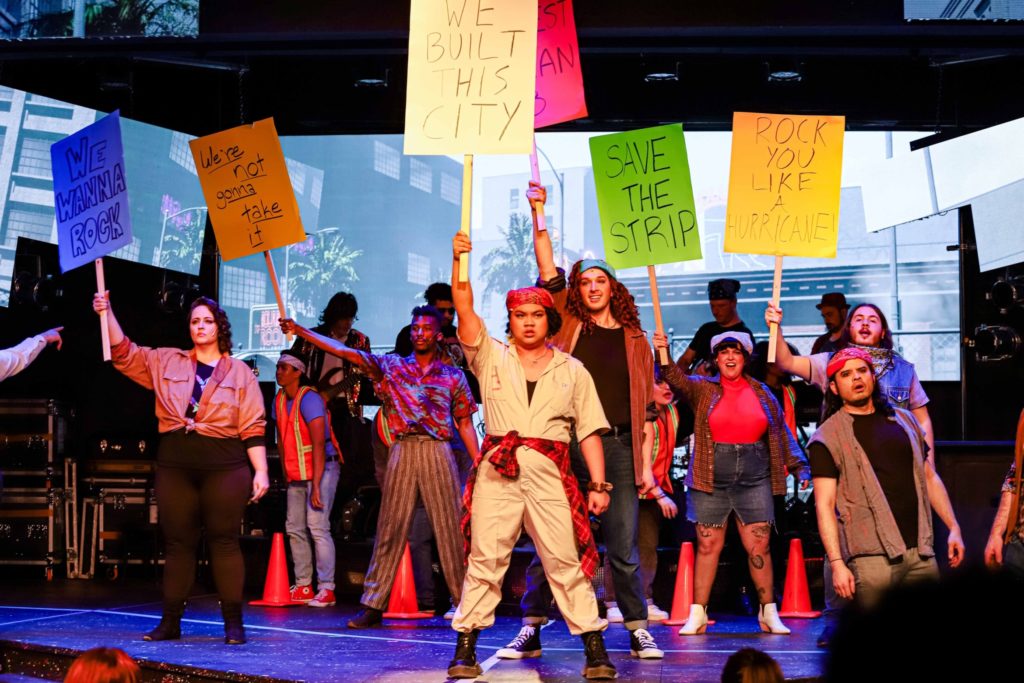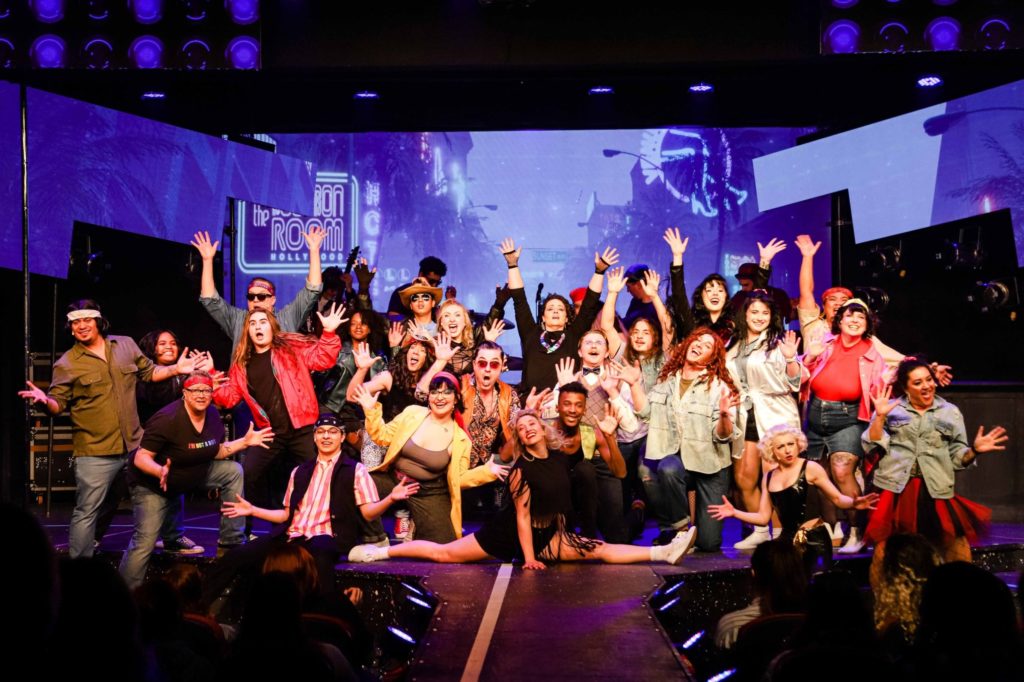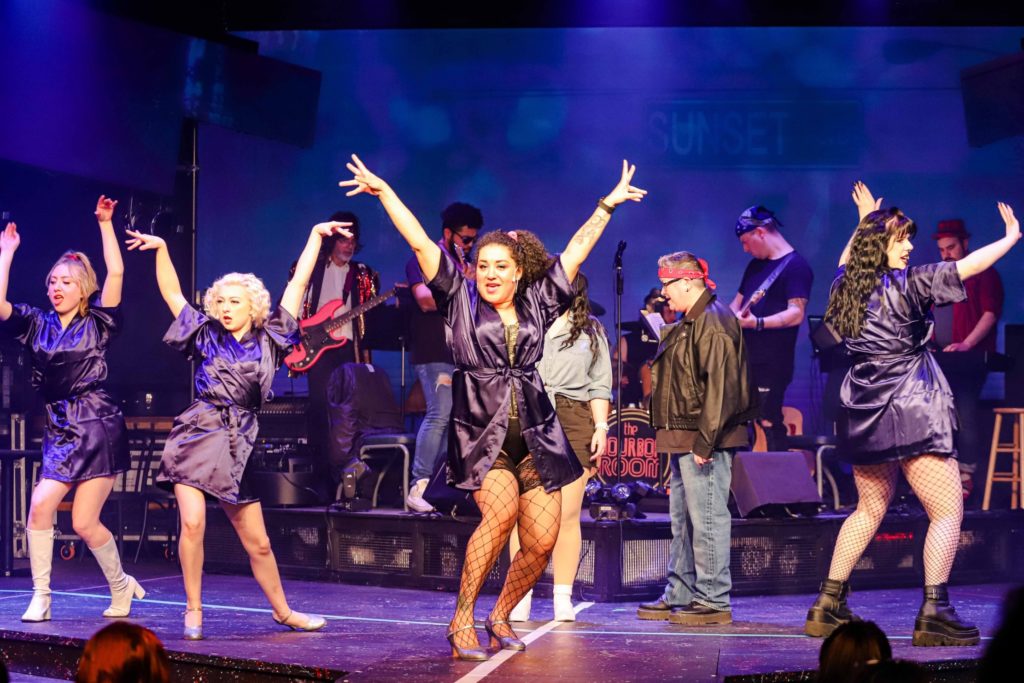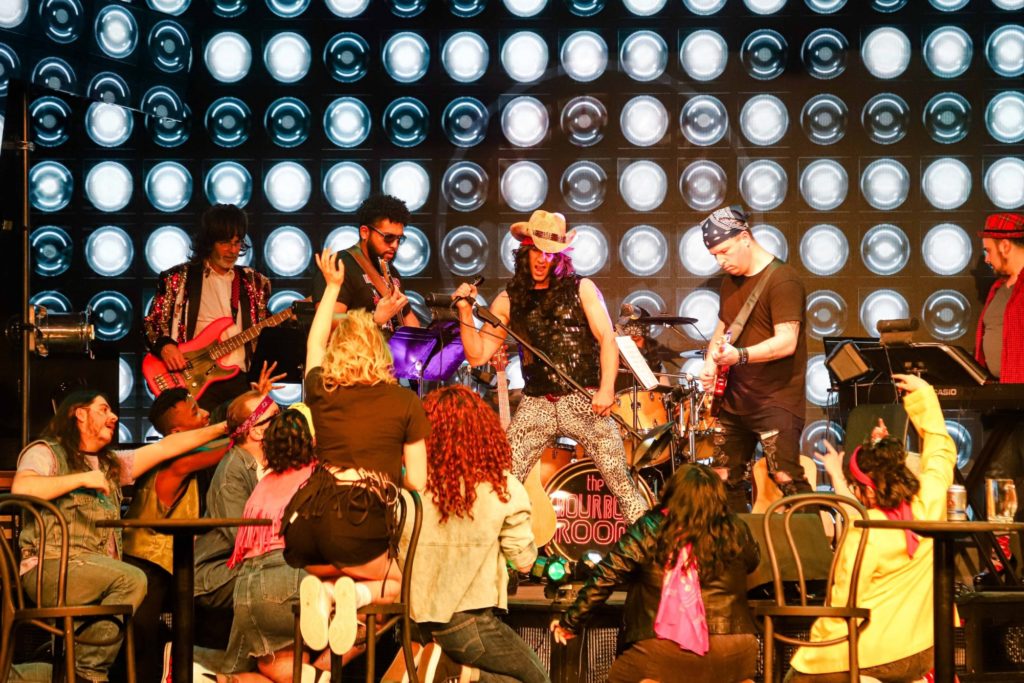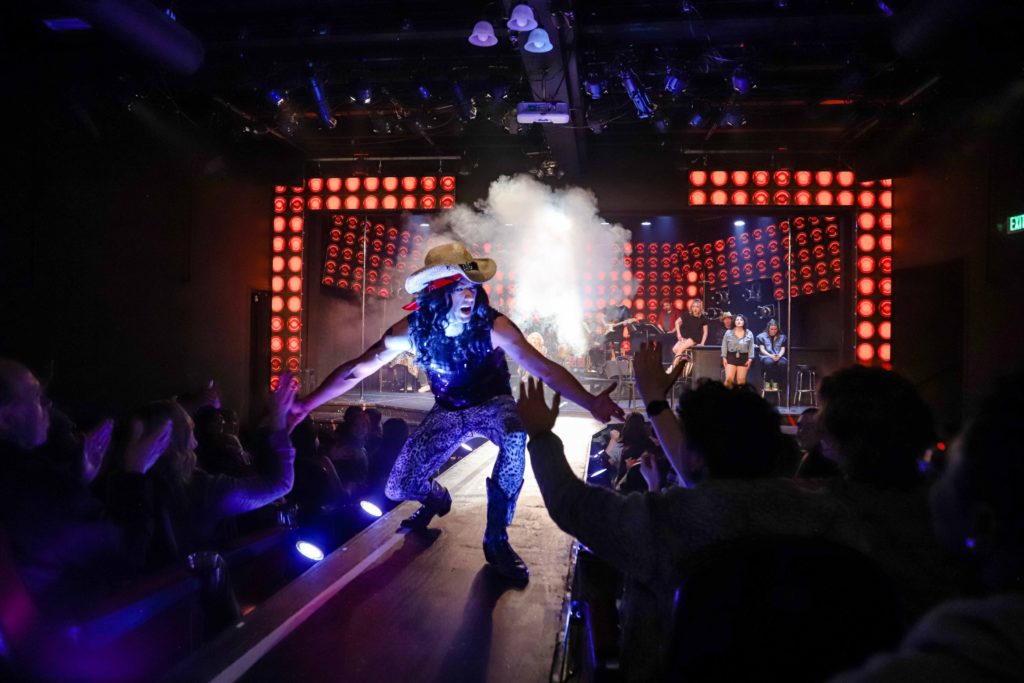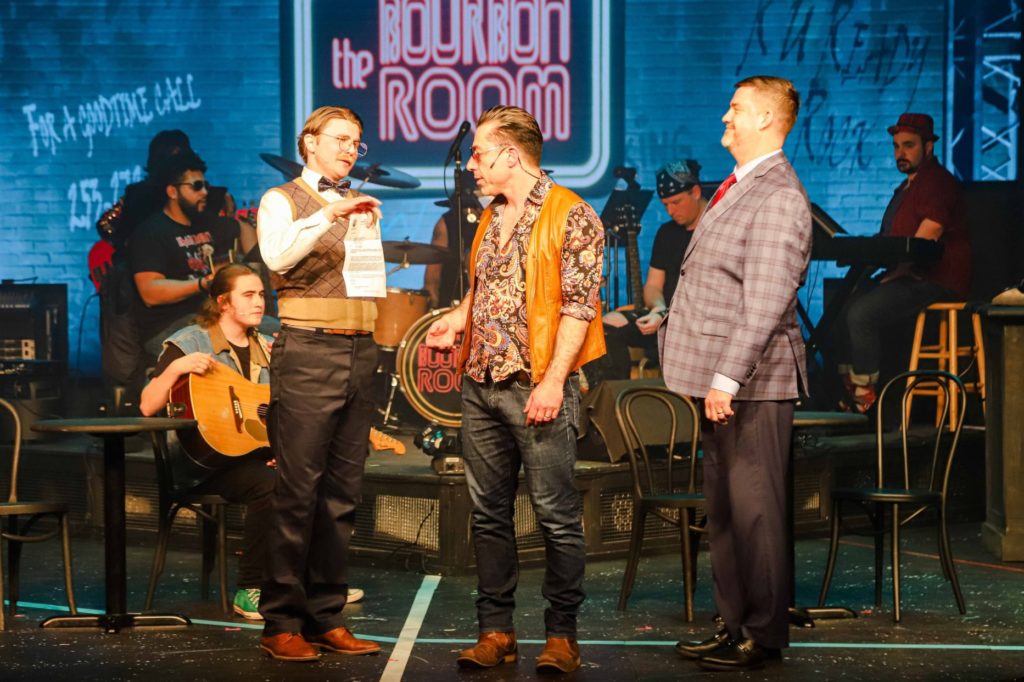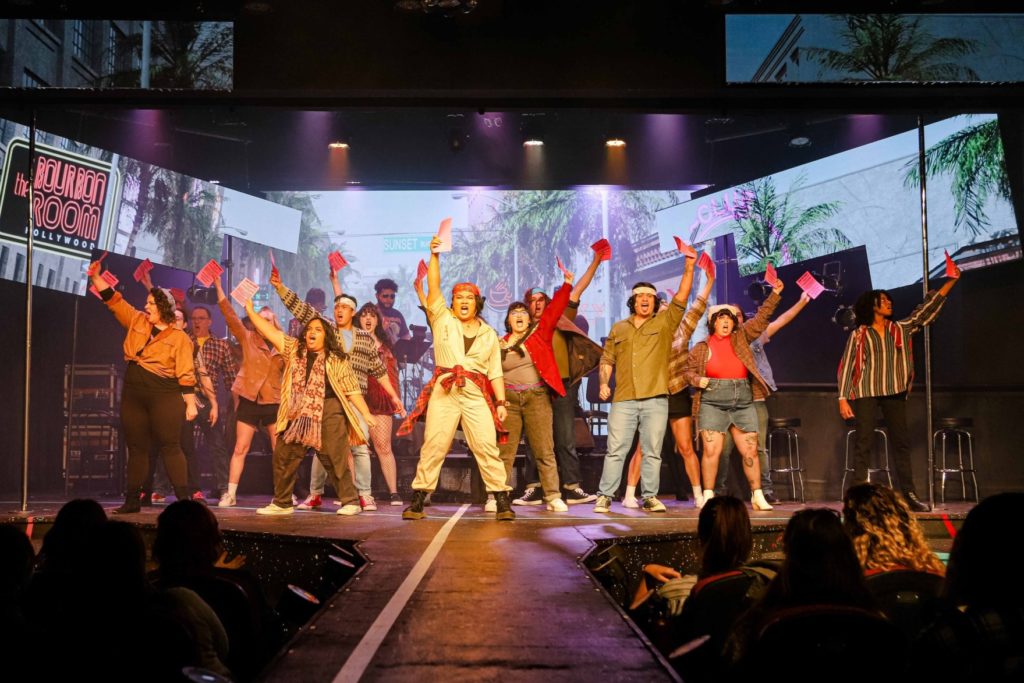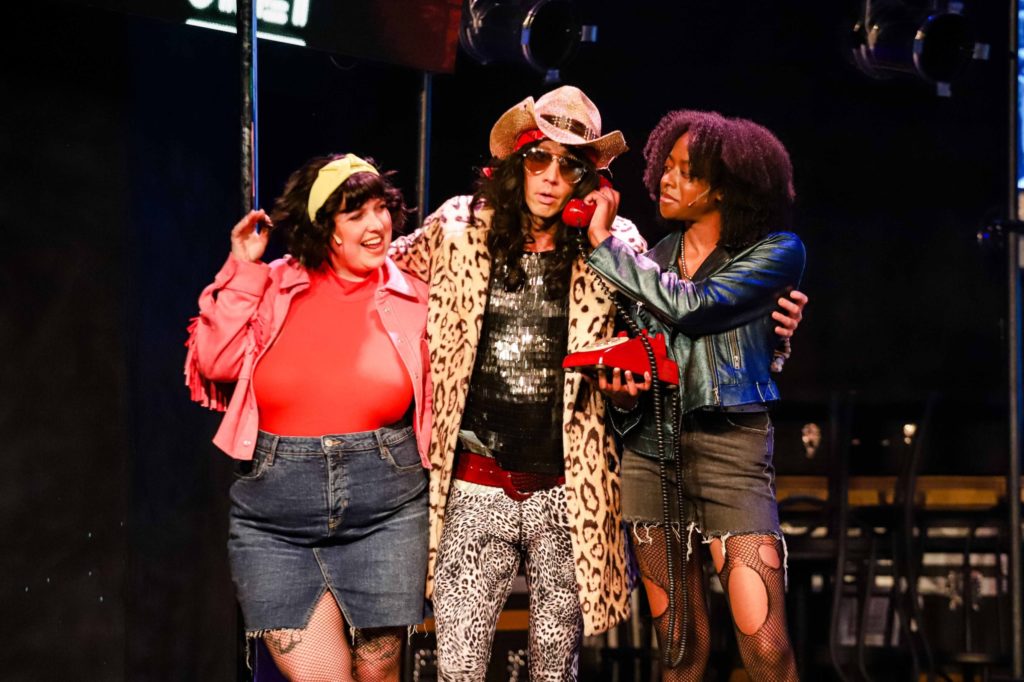 | | |
| --- | --- |
| Role | Name |
| Franz Klinemann | Camren Bleiler |
| Ensemble | Madison Bleiler |
| Sleazy Producer/Ensemble | Bailey Stanton Christie |
| Stacee Jaxx | Ryan Coleman |
| Drew Boley | Vinny Contini |
| Mother/Justice Understudy and Ensemble | Christine Dove |
| Ensemble | Kristina Dustan |
| Venus Room D] + Ensemble | Asante Hayes |
| Mayor + Ensemble | Wade Hicks |
| Constance/Mother Understudy + Sherrie Understudy + Swing + Ensemble | Erin R. Johnson |
| Ensemble | Davey Magno |
| Sherrie Christian | Annelise Martin |
| Ensemble | Kyleigh Medard |
| Lonny Barnett | M. Keala Milles, Jr. |
| Ensemble | Kelsey Monahan |
| Ja'Keith Gill + Ensemble | Trevor Owens |
| Ensemble | Keri Peredo Panlasigui |
| Ensemble | Molly Quinn |
| Regina | Mari Roy |
| Hertz Klinemann | Eric Strachan |
| Joey Primo + Ensemble | Haunz Stroschein |
| Father/Ensemble | Andrew Taula |
| Ensemble | Elle Tena |
| Dennis Dupree | Rafe Wadleigh |
| Justice Charlier | Michelle Weingarden-Bandes |
| Waitress #1/ Ensemble | Julia Wyman |
| — | — |
| Keyboards | Dr. William Bryant |
| Guitar | Cameron Schneider |
| Drums | Scot Sexton |
| Bass | Peter Vosshall |
| Guitar | Storm Tucker |
| — | — |
| Director | Maria-Tania Bandes B. Weingarden |
| Author | Chris D'Arienzo |
| Composer and Arranger | Ethan Popp |
| Musical Director | Kim Davenport |
| Choreographer | Ashley Roy |
| Stage Managers | Isobel Brown & Kay Meier |
| Assistant Stage Managers | Cathy Jackson & Irene Ellis |
| Technical Director/Scenic Designer/Visuals | Blake R. York |
| Costume Designer | Cori DeVerse |
| Production Manager/Sound Designer | Dylan Twiner |
| Lighting Designer | Michelle Weingarden-Bandes |
| Assistant Lighting Designer | Ryan Asche |
| Lighting Assistant | Octavio Diaz Salas |
| Lead Carpenter/Properties Designer | Frank Roberts |
| Shop Assistant | Nate Lovitt |
| Scenic Artist | Jennifer York |
| Sound Board Operator | Katie Jones |
| Sound Consultant | Chris Aveline |
| Follow Spot Operator | Ellie Rutt |
| Hair and Wig Consultant | Mauro Bozzo |
| Assistant Hair and Wig Styling | Madison Bleiler |
| Dance Captain | Kelsey Monahan |
| Student Mentors | Christine Dove & Rafe Wadleigh |
| Social Media Campaigns | Hannah Shea |
| Photography | Dennis K Photography |
| Graphic Design | Blake R. York |
| Tacoma Next Move Interns | Lachlan Desmarais, Sarn Hibbard Sergio Mijares |