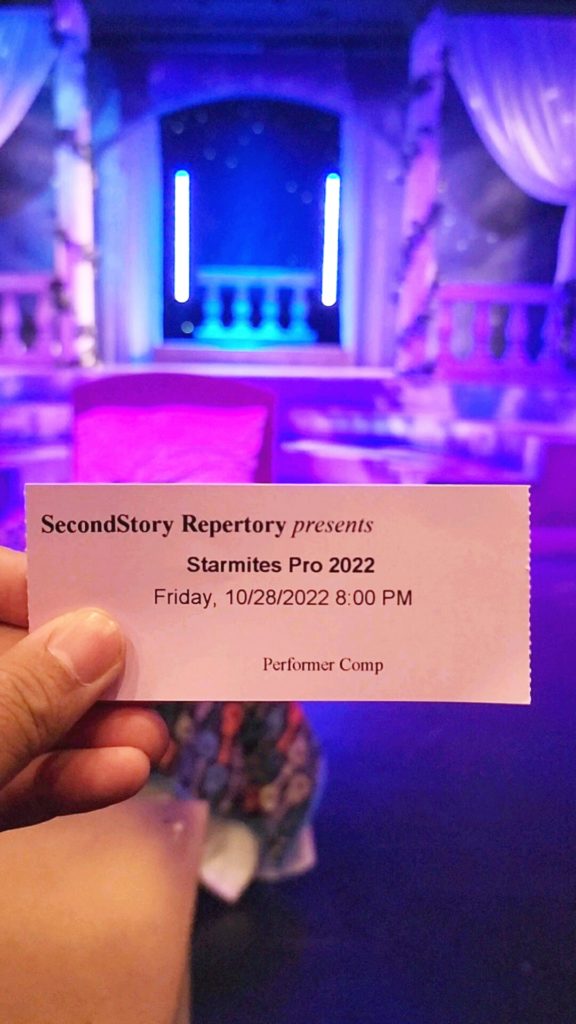 Elevator Thoughts (aka Tweet): Starmites Pro musical at SecondStory Repertory. A sci-fi inter-dimensional fantasy comic book story comes to life! Unique subject matter for theatre. Deliciously 1980s corny humor. Villain had a great rich voice. Favorite line was "May we fluff them?" #comics #comic #nerdy
Synopsis from the Theatre: Shy teenager Eleanor has built a fantasy world around the sci-fi comic books she collects. To the distress of her mother, she has learned to avoid the pains of growing up by escaping into fantasy, imagining herself to be an unrecognized superhero. When she is mysteriously thrust into the Website World of her favorite comic book, Eleanor is drawn into the conflict between Shak Graa, Arch-Creep of Chaos, and the Starmites, guardian angels of Innerspace. She turns out to be the legendary Milady, teen superhero who must lead the Mites on their Quest to save the Galaxy.
Type: Musical
World Premiere: No
Live Band: Yes
Recommendation: See it if you like nerding out, community theatre, and/or 80s comedy!
Would I See It Again 3 Years from Now?: Yes!
Rating (Out of 5 Stars): 4.25 stars
Rant(s)
Individually, they were great singers. But collectively, there was less synergy than expected. I could actually hear someone going out of tune in some parts. I anticipate this will improve as they perform together more during this production's run.
Other Rave(s)
I loved when they made the "arms above head pointing in the same direction diagonally while head was down" pose when they uttered "Aragala" or other revered names of lore. If anybody knows what that salute is called, tell me in my social media comments below! It's been bothering me and Google hasn't been helpful. I loved when they dabbed (or "made a dab pose?") when they uttered "Aragala" or other revered names of lore. Thanks Buddy Todd and Jessica Robins for letting me know what this was called!
Theatre Company : SecondStory Repertory
Venue: SecondStory Repertory
Venue Physical Address: 7325 166th Ave NE f250, Redmond, WA 98052
Price: Cheap
Dates: October 28 – November 13, 2022
Seating: General Admission
Parking and Cost: Free lot or free garage parking provided by the Redmond Town Square outdoor mall where the theatre company rents.
Social Media Posts: Instagram | TikTok | Facebook | Twitter | YouTube
Link(s):
Other Video/Pictures: Scroll under the table below.
Cast and Production Team Leadership:
| | |
| --- | --- |
| Writer | Barry Keating & Stuart Ross |
| Director | Buddy Todd |
| Choreography | Angela Snyder |
| Music Direction | Tatiana Kruse |
| Stage Manager | Annie Simonton |
| Mark Chenovick | Set, Lighting, Costume, & Sound Design |
| Show Sponsor | Beth Moursund |
| Eleanor Fairchild | Taylor Davis |
| Diva | Jessica Robins |
| Shak Graa/Trinkulus | Shane Smith |
| Spacepunk | Matt Langenhop |
| Diggety Razzledazzle | Max Lopuszynski |
| Herbie Harrison | Tristan Carruthers |
| Ack Ack Hackerman | James B. Webster |
| Canibelle | Marlena McHenry |
| Balbraka | Jackie Alves |
| Shotzi | Lee Iris Thomas |
| Hollaback | Kaira Hensler |