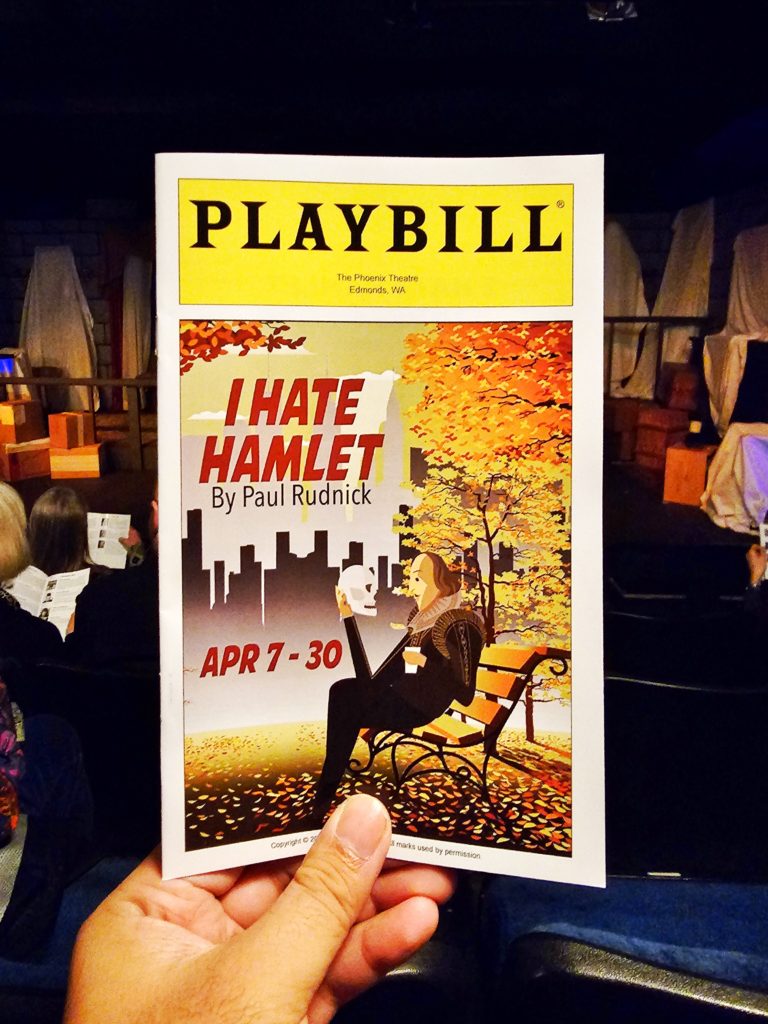 Elevator Thoughts (aka Tweet): I Hate Hamlet play at The Phoenix Theatre. As usual, Josiah C Miller & Jag delivered wonderful stage presence in this funny love letter to showbiz & live theatre. Shakespeare lovers & haters (like me) alike will enjoy! #JohnBarrymore
Synopsis from the Theatre: Television star Andrew Rally is about to start rehearsals to play Hamlet—and he is terrified. Unsure of himself, worried about his career, Andrew doesn't know what to do. In the midst of his confusion, he is visited by the ghost of legendary actor John Barrymore. Barrymore explains that all actors who take on the role are visited and mentored by their predecessors, and that he cannot leave Andrew until he takes the stage as Hamlet.
Reviewed Performance: 4/8/23 Opening Weekend
Type: Play
World Premiere: No
Several or Few Scenes: Only one scene in each act
Several or Few Settings: Only one setting (John Barrymore's NYC apartment)
Prerequisite Knowledge Required: Despite the name in the title, prior Hamlet experience is not required to enjoy this play. However, I wonder what nuances I missed being unfamiliar with the seminal classic. You probably won't appreciate this play as much without prior Shakespeare exposure though.
Defined Plot/Storyline: It's difficult to achieve a defined plot with only two scenes. Nevertheless, the script was good.
Recommendation: See it especially if either
You like plays/musicals about live theatre such as Something Rotten!
Or you have a strong opinion towards Shakespeare, whether love or hate
Was This the First Time I Attended a Production of this Show: Yes
Would I See It Again 3 Years from Now: Yes, if it was a professional production
Rating Compared to Other Shows with the Same Production Value:
4.75 Stars (Out of 5 Stars)
Equity Actors: 0
Total Number of Actors: 6
Length (Including Any Intermission): 2 hours
Intermission: Yes
Other Rave(s) Not Mentioned in Elevator Thoughts
Codpiece: Codpieces must be the rage in the Puget Sound theatre world today since this is the second time I've seen an exaggerated "unit" this year. The first time was in The Taming at Red Curtain Foundation for the Arts. I wonder if Seattle Shakespeare Theatre Company will follow suit.
Fencing: Good fight choreography (from Geoffrey Alm) and execution (from Josiah C Miller and Jag)
Soliloquy Magic: Andrew Rally's (played by Josiah C Miller) description of soliloquy magic was spot on and well executed. I could definitely relate as an audience member. I wonder what it's like as a performer when the magic is just right and "you've tasted glory."
Vocal Assurance: Jag and Josiah C Miller's inherent vocal assurance worked well for delivering their Shakesperean lines. It reminded me of Jag's last role at The Phoenix Theatre in Dashing Through the Snow as a delightful, dramatic, over-the-top, self-involved thespian.
NYC and LA Rivalry: I enjoyed the script's comparison/contrast between west coast Hollywood and east coast theatre.
Costumes: Deirdre's (played by Mary Guthrie Leedy) costumes were so 80-90s chic!
Favorite Lines:

"The elderly should not discuss romance, it is distasteful."
"Wait, let me get this. It's Shakespeare, right? It's like algebra on stage." – As someone who hates Shakespeare, I couldn't agree more!
Other Musing(s) and Observation(s)
Seance: As a previous Adventist, I'm always a bit freaked when I see portrayals of the occult in entertainment. But the unexpected circumcision joke during the seance thankfully dispelled all that. At least, I think there was a circumcision joke but now I'm not sure if I misheard it since I was the only person in the audience that laughed. If it was there, it was good comedic relief from left field. If it wasn't there, I just have a dirty mind … but they need to add it!
Theatre Company: The Phoenix Theatre
Venue: The Phoenix Theatre
Venue Physical Address: 9673 Firdale Ave, Edmonds, WA 98020
Price: Cheap
Dates: April 7-30, 2023
Seating: Assigned Seating
Parking: Free and plentiful lot parking in front of theatre
Like/Comment/Share my Social Media Posts About this Performance:
Instagram | TikTok | Twitter | Facebook | YouTube
Buy a Ticket or Learn More:
Other Video +/- Pictures: See pictures in video and under video below by James Sipes
Cast and Production Team: See after pictures and video below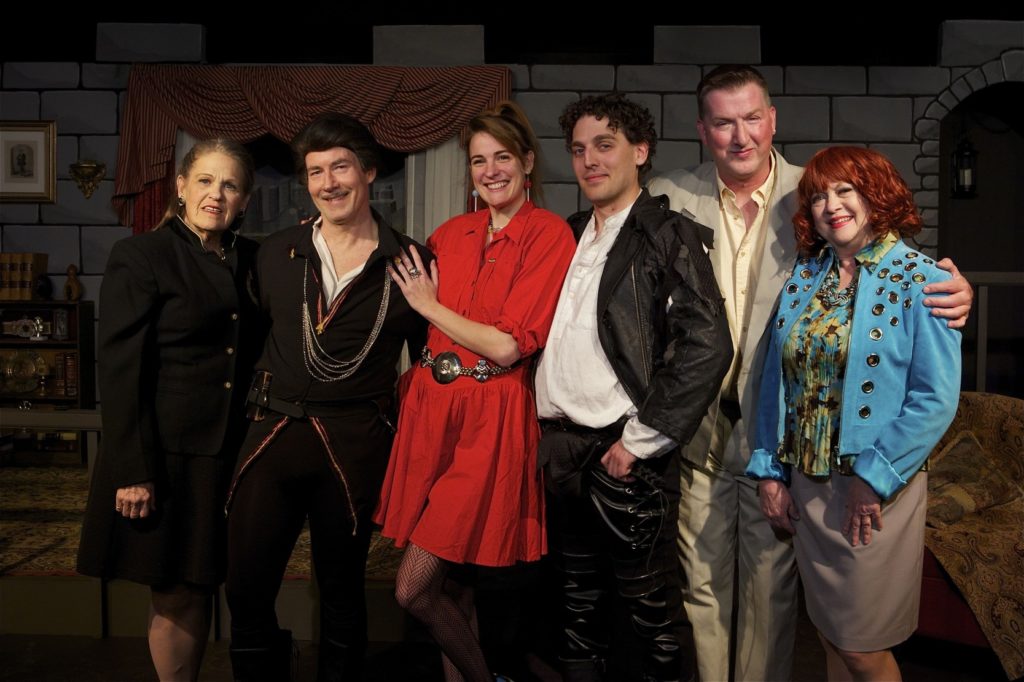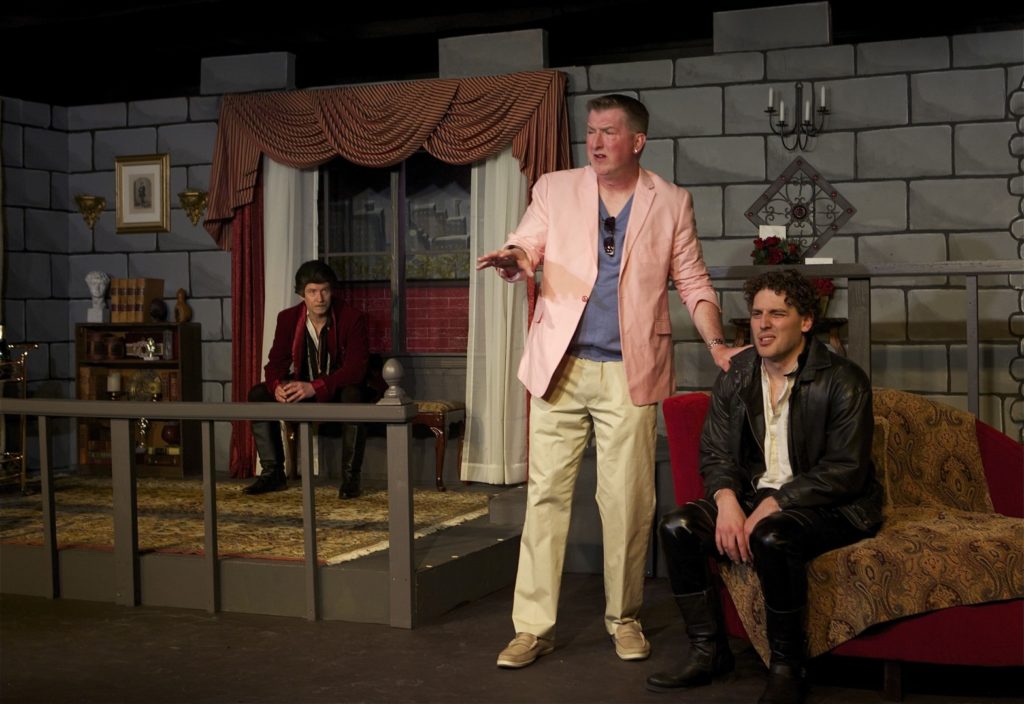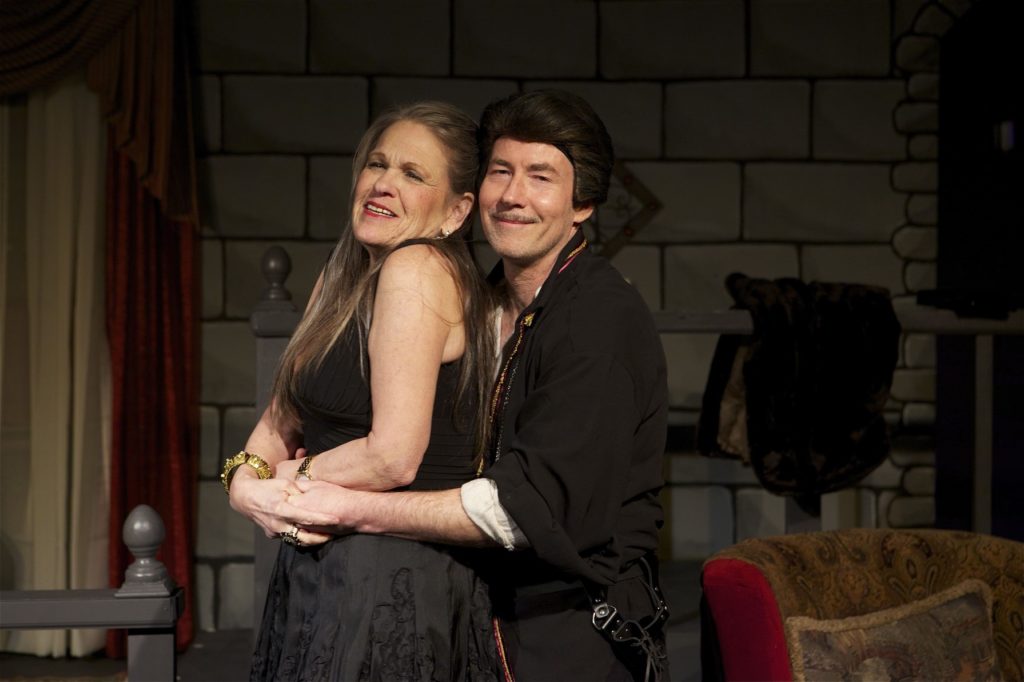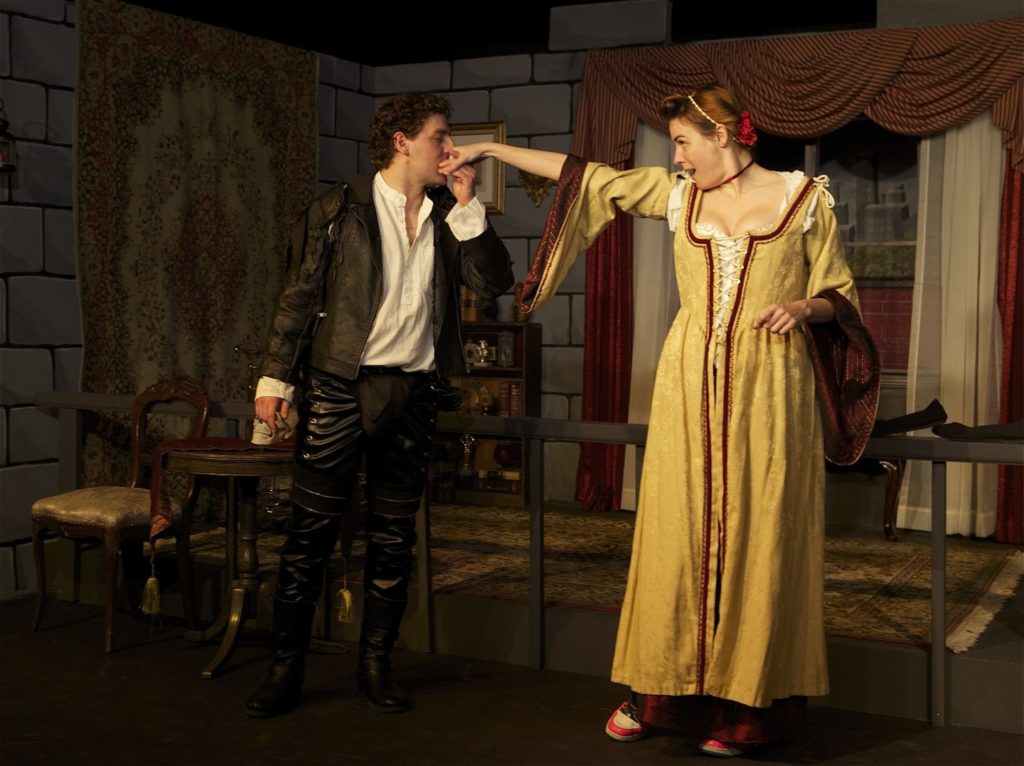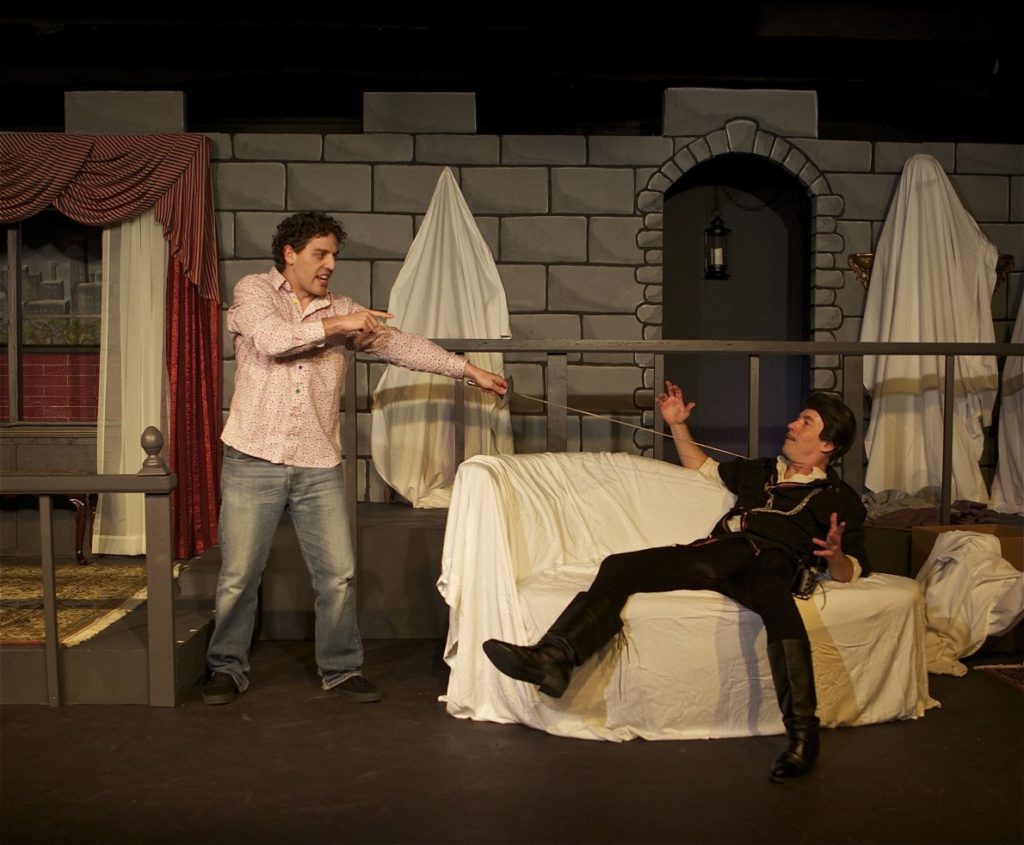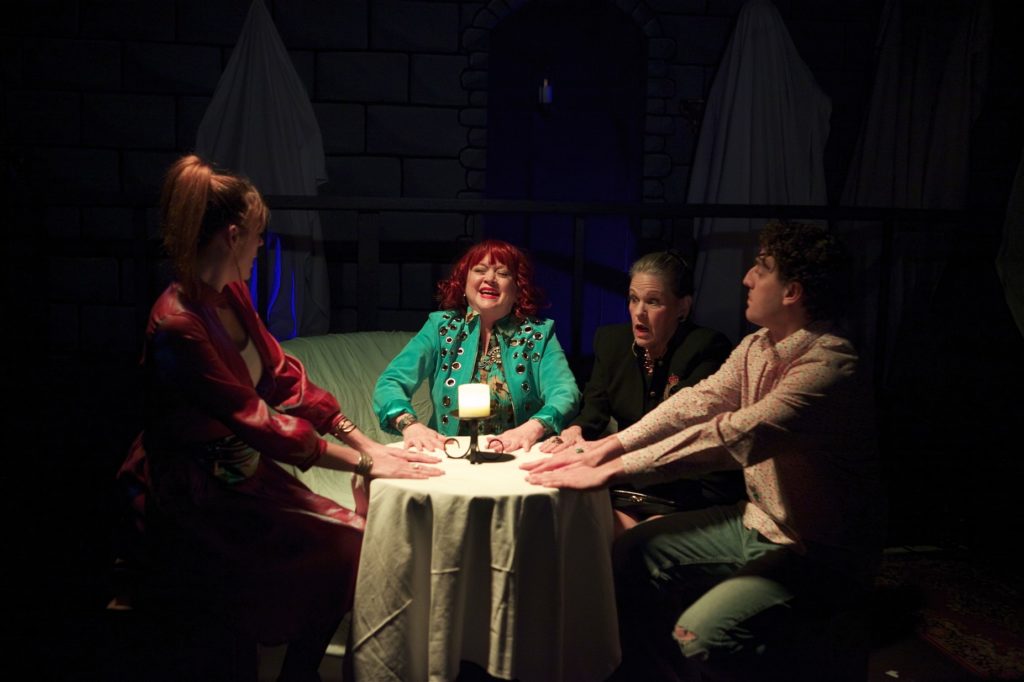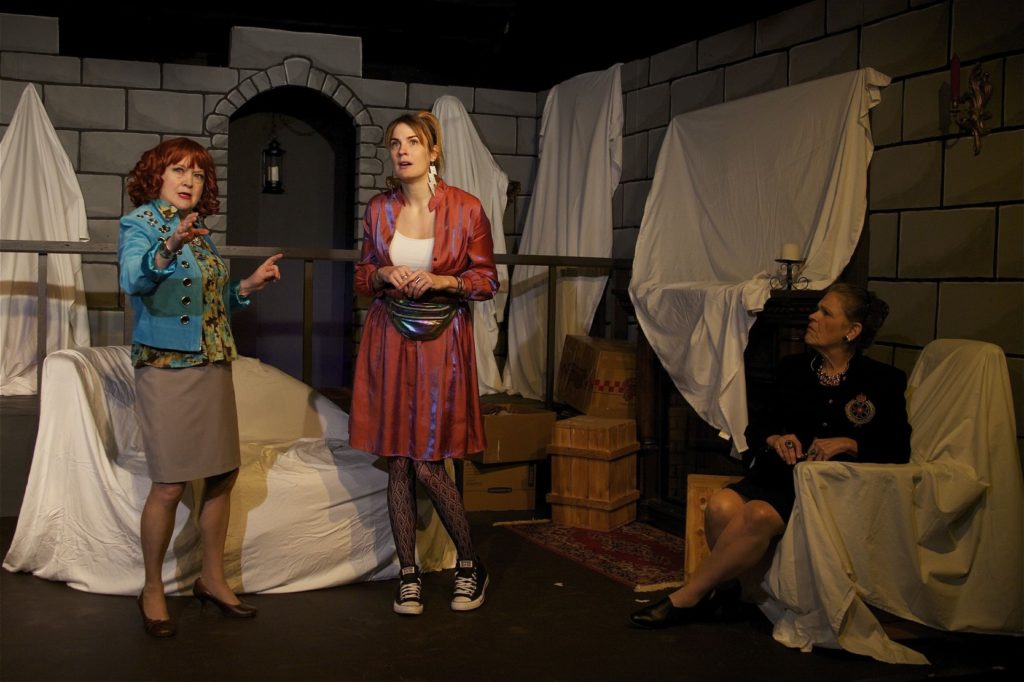 | | |
| --- | --- |
| Role | Name |
| Felica Dantine | Susan Connors |
| Andrew Rally | Josiah C. Miller |
| Deirdre McDavey | Mary Guthrie Leedy |
| Lillian Troy | Dawn Cornell |
| John Barrymore | Jag |
| Gary Peter Lefkowitz | Thomas A. Glass |
| — | — |
| Director | Keith Dahlgren |
| Playwright | Paul Rudnick |
| Stage Manager | Amanda Costinett |
| Assistant Stage Manager | August Marshall |
| Technical Director | Craig Marshall |
| Fight Director | Geoffrey Alm |
| Set Dresser | Susan Connors |
| Costumer | Elizabeth Shipman |
| Set Design & Construction | Craig Marshall |
| House Manager | Lauren Kottwitz |
| Graphic Designer | Felicia Hallenbeck |
| Set Construction | Eric Helland |
| Artistic Director | Melanie Calderwood |
| Managing Director | Tracy Cahill |