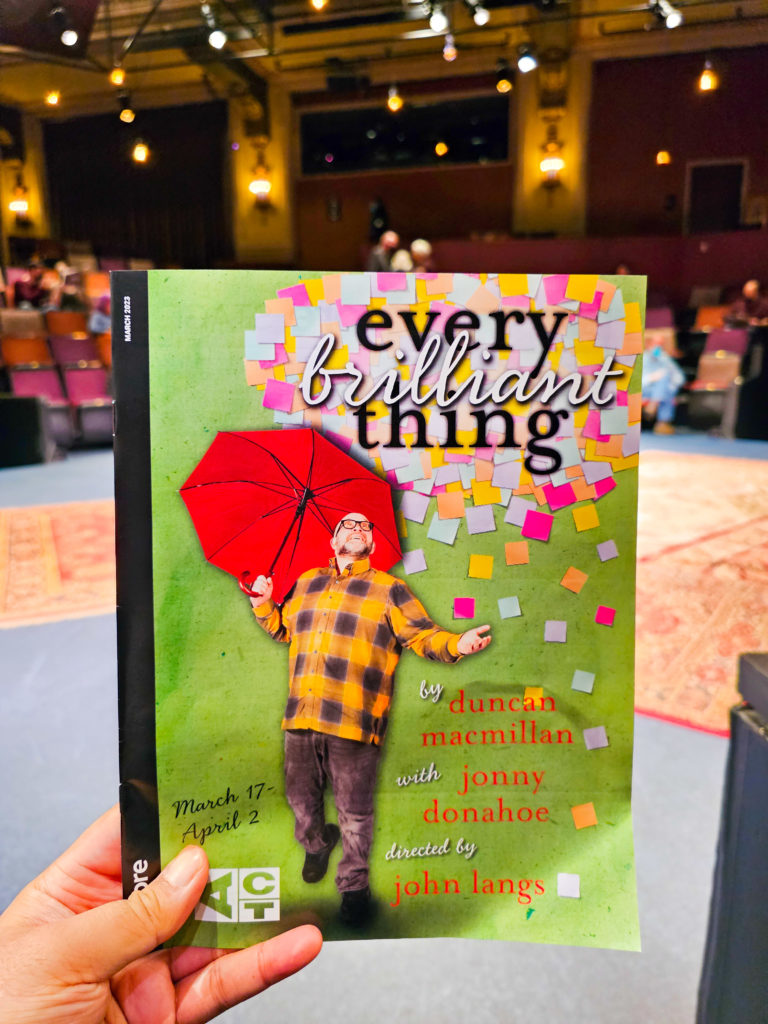 Elevator Thoughts (aka Tweet): Every Brilliant Thing one-person storytelling play w/ Ian Bell written by Duncan Macmillan & Jonny Donahoe. Feel-good show that ironically explores depression w/ the help of audience participation. First time I sat front row at ACT Theatre!
Synopsis from the Theatre: The color yellow. Sunsets. Things with stripes. Wearing a cape. Ice cream! There are a million brilliant things. Can you name them all? The hit play and international sensation Every Brilliant Thing by Duncan Macmillan with Jonny Donahoe is a one-of-a-kind storytelling experience blending comedy, improv, and audience interaction to tell the story of an adult growing up in the shadow of mental illness and learning to grapple with their own experiences of love, loss, and a finding a new way forward, one brilliant thing at a time.
Reviewed Performance: 3/23/23 Opening Night
Type: Play
World Premiere: No
Several or Few Scenes: Several
Several or Few Settings: Several
Defined Plot/Storyline: Seemed more like a collection of related vignettes than an actual plot
Recommendation: See it if either
You like one-person plays
You're not a cynic
You like the quirky, basic, hipster millennial, whimsical, cutesy vibes of Zooey Deschanel in New Girl
You like sentimentality
You like plays that explore depression and suicide (but remember this is a feel-good play)
You like the private "dance it out" scenes in Grey's Anatomy w/ Meredith and Christina
You like dancing in the rain
You like seeing audience participation
Or you like participating from the audience
Was This the First Time I Attended a Production of this Show: Yes
Rating Compared to Other Shows with the Same Production Value:
4 Stars (Out of 5 Stars)
Equity Actors: 1
Total Number of Actors: 1
Length (Including Any Intermission): 75 minutes
Intermission: No
Other Rave(s) Not Mentioned in Elevator Thoughts
Playlist: The overhead stage playlist before and after the show was a nice selection of retro feel-good songs
Live Band: There was a live band in the lobby before and after the show. I hope they performed for more than just opening night…
Rant(s)
"Why?" Scene: For some reason, I really hate scenes on on-stage or on-screen when kids incessantly ask "Why?" in response to everything an adult tells them. It is not cute at all.
Other Musing(s) and Observation(s)
Audience Participation: There was a ton of audience participation in this production. I was a little worried when Ian Bell (the solo actor of this performance) passed out cards throughout the audience a couple of minutes before the show began. Be careful if you're on the front row like I was! Fortunately, he didn't choose me to participate. While I'm usually not a fan of extensive audience participation in shows (total theatre "pillow princess" here), I thought it was a novel cost-effective way to add additional actors/characters to a one-person show. There were scenes where an audience member euthanized a coat, proposed marriage to Ian Bell, or hosted a therapy session with a sock puppet! I always wonder what's the contingency plan in shows with such extensive audience participation if a chosen person is an absolute psycho and derails the intended trajectory of the performance.
Theatre Company: ACT Theatre
Venue: ACT Theatre – Allen Theatre
Venue Physical Address: 700 Union St, Seattle, WA 98101
Price: Cheap to Expensive
Ticket Affordability Options:
Pay What You Can: You can self-select ticket prices as low as free for the value seats on the ticketing website. The value seats are just about the same view as the non-value seats.
Other ACT Theatre Discounts: https://acttheatre.org/visit/discounts/
Dates: March 17 to April 2, 2023
Seating: Assigned Seating
Parking: Paid lot or paid street parking. If I don't walk to this theatre, I park in the Convention Center garage with the entrance between Seneca and Pike. There is indoor access from the garage to the ACT Theatre going through the convention center.
Like/Comment/Share my Social Media Posts About this Performance:
Instagram | TikTok | Twitter
Buy a Ticket or Learn More:
Other Video +/- Pictures: See pictures below by Truman Buffet Photography
Cast and Production Team: See after pictures below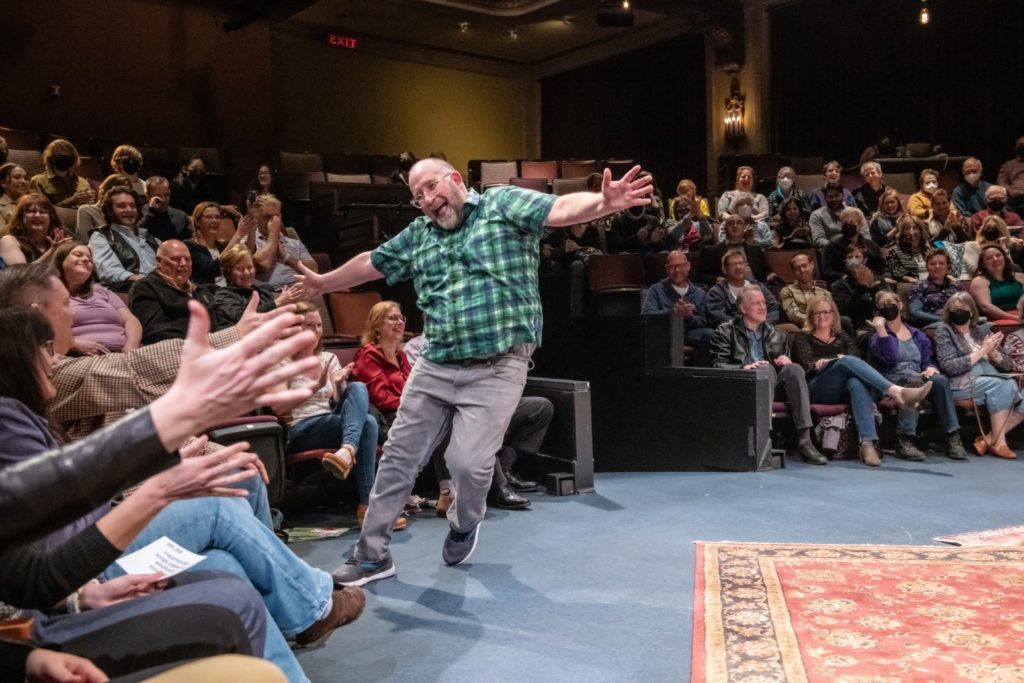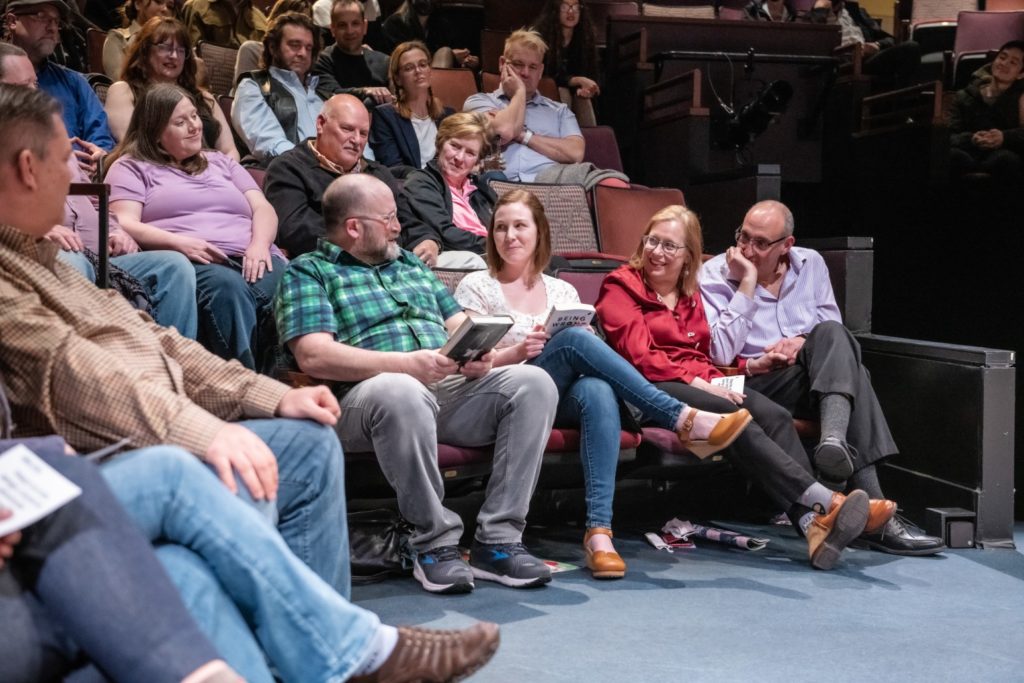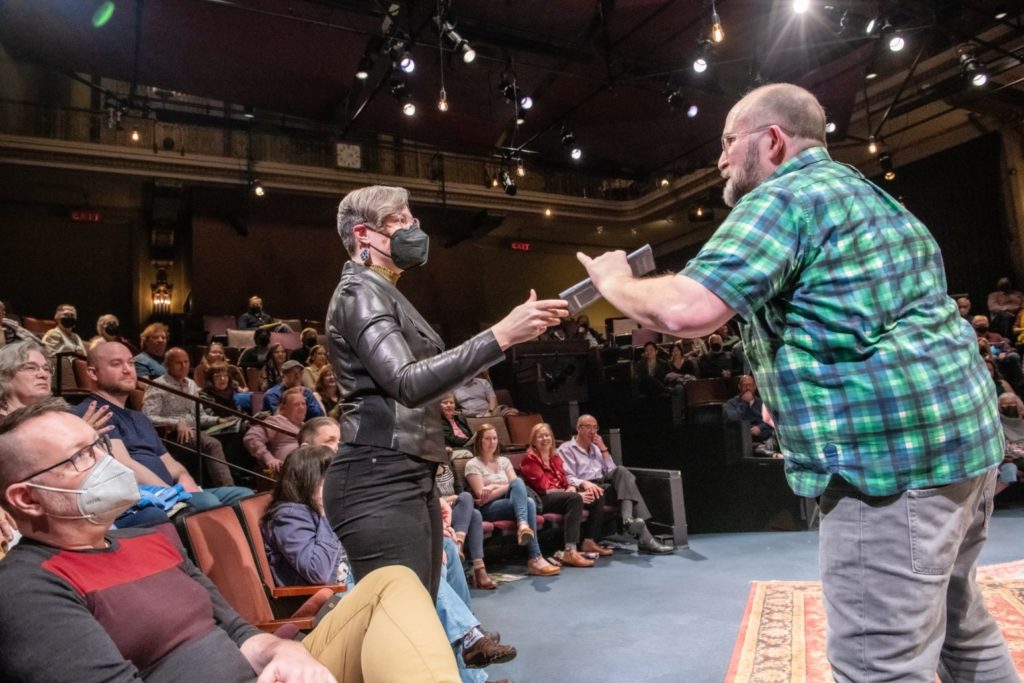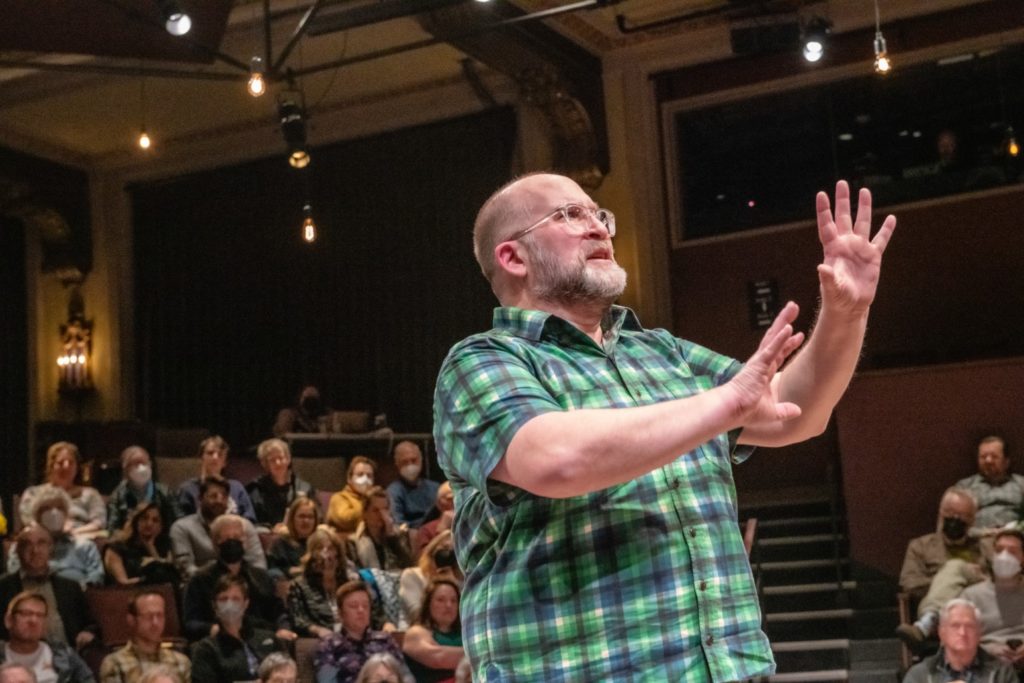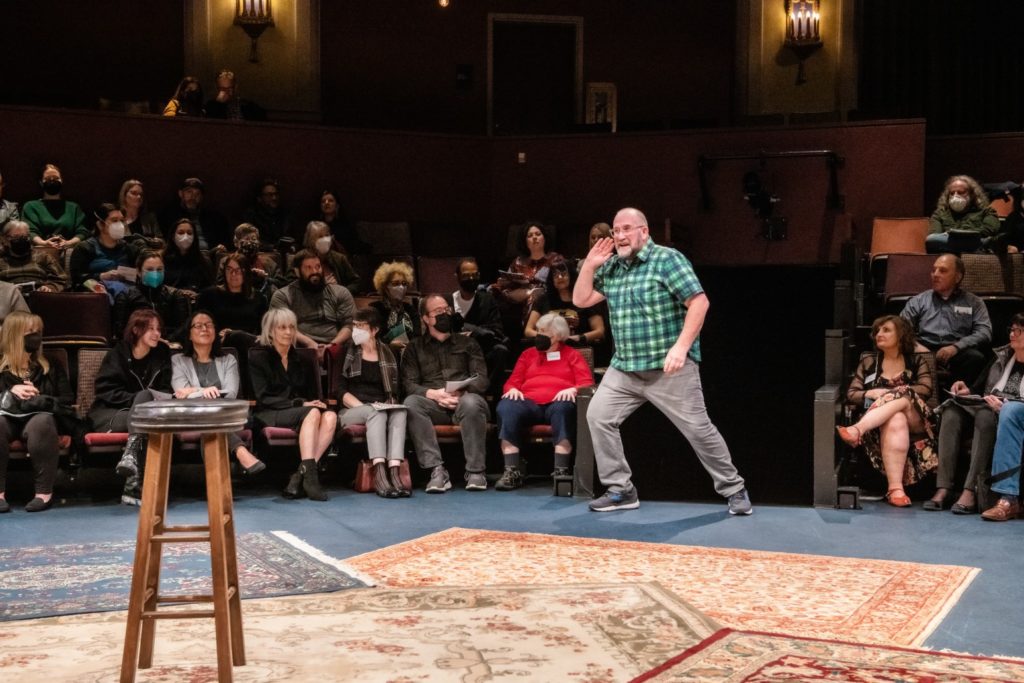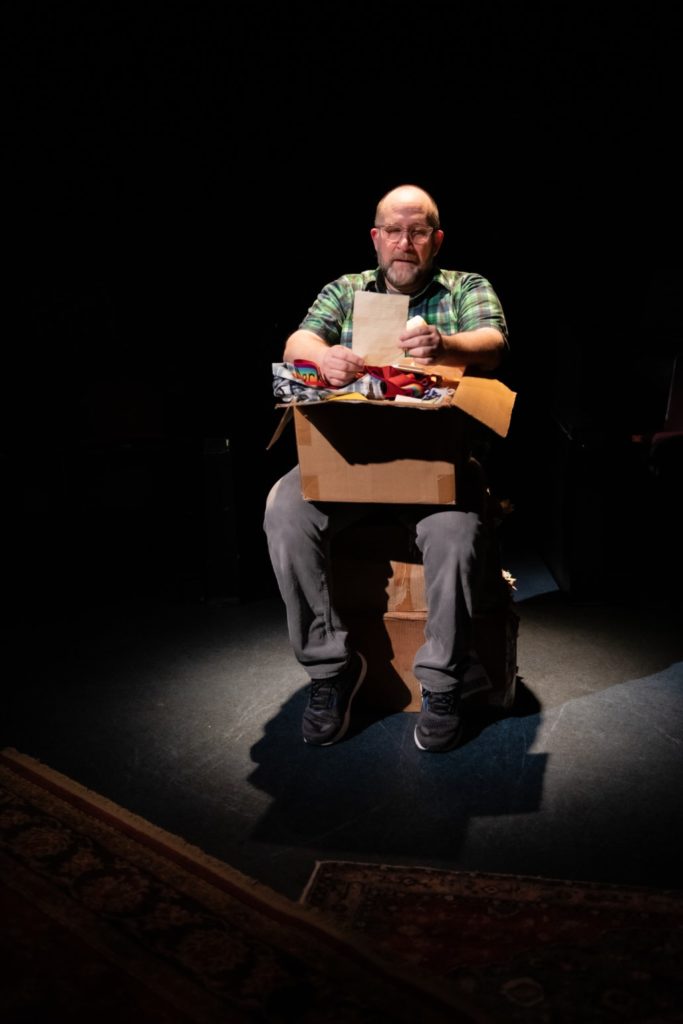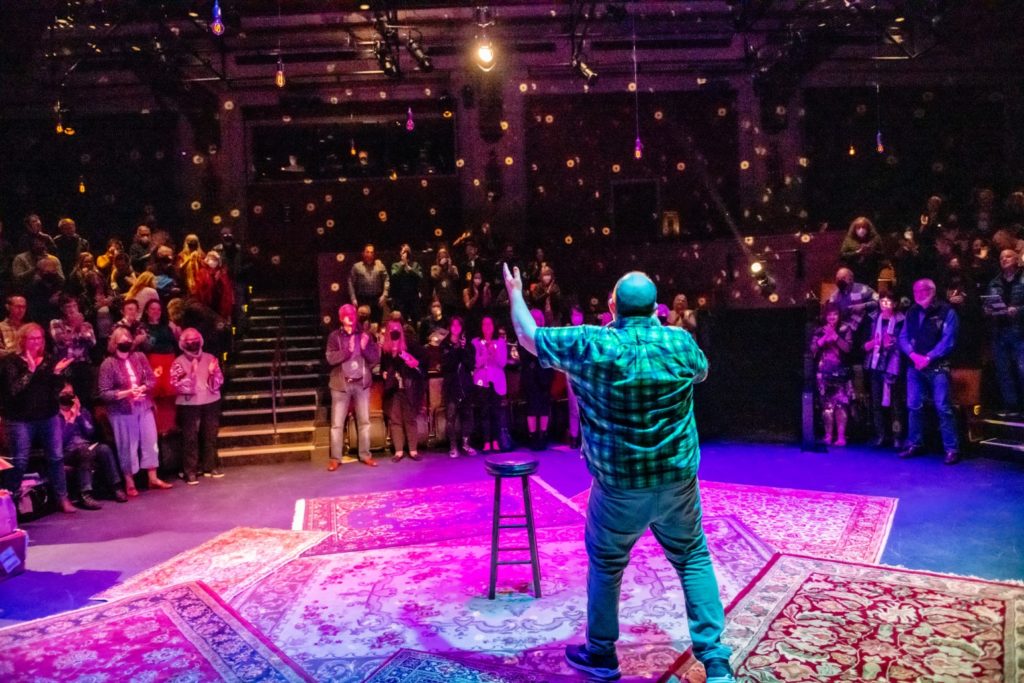 | | |
| --- | --- |
| Role | Name |
| Main Character | Ian Bell* |
| Understudy | Imogen Love* |
| — | — |
| Director | John Langs |
| Playwrights | Duncan Macmillan w/ Jonny Donahoe |
| Scenic Designer | Parmida Ziaei |
| Costume Designer | Danielle Nieves |
| Lighting Designer | Lily McLeod |
| Sound Designer | Maggie L. Rogers |
| Stage Manager | Jeffrey K. Hanson* |
| Production Assistant | Max Zamorano |
| Stage Management Intern | Em Wittress |
*Members Of Actors' Equity Association, The Union of Professional Actors and Stage Managers in the USA