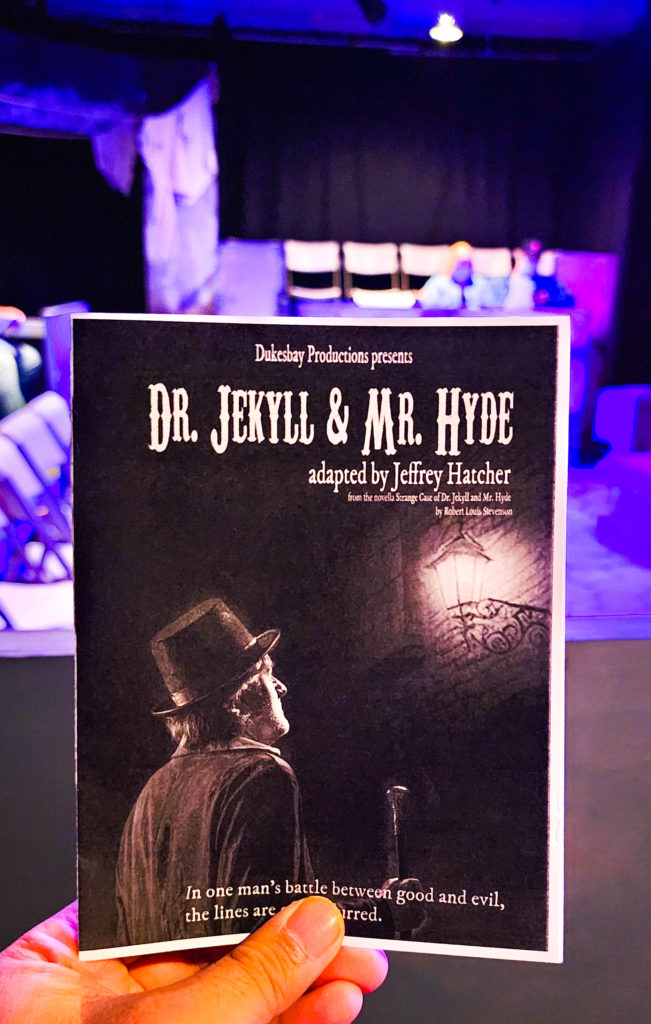 Elevator Thoughts (aka Tweet): Dr. Jekyll & Mr. Hyde w/ Dukesbay Productions at Merlino Arts Center. Interesting to see Edward Hyde as more of a person than a monster and vice versa w/ Henry Jekyll.
Synopsis from the Theatre: In one man's inner battle between good and evil, the lines are often blurred. Robert Louis Stevenson's classic novella Strange Case of Dr. Jekyll and Mr. Hyde comes to life on the Dukesbay stage with an adaptation rarely seen, and with a few unexpected twists. With one actor portraying Henry Jekyll and four actors (including one woman) playing the many aspects of Edward Hyde, this is not your grandfather's Jekyll & Hyde. Instead, it's a psychological thriller about what can result when man's darker side is left unrestrained. Don't worry. It's not a psychology lecture. You will be thrilled and entertained.
Reviewed Performance: 3/18/23
Type: Play
World Premiere: No
Several or Few Scenes: Several
Several or Few Settings: Several
Defined Plot/Storyline: Yes
Recommendation: See it if you like supporting community theatre
Was This the First Time I Attended a Production of this Show: Yes, this was actually also the first time I attended a Dukesbay Productions show
Would I See It Again 3 Years from Now: Maybe if it was a full-blown professional Equity production
Rating Compared to Other Shows with the Same Production Value:
4.25 Stars (Out of 5 Stars)
Equity Actors: 0
Total Number of Actors: 6
Length (Including Any Intermission): 2 hours
Intermission: Yes
Other Rave(s) Not Mentioned in Elevator Thoughts
Injured Actor: One of the actors hurt their foot or leg at the end of the first act. Oh, the magic of unexpected surprises in live theatre! Kudos for powering through the pain during the second act!
Blurring the Duality of Man: It was interesting to see a conscience, feelings, and (maybe?) a soul peek out various times in Edward Hyde. Usually, he's portrayed as the fully evil side in the binary duality of man.
Rant(s)
Beddings: There was a scene where an actor was making a bed with no bedding props. I know this is community theatre, but let's bring some linens from home or buy some at Goodwill for $10!
Lighting: During the first few minutes of the show, the lighting was either inadequate or late. However, I recognize that this play does require some degree of darkness to convey the feeling of mystery and evil.
Other Musing(s) and Observation(s)
Corpse: I'm surprised they how naked they designed the corpse dummy! But I guess I shouldn't be surprised in the granola PNW.
Edward Hyde Characters: There was no single actor who portrayed Edward Hyde exclusively. Nearly every performer cast doubled as him throughout the show.
Spontaneous Personality Change: What caused Dr. Jekyll to sometimes spontaneously transform into Mr. Hyde without a potion/serum? Was it love? I know this also occurs in the original novella, but I don't remember if the novella addresses the cause. Leave a comment in my social media posts below if you have any ideas!
Theatre Company: Dukesbay Productions
Venue: Merlino Art Center
Venue Physical Address: 508 S 6th Ave, Tacoma, WA 98402
Price: Cheap
Dates: March 10 to 26, 2023
Seating: General Admission
Parking: Free plentiful street parking
Like/Comment/Share my Social Media Posts About this Performance:
Instagram | TikTok | Twitter | Facebook | YouTube
Buy a Ticket or Learn More:
Other Video +/- Pictures: See pictures in video and under video below
Cast and Production Team: See after pictures and video below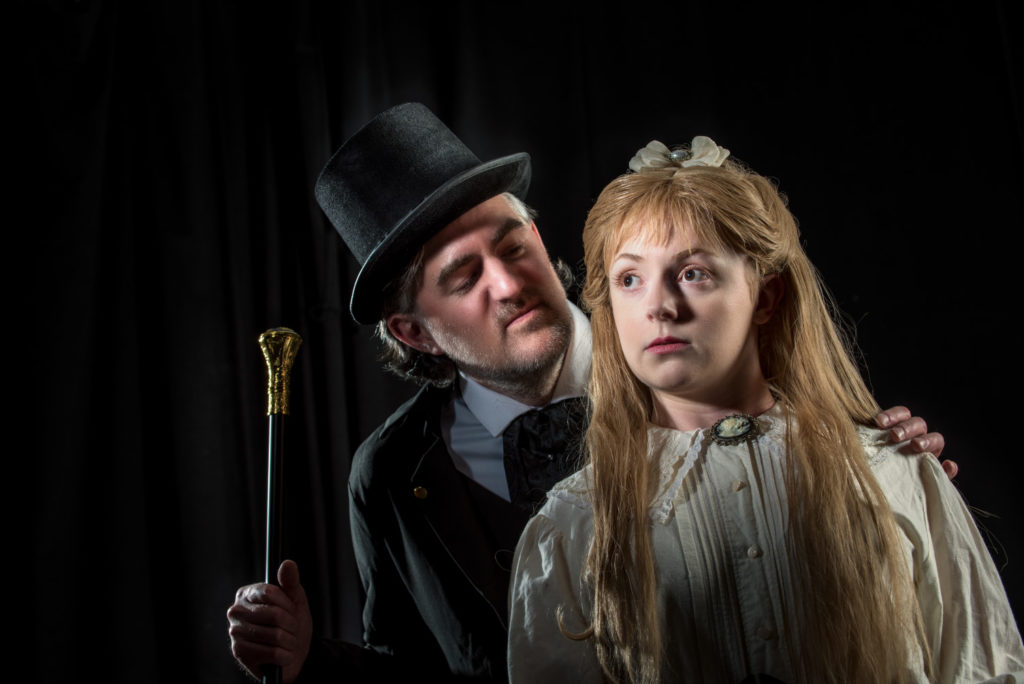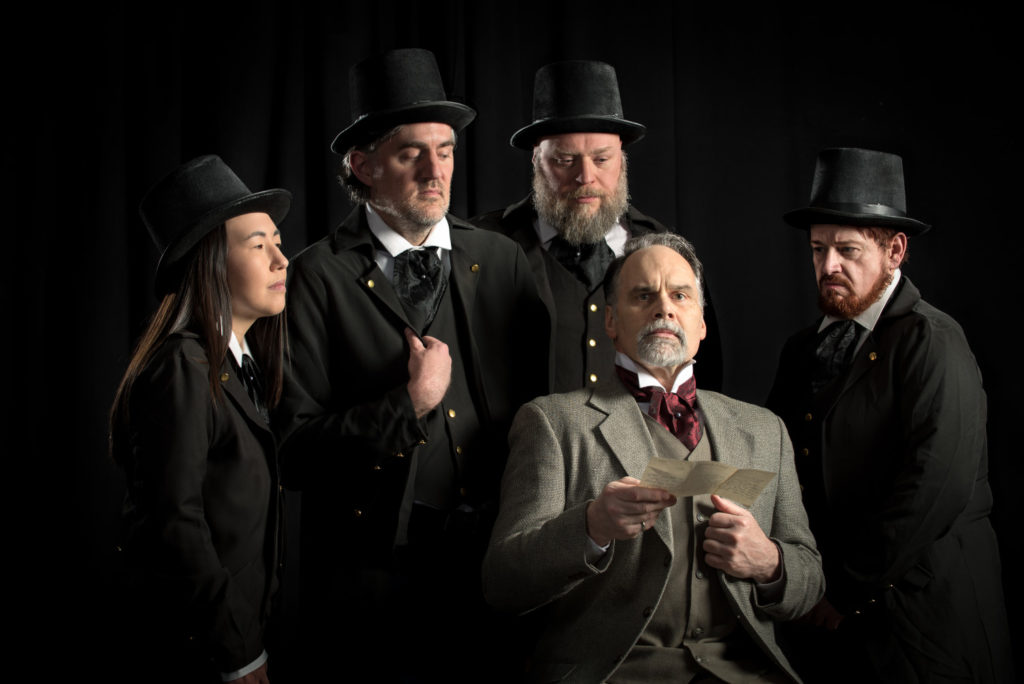 | | |
| --- | --- |
| Role | Name |
| Dr. Henry Jekyll | W. Scott Pinkston |
| Edward Hyde/Utterson | Jeffery Weaver |
| Edward Hyde/Carew/Enfield/Sanderson/Inspector | Scott C. Brown |
| Edward Hyde/Lanyon/Police Doctor | Ben Stahl |
| Edward Hyde/Poole/Porter/Maid | Jasmine Jaqua |
| Elizabeth Jelkes | Christine Choate |
| Surgical Student | Sofia Pieralde |
| Surgical Student | |
| — | — |
| Playwright | Jeffrey Hatcher adapting from the novella by Robert Louis Stevenson |
| Director | Randy Clark |
| Stage Manager | Tracy Engels |
| Scenic/Sound Design | Niclas Olson |
| Scenic Painter | Jennifer York |
| Set Construction | Hector Juarez, Niclas Olson |
| Lighting Design | Mark Thomason |
| Costume/Properties Design | Jeffery Weaver |
| Fight Choreography | Chevi Chung |
| Fight Captain | Scott C. Brown |
| Assistant Stage Managers | Sofia Pieralde, Ryn Smith |
| Photography/Poster Design | Jason Ganwich |
| Producers | Randy Clark, Aya Hashiguchi Clark |