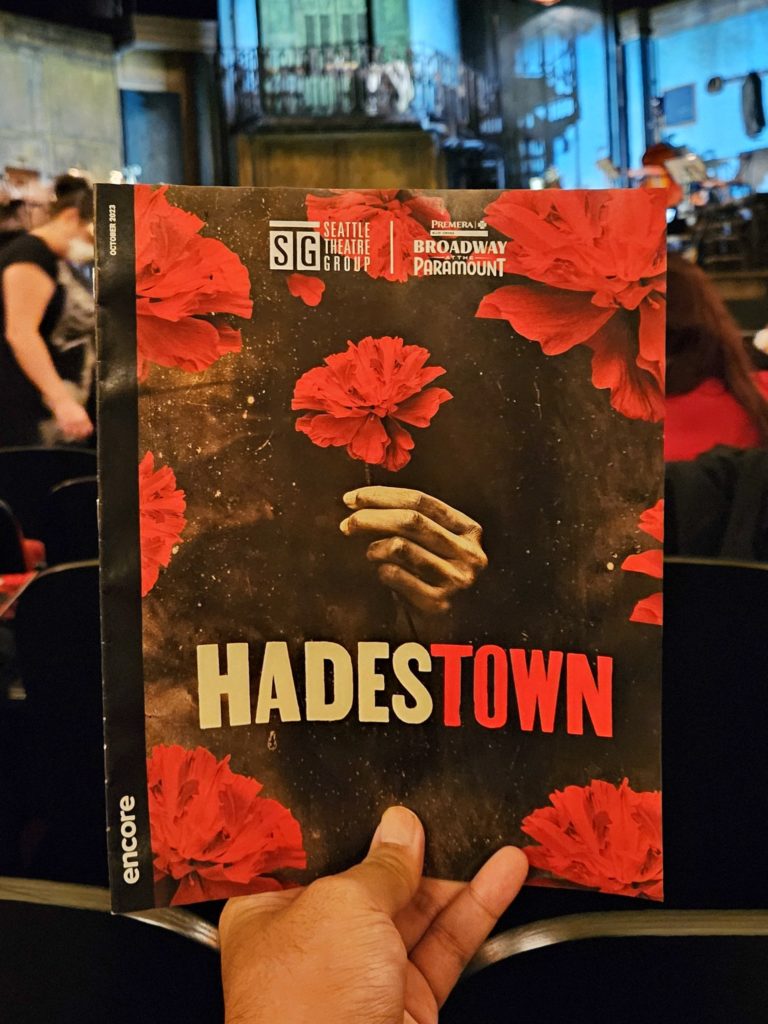 Elevator Thoughts (aka Tweet): Anaïs Mitchell's Hadestown musical w/ Broadway Seattle and Seattle Theatre Group at Paramount Theatre on Halloween. Artistic, poetic, and clever. Dazzling yet dark visuals. Loved Marla Louissaint's alto. #showsiveseen #hades #eurydice #orpheus
Recommendation
See it, especially if you like unique musicals.

Synopsis from the Theatre: Come see how the world could be. Welcome to HADESTOWN, where a song can change your fate. Winner of eight 2019 Tony Awards® including Best Musical and the 2020 Grammy® Award for Best Musical Theater Album, this acclaimed new show from celebrated singer-songwriter Anaïs Mitchell and innovative director Rachel Chavkin (Natasha, Pierre & The Great Comet of 1812) is a love story for today… and always. HADESTOWN intertwines two mythic tales — that of young dreamers Orpheus and Eurydice, and that of King Hades and his wife Persephone — as it invites you on a hell-raising journey to the underworld and back. Mitchell's beguiling melodies and Chavkin's poetic imagination pit industry against nature, doubt against faith, and fear against love. Performed by a vibrant ensemble of actors, dancers and singers, HADESTOWN is a haunting and hopeful theatrical experience that grabs you and never lets go.
Attended Performance Date: 10/31/23 – Opening night on Halloween of all days!
Type: Musical
World Premiere: No
Several or Few Scenes: Several
Several or Few Settings/Locations: Medium to several
Static (Stationary) Set: Mostly yes
Prior Exposure/Knowledge Required: No, but it helps to know a little about basic Greek mythology
Defined Plot/Storyline: Yes
Live Band/Orchestra: There was a dedicated live band in the background and the actors also occasionally played instruments
Equity Actors: All
Total Number of Actors: 13
Perceived Pace of the Show: Medium speed
Length (Including Any Intermission): 2.5 hours
Was there an intermission? Yes
Was This the First Time I Attended a Production of this Show? No, I saw it last year at the same theatre in the front row!
Would I See It Again 3 Years from Now? Before I saw it last night, I would have said no. After I saw it last night, I'd say probably.
Other Rave(s) Not Mentioned in Elevator Thoughts
Fates: The Fates (played by Marla Louissaint, Lizzie Markson, and Hannah Schree) stole the show in this production, especially with their tight acapella harmonies in "Nothing Changes." I love Marla Louissaint's deep, full, rich, developed alto voice.
Lyrics: The lyrics were clever like Lin-Manuel Miranda's but more beautifully chosen and more artistically delivered.
Lighting: While the general aura of the musical was influenced by the darkness of the underworld, there were moments of dazzling allurement like in "Wait for Me" with the waving hanging lamps from the ceiling and the bulbs on the back wall. The light also enhanced the excitement when Hades exclaimed "I conduct the electric city!" The lanterns that the fates held in Orpheus's journey from Hadestown added a wonderful feeling of unease.
Treadmill Stage: Speaking of the long and lonely journey from Hadestown, the circular treadmill stage floor worked very well in this scene.
"Our Lady of the Underground" Song: Persephone (played by Lana Gordon) really shined in this act 2 opening number.
Rant(s)
Comparison to Previous Production: I feel like this production was more tepid than what I saw last year at the same theatre. Maybe it's the thrill of first impressions. That being said, you should definitely see this production if you have the opportunity.
Invisible Performer: I'm mystified why they exciled the drummer behind the set where the audience couldn't see. Everyone else in the band was visible!
Theatre Company: Broadway Across America National Tour and Seattle Theatre Group
Venue: Paramount Theatre
Venue Physical Address: 911 Pine St, Seattle, WA 98101
Price: Medium to Expensive
Tickets: https://seattle.broadway.com/shows/hadestown-2/
Ticket Affordability Options: Seattle Theatre Group might partner with an organization you're affiliated with for discount tickets. For example, I believe UW employees/students are eligible for an organization discount.
Dates: October 31 to November 5, 2023
Seating: Assigned Seating
Parking: Paid street parking and paid garage parking. The best parking garage is under the convention center w/ the entrance on Pike around the Pike and Terry intersection. Last I checked, this is one of the cheapest, least busy, and closest garages. Alternatively, you can probably find street parking as you move closer to the West Precinct (810 Virginia St, Seattle, WA 98101). Do NOT park where the Paramount subscribers park. Last I checked, they usually park in the garage attached to the Cheesecake Factory. It'll take you at least 30 minutes to exit that garage after the show.
Like/Comment/Share my Social Media Posts About this Performance:
Instagram | TikTok | Twitter | Facebook | YouTube | Threads
Buy a Ticket or Learn More:
Other Video +/- Pictures: See pictures in video and under video by T Charles Erickson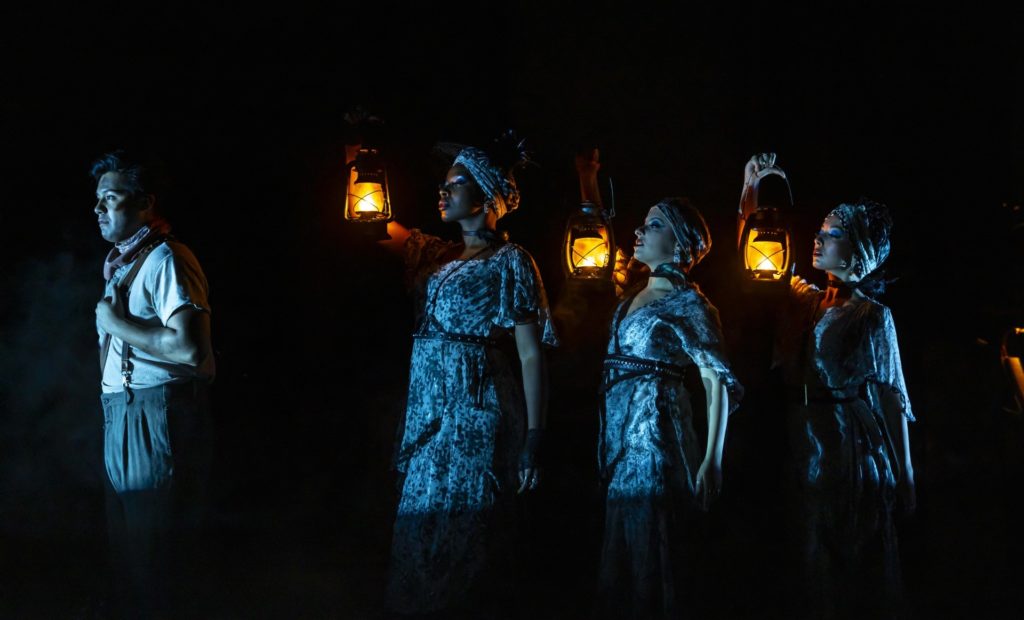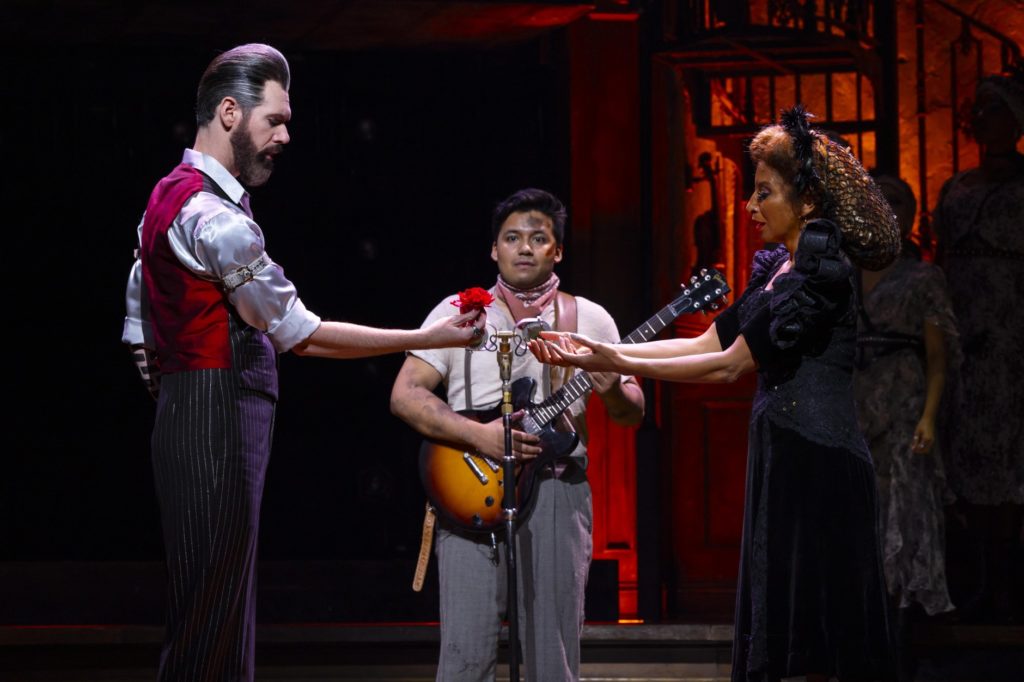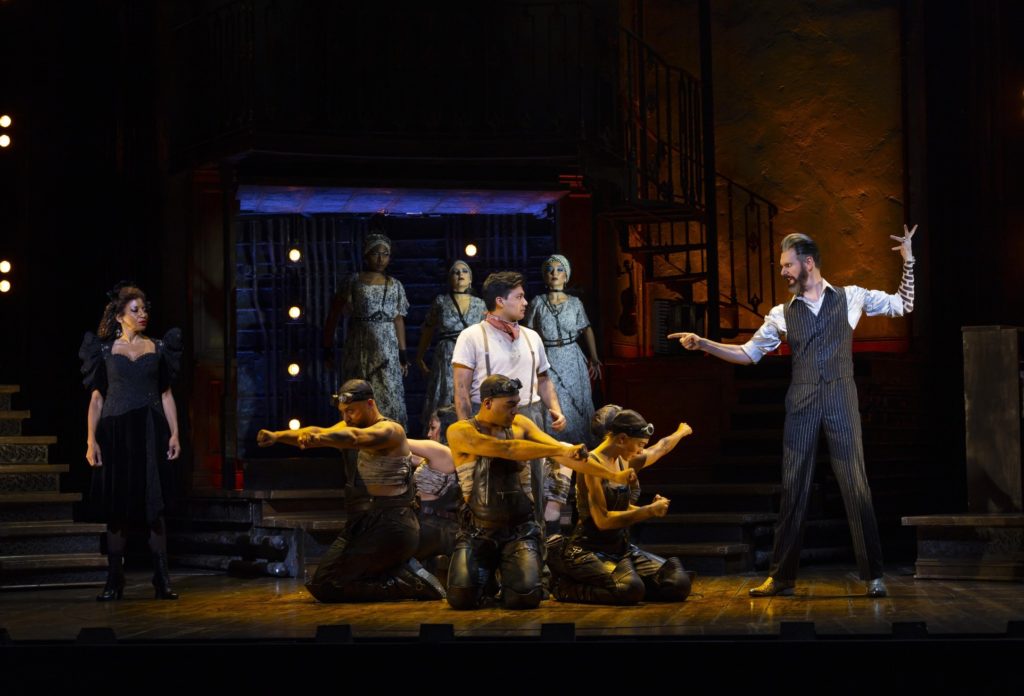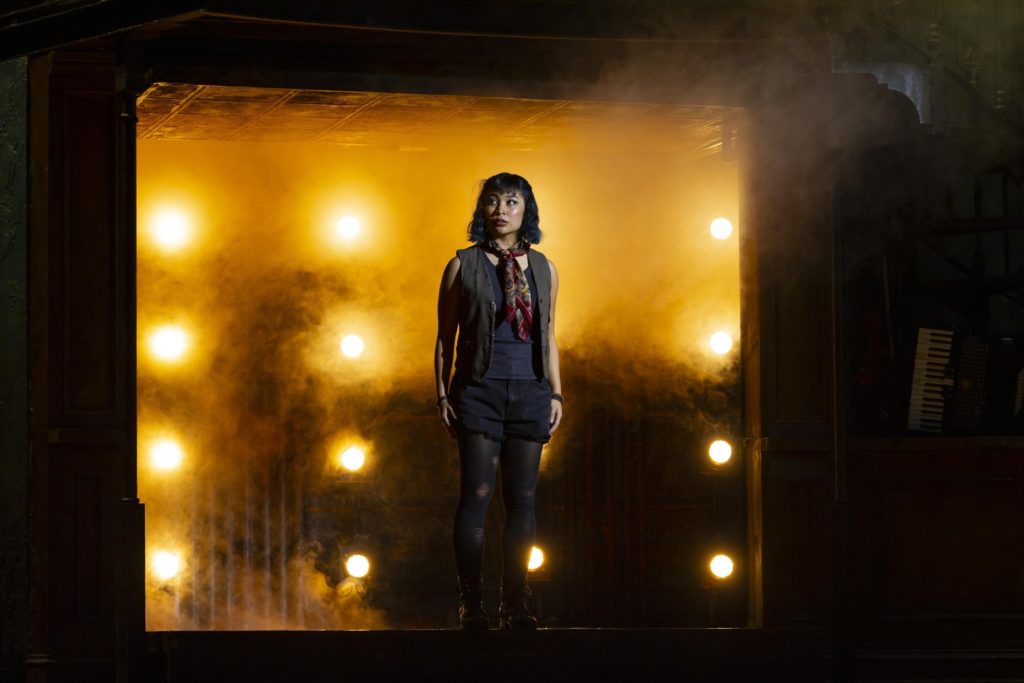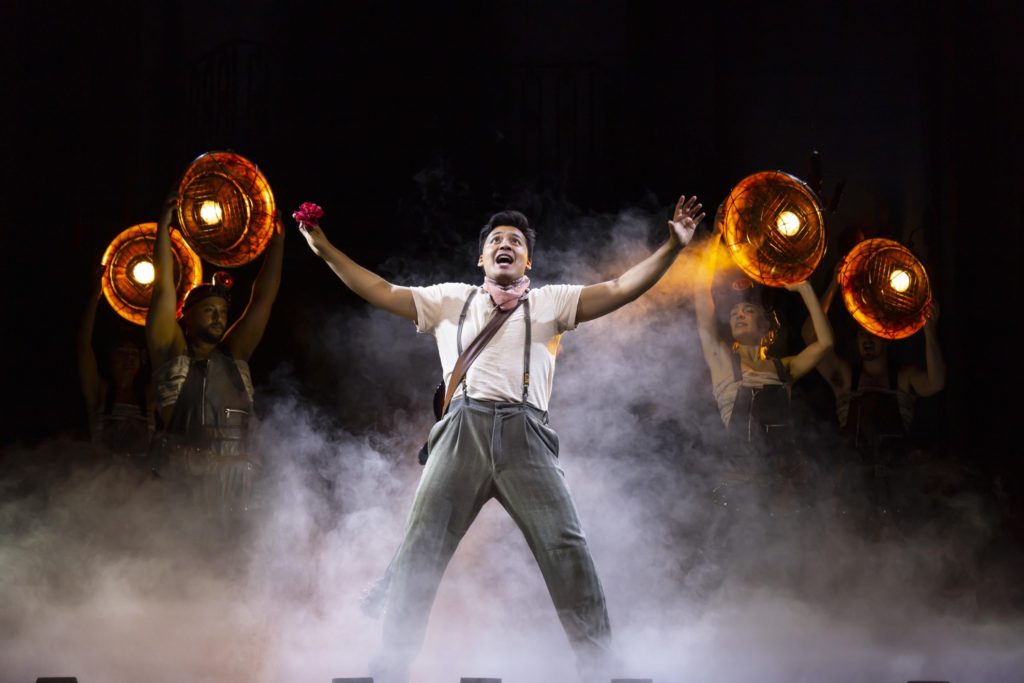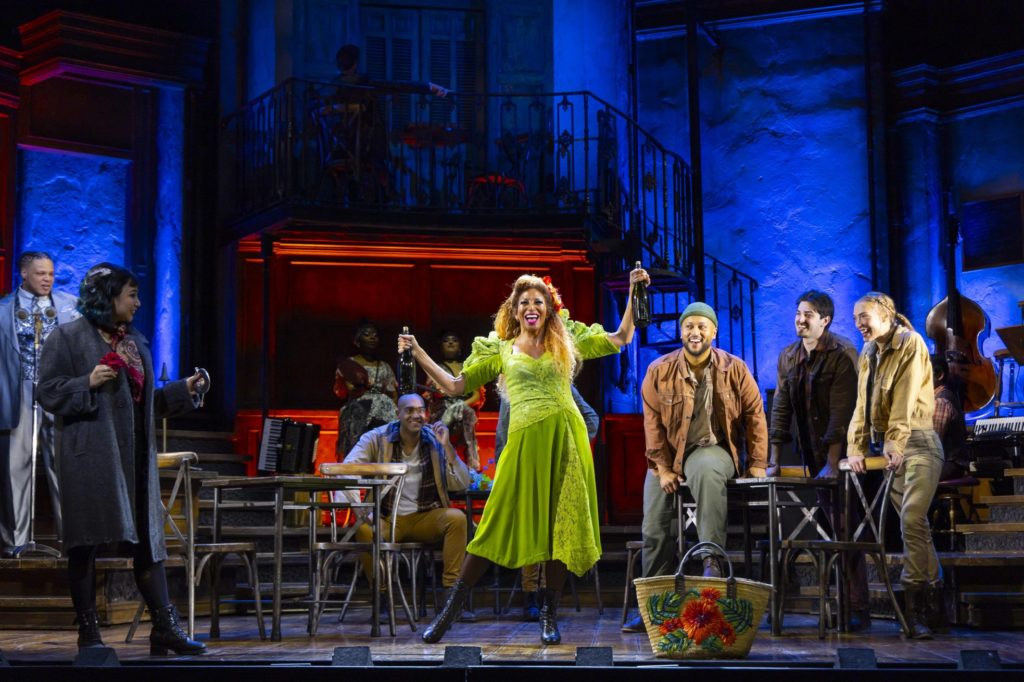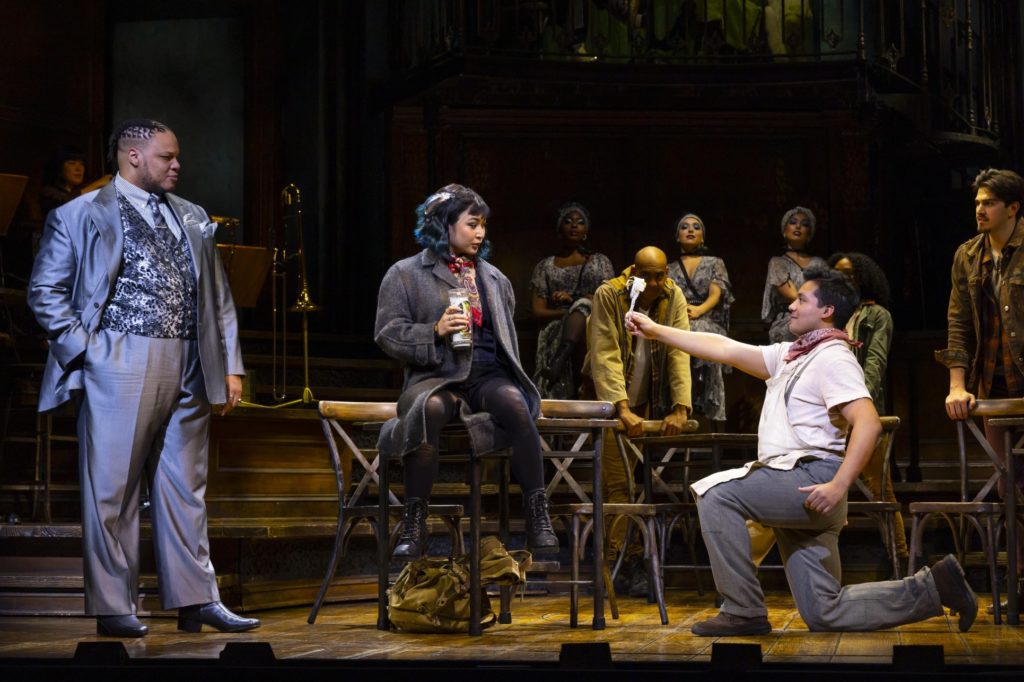 Role

Name

Eurydice
Amaya Braganza
Orpheus
Colin Lemoine (10/31 & 11/3)
Jordan Bollwerk (11/1 & 11/2)
John Krause (11/4 & 11/5)
Persephone
Lana Gordon
Hades
Matthew Patrick Quinn
Hermes
Will Mann
Fates
Marla Louissaint, Lizzie Markson, Hannah Schreer
Workers Chorus
Sevon Askew, Jamal Lee Harris, Courtney Lauster, Daniel Tracht, Racquel Williams
Swings
Ian Coulter-Buford, KC Dela Cruz, Colin Lemoine, Cecilia Trippiedi
Understudy for Orpheus
Colln Lemoine, Daniel Tracht
Understudy for Eurydice
KC Dela Cruz, Courtney Lauster
Understudy for Persephone
Marla Louissaint, Racquel Williams
Understudy for Hades
Sevon Askew, Jamal Lee Harris
Understudy for Hermes
Sevon Askew, Ian Coulter-Buford
Understudy for Fates
KC Dela Cruz, Courtney Lauster, Cecilia Trippiedi, Racquel Williams
Dance Captain
Cecilia Trippiedi
Fight Captain
Ian Coulter-Buford
Assistant Dance Captain
KC Dela Cruz
—
—
Director
Rachel Chavkin
Choreographer
David Neumann
Composer, Lyricist, & Playwright
Anaïs Mitchell
Scenic Designer
Rachel Hauck
Orchestration Arranger
Michael Chorney, Todd Sickafoose
Music Coordinator
David Lai
Hair Design
Jennifer Mullins
Music Supervisor & Vocal Arranger
Liam Robinson
Associate Choreographer
Katie Rose McLaughlin
Costume Designer
Michael Krass
Music Director
Eric Kang
Production Stage Manager
Joel Rosen
Lighting Designer
Bradley King
Dramaturg
Ken Cerniglia
Company Manager
Denny Daniello
Co-Sound Designer
Nevin Steinberg, Jessica Paz
General Manager
RCI Theatricals, Beverly Edwards
Stage Managers
Joel Rosen, Annelise Castleberry, Vanessa Coakley
—
—
Conductor/Piano
Eric Kang
Cello/Assistant Conductor
Kely Pinheiro
Violin
Clare Armenante
Guitar
Michiko Egger
Trombone/Glockenspiel
Emily Fredrickson
Double Bass
Calvin Jones
Drums/Percussion
Eladio Rojas