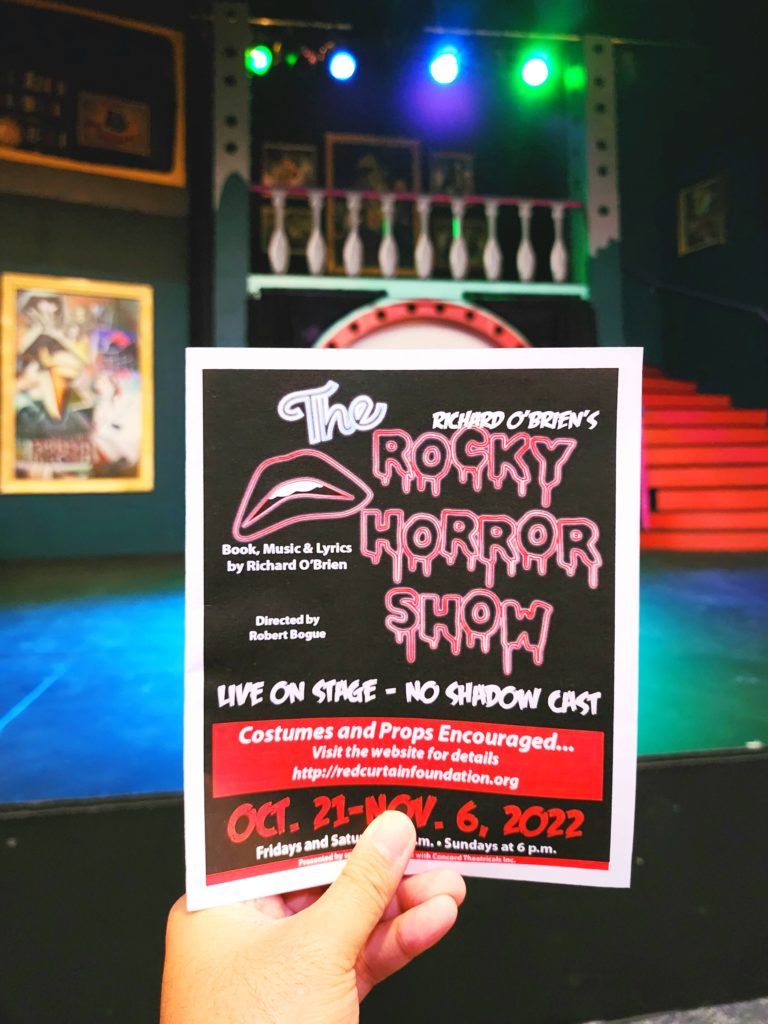 Elevator Thoughts (aka Tweet): The Rocky Horror Picture Show musical sold out night at Red Curtain Foundation for the Arts. Complete w/ audience props & heckling. Energetic audience & cast. Great talent from Magenta, Frank, & Columbia. Brad & Rocky definitely looked the part. Awesome community theatre production! #cultClassic #camp
Synopsis from the Theatre: Oh, Rocky! In this cult classic, wholesome sweethearts Brad and Janet take refuge from a storm in the eerie mansion of Dr. Frank-N-Furter. As their innocence is stripped away, Brad and Janet meet a houseful of wild characters, including Frank-N-Furter's latest creation — a muscle man named Rocky. This deliberately kitschy rock 'n roll sci-fi gothic musical by Richard O'Brien encourages audience participation.
Type: Musical
World Premiere: No
Recommendation: See it! Especially if you like supporting community theatre.
Would I See It Again 3 Years from Now?: Of course!
Rating (Out of 5 Stars): 4.25 stars
Other Rant(s)
Sound balancing between the actors and the band needed improvement.
One of the main characters was a bit tone deaf.
The heckling wasn't in-sync enough so it was a little hard to understand. I also suggest the actors on stage not do it. It's better if there are audience plants so it seems more spontaneous for those who haven't seen the movie or musical.
Other Rave(s)
Maybe I'm a little biased since it's my favorite song in the show but Magenta (Lauren Hayes) did a great job on "Science Fiction, Double Feature."
Theatre Company : Red Curtain Foundation for the Arts
Venue: Red Curtain Foundation for the Arts
Venue Physical Address: 9315 State Ave #J, Marysville, WA 98270
Price: Cheap
Dates: October 21 to November 6, 2022
Seating: General Admission
Parking and Cost: Free lot parking in the strip mall where the theatre is located.
Social Media Posts: Instagram | TikTok | Facebook | Twitter | YouTube
Link(s):
Other Video/Pictures: Scroll under the table below. Photos in video and photos below video are by Kenny Randall.
Cast and Production Team Leadership:
| | |
| --- | --- |
| Narrator | Ivan Hodder |
| Brad Majors | Layton Gaskins |
| Janet Weiss | Katie Wallace |
| Riff Raff | Kendall Collins |
| Magenta | Lauren Hayes |
| Columbia + Dance Captain | Krista Patt |
| Dr. Frank N Furter | Josiah C Miller |
| Eddie & Dr. Scott | Garrison Whaley-shartp |
| Phantoms (Ensemble) | Daniel Hanlon, Ely Skywater, Briar Scott, Andi Leach, Gayle D Staker |
| Director | Robert Bogue |
| Music Director | Stephanie Phillips |
| Stage Manager | Kate Wallington |
| Assistant Stage Manager | Andy Wallington |
| Choreographer | Gayle Staker |