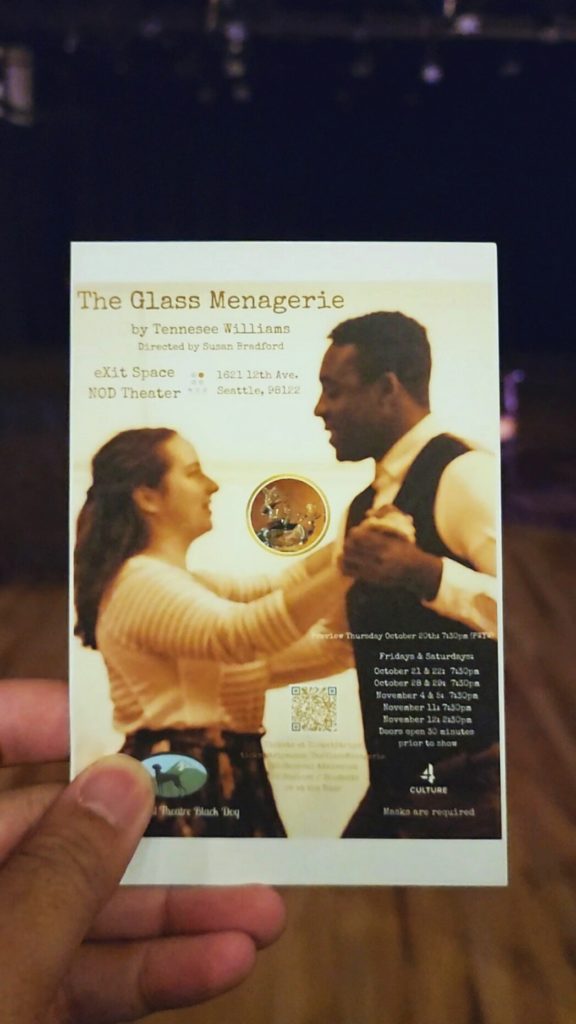 Elevator Thoughts (aka Tweet): The Glass Menagerie play by The Original Theatre Black Dog at eXit SPACE NOD Theatre. Artsy almost poetic piece capturing several universal human experiences like escapism, aimless inadequacy, regretful loss, longing, & dashed hope. Unusual that the 2nd act was better than the 1st (usually the opposite).
Type: Play
World Premiere: No
Other Rant(s)
There was no heat in the theatre space. Turn on the A/C!
The stage was huge! I suggest adding a curtain closer to the audience to fill the area.
Arguments between the son and mother had so much more potential for dramatic forceful dialogue.
The restaurant/bar next door was too noisy. Although, I overheard some attendees mistakenly thought it was an intentional audio track of the city!
Since the stage is originally a dance studio and since the studio is so big, the space doesn't have good acoustics to project the actors' lines. I suggest giving the actors microphones or choosing a smaller theatre space.
Theatre Company : The Original Theatre Black Dog
Venue: eXit Space – NOD Theatre
Venue Physical Address: 1621 12th Ave Seattle WA 98122
Price: Cheap
Dates: October 21 to November 12, 2022
Seating: General Admission
Parking and Cost: Paid lot or paid street parking. Street parking is extremely limited since it's Capitol Hill. Your best luck would be East of Cal Anderson Park on 11th or 12th Ave. You may also find luck in the streets southeast of the theatre. Cheapest paid lots are on 11th Ave across from the park.
Social Media Posts: Instagram | TikTok | Facebook | Twitter | YouTube
Link(s):
Other Media: Photos in video and photos below video are by Anthony Floyd.