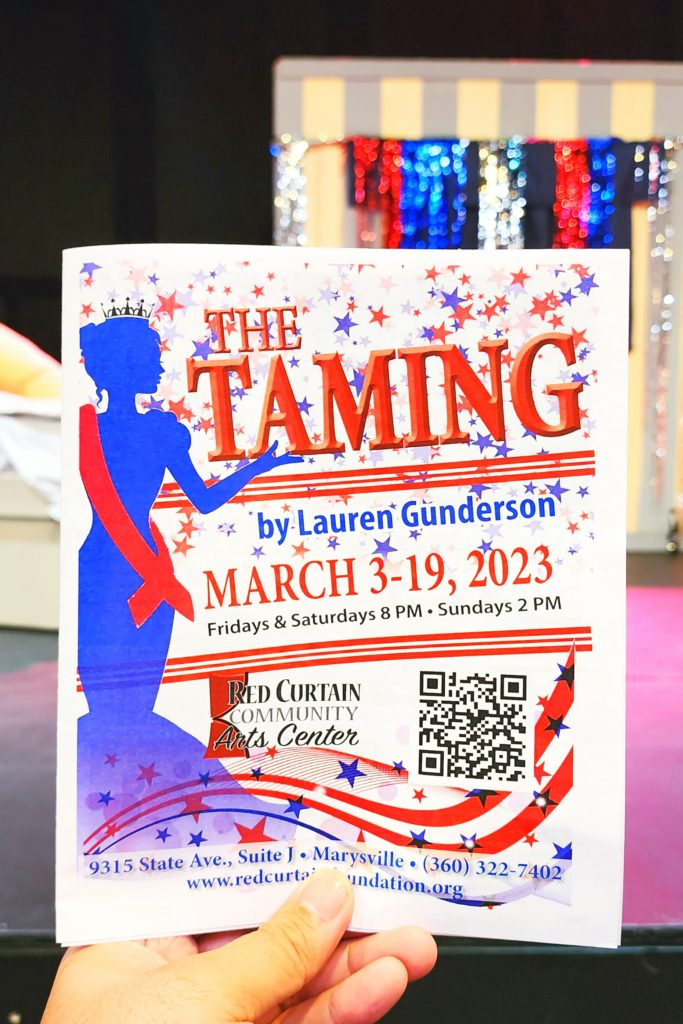 Elevator Thoughts (aka Tweet): The Taming play at Red Curtain Foundation for the Arts. A lesbian republican, Miss #America, and a liberal social justice warrior are trapped together in a hotel room to debate USA politics/history. Pleasantly surprised that Girl Scouts sold cookies in the lobby. How American! #theatre
Synopsis from the Theatre: In this hilarious, raucous, all-female "power-play," Miss America contestant Katherine has political aspirations to match her beauty pageant ambitions. All she needs to revolutionize the American government is the help of one ultra-conservative senator's aide on the cusp of a career breakthrough, and one bleeding-heart liberal blogger who will do anything for her cause. Well, that and a semi-historically-accurate ether trip. Here's lookin' at you, America.
Reviewed Performance: 3/3/23 Evening – Opening Night
Type: Play
World Premiere: No
Several or Few Scenes: Few – Only 3
Defined Plot/Storyline: No
Recommendation: See it if either 1) you like supporting community theatre 2) you're into American politics/history 3) you reveled in the educational parts of Hamilton 4) or if you enjoyed What the Constitution Means to Me
Was This the First Time I Attended a Production of this Show: Yes
Rating Compared to Other Shows with the Same Production Value:
4 Stars (Out of 5 Stars)
Equity Actors: 0
Total Number of Actors: 3
Length (Including Any Intermission): 2 hours
Intermission: Yes
Other Rave(s) Not Mentioned in Elevator Thoughts
Curtain Call: I liked that they let the stagehands take a bow. The stage crew is one of the many undercelebrated essential elements in live theatre.
Rant(s)
Lip Sync Segment: Needs to be removed or shortened. Lip synching on-stage is one of my pet peeves.
Scene Changes: The props and set furniture movement was distracting between scenes. However, I acknowledge the budget constraints of community theatre.
Other Musing(s) and Observation(s)
Comedic Props: The codpiece was a funny addition, but I was originally under the impression those were more popular in England during an earlier time period. I wonder if the codpiece and the shake weight were part of the script or if they were added by the theatre company.
Controlled Chaos: Props were falling and rolling everywhere! There were lots of over-the-top reactions and fight choreography.
Theatre Company: Red Curtain Foundation for the Arts
Venue: Red Curtain Foundation for the Arts
Venue Physical Address: 9315 State Ave #J, Marysville, WA 98270
Price: Cheap
Dates: March 3 to 19, 2023
Seating: General Admission
Parking: Free lot parking in the strip mall where this theatre is located.
Like/Comment/Share my Social Media Posts About this Performance:
Instagram | TikTok | Twitter | Facebook | YouTube
Buy a Ticket or Learn More:
Other Video +/- Pictures: See pictures under video by Kenny Randall
Cast and Production Team: See after pictures and video below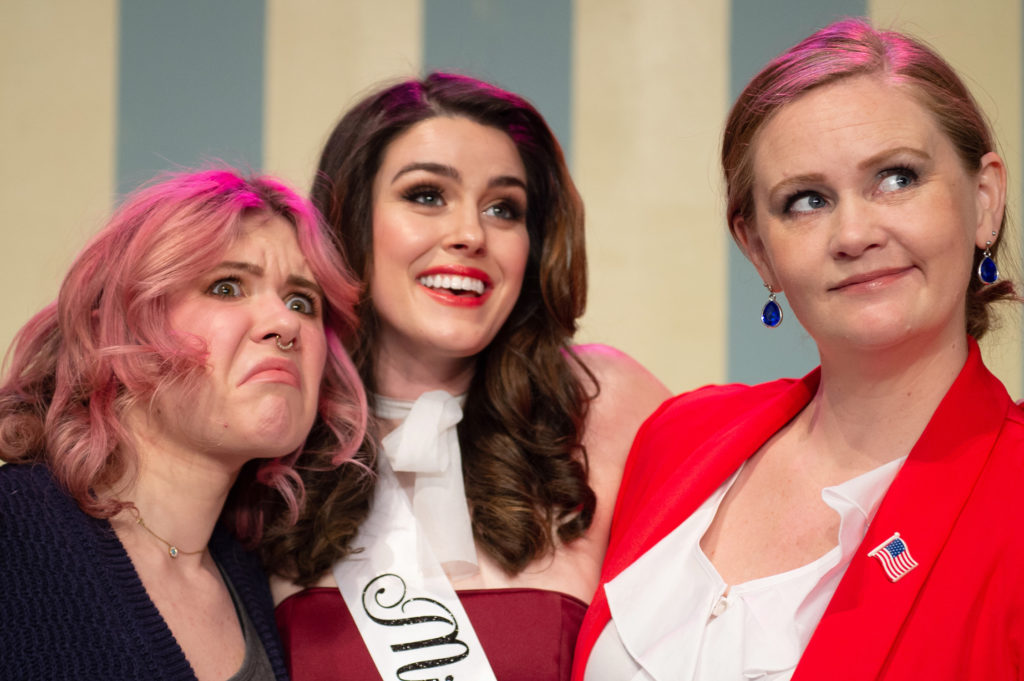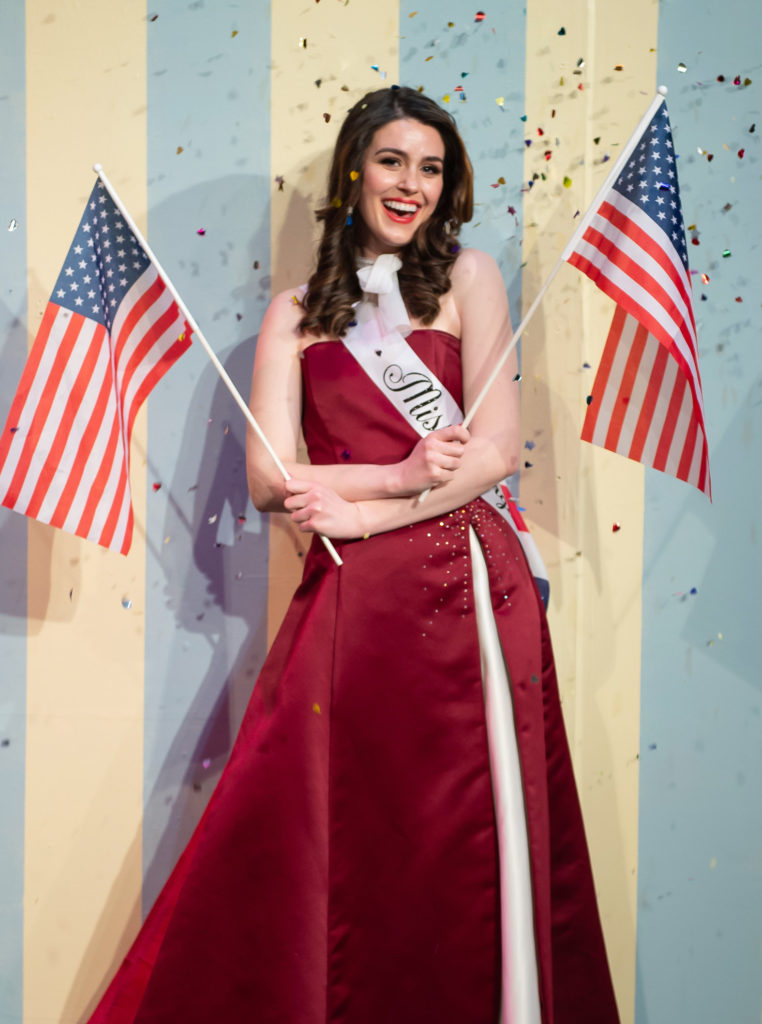 | | |
| --- | --- |
| Role | Name |
| Katherine | Katie Wallace |
| Patricia | Britta Grass |
| Bianca | Grace Helmcke |
| — | — |
| Director | Scott B. Randall |
| Playwright | Lauren Gunderson |
| Stage Manager | Davine Sholdez |
| Fight Choreographer | Rowan Gallagher |
| Dramaturg | Jeryn Pasha |
| Props & Set Dressing | Courtney Calkins |
| Costumes/Dresser | Laura Klein |
| Set Design | Scott B Randall |
| Set Construction Lead | Werner "Randy" Randall |
| Set Construction | Scott Randall, Mike Pieckiel, Aiden Pieckiel, Spencer Greer |
| Lighting Design | Scott Randall |
| Lighting Technician | Layton Gaskins |
| Light Board Operator | Aiden Pieckiel |
| Sound Design | Daniel Hanlon |
| Sound Board Operator | Mike Pieckiel |
| Spotlight Operators | Paula Van Dalen, Sarah Tallman |
| Stage Crew | Andy Wallington, Krista Patt, Layton Gaskins, Krishan Aggarwal, Paul Grass |
| Promotional Photos | Kenny Randall |
| Marketing & Publicity | Beckye Randall |
| Bar Manager | Michele Beito |
| Concessions Manager | Kim Shumway |