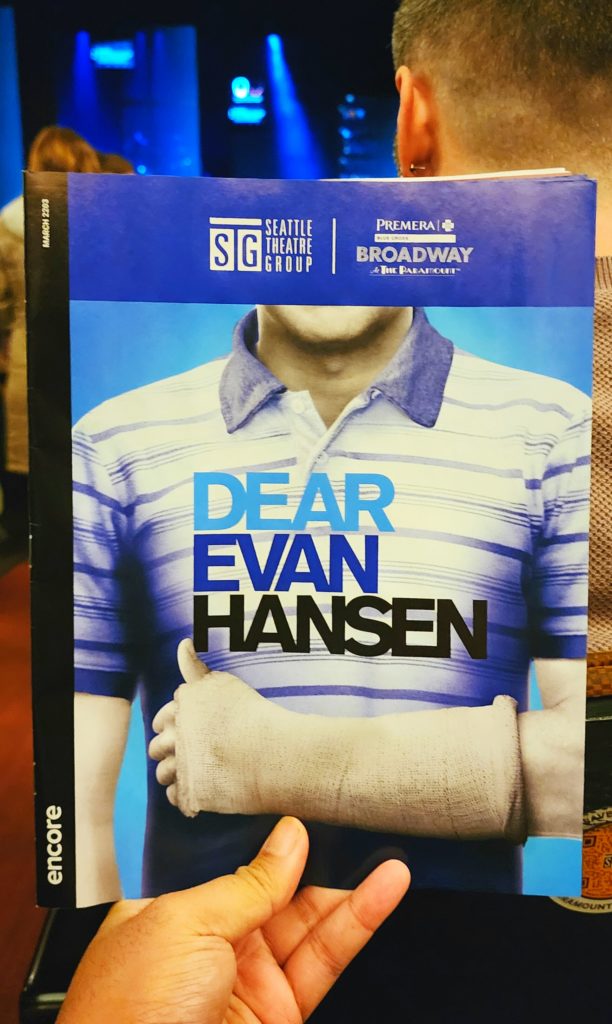 Giveaway: I'm giving away a free ticket to this show. Enter the contest on Instagram! Update (3/11/23): Congrats to Matt!
Elevator Thoughts (aka Tweet): Dear Evan Hansen musical w/ Broadway at the Paramount Theatre and Seattle Theatre Group. Good visibility on depressed, lonely, awkward people who are obsessed w/ social media and who don't fit in. #DearEvanHansen #suicide #depression
Synopsis from the Theatre: A letter that was never meant to be seen, a lie that was never meant to be told, a life he never dreamed he could have. Evan Hansen is about to get the one thing he's always wanted: a chance to finally fit in. DEAR EVAN HANSEN is the deeply personal and profoundly contemporary musical about life and the way we live it. DEAR EVAN HANSEN has struck a remarkable chord with audiences and critics everywhere, including The Washington Post who says DEAR EVAN HANSEN is "one of the most remarkable shows in musical theatre history." The New York Times calls it "a gut-punching, breathtaking knockout of a musical." And NBC Nightly News declares the musical "an anthem resonating on Broadway and beyond." DEAR EVAN HANSEN features a book by Tony Award winner Steven Levenson, a score by Grammy®, Tony® and Academy Award® winners Benj Pasek and Justin Paul (La La Land, The Greatest Showman), and direction by four-time Tony Award nominee Michael Greif (Rent, Next to Normal).
Reviewed Performance: 3/7/23 Evening – Opening Night
Type: Musical
World Premiere: No
Several or Few Scenes: Several
Defined Plot/Storyline: Yes
Live Band/Orchestra: Yes
Recommendation: See it!
Was This the First Time I Attended a Production of this Show: No, I previously saw this years ago at the Paramount Theatre. I actually listen to the soundtrack in my car every so often.
Would I See It Again 3 Years from Now: I'd consider it, but I probably would only see a professional/equity production like this and not a community production.
Rating Compared to Other Shows with the Same Production Value:
4.5 Stars (Out of 5 Stars)
Equity Actors: All of them
Total Number of Actors: 8
Length (Including Any Intermission): 2.75 hours
Intermission: Yes
Other Rave(s) Not Mentioned in Elevator Thoughts
Projections and Lighting: I'm always a huge fan of modern design and clean lines. The spotlights and projections dramatically converged in "Waving Through a Window" and "You Will Be Found." Most of the projections were inspired by social media and this production didn't lazily use the projections as a crutch for the storyline. However, I wonder how long the projections will stay relevant. For example, today's high schoolers don't gravitate toward the social media platforms (like Facebook) mentioned throughout the show.
Awkwardness: Anthony Norman portrayed Evan Hansen well as a weird loser who doesn't fit it. There should be less snorts though. In my opinion, snorting on-stage or on-film is an overused crutch to portray awkward demeanor to the audience. I've never known someone to regularly snort in real life.
Silence and Darkness: Similar to the recent Metamorphoses play at Seattle Rep, this show is uniquely lacks sound and color (in a good way), which is in contrast to most other musicals that usually more ostentatious. The silence was particularly fitting in the tense moments before Evan Hansen's speech.
"Waving Through a Window" Lyrics: I love how they allude to the smartphone social media experience in the chorus lyrics "cause I'm tap, tap, tapping on the glass. I'm waving through a window … is anybody waving back at me?"
Favorite Line: "The only people that like high school are cheerleaders and football players."
Rant(s)
Pitch Issues: There were numerous moments someone sang slightly off key when attempting to reach high notes.
"Sincerely, Me" Stiffness: The comedic relief song "Sincerely, Me" didn't feel as playful as I remember from the first time I saw this musical. Move your arms and hands more please! Maybe it was the magic and wonder of seeing the show for the first time that made the song better for me back then.
Paramount Theatre Seating: Like I mentioned in my previous Paramount Theatre show review, I'm thankful for the opportunity to review this show and my seats were great on paper but the Paramount Theatre is in desperate need of better seat staggering and a steeper slope. The people sitting in the two rows in front of me were clearly struggling with their view. And I could even hear the person behind me complaining that they couldn't see. The seats are so terribly placed that the person two rows down from me was blocking my view. A part of me thinks that it isn't worth shelling out upwards of $100 per ticket to only hear the show and not see it adequately. Make sure your seat is in the first row of a section!
Other Musing(s) and Observation(s)
Fundraiser: The teens in the story were not fundraising for a worthy cause. Why not raise money for something that will actually prevent suicides and depression? What a waste!
Alana Beck: Such an annoying character. She needs to mind her own business and stop using people. I also didn't buy her explanation for her motives.
Theatre Company: National Tour Coordinated by Broadway Across America and Seattle Theatre Group
Venue: Paramount Theatre
Venue Physical Address: 911 Pine St, Seattle, WA 98101
Price: Medium to Expensive
Ticket Affordability Options: Seattle Theatre Group might partner with an organization you're affiliated with for discount tickets. For example, I believe UW employees and students are eligible for an organization discount.
Dates: March 7 to 12, 2023
Seating: Assigned Seating
Parking: Paid street parking and paid garage parking. The best parking garage is under the convention center w/ the entrance on Pike around the Pike and Terry intersection. Last I checked, this is one of the cheapest, least busy, and closest garages. Alternatively, you can probably find street parking as you move closer to the West Precinct (810 Virginia St, Seattle, WA 98101). Do NOT park where the Paramount subscribers park. Last I checked, they usually park in the garage attached to the Cheesecake Factory. It'll take you at least 30 minutes to exit that garage after the show.
Like/Comment/Share my Social Media Posts About this Performance:
Instagram | TikTok | Twitter | Facebook | Youtube
Buy a Ticket or Learn More:
Other Video +/- Pictures: See pictures under video
Cast and Production Team: See after pictures and video below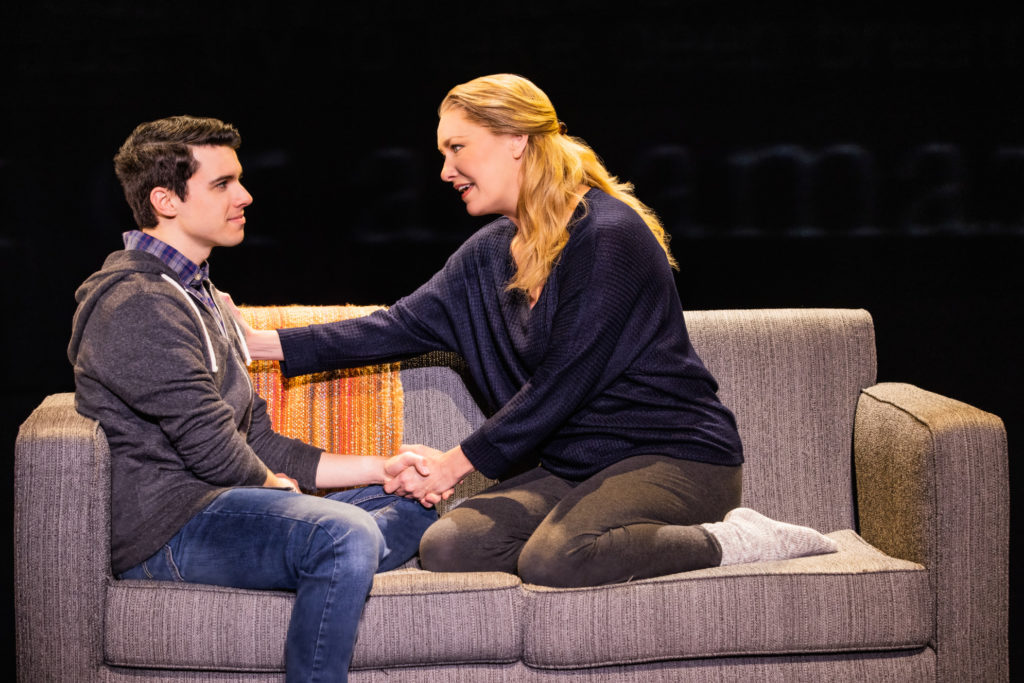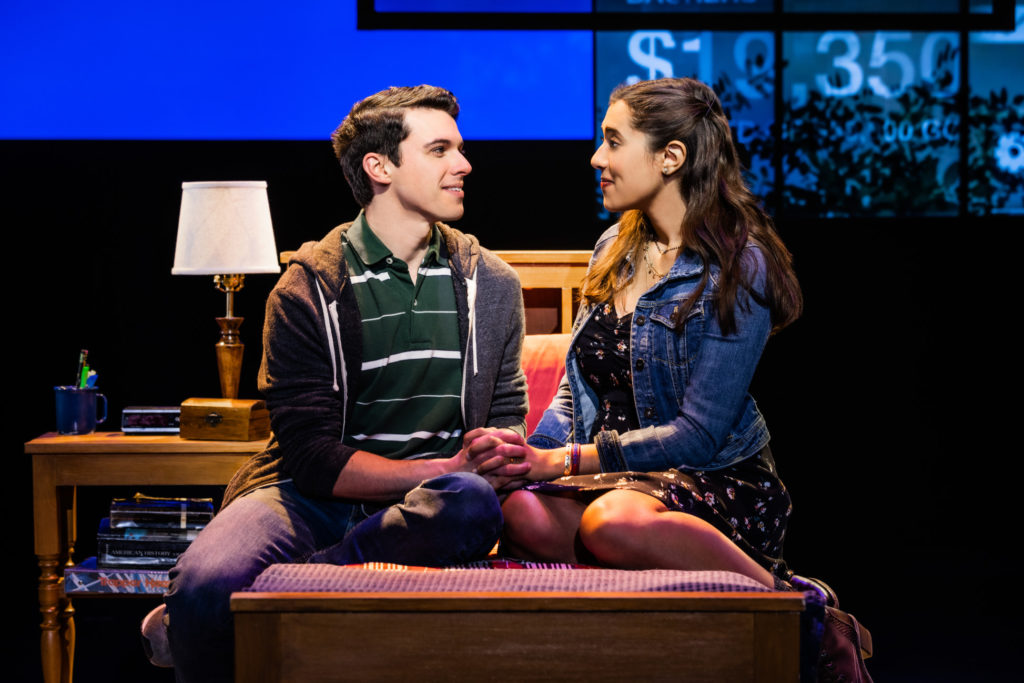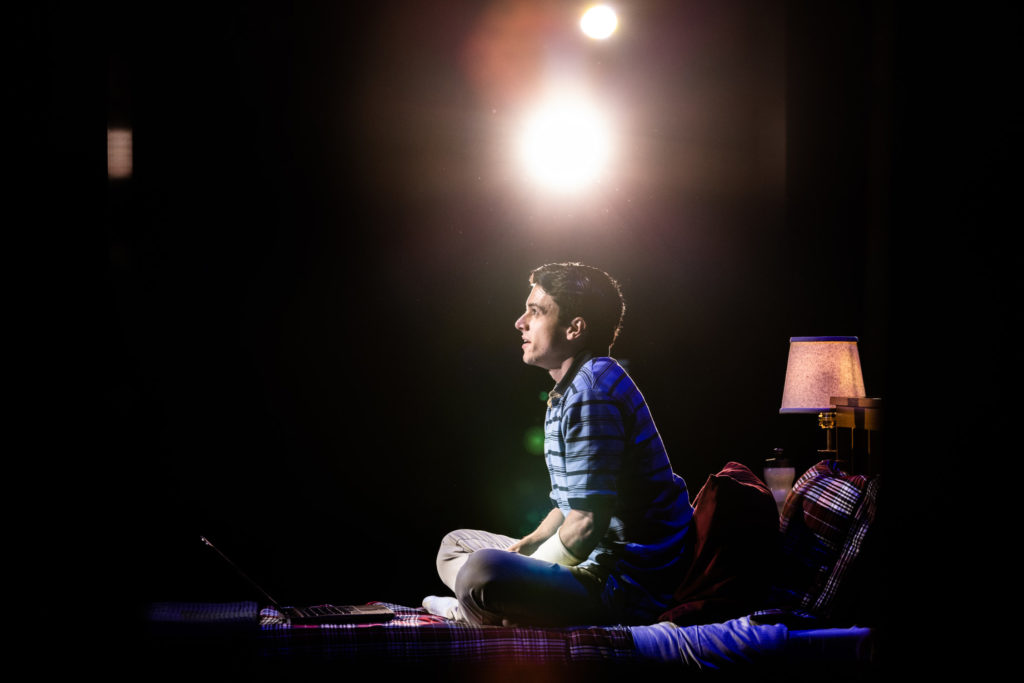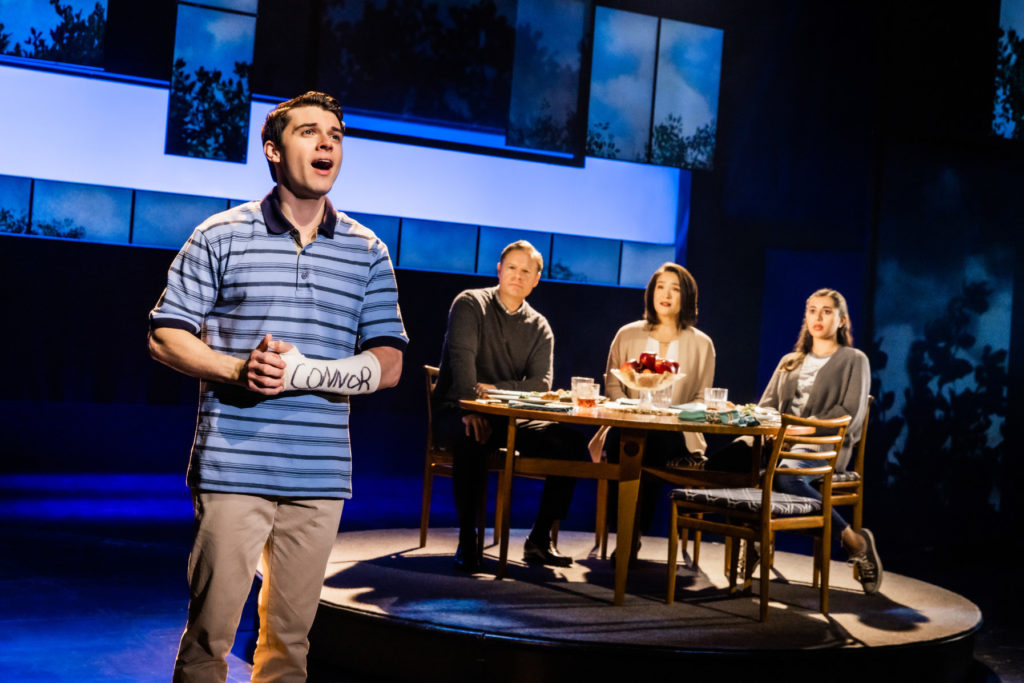 | | |
| --- | --- |
| Role | Name |
| Zoe Murphy | Alaina Anderson |
| Jared Kleinman | Reese Sebastian Diaz was the understudy for Pablo David Laucerica during the 3/7/23 performance |
| Connor Murphy | August Emerson |
| Alana Beck | Micaela Lamas |
| Larry Murphy | John Hemphill |
| Evan Hansen | Anthony Norman (Jeffrey Cornelius on Saturday Matinee and Sunday Evening) |
| Heidi Hansen | Coleen Sexton |
| Cynthia Murphy | Lili Thomas |
| — | — |
| Evan Hansen, Connor Murphy, Jared Kleinman Understudy | Reese Sebastian Diaz |
| Evan Hansen, Jared Kleinman Understudies | Jeffrey Cornelius, Pierce Wheeler |
| Jared Kleinman, Connor Murphy Understudies | Ian Coursey |
| Heidi Hansen, Cynthia Murphy Understudies | Isabel Santiago, Kelsey Venter |
| Alana Beck, Zoe Murphy Understudies | Valeria Ceballos, Gillian Jackson Han |
| Larry Murphy Understudy | Daniel Robert Sullivan |
| — | — |
| Music Director/Conductor/Keyboard | Garret Healey |
| Associate Conductor | Michael Uselmann |
| Guitar | Matt Brown, Eric Stockton |
| Drums | Ryan McCausland |
| Bass | Jack Helsley |
| Violin/Concertmaster | Eugene Kaler |
| Viola | Michi Aceret |
| Cello | Caitlin Thomas |
| Additional Orchestrations | Christopher Jahnke |
| Keyboard Programmer | Randy Cohen |
| Associate Keyboard Programmer | Jeremy King |
| Ableton Programmers | Enrico De Trizio, Scott Wasserman |
| Music Copying | Emily Grishman Music Preparation |
| — | — |
| Director | Michael Greif |
| Author | Steven Levenson |
| Composers and Lyricists | Benj Pasek & Justin Paul |
| Choreographer | Danny Mefford |
| Music Supervision, Orchestrations & Additional Arrangements | Alex Lacamoire |
| Scenic Designer | David Korins |
| Projection Designer | Peter Nigrini |
| Costume Designer | Emily Rebholz |
| Lighting Designer | Japhy Weideman |
| Sound Designer | Nevin Steinberg |
| Hair Designer | David Brian Brown |
| Associate Music Supervisor | Ben Cohn |
| Music Director | Garret Healey |
| Music Coordinators | Michael Keller and Michael Aarons |
| Vocal Arrangements, Additional Arrangements | Justin Paul |
| Production Supervisor | Judith Schoenfeld |
| Stage Manager | Jovon E. Shuck |
| Company Manager | Deann L. Boise |
| Senior Associate Director | Danny Sharron |
| Senior Associate Choreographer | Mark Myars |
| Executive Producers | Wendy Orshan and Jeffrey M. Wilson |
| Dance Captain | Kelsey Venter |