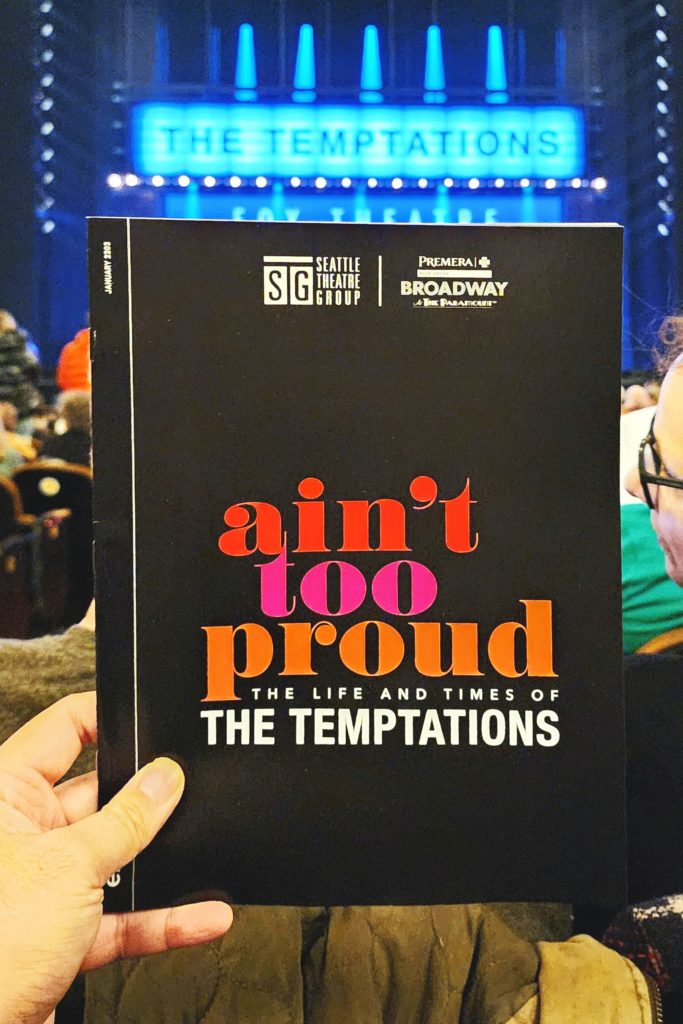 Elevator Thoughts (aka Tweet): Ain't Too Proud – The Life and Times of the Temptations jukebox musical w/ Broadway at the Paramount and Seattle Theatre Group. Imagine a mashup of the musicals Motown and Jersey Boys. Tight harmonies and smooth dance moves. Even the synchronized stage clapping sounded good! #theatre #retro
Synopsis from the Theatre: Ain't Too Proud – The Life and Times of The Temptations is the electrifying, new smash-hit Broadway musical that follows The Temptations' extraordinary journey from the streets of Detroit to the Rock & Roll Hall of Fame. With their signature dance moves and silky-smooth harmonies, they rose to the top of the charts creating an amazing 42 Top Ten Hits with 14 reaching number one. Nominated for 12 Tony® Awards and the winner of the 2019 Tony Award for Best Choreography, Ain't Too Proud tells the thrilling story of brotherhood, family, loyalty, and betrayal, as the group's personal and political conflicts threatened to tear them apart during a decade of civil unrest in America. Written by three-time Obie Award winner Dominique Morisseau, directed by two-time Tony Award winner Des McAnuff (Jersey Boys), and featuring the Tony-winning choreography of Sergio Trujillo (Jersey Boys, On Your Feet!), the unforgettable story of this legendary quintet is set to the beat of the group's treasured hits, including "My Girl," "Just My Imagination," "Get Ready," "Papa Was a Rolling Stone," and so many more.
Reviewed Performance: 1/24/23 – Opening Night
Type: Jukebox Musical
World Premiere: No
Awards: 2019 Tony Award for Best Choreography
Defined Plot/Storyline: Plot was semi-defined but not strong. But this is typical in a jukebox musical. It is also expected from shows written in biographical form (like this one). There is no strong plot in real life!
Live Band/Orchestra: Yes
Recommendation: See it especially if you're a fan of the Temptations group. You don't need to be a fan of their music to enjoy the show. I only knew 1/4 of the songs and my dad only knew 2 of the songs.
Was This the First Time I Saw a Production of this Show: Yes
Would I See It Again 3 Years from Now: Maybe
Rating Compared to Other Shows with the Same Production Value:
4.5 Stars (Out of 5 Stars)
Equity Actors: All of them
Number of Actors: 22
Length: 2.5 to 2.75 hours, which felt a little longer than what I'm used to
Intermission: Yes
Other Rave(s) Not Mentioned in Elevator Thoughts
Voices: Obviously, all the actors had amazing voices. But a special shoutout goes to Devin Price (Al Bryant) with his powerful tenor in "(You Make Me Want to) Shout." Elijah Ahmad Lewis (David Ruffin) was a great replacement for Devin when the Temptations kicked Devin's character out the group. The tenors don't get all the glory in this show though. Harrell Holmes Jr showcased his incredible bass voice as Melvin Franklin. He "got bass lower than the devil!"
Lighting Design: The stage haze elegantly highlighted the simple clean lines of the bright spotlights dramatically shining directly downward on each of the Temptations. The marquees on the set reminded me of ritzy classic showbiz. The large lightbulbs that suddenly shined directly behind the Temptations were elegant and glamourous. The designers even included details like "hot lights" on TV set video recorders in the American Bandstand scenes.
Costumes: The costumes conveyed a vintage feel. I was strangely drawn to the funeral attire, which was very elegant, simple, and old money. The classic black umbrellas were also a nice addition to the funeral scene.
Supremes: I was pleasantly surprised that they included some numbers sung by the Supremes like "Can't Buy Me Love."
Rant(s)
Views in the Paramount Theatre: Warning, soapbox ahead! Let me just start out saying that I'm extremely thankful for the opportunity to review this show and my seat was well-placed. It was on the aisle at the center where I could theoretically see everything. It was also not too close or far from the stage. However, most patrons at the Paramount Theatre tend to significantly obstruct the view of the person directly behind them. I've been burned too many times by this. I've even sat in the third row of the center main floor orchestra and a head still annoyingly blocked my view, which was very disappointing especially after paying more than $100 on that ticket. Several regular Seattle theatre patrons have voiced the same concern with Paramount Theatre seats. It is ironic that the arguably most prestigious theatre in the city (which also hosts most touring Broadway shows) also has the highest possibility of an obstructed view. I've never experienced this at 5th Avenue Theatre, Village Theatre, or ACT Theatre. Unfortunately, at the Paramount Theatre, you're only safe with a view in a section's first row (whether orchestra or mezzanine) with a walkway buffer in front of you. You'd also be safe in the back row of a section propped up by two seat pillows. I wish the Paramount Theatre could change the elevation grade/slope to be steeper and I also wish they would stagger the seats better. Hopefully the "Save a Seat" program will prevent obstructed views that make it difficult to review/enjoy shows. First world problems, right? 😛
Other Thought(s)
Historical Anecdotes: A couple interesting historical facts were mentioned throughout the show. For example, apparently there have been more than 25 Temptations members since the group's inception. Also, one of the past members was known for sneaking on-stage to perform after the group fired him!
Theatre Company: National Tour from Broadway Across America and Seattle Theatre Group
Venue: Paramount Theatre
Venue Physical Address: 911 Pine Street, Seattle, WA 98101
Price: Medium to Expensive
Ticket Affordability Options: Seattle Theatre Group might partner with an organization you're affiliated with for discount tickets. For example, I believe UW employees and students are eligible for an organization discount.
Dates: January 24 – February 5, 2023
Seating: Assigned Seating
Parking: Paid street parking and paid garage parking. The best parking garage is under the convention center w/ the entrance on Pike around the Pike and Terry intersection. Last I checked, this is one of the cheapest, least busy, and closest garages. Alternatively, you can probably find street parking as you move closer to the West Precinct (810 Virginia St, Seattle, WA 98101). Do NOT park where the Paramount subscribers park. Last I checked, they usually park in the garage attached to the Cheesecake Factory. It'll take you at least 30 minutes to exit that garage after the show.
Like/Comment/Share my Social Media Posts About this Performance:
Instagram | TikTok | Facebook | Twitter | YouTube
Buy a Ticket or Learn More:
Other Video +/- Pictures: See pictures under video