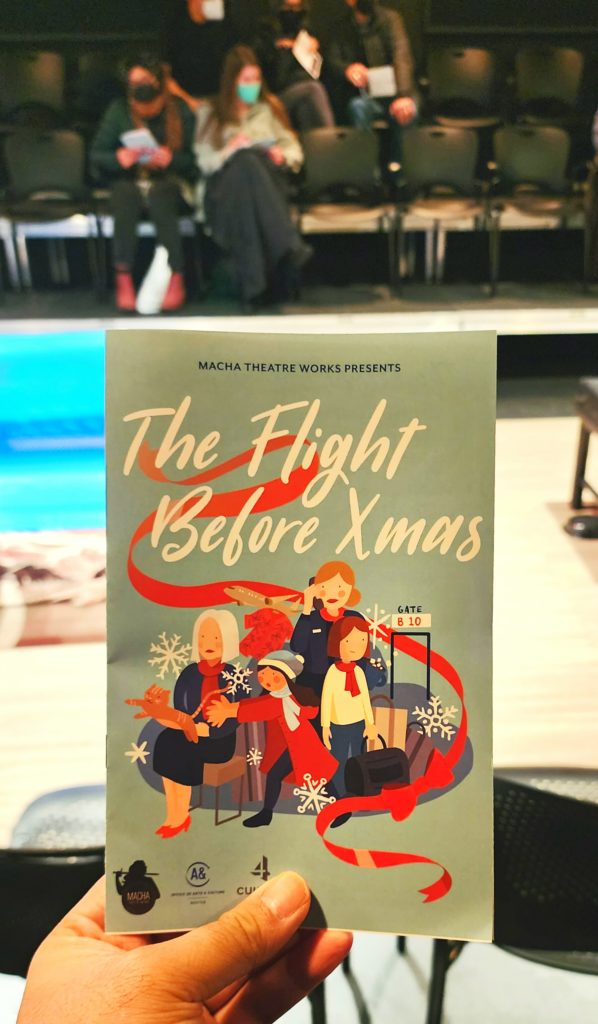 Elevator Thoughts (aka Tweet): The Flight Before Xmas play w/ Macha Theatre Works @ West of Lenin. Delayed holiday flights at Seattle-Tacoma International Airport! Interesting tidbits of world Christmas traditions. Shelley Douma nailed her Karen vibes. Cute voice/energy from Lila Bahng. Novel catwalk shaped stage. #theatre #airport #SeaTac
Synopsis from the Theatre: With all the stress of the holidays, spending Christmas Eve stranded in an airport with a bunch of strangers is the last thing anyone needs! With endless delays, kids shuttling between stepfamilies, a rogue cat on the loose, an important business deal at stake, and missing your grandson's first Christmas morning, the holiday spirit can disappear quicker than your lost luggage. But sometimes, all you need is to be a little late in order to truly appreciate what you're rushing toward.
Reviewed Performance: 12/3 Afternoon – Opening Weekend!
Type: Play
World Premiere: No
Recommendation: See it if you're looking for a family-friendly Christmas play.
Rating Compared to Other Shows with the Same Production Value:
4.25 Stars (Out of 5 Stars)
Equity Actors: 0
Length: 75 minutes
Intermission: No
Other Rave(s) Not Mentioned in Elevator Thoughts
Favorite Line: Something like "Why are we wearing matching shirts as a family? We look like a cult!"
Rant(s)
Missing Cat Discovery: It took a bit too long for the characters to realize the cat was missing. It only takes a second to see a cat isn't in a cage … not 15 seconds!
Other Thought(s)
Immersive Theatre: If they wanted to add a touch of immersive theatre energy to the play, the actors could use the empty seats in the audience front rows as airport chairs.
Theatre Company : Macha Theatre Works
Venue: West of Lenin
Venue Physical Address: 203 N 36th St #204, Seattle, WA 98103
Price: Cheap
Dates: December 2 – 23, 2022
Seating: General Admission
Parking: There's paid lot parking or free street parking. I can usually find spots in the streets behind the theatre closer to the water.
Social Media Posts About this Performance from Shows I've Seen: Instagram | TikTok | Facebook | Twitter | YouTube
Buy a Ticket or Learn More:
Other Video +/- Pictures: Pictures in video and under video are by Joe Iano