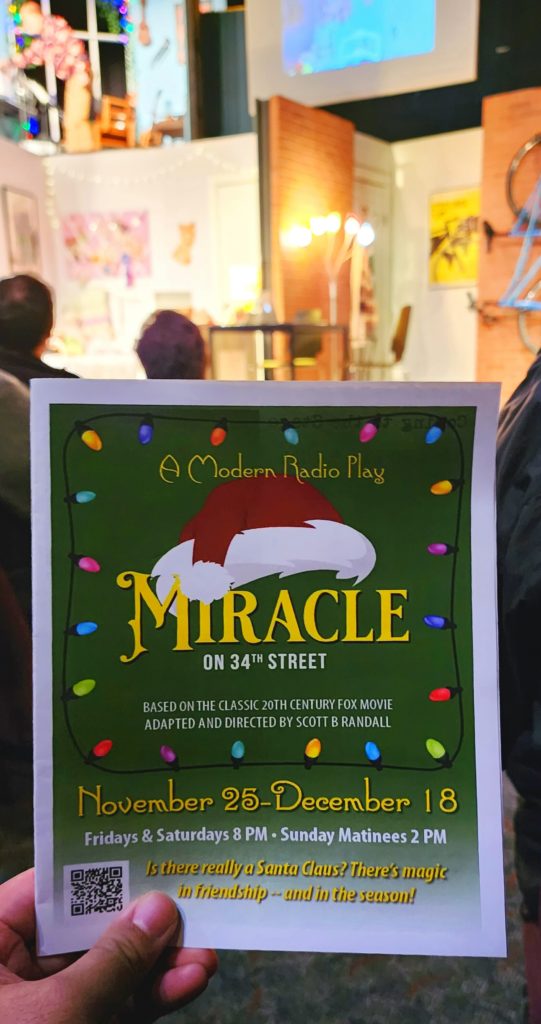 Elevator Thoughts (aka Tweet): Miracle on 34th Street radio-ish-play-within-a-play at Red Curtain Foundation for the Arts. Actors perform a play based on the classic movie over Zoom (set during the height of Covid) live in-person on-stage. Great stage set scenic design. #play #xmas #Christmas #Santa #santaClaus
Synopsis from the Theatre: Do you believe in Santa Claus? Adapted and directed by Red Curtain's artistic director, Scott B Randall, this "modern radio play" is set in December 2020. When Jessie's elderly father goes into the hospital with COVID, her theatre friends gather on a video call to cheer her and her daughter, Kara, by doing a sort of readers' theatre performance over Zoom. Being performers, the story is a mix of the true story (as portrayed in the classic movie), improvised lines, and pop culture references, sure to help bring out the feelings of closeness and joy associated with the season. In this fully-staged production, we'll see each character in their own "homes," plus the projected Zoom call high above the stage. This is a unique way to present the classic tale of friendship tinged with holiday magic, perfect for the entire family. Rated G.
Reviewed Performance: 12/4 Afternoon
Type: Play
World Premiere: Yes
Live Band/Orchestra: Sort of … one of the actors (Bill Kusler) provided some instrumental music on certain parts of the show.
Recommendation: See it if you like radio plays or staged readings.
Equity Actors: 0
Length: 2 hours?
Intermission: Yes
Theatre Company : Red Curtain Foundation for the Arts
Venue: Red Curtain Foundation for the Arts:
Venue Physical Address: 9315 State Ave #J, Marysville, WA 98270
Price: Cheap
Dates: November 25 to December 18, 2022
Seating: General Admission
Parking: Free lot parking in the strip mall where this theatre is located.
Social Media Posts About this Performance from Shows I've Seen: Instagram | TikTok | Facebook | Twitter | YouTube
Buy a Ticket or Learn More:
Other Video +/- Pictures: Pictures in video and under video are by Layton Gaskins.