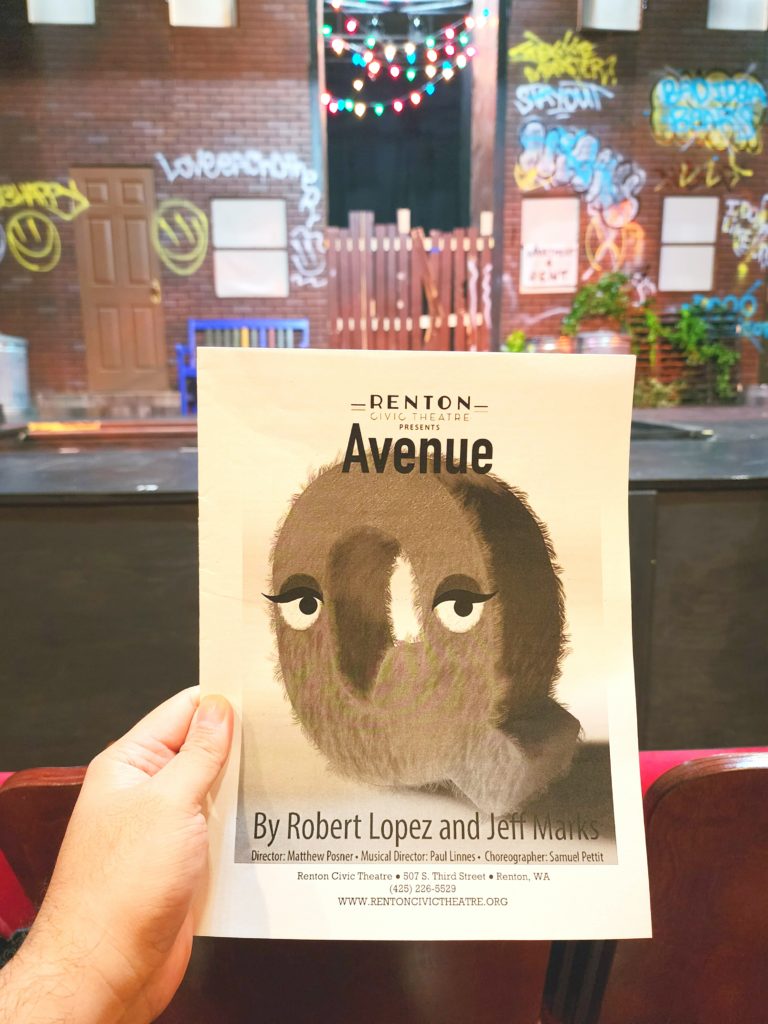 Elevator Pitch/Thoughts/Tweet: "Avenue Q" musical at Renton Civic Theatre. Puppets in "adult Sesame Street" teaching so many important life lessons. Compared to the professional tour, this production was actually pretty good. Best show out of the 3 I've seen at this theatre. Great band. #puppet #puppetry #AvenueQ
Type: Musical
Recommendation: See it especially if you like community theatre.
Rating (Out of 5 Stars): 4 stars
Other Rants
While the Christmas Eve actress was great, a more Asian-looking person should play this part or else it looks like "yellow face."
Need to work on better sound balancing. That being said, the balance significantly improved from the previous "Hair" and "Jekyll & Hyde" I saw at this theatre.
Other Raves
The audience money collection segment was a cute touch. I don't remember that from the professional tour. Maybe I was too high up in the balcony then!
Brittany Todd (Lucy the Slut), Alyssa Hope Maas (Kate Monster), and Graham Arthur Blair (Princeton) are outstanding! Peter McCarthy King (Brian) has an amazing rich voice!
Theater Company: Renton Civic Theatre
Venue: Renton Civic Theatre – 507 S 3rd St, Renton, WA 98057
Price: $ (Cheap)
Dates: September 23 – October 8, 2022
Seating: Assigned Seating
Social Media Posts: Instagram | TikTok | Facebook | Twitter | YouTube
Link: https://ci.ovationtix.com/35408/production/1123382
Other Media: Photos in video and below video are by Kelsey Graham Photography