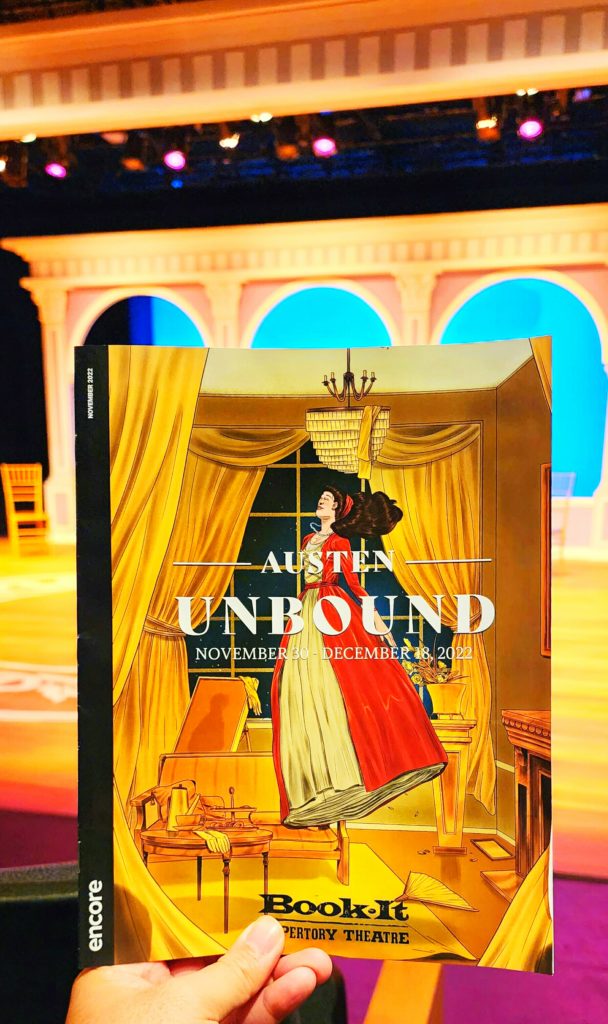 Elevator Thoughts (aka Tweet): Austen Unbound improv at Book-It Repertory Theatre. Hilarious parody-like ephemeral variations in Jane Austen's signature style. The audience chose a play called "Tranquility & Travesty." Impressive diction. Elizabeth Brammer was reminiscent of Elizabeth Bennett. All-knowing Elicia Wickstead was a hoot! Beautiful, #feminine, & warm scenic design/lighting. #improvisation #theatre #Regency
Synopsis from the Theatre: Austen Unbound is Book-It Repertory Theatre's first long-form improvised play. At each performance of this show, the ensemble will create an entirely new story, set in the style and genre of the beloved author's works. Audiences will feel like they are watching a play based off a never-before published Jane Austen novel, as the improvisational actors transport them to the drawing rooms and manor houses of the Regency era. The wit and wisdom of Jane Austen will resonate with audiences as they experience new characters and stories in this "unscripted" play, which will be a unique story each night (based on suggestions given from the audience). There is nothing better in the darkening days of late Fall than a little romance, a little fantasy, and little escape. Jane Austen gives contemporary audiences just that, and improvisation brings fun to a whole new level. With the world still reeling from crisis, we feel a show that embodies the juxtaposition of order and structure, which the Regency is famous for, with the unplanned and inspired, which improv allows us, is the perfect way to get us ready to head into the holiday season.
Reviewed Performance: 12/8 Evening
Type: Improvised Play
World Premiere: Technically, every performance in this improvised play is a world premiere!
Recommendation: See it if you've read a Jane Austen book or seen a movie/show based on her book. You might also enjoy this if you like Downton Abbey.
Would I See It Again 3 Years from Now?: I'm very curious to see how they would improvise another major author's style like Agatha Christie.
Rating Compared to Other Shows with the Same Production Value:
4.75 Stars (Out of 5 Stars)
Equity Actors: 4 out of 8 – Some of the non-Equity actors had better performances (or roles?) than some of the Equity actors!
Length: 90 minutes
Intermission: Yes
Other Rave(s) Not Mentioned in Elevator Thoughts
Favorite Line: "He spoke two languages: Spanish and dance."
Twirl: It was hilarious how they were marveling over how fast and heady the new dance move was. It was basically a regular twirl.
Humor: The play was so funny that the actors were close to breaking character in a fit of laughter.
Diction: Some of the actors must be voracious Regency novels readers. Their word choices were very fitting for Jane Austen's style. I can't believe Nathan Cox was able to fit in "apiary" in his dialogue!
Actor Highlights: I'm amazed at how Elizabeth Brammer assimilated long Jane Austen-esqe soliloquies on the spot while frequently using the audience-chosen words. Elicia Wickstead as the all-knowing aunt was a hoot! When Kyle Henick asked an audience member before the second act who they wanted to see first, they immediately said "the aunt!"
Scenic Design: Sparse but very elegant and well-lit.
Other Thought(s)
Stiffness: One of the actor's performance was stiff literally (in gait) and figuratively (in speech). I couldn't determine if this was intentional or not. Are Jane Austen's male characters typically this stiff?
Possibility of Audience Plant: Each performance is different based on audience responses. In the beginning, Kyle Henick asked the audience to choose a letter then choose 2 words that Jane Austen would use. The audience chose "T" then "tranquility" and "travesty." So the actors performed a play called "Tranquility and Travesty" (like Sense and Sensibility or Pride and Prejudice) and the actors mentioned those words frequently throughout the play. It made me wonder if there were plants in the audience to shout out words. What if the audience yelled out words that weren't Jane Austen-like such as "technology" and "tropical?"
Degree of Improvisation: I could tell this was improvised since actors sometimes nearly broke character in laughter. But I find it hard to believe the entire play was improvised … if it was, then color me impressed! For example, surely they at least practiced the dance. And I feel like many of the Jane Austen tropes had to be pre-discussed. The skeleton outline of scenes or events must have also been been pre-planned to make a cohesive story right? Leave me a comment in my social media links below on your thoughts!
Impermanence: Sadly, improv plays are meant to be ephemeral in nature. The performance I saw will not be the same as the performance you'll see. I guess that's part of the magic of live theatre!
Theatre Company : Book-It Repertory Theatre
Venue: Center Theatre at Seattle Center Armory
Venue Physical Address: 305 Harrison St, Seattle, WA 98109
Price: Medium
Dates: November 30 to December 18, 2022
Seating: Assigned Seating
Parking: Paid street parking or paid lot/garage parking. I usually like to park on the street near the skating park (313 Taylor Ave N, Seattle, WA 98109) East of the theatre.
Social Media Posts About this Performance from Shows I've Seen:
Instagram | TikTok | Facebook | Twitter | YouTube
Buy a Ticket or Learn More:
Other Video +/- Pictures: Pictures in video and under below video are by Anthony Floyd Photography.