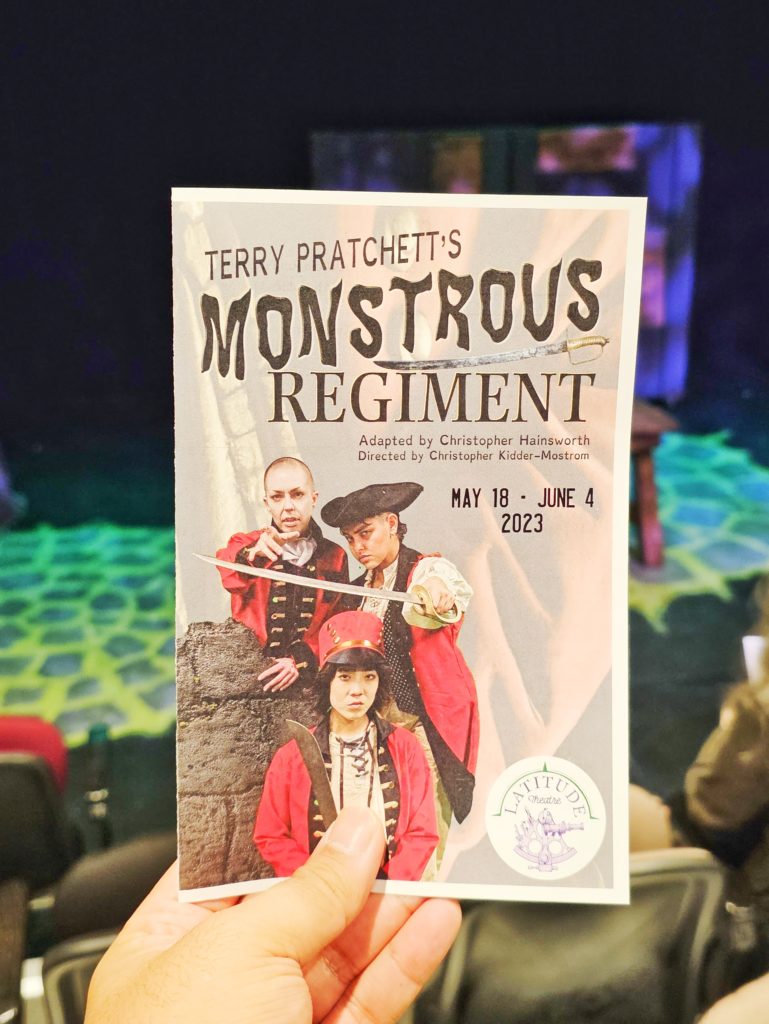 Elevator Thoughts (aka Tweet): Monstrous Regiment play adaptation (by Christopher Hainsworth) of Terry Pratchett's Discworld novel. Directed by Christopher Kidder-Mostrom. Latitude Theatre's historic first show ever! A group of monstrous/misfit army underdogs defy traditional gender roles. Unexpected reveal at the end. #girlPower #igor #vampire #troll #Discworld
Synopsis from the Theatre: From the pages of the Discworld(TM) novels, comes a story filled with loyalty, love, monsters, and mayhem. Borogravia is at war. Again. When Polly Perks' brother goes missing in action, she disguises herself as a young man, enlists in the army and heads to the front lines in search of her sibling. But all is not as it seems, and Polly soon learns that she isn't the only one in this band of "brothers" protecting secrets. Making their way to the front, this misfit company might just overcome insurmountable odds to become unlikely victors. ​A wickedly funny look at the absurdities of war and ambiguities of identity.
Reviewed Performance: 5/18/23 – Opening night and debut show of Latitude Theatre's inception!
Type: Play
World Premiere: No
Several or Few Scenes: Several
Several or Few Settings/Locations: Several
Prior Exposure/Knowledge Required: No, but you'd probably appreciate it more if you read the book. I haven't read the book and I was still able to follow the story.
Defined Plot/Storyline: Yes
Was This the First Time I Attended a Production of this Show: Yes
Equity Actors: 0
Total Number of Actors: 11
Length (Including Any Intermission): 3 hours-ish , which was a bit too long
Intermission: Yes
Theatre Company: Latitude Theatre
Venue: Isaac Studio at Taproot Theatre
Venue Physical Address: 212 N 85th St, Seattle, WA 98103
Price: Cheap
Dates: May 18 to June 4, 2023
Seating: General Admission
Parking: Paid lot or usually-free street parking. I always find free street parking on Greenwood Ave just South of the theatre.
Like/Comment/Share my Social Media Posts About this Performance:
Instagram | TikTok | Twitter | Facebook | YouTube
Buy a Ticket or Learn More:
Other Video +/- Pictures: See pictures in video and under video by James Murphy of Trainman Photography
Cast and Production Team: See after pictures and video below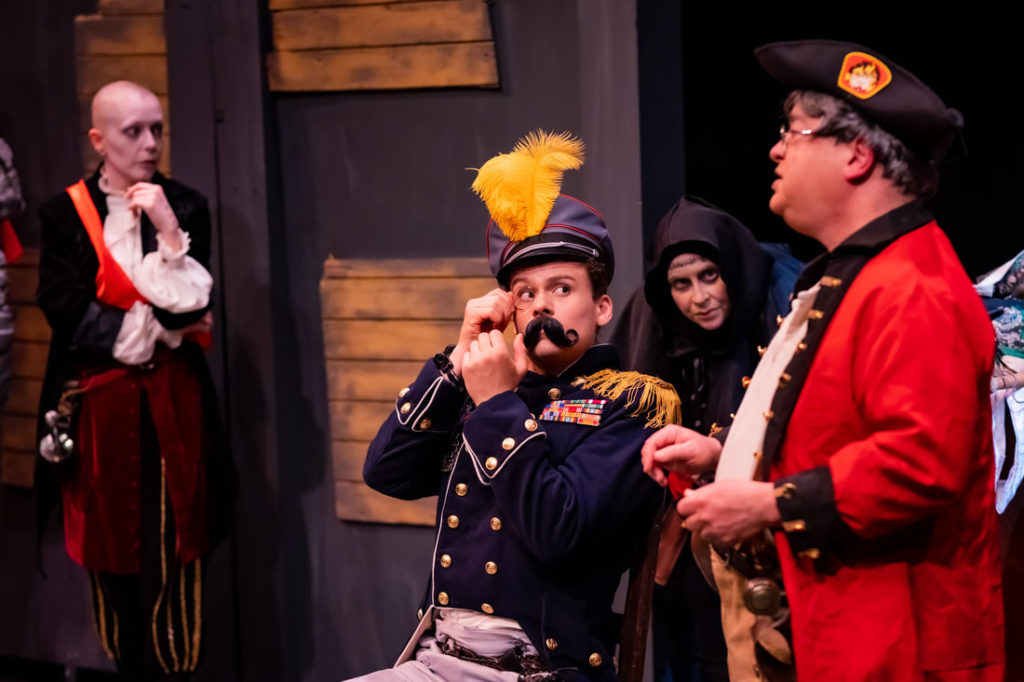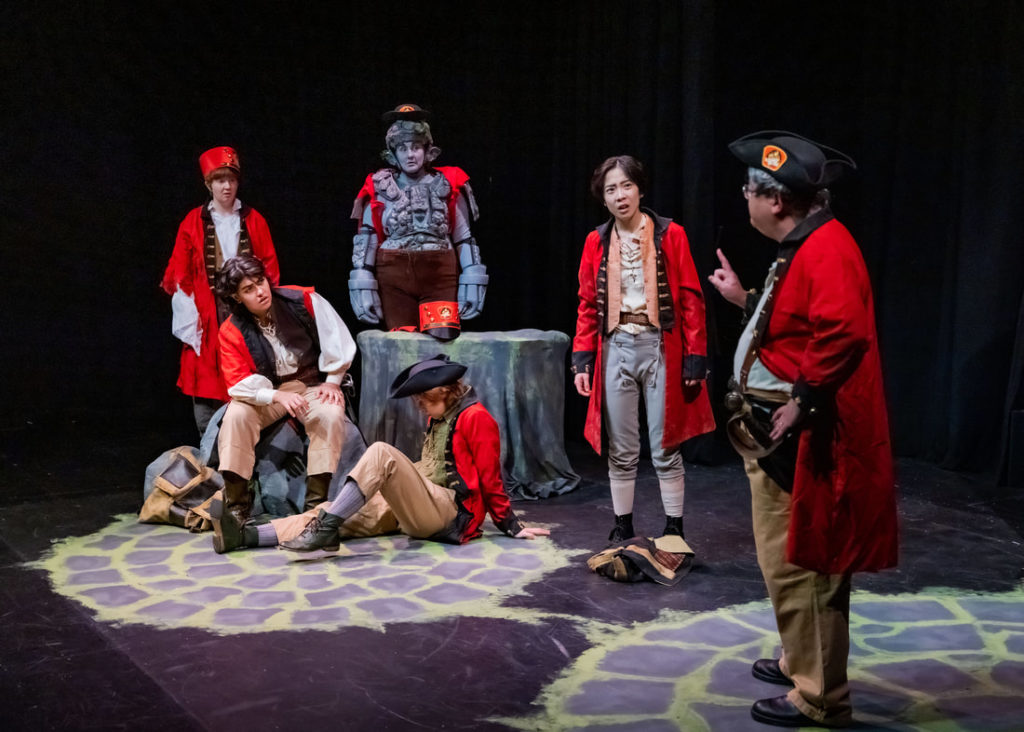 | | |
| --- | --- |
| Role | Name |
| Polly Perks | Lola Rei Fukushima |
| Igor | Ali Kidder-Mostrom |
| Maladict | Jacq Babb |
| Carborundum | Kirsten Traylor-Thorson |
| Tonker | Leah Sainz-Jones |
| Lofty | Annabel Klein |
| Wazzer | Emily Fortuna |
| Sgt Jackrum | Steven Sterne |
| Lt Blouse, Barman | Jonathan Swindle |
| Cpl Strappi, Sgt Towering, Gen Froc | David Elwyn |
| Handsome Young Man, Death, Lord Rust | Rowan Gallagher |
| Polly (Understudy) | Annabel Klein |
| Maladict/Lt Blouse (Understudy) | Skye Farrell |
| Igor/Carborundum/Tonker/Lofty/Wazzer (Understudy) | Jacqueline Alves |
| Strappi, et al/Death, et al (Understudy) | Alex Hogue |
| — | — |
| Director | Christopher Kidder-Mostrom * |
| Assistant Director | Hannah Lund |
| Playwright | Terry Pratchett |
| Set Designer | Rhys Strohmayer |
| Set Builder | Benji Strohmayer, Niclas Brown, Alex Hogue |
| Costume Designer | Ali Kidder-Mostrom |
| Costume Assistants | Jane Ryan, Jennifer Nielsen |
| Lighting Designer | Gwyn Skone |
| Sound Designer | Amber Granger |
| Composer | Charlie Sandford |
| Props Designer | Jennifer Nielsen |
| Stage Manager | Sam Williamson |
| Assistant Stage Manager | Alex Hogue |
| Fight Choreographer | Stacey Bush |
| Fight Captain | Kirsten Traylor-Thorson |
| Dialect Coach | Rowan Gallagher |
*Member of the Stage Directors and Choreographers Society, a national theatrical labor union