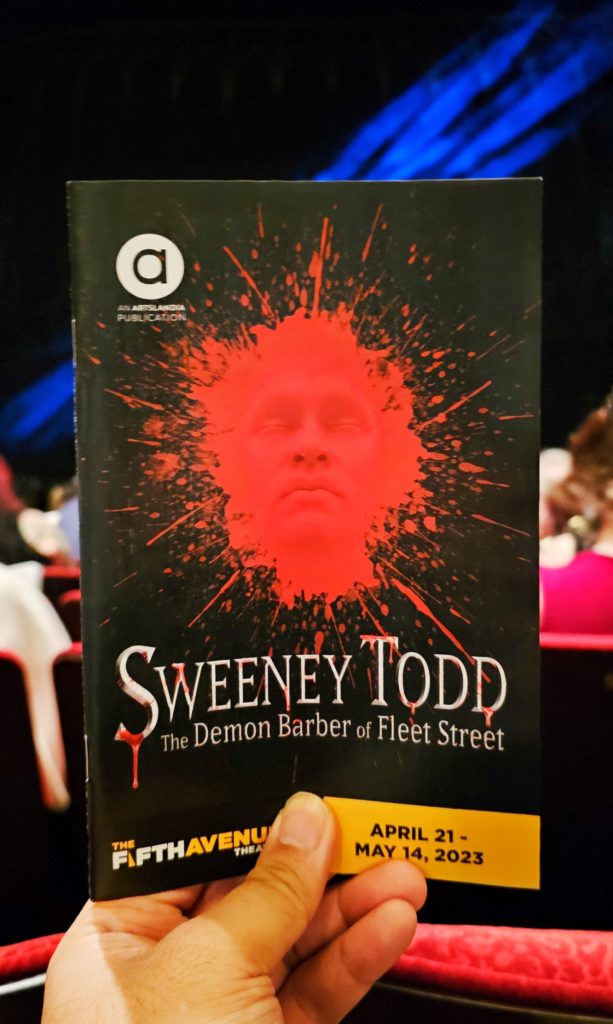 Giveaway: I'm giving away a free ticket to this show. See more details here. Congrats to Nathaniel!
Elevator Thoughts (aka Tweet): Sweeney Todd: The Demon Barber of Fleet Street Stephen Sondheim musical at The 5th Avenue Theatre. I've forgotten how deliciously dark & twisty this show is. Glorious, rich orchestra and voices. I had to eat a hot savory vegetarian "meat" pie after the show! #theatre
Synopsis from the Theatre: Sweeney Todd: The Demon Barber of Fleet Street, a deliciously thrilling story of revenge and retribution, continues our celebration of the titan of musical theater: Stephen Sondheim. After 15 years in exile, Sweeney Todd, an unsettling man with a mysterious past, arrives in a dark and gritty London, hungry for vengeance against the judge who destroyed his life. Todd joins forces with Mrs. Lovett, the unhinged proprietress of a failing pie shop, and together they develop a spinetingling plot to exact revenge. When the lights go down and the curtain goes up, you won't dare look away. Where Into the Woods is a tangled musical web about what can be accomplished when we come together, Sweeney Todd: The Demon Barber of Fleet Street is a piercing investigation of a society tearing itself apart.
Reviewed Performance: 4/29/23 Opening Night
Type: Musical
World Premiere: No
Several or Few Scenes: Several
Several or Few Settings: Several
Prior Exposure/Knowledge Required: None
Defined Plot/Storyline: Yes
Live Band/Orchestra: Yes, a large 19-person orchestra
Recommendation: See it!
Was This the First Time I Attended a Production of this Show: No, I previously saw this twice in professional (Houston Grand Opera) and semi-professional performances. This was probably the best performance of the 3.
Would I See It Again 3 Years from Now: Three times is already quite a lot of performances already. I'd probably only see it if another professional theatre I highly respect (like Village Theatre) adds it to their season lineup.
Rating Compared to Other Shows with the Same Production Value:
4.75 stars (Out of 5 Stars)
Equity Actors: 20
Total Number of Actors: 20
Length (Including Any Intermission): 3 hours
Intermission: Yes
Other Rave(s) Not Mentioned in Elevator Thoughts
Glorious Score: The first second of this production starts with a glorious sudden dissonant chord on the organ. The ensemble and orchestra later further fill the theatre sound space in that first song prelude "The Ballad of Sweeney Todd." What an awesome audience hook! The performers continued to deliver that same energy throughout the entire show.
Rich Voices: The cast was a collection of impressive voices like the Yusef Seevers's (Sweeny Todd) and Jesus Garcia's (the flamboyant Signor Adolfo Pirelli) rich tenors, Leslie Jackson's (Johanna) beautiful soprano vibrato, and Deon'te Goodman's decadent baritone. Even the Sean David Cooper's (Judge Turpin) speaking voice was full-bodied!
Background: The vibrant saturated blood red background coupled with the creeping shadows of the ensemble conveyed a wonderful foreboding darkness.
Beggar Woman: I loved the costume design decision to dress the beggar woman in a dirty gown with slutty undertones and a gaudy train. It conveyed that this person has fallen far from her previous elegance, beauty, and innocence. Porsha Shaw's portrayal reminded me of when she played the Witch in 5th Avenue Theatre's last show Into the Woods, which was also incidentally another Stephen Sondheim musical.
Rant(s)
Chair: Sweeney Todd's fancy barber's chair in the previous two productions I saw converted to a slide with a lever. The trap door was also directly underneath the chair in those previous performances. However, this production required the actors to walk a couple steps to reach the trap door, which made the "misfortunate events" less believable. However, I appreciated that the stagehands were in costume when they secured the chair after it ominously descended from the ceiling. But, I wonder if Sweeney Todd and Mrs. Lovett could have secured the chair themselves instead.
Other Musing(s) and Observation(s)
Oven Window: There was a huge missed opportunity for an actor to dramatically grope at the oven window. Maybe they thought it would be too cliche. But I personally think it would have made the scene enjoyably gruesome.
Sex: There was a sex scene I don't remember from the previous two performances I saw. This musical is growing up! 😛
Self-flagellation Scene: There was a creepy scene in the first production I saw where Judge Turpin whipped himself. It was unfortunately missing from this production.
Theatre Company: The 5th Avenue Theatre
Venue: The 5th Avenue Theatre
Venue Physical Address: 1308 5th Ave, Seattle, WA 98101
Price: Expensive
Ticket Affordability Options: Check out their discounts page. Goldstar or TodayTix usually offer good options too.
Dates: April 21 to May 14, 2023
Seating: Assigned Seating
Parking: When I don't walk to the theatre or park on the street, I park in the paid garage at the Motif hotel NW of the theatre. The entrance is on 5th Ave. Do NOT park in the Hilton garage (entrance on 6th ave). That's where most of the audience parks so it's a nightmare to leave. However, the Hilton garage is the closest garage to the theatre and it has underground access to the theatre if you wanted to avoid the elements. But this benefit is not worth it in my opinion.
Like/Comment/Share my Social Media Posts About this Performance:
Instagram | TikTok | Twitter | Facebook | YouTube
Buy a Ticket or Learn More:
Other Video +/- Pictures: See pictures in video and under video by Mark Kitaoka and Tracy Martin