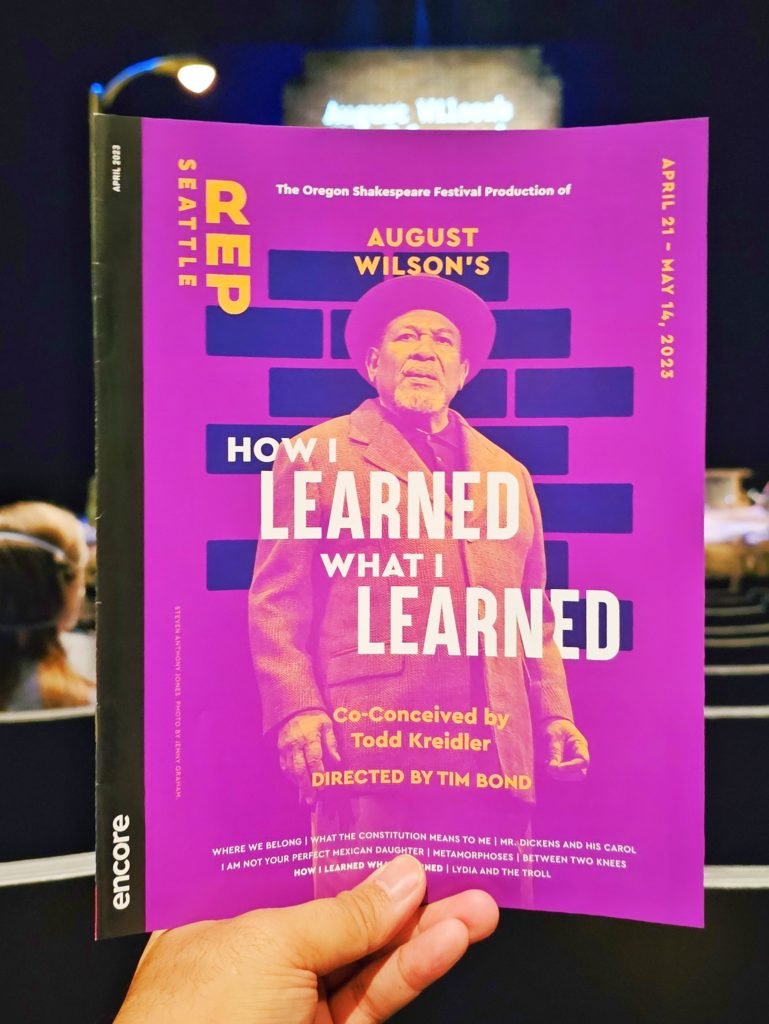 Elevator Thoughts (aka Tweet): How I Learned What I Learned by August Wilson & Todd Kreidler performed by Steven Anthony Jones at Seattle Repertory Theatre. Random storytelling of black Pittsburgh. Like listening to a kindly grandfather ramble on "in my day." Entertaining voices. Funny dig at Justin Bieber and Clarence Tomas. Well-designed stage. #play
Synopsis from the Theatre: Actor Steven Anthony Jones is here to tell you a story. Many stories, in fact. One of the greatest American playwrights, August Wilson, learned many lessons over his life, and "Wilsonian Warrior" Jones imparts them to you in one non-stop, spellbinding performance. From life-or-death moments to the deepest love, from comedic stand-up to bursts of pure joy, Wilson's poetry and timeless stories radiate from the Bagley Wright stage, where he himself premiered this piece. Witness the 20th anniversary production of How I Learned What I Learned where it all started and follow one of the greats from his beginning as a young Black poet from Pittsburgh to the literary giant we honor today.
Reviewed Performance: 4/26/23 Opening Night
Type: Play
World Premiere: No
Several or Few Scenes: There weren't any scenes, just lots of stories recounted
Several or Few Settings: There weren't any settings, just lots of stories recounted
Prior Exposure/Knowledge Required: You'd probably enjoy this show more if you're familiar with August Wilson's work
Defined Plot/Storyline: No, it was several random stories
Recommendation: See it if you like either one-person plays or listening to your grandparents tell stories about the past
Was This the First Time I Attended a Production of this Show: Yes
Equity Actors: 1
Total Number of Actors: 1
Length (Including Any Intermission): 2 hours, which is too long for a one-person show
Intermission: No
Theatre Company: Seattle Repertory Theatre
Venue: Bagley Wright Theater at Seattle Repertory Theatre
Venue Physical Address: 155 Mercer St, Seattle, WA 98109
Price: Medium to Expensive
Ticket Affordability Options:
Dates: April 21 to May 14, 2023
Seating: Assigned Seating
Parking: There are paid lots and paid street parking. I usually park on Mercer to the West of 1st Ave. There's usually also a lot of street parking around Safeway. If there's an event in Seattle Center or Climate Pledge Arena, street parking is usually limited and much more expensive.
Like/Comment/Share my Social Media Posts About this Performance:
Instagram | TikTok | Twitter | Facebook | YouTube
Buy a Ticket or Learn More:
Other Video +/- Pictures: See pictures by Jenny Graham under video