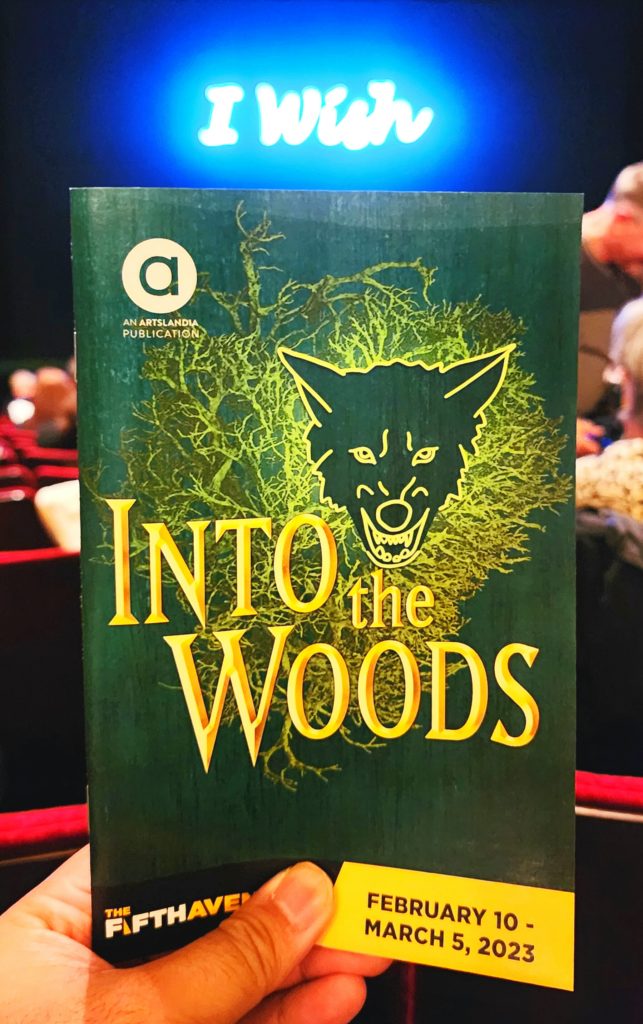 Elevator Thoughts (aka Tweet): Into The Woods fairy tale musical opening night at the 5th Avenue Theatre. After seeing this show a third time, I finally realized it's filled with modern life lessons and difficult philosophical questions. Cinderella's family and the witch (Porscha Shaw) were a hoot! #theatre
Synopsis from the Theatre: "Happily Ever After" has never been so complicated. That's what Little Red, a Witch, Cinderella, the Baker, and his wife discover as they invade one another's stories and find themselves tangled in a web of unexpected consequences. They quickly find this web is too big to untangle on their own and that they must work together to set everything right in the kingdom. Into the Woodsreminds us that only together can we defeat the wolves and giants of the world. With a stunning, unforgettable score featuring "No One is Alone," "Children Will Listen," and "Giants in the Sky," this iconic show will enchant, entrance, and delight! A Tony Award®-winning Broadway hit and feature film sensation, Into the Woodscontinues to enthrall theater lovers more than three decades after its creation. This is the first of a rare and remarkable two-show celebration and exploration of the theatrical genius of Stephen Sondheim.
Reviewed Performance: 2/17/23 on opening night
Type: Musical
World Premiere: No
Defined Plot/Storyline: Yes
Live Band/Orchestra: Yes
Recommendation: See it if you like Stephen Sondheim musicals.
Was This the First Time I Saw a Production of this Show: No, I've seen it once in a Galveston, TX community theatre and once at Village Theatre.
Would I See It Again 3 Years from Now: Since I've seen it so many times and I'm not a huge fan of Stephen Sondheim, I'd probably only see the national tour in the future.
Rating Compared to Other Shows with the Same Production Value:
4.25 Stars (Out of 5 Stars)
Equity Actors: All
Total Number of Actors: 15
Length (Including Any Intermission): 2.75 hours
Intermission: Yes
Other Rave(s) Not Mentioned in Elevator Thoughts
Deeper Meanings: Since this was the third time I've seen the show and because I usually watch shows for their entertainment value, I was finally able to grasp some of the deeper meanings in the musical. Little Red Riding Hood's wolf was a life lesson for young women to be wary of men with a "bad boy" appeal. Additionally, they asked difficult philosophical questions when was okay to kill or is it worth it sacrificing a few for the greater good? I liked how Cinderella and the Baker juxtaposed two potential deaths simultaneously.
Princes and Wolf: Casey Raiha and Antonio Mitchell's over-the-top flamboyant portrayal of the princes were a nice comedic relief. The same also applies to Casey's wolf portrayal. Kudos to Casey for filling in as Louis Hobson's understudy on opening night!
Cinderella Family and Witch: Shaunyce Omar, Trina Mills, Shanelle Nicole Leonard, and Porscha Shaw added a desperately-needed groovy flair as Cinderella's family and the witch. I always loved Shaunyce's role in her past shows and her afro-tastric stepmother portrayal was no exception. The stepsisters' fabulous costumes also reminded me of trendy outfits from the movie Clueless.
Stage: It looks like the 5th Avenue Theatre reused the same thin horizontal catwalk-like platform downstage in front of the orchestra that they used in The Wiz (their previous show) to allow the actors closer access to the audience. The novelty of it has not worn off on me yet. I'm still a fan!
Baker's Wife Voice: There were at least two songs that showcased Cayman Ilika's strong and brilliant voice.
Rant(s)
Stagehands: There was a scene transition that required the stagehands to wheel in a ladde centerstage. It was a little obtrusive and might have been less distracting if the actors wheeled it in themselves.
Other Musing(s) and Observation(s)
Magic Beans: What happened to the last magic beans that were thrown on the ground?
Witch: What happened to the witch at the end?
Witch Transformation: Why did the witch need to run offstage for a hot second during the transformation scene if the transformation eventually occurred on-stage? Could the stage magic occur without running offstage?
Malfunctioning Prop?: Was there a malfunction when the goose prop did not lay a golden egg? If so, the actors played off the malfunction well in a comedic way.
Scenic Design: I was surprised that they chose an austere theme. I half expected to see an actual forest like in The Wiz. The design reminded me of a hip dance club with modern fluorescent/neon lights.
1st Act vs 2nd Act: Into the Woods is notorious for leaving audience members confused at the end of the first act since all the stories seem to already conclude with some sort of finality. The first act unfolds with familiar fairy tales, but in the second act, the audience might be thinking "WTF is happening to these familiar fairy tales!"
Stephen Sondheim: Honestly, I personally don't prefer Stephen Sondheim's style and I'm a little sad the 5th Avenue Theatre is producing two of his shows this season. Sacrilege, I know … especially since he just passed away in 2021. Honestly, the 5th Avenue Theatre is probably producing two of his shows as a tribute to his legacy due to his recent passing. I've seen Assassins, Company, Sweeney Todd, and Into The Woods. I found all 4 inherently tepid. The songs have a weird quality where the actors sometimes talk their lyrics without a pitch. A mainstream beat is also hard to find and there's too much dissonance. In the end, the songs are not memorable, you often can't sing along, and I wouldn't listen to them in my car. That being said, I don't doubt that he's a genius and a legend etc. It's just not my cup of tea.
Theatre Company: The 5th Avenue Theatre
Venue: The 5th Avenue Theatre
Venue Physical Address: 1308 5th Ave, Seattle, WA 98101
Price: Medium to Really Expensive
Ticket Affordability Options: Check out their discounts page. Goldstar or TodayTix usually offer good options too.
Dates: February 10 to March 5, 2023
Seating: Assigned Seating
Parking: When I don't walk to the theatre, I park in the paid garage at the Motif hotel NW of the theatre. The entrance is on 5th Ave. Do NOT park in the Hilton garage (entrance on 6th ave). That's where most of the audience parks so it's a nightmare to leave. However, the Hilton garage is the closest garage to the theatre and it has underground access to the theatre if you wanted to avoid the elements. But this benefit is not worth it in my opinion.
Like/Comment/Share my Social Media Posts About this Performance:
Instagram | TikTok | Twitter | Facebook | Youtube
Buy a Ticket or Learn More:
Other Video +/- Pictures: See pictures in video and under video by Mark Kitaoka and Tracy Martin
Cast and Production Team: See after pictures and video below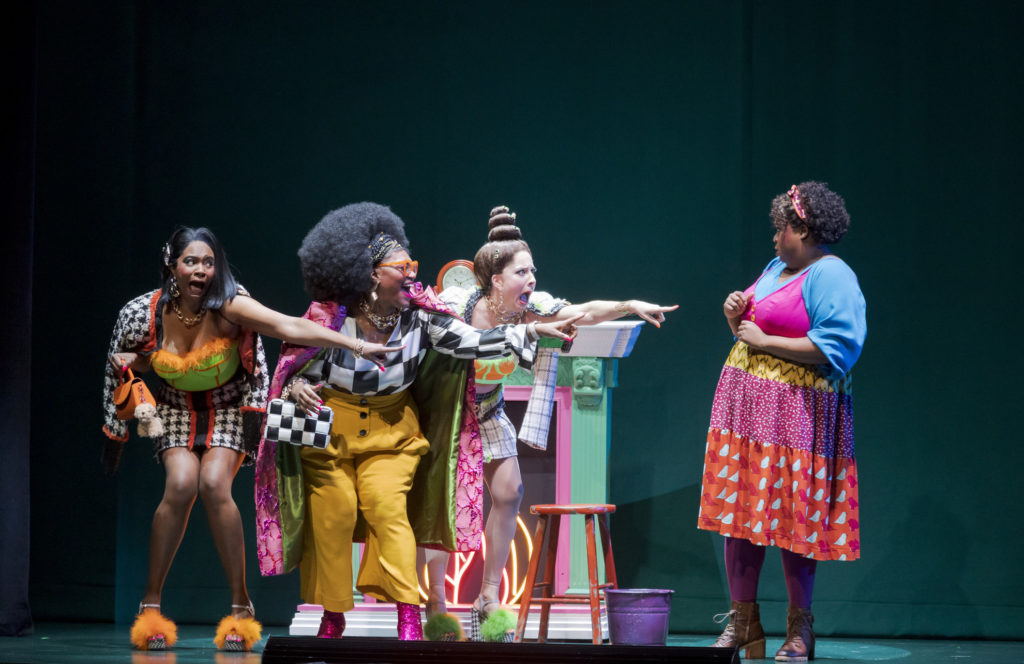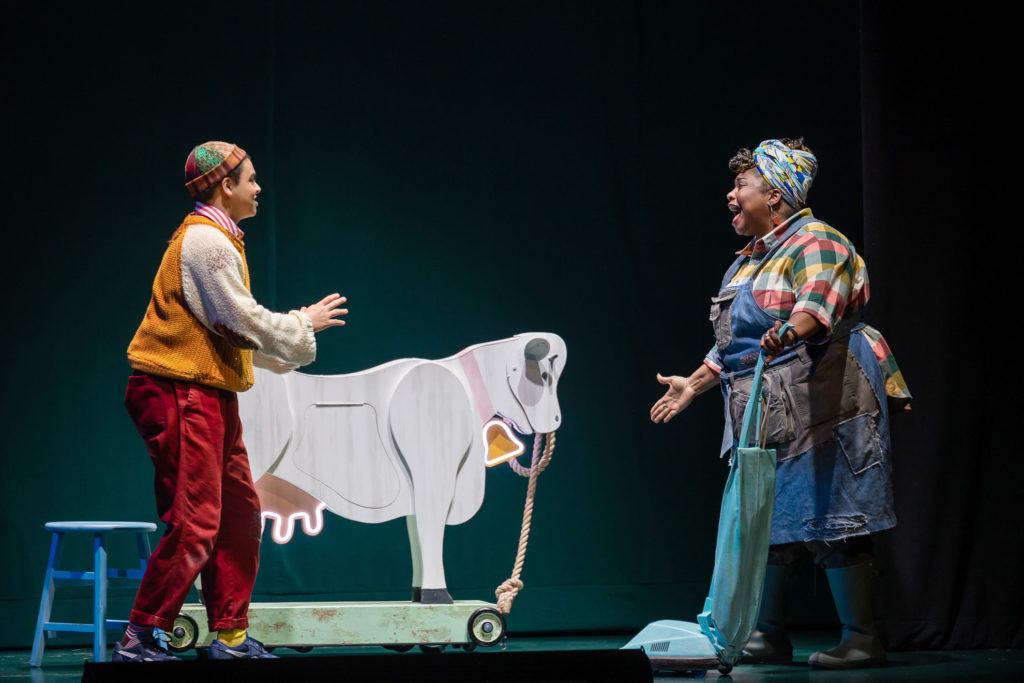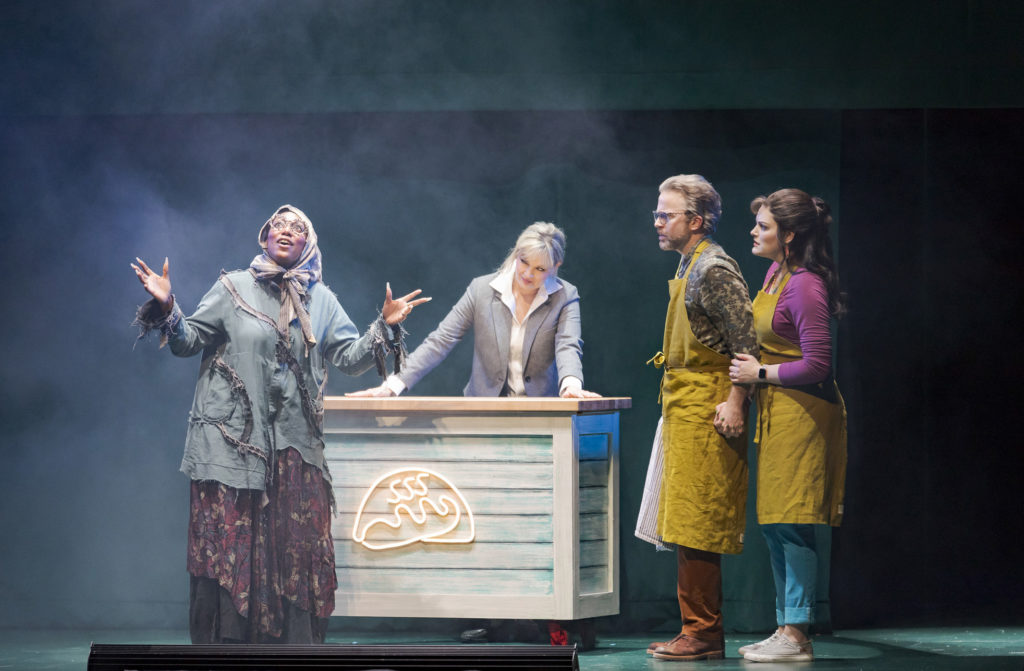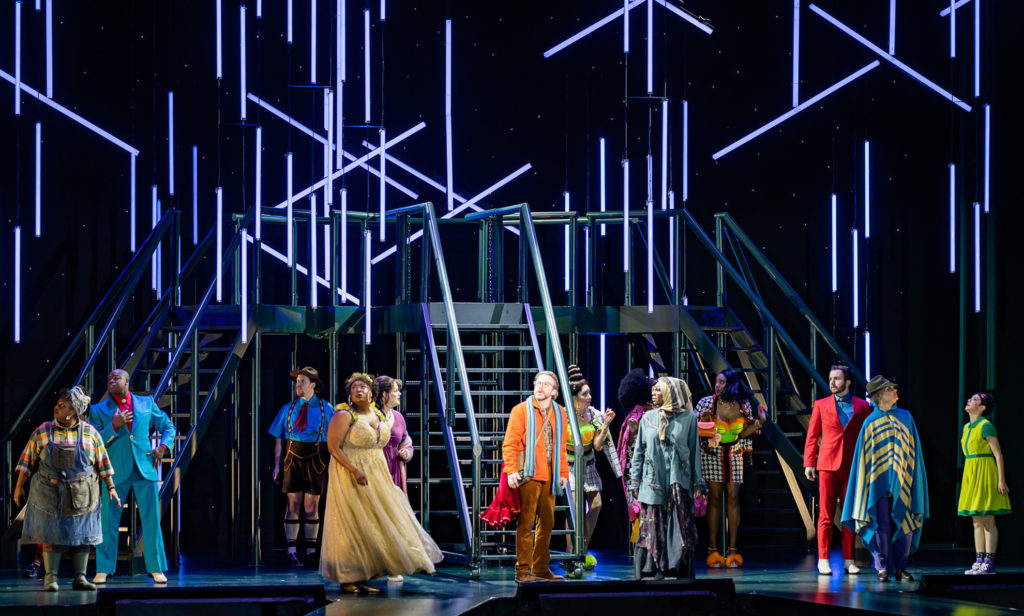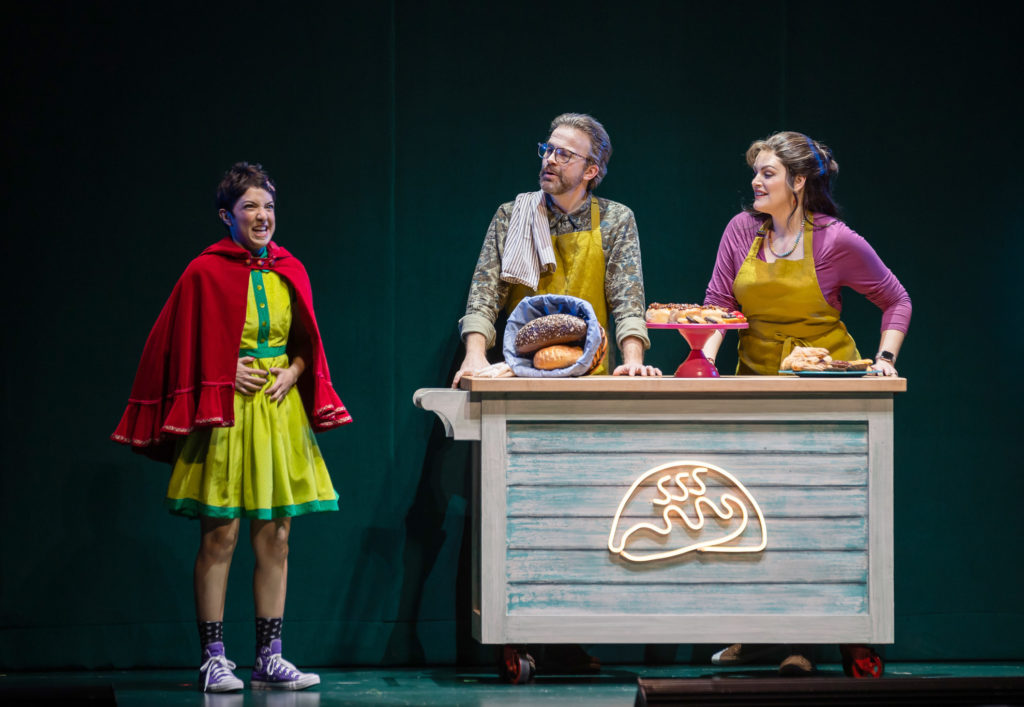 | | |
| --- | --- |
| Role | Name |
| Narrator | Mari Nelson |
| Cinderella | Sarah Russell |
| Jack | Joshua Miller |
| Jack's Mother | Shermona Mitchell |
| Baker | Eric Ankrim |
| Baker's Wife | Cayman Ilika |
| Cinderella's Stepmother | Shaunyce Omar |
| Florinda | Trina Mills |
| Lucinda | Shanelle Nicole Leonard |
| Little Red Ridinghood | Sarah "SG" Garcia |
| Witch | Porscha Shaw |
| Wolf/Cinderella's Prince | Louis Hobson |
| Rapunzel | Miranda Antoinette |
| Rapunzel's Prince (Dance Captain) | Antonio Mitchell |
| Steward | Brian Lange |
| — | — |
| Narrator (Understudy) | Ann Cornelius |
| Cinderella (Understudy) | Simone Alene |
| Jack (Understudy) | CJ Lorentz |
| Baker (Understudy) | Brian Lange |
| Jack's Mother/Cinderella's Stepmother (Understudy) | Melyssa Stone |
| Baker's Wife (Understudy) | Trina Mills |
| Little Red Ridinghood/Florinda/Lucinda/Rapunzel (Understudy) | Rebecca Cort |
| Witch (Understudy) | Shanelle Nicole Leonard |
| Cinderella's Prince/Wolf/Rapunzel's Prince/Steward (Understudy) | Casey Raiha |
| — | — |
| Production Stage Manager | Erin B. Zatloka |
| Assistant Stage Manager | Rachael Dorman and Tori Thompson |
| Swing Stage Manager | Jr Welden |
| Composer and Lyricist | Stephen Sondheim |
| Author | James Lapine |
| Director | Bill Berry |
| Scenic Designer | Lex Marcos |
| Understudy Director | Jéhan Osanyin |
| Costume Designer | Melanie Taylor Burgess |
| Lighting Designer | Ben Zamora |
| Sound Designer | Haley Parcher |
| Associate Director | Nicholas Japaul Bernard |
| Associate Music Director | Michael Nutting |
| Music Supervisor | Matt Perri |
| Associate Scenic Designer | Alex Winterle |
| Associate Sound Designer | Brent Warwick |
| Costume Design Assistant | Taya Pyne |
| Assistant Lighting Designer | Maryalice Weed |
| Director of Production | Joan Toggenburger |
| Production Manager | Ryan Gastelum |
| Costume, Wardrobe, & Hair Director | Shannin Strom |
| Casting Director | Cordelia Miller |
| Music Director | R.J. Tancioco |
| Choreographer | CY Paolantonio |
| — | — |
| Conductor | Matt Perri and R.J. Tancioco |
| Piano | Michael Nutting |
| Synth | Rebecca Smith |
| Bass | Ramon Salumbides |
| Horn | Rodger Burnett |
| Trumpet | Brad Allison |
| Percussion | Alec Wilmart |
| Flute | Dane Andersen |
| Clarinet | Jennifer Nelson |
| Bassoon | Francine Petersen |
| Violin 1 | Tom Dziekonski |
| Violin 2 | Quinn Price |
| Viola | Rick Neff |
| Cello | Page Smith/Virginia Dziekonski |
| Keyboard Programmer | Dave Pascal |
| Music Assistant | Andrew Pang |
| Rehearsal Pianist | Rebecca Smith |