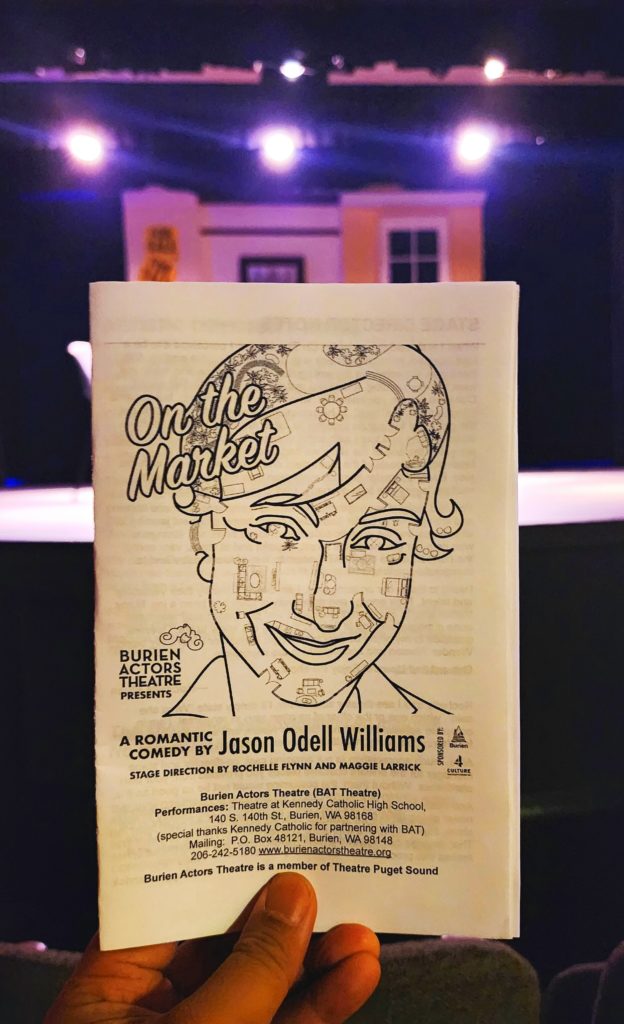 Elevator Thoughts (aka Tweet): On the Market play w/ Burien Actors Theatre. Light modern romantic comedy w/ funny caricatures. Second chances are possible during middle age with love and life! #comedy #theatre
Synopsis from the Theatre: A former singer, now realtor, struggles with the modern dating scene after becoming a widow two years ago. Her life is turned upside down when she finds a mysterious note from her dead husband telling her it's okay to "move on." A touching modern, romantic comedy for grown-ups about love, loss, and finding your Forever Home.
Reviewed Performance: 2/25/23 Evening
Type: Play
World Premiere: No but almost. This play was first produced in Fall 2022. I looked it up since I was surpised how many modern references were in the show. For example, I've never seen a show that mentioned steaming services like Hulu Plus.
Defined Plot/Storyline: Yes
Recommendation: See it if you like supporting community theatre
Was This the First Time I Saw a Production of this Show: Yes
Would I See It Again 3 Years from Now: Maybe if it was produced by an Equity theatre
Rating Compared to Other Shows with the Same Production Value:
4.25 Stars (Out of 5 Stars)
Equity Actors: None
Total Number of Actors: 4
Length (Including Any Intermission): 90 mins
Intermission: No
Other Rave(s) Not Mentioned in Elevator Thoughts
Cutting Insults: The "mean girl" in me loves to watch tense scenes where someone figuratively cuts a friend to the knees with insults. It was very "you're a virgin who can't drive." But not to worry, this negative energy was only in a brief scene and was not the focus of the play.
Rant(s)
Transitions: The scene transitions sometimes felt a little awkward. It may have something to do with the frequent lack of transition sounds or weird light queuing.
On-stage Costume Changes: There was one scene where the actors hastily distractingly changed costumes several times on-stage in the background. I was a confused why they didn't change costumes off-stage like in all the other scenes. UPDATE 3/4/23: A reader let me know that this "circusy" montage was actually written into the script to feel messy and improvised. I'm curious if the scene execution in this production was what the playwright envisioned.
Other Musing(s) and Observation(s)
Mid-life Inspiration: I worry my dreams and ambitions are less realistic the more I age. This play inspired me to believe that middle age isn't too late for dreams that will bring major life changes.
Theatre Company: Burien Actors Theatre
Venue: Kennedy Catholic High School
Venue Physical Address: 140 S 140th St, Burien, WA 98168
Price: Cheap
Dates: February 10 to March 5, 2023
Seating: General Admission
Parking: Huge free parking lot adjacent to the high school
Like/Comment/Share my Social Media Posts About this Performance:
Instagram | TikTok | Twitter | Facebook | Youtube
Buy a Ticket or Learn More:
Other Video +/- Pictures: See pictures in video and under video by Michael Brunk
Cast and Production Team: See after pictures and video below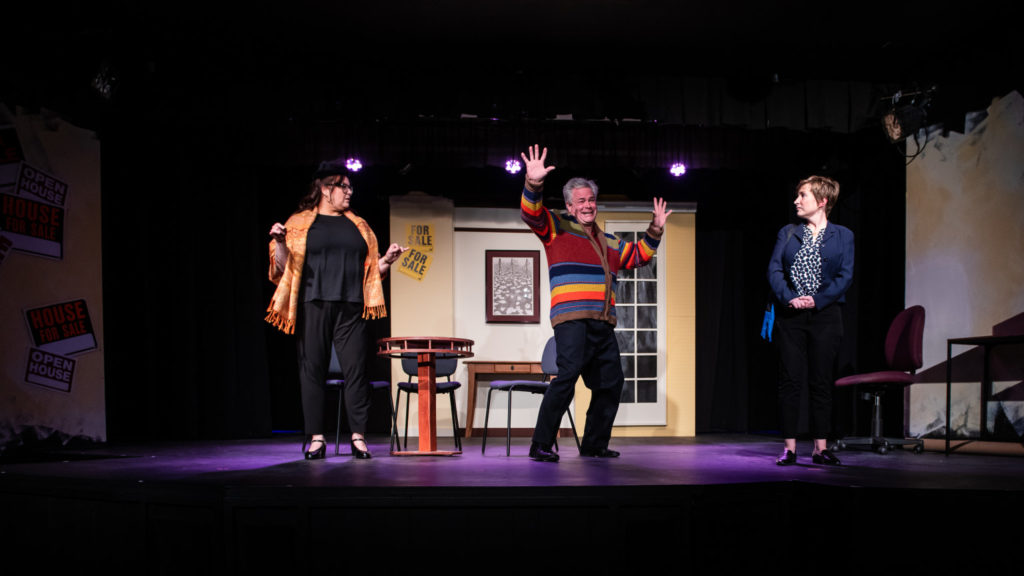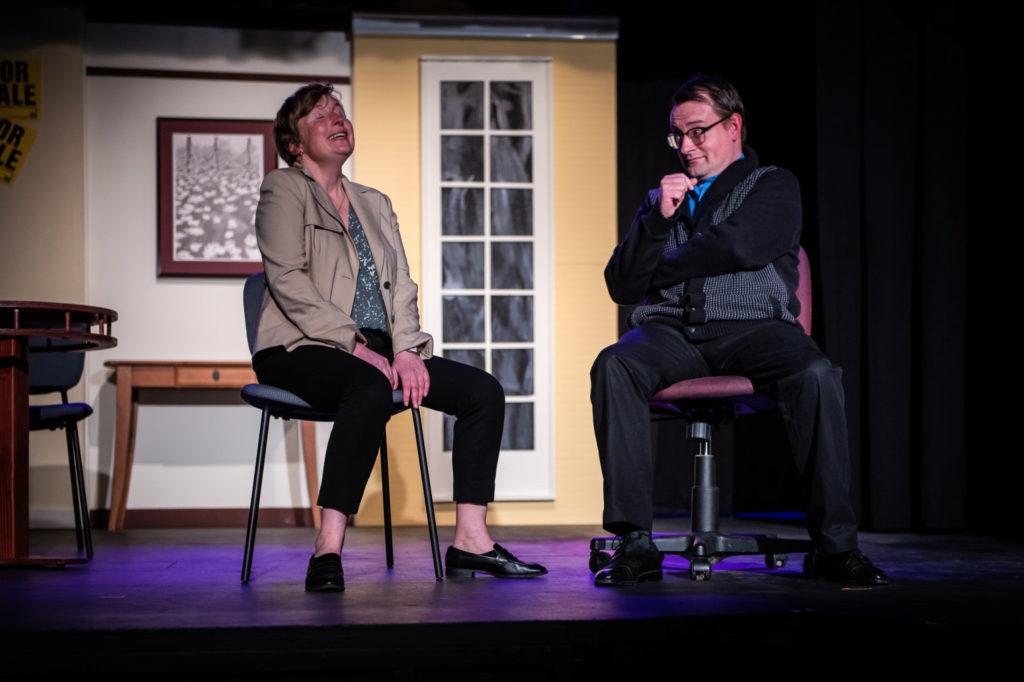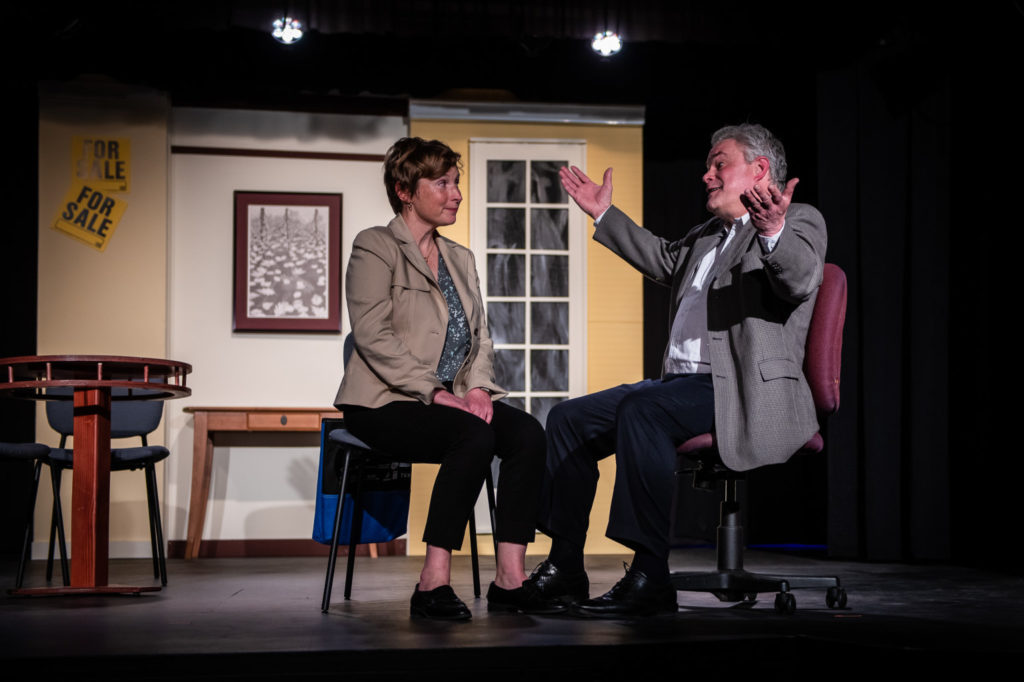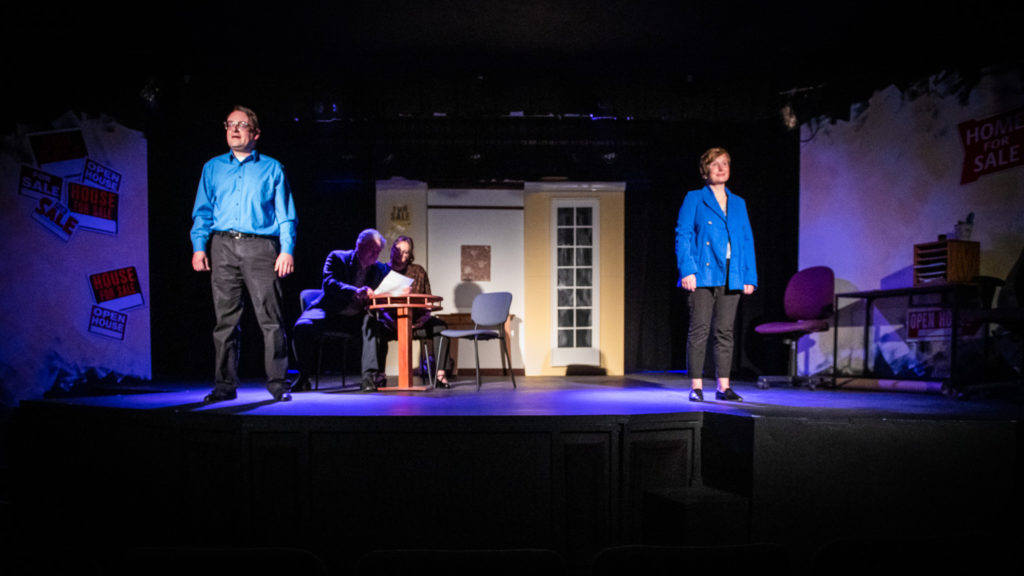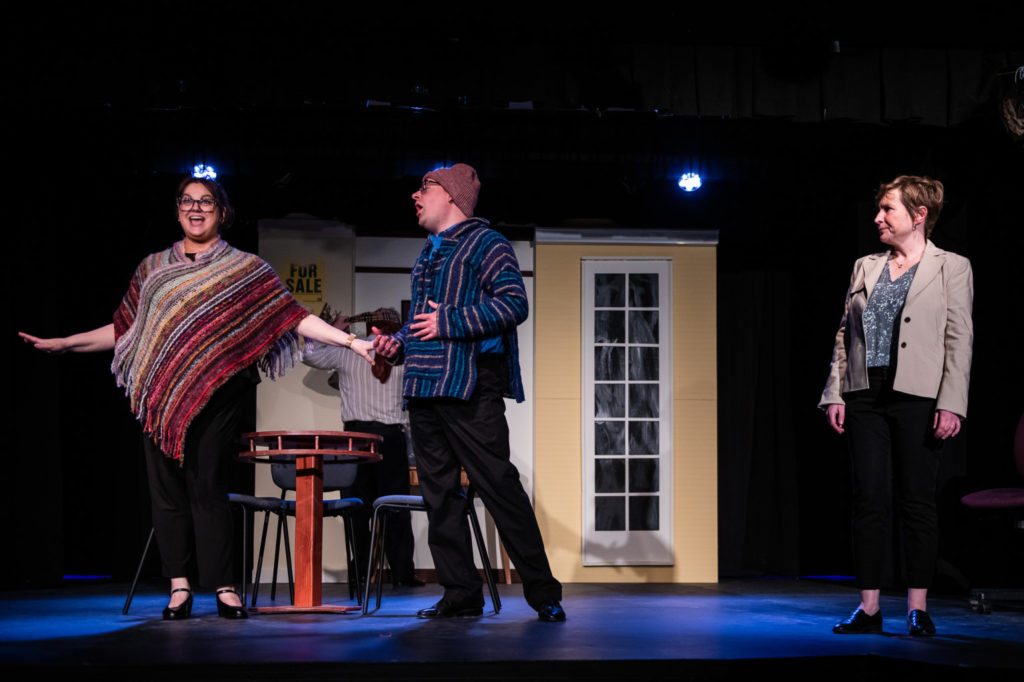 | | |
| --- | --- |
| Role | Name |
| Diane, Eccentric Wife, Rustic Wife, Excited Girlfriend, Nice Wife | Amy Anderson |
| Frank, Date #2, Date #4, Eccentric Husband, Chatty Husband 1, Rustic Husband, Nice Husband | John Dugaw |
| Charlotte | Karin Rogers |
| James, Grief Counselor, Date #1, Date Mark, Chatty Husband 2, Excited Boyfriend, Delivery Guy | Jalyn Green |
| — | — |
| Stage Directors | Rochelle Flynn, Maggie Larrick |
| Playwright | Jason Odell Williams |
| Production Managers | Eric Dickman, Maggie Larrick |
| Stage Manager | Heather Bernadette |
| Fight Choreographer | John Lynch |
| Set Designer | Maggie Larrick |
| Properties Designer | Cyndi Baumgardner |
| Lighting Designer | Dave Baldwin |
| Sound Designer | Eric Dickman |
| Costume Designer | Maggie Larrick |
| Set Dresser | Cyndi Baumgardner |
| Vocal Coach | Aimee Hong |
| Head Builder | Scott Barker |
| Set Builders/Painters | Eric Dickman, Luise Frishholz, Paul Gould, Maggie Larrick, Devin Rodger |
| Light & Sound Operator | Heather Bernadette |
| Poster/Marketing Art Design | Stevie VanBronkhorst |
| Photography | Michael Brunk |
| Program | Maggie Larrick |
| Webmaster | Lance Bowman |
| Box Office | Eric Dickman, Jessica Lester |
| Usher Managers | Maggie Larrick, Elaine Puderbaugh |
| Concessions Managers | Barbara Reamer, Maggie Larrick |