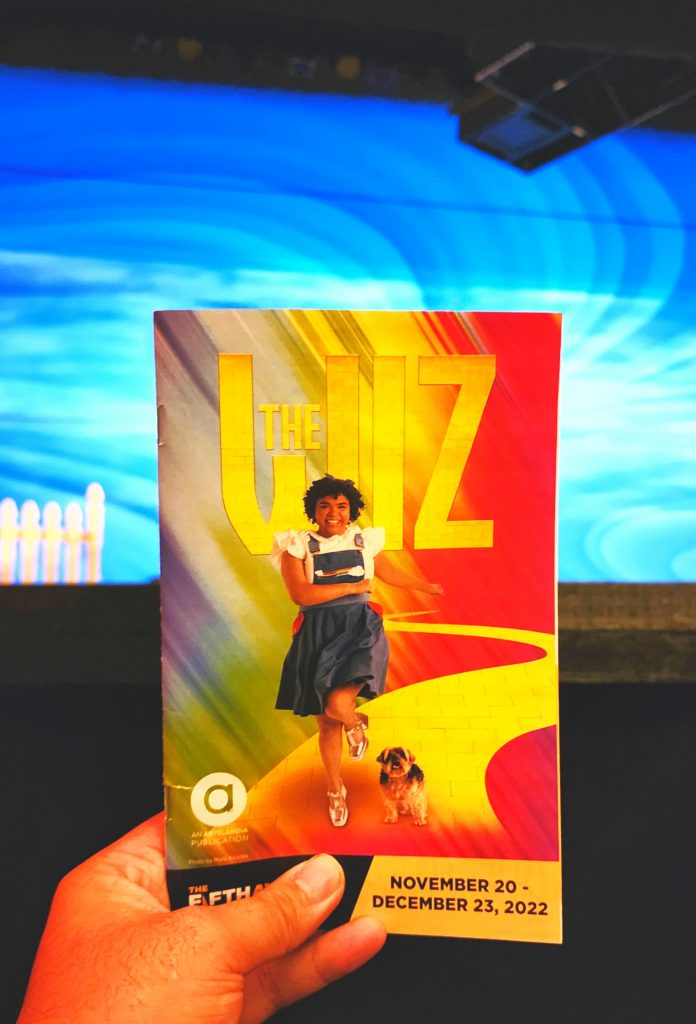 Elevator Thoughts (aka Tweet): The Wiz musical at the 5th Avenue Theatre. Well-cast Dorothy. Groovy gospel-like tunes. Stunning voices. Elaborate/colorful set, hair, & costumes. Retro vibe. Uncommon stage floorplan often put actors 3 ft away from us at the front row! "Ease on down the road" & buy your tickets to this awesome show! #Oz #WizardofOz #black #POC #BiPOC
Synopsis from the Theatre: Feel the power of love overflowing at this dazzling reimagining of The Wizard of Oz! With a soaring soul, R&B, and gospel score featuring hit songs "Brand New Day," "Ease on Down the Road," and "Home," this fun, fresh 5th Avenue Theatre production is a hit the whole family will enjoy. When Dorothy finds herself in the fantastical world of Oz, she sets out to seek the aid of the mysterious Wiz, forging powerful new friendships with a Scarecrow, a Tinman, and a Lion along her way down the yellow brick road. But when she battles the devious Evillene to save her new friends, she learns that no matter where you're from, home isn't really where you live; it's who you love. Winner of seven Tony Awards including Best Musical, The Wiz is an effervescent explosion of music, dance, magic, and delight. Don't miss this 5th Avenue Theatre original staging!
Reviewed Performance: 11/27 Evening – Opening Night
Type: Musical
World Premiere: No
Live Band/Orchestra: Yes
Recommendation: See it … period!
Would I See It Again 3 Years from Now?: Absolutely. I wish I had time this holiday season to see it again.
Rating Compared to Other Shows with the Same Production Value:
5 Stars (Out of 5 Stars)
Equity Actors: All of them
Length: 2.25 hours
Intermission: Yes
Other Rave(s) Not Mentioned in Elevator Thoughts
Voices: The main characters' voices were out of this world! There was Shaunyce Omar's booming voice as the wicked witch of the West. Innocent Dorothy (Kataka Corn) surprised me with her powerful upper register. Be Russel easily handled the vocal range of the Wiz role, which was originally written for a man. Her real life sister (Sarah Russel) and Trina Mills easily wowed the audience with their belt as the witches of the North and South.
Stage Floorplan: The mainstage rotates like in Hamilton. There was a thin horizontal catwalk-like portion downstage in front of the orchestra to allow the actors closer access to the audience.
Cowardly Lion: Nate Tenenbaum was such a delight with his fierce walk, cat licks, tail twirling, and screams.
Toto: Nessa was such a well-trained dog. She "stayed" and sat quietly on-stage while watching the actors reciting their lines. I wish she were in more scenes though.
Favorite Lines: There were too many of them. "You're the best wicked witch killer in this country," "Girl, I'm gonna wear white to the funeral," "If you don't have STP, Crisco will do just fine," "Owls don't give answers. They just ask questions. Like Whoo?"
Gospel Music: The gospel influence on the musical score was wild! You could hear it in "Brand New Day (Everybody Rejoice)," "Don't Nobody Bring Me No Bad News," and "Born On The Day Before Yesterday."
Scenic Design: The set was impressively ostentatious especially the Wiz's throne room and the Emerald City.
Kalidahs: The red eyes reminded me of Cylons from Battlestar Galactica.
Rant(s)
Cold: My companion and I were freezing! I ended up wearing my wool top coat and donning my mittens. It shouldn't be that cold for a show that can cost up to $180 per ticket for premium seats.
Set Movement: Minor pet peeve here. There was one scene in the end where the actors had to push two large set pieces towards the back of the stage. It would be less distracting if backstage workers could pull the set pieces so the audience doesn't see this work.
Other Thought(s)
Twister Scene: There was an actress dressed in gold during the twister scene. I think she represented the eye of the twister. If that's true, she needs to do more twirling to show that she's the twister. If she wasn't the twister, let me know in the comments of my social media posts below!
Tap Dance: I love watching tap dance in musicals. While I appreciated the tap dances in this show, it was mainly just the tin man performing them solo. I suggest the tap dances be more group than solo.
Theatre Company : 5th Avenue Theatre
Venue: 5th Avenue Theatre
Venue Physical Address: 1308 5th Ave, Seattle, WA 98101
Price: Medium to Expensive to Really Expensive
Dates: November 20 to December 23, 2022
Seating: Assigned
Parking: When I don't walk to the theatre, I park in the paid garage at the Motif hotel NW of the theatre. The entrance is on 5th Ave. Do NOT park in the Hilton garage (entrance on 6th ave). That's where most of the audience parks so it's a nightmare to leave. However, the Hilton garage is the closest garage to the theatre and it has underground access to the theatre if you wanted to avoid the elements. But this benefit is not worth it in my opinion.
Social Media Posts About this Performance from Shows I've Seen: Instagram | TikTok | Facebook | Twitter | YouTube
Buy a Ticket or Learn More:
Other Video +/- Pictures: There are pictures under the video below.