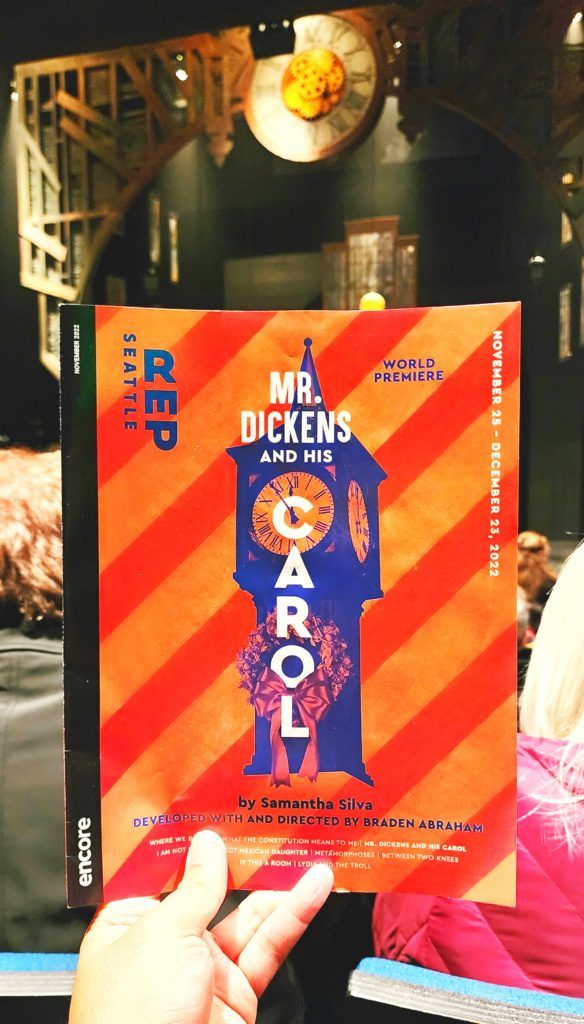 Elevator Thoughts (aka Tweet): Mr. Dickens & His Carol play at Seattle Rep adapted from the same-titled book. Backstory on how Charles Dickens' wrote A Christmas Carol. Always cool to see a rotating stage. MJ Seiber's characters were a delight. Didn't expect the perpetrator's reveal in the end. Still working out the mystery behind Tiny Tim's mom. #theatre #Christmas #xmas
Synopsis from the Theatre: Charles Dickens should be looking forward to Christmas. When his latest book is a flop, putting both his popularity and finances in peril, his publishers give an ultimatum: write a Christmas book within a month or lose everything. Adapted for the stage from Samantha Silva's critically acclaimed novel, this tale set in the heart of Victorian England weaves a fictional take on Dickens' past, present, and future into a comedic and poignant new holiday classic.
Reviewed Performance: 11/30 Evening – Opening Night
Type: Play
World Premiere: Yes
Recommendation: See it if you like A Christmas Carol but you want to see something new.
Rating Compared to Other Shows with the Same Production Value:
4 Stars (Out of 5 Stars)
Equity Actors: 13 out of 14
Length: 2.5 hours
Intermission: Yes
Other Rave(s) Not Mentioned in Elevator Thoughts
Set and Scenic Design: There were no curtains hiding the left and right side of offstage. I've noticed Seattle Rep uses this uncommon scene design more often in recent performances with Ghost and Where We Belong. So the audience was able to see the actors who were not performing, the technical equipment, and the set design pieces that weren't used in the current scene. This exposed offstage decision seems novel and modern to me … for now.
Clock: The clock at the top of the stage frame was a nice centerpiece. I wish it worked though. If it's too expensive to create moving hands, maybe they could just project hands on the bare clock face.
Central Contraption: There was a strange-looking contraption at centerstage where much of the action occurred. It had stairs and it could be split in two. The stage could also rotate it to convey a scene location change to the audience, which was effective. Check out my video below for a view of what I'm talking about.
Rant(s)
Microphone: It was difficult to hear the speaking characters and they needed better mic-ing. I actually wondered if they even wore microphones.
Dickens and Christmas References: One of the street urchins told Charles Dickens, "Please sir, I want some more" when Dickens gave the urchin money. There was also an instance where a market seller yelled out "Buy chestnuts on an open fire!" While I appreciate sprinkles of these "easter eggs" in the dialogue that feel like a wink to the audience, the script went too overboard on them.
Other Thought(s)
Tiny Tim's Mom: Will someone send me a message telling me what happened to Tiny Tim's mom? I'm so confused and I have some theories but I won't spoil the story for my readers.
Theatre Company : Seattle Repertory Theatre
Venue: Seattle Repertory Theatre
Venue Physical Address: 155 Mercer St, Seattle, WA 98109
Price: Medium to Expensive
Dates: November 25 to December 23, 2022
Seating: Assigned
Parking: There are paid lots and paid street parking. I usually park on Mercer to the West of 1st Ave. There's usually also a lot of street parking around Safeway. If there's an event in Seattle Center or Climate Pledge Arena, street parking is usually limited and much more expensive. In those cases, I'll park further north up on Queen Anne Hill.
Social Media Posts About this Performance from Shows I've Seen: Instagram | TikTok | Facebook | Twitter | YouTube
Buy a Ticket or Learn More:
Other Video +/- Pictures: There are also pictures under the video below.