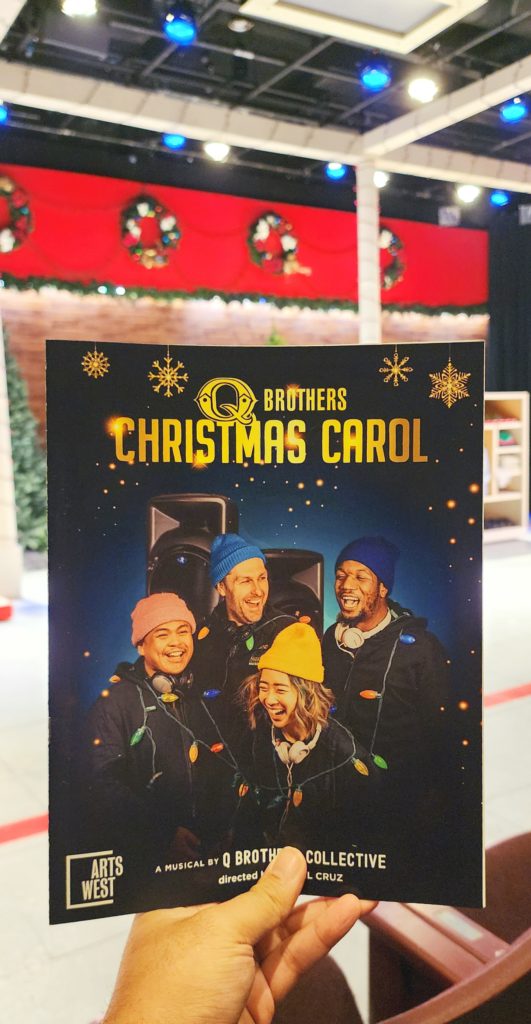 Elevator Thoughts (aka Tweet): Q Brothers Christmas Carol hip hop musical at ArtsWest. Clever lyrics. Funny cast doubling. Loved the pitiful gangsta Tiny Tim segments. Chriss-my-ass-mas! #theatre #rap #christmas #xmas #CharlesDickens #Scrooge #AChristmasCarol
Synopsis from the Theatre: In this hip-hop remix of Dickens' classic tale, Ebenezer Scrooge is visited by the Ghosts of Hip-Hop Past, Present, and Future…and a Jamaican Jacob Marley. As Scrooge is shown the path of rhythm and redemption, will he throw off his selfish chains and join the beat? Q BROTHERS CHRISTMAS CAROL mixes everything from reggae to rock, updating and funkifying this beloved tale of love, forgiveness, and Christmas spirit – and transforming it into something altogether new.
Reviewed Performance: 12/1 Evening
Type: Hip Hop (or Rap?) Musical
World Premiere: No
Live Band/Orchestra: No
Recommendation: See it if 1) you're familiar with A Christmas Carol, 2) you want to see something different than the traditional play of this story, 3) and you like Hamilton, rap, or hip hop.
Would I See It Again 3 Years from Now?: I'd be curious to see Q Brothers from Chicago perform this.
Rating Compared to Other Shows with the Same Production Value:
4.75 Stars (Out of 5 Stars)
Equity Actors: 0 but they were all good
Length: 85 mins
Intermission: No
Other Rave(s) Not Mentioned in Elevator Thoughts
Set and Scenic Design: I'm surprised this is the first time I've seen a show set designed like a department store. It reminded me of Target. However, the story only briefly took place at the department store. Side note, someone should really make play or musical with the story staged mostly in a department store.
Tiny Tim: I'm actually not a fan of the Tiny Tim character in the book or traditional plays. He's usually portrayed as too cute, too sentimental, and too pitiful, which I find really annoying. Similarly, Gretl von Trapp from the Sound of Music annoys me too. I LOVED how this musical poked fun of the traditional Tiny Tip portrayal and depicted him as a pitiful hard rapper in a plush gangsta coat w/ a cane instead of a crutch.
Belle and Young Scrooge: The romantic scenes with Belle and Ben (aka eBENnezer Scrooge) were hilarious especially the parody "Let's Get Fiscal" instead of the Olivia Newton-John song "Let's Get Physical."
Ghost Light: I don't know if it was intentional but it was cleaver using a theatre ghost light-looking prop as part of the ghost of Christmas past segment.
Scrooge Dances: It looked cool when the spirits used their magic to make Scrooge dance
Rant(s)
Pitch: In the first number, I could hear someone going out of pitch, which worried me for what was in store for the rest of the show. Fortunately, those pitch issues eventually resolved after that opening number when the lyrics became more rap-like. Or maybe the offender just needed one song to warm up their voice.
Accompaniment: A live band would significantly elevate this show. Had I known that there was no live band, I might not have given this show a chance since pre-recorded accompaniment tends to make musicals more karaoke-like. Plus, I can usually hear when the singers aren't in-sync with the recorded accompaniment as opposed to a live band making impromptu timing adjustments to follow the singer's rhythm. Despite the recorded accompaniment, I did not notice these two common problems in this show, and I have no regrets attending. It probably helped that the music was hip hop (or rap?) which tends to have more synthesized sounds that don't typically require a traditional musical band. Plus, rappers tend to focus more on rhythm than typical singers in a musical, so synchronization problems are probably less.
Other Thought(s)
Burp: Will someone leave me a comment in my social media links below telling me what the burping thing was in the Cratchit household? Was it their youngest baby? Were they talking about eating it? Thanks Corinne (@tigersandgold) and Hannah (@paintastory) for clarifying in Instagram. Yes, the burps were from their other kid and yes they were talking about eating him. LOL, weird!
Christmas Light Necklace: There were Christmas light necklaces (see my video below) placed on random chairs. It's a fun idea but I was a little confused if we were supposed to wear them during the performance, turn them on during the last number, turn them on after the "curtain call," and/or or take them home as a gift, etc. Let me know your ideas on the intention in my social media comment links below! I think the most fun scenario would have been for the performers to tell the audience during the last song "Let me see your lights yall! If you don't have a necklace, wave your phones in the air!" or something.
Theatre Company : ArtsWest
Venue: ArtsWest
Venue Physical Address: 4711 California Ave SW, Seattle, WA 98116
Price: Cheap to Medium – They have easy pay-what-you-can options in the online ticketing portal so you don't need to shamefully verbally tell the box office you can't afford regular-priced tickets.
Dates: November 25 – December 23, 2022
Seating: Assigned
Parking: There are paid lots and free street parking. I usually park on 44th or 45th Ave behind the theatre.
Social Media Posts About this Performance from Shows I've Seen: Instagram | TikTok | Facebook | Twitter | YouTube
Buy a Ticket or Learn More: