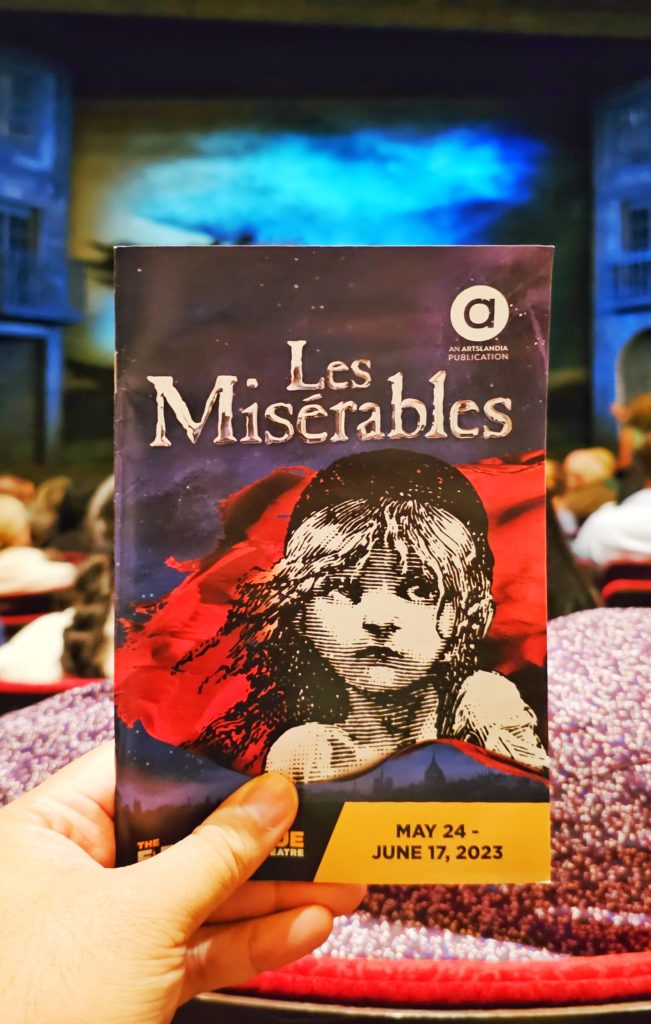 Giveaway: I'm giving away a free ticket to this show. See more details here. Congrats to Anamaria!
Elevator Thoughts (aka Tweet): Les Misérables musical at the 5th Ave Theatre. Glorious, exciting, thrilling, and grand with a diverse cast. Nick Cartell's voice (as Valjean) reminded me of Aaron Tveit.
Synopsis from the Theatre: Cameron Mackintosh presents the acclaimed production of Alain Boublil and Claude-Michel Schönberg's Tony Award®-winning musical phenomenon, Les Misérables. This brilliant staging has taken the world by storm and has been hailed as "Les Mis for the 21st Century" (Huffington Post), "a reborn dream of a production" (Daily Telegraph) and "one of the greatest musicals ever created" (Chicago Tribune). Set against the backdrop of 19th century France, Les Misérables tells an enthralling story of broken dreams and unrequited love, passion, sacrifice, and redemption–a timeless testament to the survival of the human spirit. This epic and uplifting story has become one of the most celebrated musicals in theatrical history. The magnificent score of Les Misérables includes the songs "I Dreamed a Dream," "On My Own," "Bring Him Home," "One Day More," "Master of the House" and many more. Seen by over 130 million people worldwide in 53 countries and 22 languages, Les Misérables is undisputedly one of the world's most popular musicals.
Reviewed Performance: 5/26/23 – Opening Night
Type: Musical
World Premiere: No
Several or Few Scenes: Several
Several or Few Settings/Locations: Several
Prior Exposure/Knowledge Required: No
Defined Plot/Storyline: Yes
Live Band/Orchestra: Yes
Recommendation: See it! – Especially if you like grand musicals like Phantom of the Opera
Was This the First Time I Attended a Production of this Show: No, I saw this 3 times already at the Paramount a couple years ago, a Houston community production (awful), and the movie theater
Would I See It Again 3 Years from Now: I'm not sure … 4 times is already quite a lot for me
Rating Compared to Other Shows with the Same Production Value:
5 stars (Out of 5 Stars) and that's saying a lot since this is not my preferred genre
Equity Actors: All of them
Total Number of Actors: A whooping 40!
Perceived Pace of the Show: Fast, which is surprising for a 3 hour show
Length (Including Any Intermission): 3 hours
Intermission: Yes
Other Rave(s) Not Mentioned in Elevator Thoughts
Glorious Songs: From the prologue's opening moments, this musical was filled with many gloriously-executed songs. I don't remember feeling this impressed at the first Les Mis national tour I attended at the Paramount a couple years ago. It was particularly thrilling when the entire ensemble joined in song, especially in "At the End of the Day," "Lovely Ladies," "Master of the House," "Look Down, "One Day More," "Wedding Chorale," and "Do You Hear the People Sing?"
Voices: Obviously in a national tour, the cast was filled with amazing voices. Many reminded me of golden voices from classic Disney masterpieces. Haley Dortch's (as Fantine) pure voice w/ a slight vibrato in "I Dreamed a Dream" was enchanting. Devin Archer (as Enjolras) showcased his rich voice in "Red and Black." Nick Cartell's voice (as Valjean) reminded me of Aaron Tveit. Kudos on that long last note in "Bring Him Home."
Projections: This production utilized projections well without overdoing it like how Anastasia went overboard on the projections. I like how the actors moved in place while stumbling in the sewers or while marching on the streets as the projection background zoomed in and created the illusion of movement progression. The projections also provided a neat transition from the battleground to the sewers. I loved how actors emerged mysteriously from the projected background from an obscured door in the screen. It took me a while to figure out that stage magic! Additionally, the projections coupled with suspending/flying cables provided novel suicide scene effects.
Shot Scene: They dramatically executed (no pun intended) how one of the lovable characters was shot on the barricade. The lights suddenly converged on the actor, and they fell.
Balcony Scene: Strangely, I don't remember this scene from the last 3 productions I saw. Gregory Lee Rodriguez (as Marius) played a likably-awkward "Romeo" here.
Air Conditioner: Thank you 5th Avenue Theatre for turning the A/C on full blast! 🙂 Coming from Texas (yeehaw!), I hate how stingy Seattle is with the A/C.
Other Musing(s) and Observation(s)
Tatoo: Why didn't Javert look for the chest tattoo on his mistaken Valjean? That's bad detective work.
Ballroom Scene: I wish this musical was more like the bright ballroom scene. But I guess bright scenes don't go well with a show title that literally means "The Miserable Ones."
Cute Kids: Call me a Scrooge but I'm annoyed by overly-cute kids on-stage … even if they're good performers. They remind me of the ridiculously sentimental Tiny Tim from A Christmas Carol. Cute kids on-stage are too pandering to the audience and their cuteness distracts from their performing abilities.
Theatre Company: National Tour
Venue: The 5th Avenue Theatre
Venue Physical Address: 1308 5th Ave, Seattle, WA 98101
Price: Expensive
Ticket Affordability Options: $49 day-of-show rush tickets at the box office are available for in Zones 3, 4, and 5. Contact the theatre directly for organizational discount affiliation possibilities like from your job. Goldstar or TodayTix usually offer good options too.
Dates: May 24 to June 17, 2023
Seating: Assigned Seating
Parking: When I don't walk to the theatre or park on the street, I park in the paid garage at the Motif hotel NW of the theatre. The entrance is on 5th Ave. Do NOT park in the Hilton garage (entrance on 6th ave). That's where most of the audience parks, so it's a nightmare to leave. However, the Hilton garage is the closest garage to the theatre and it has underground access to the theatre if you want to avoid the elements. But this benefit is not worth it in my opinion.
Like/Comment/Share my Social Media Posts About this Performance:
Instagram | TikTok | Twitter | Facebook | YouTube
Buy a Ticket or Learn More:
Other Video +/- Pictures: See pictures in video and under video by Matthew Murphy & Evan Zimmerman for MurphyMade.