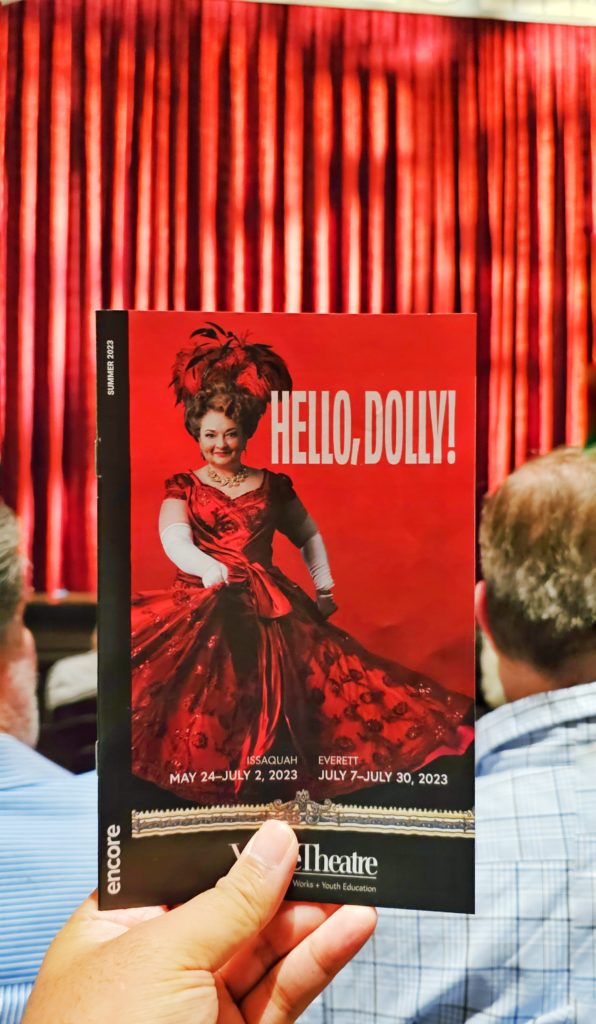 Giveaway: I'm giving away a free ticket to this show. See details here. Congrats Anthony!
Elevator Thoughts (aka Tweet): Hello, Dolly! musical at Village Theatre starring Bobbi Kotula as the iconic matchmaker. Light, classic, traditional musical. Reminiscent of The Music Man.
Synopsis from the Theatre: Starring the incomparable Bobbi Kotula as Dolly Gallagher Levi, Hello, Dolly! triumphantly comes to Village Theatre this summer. Often revered as one of the greatest collections of songs in all of musical theatre history, this legendary musical follows the romantic and comedic exploits of Dolly Gallagher Levi, turn-of-the-century matchmaker and "woman who arranges things." Hello, Dolly! celebrates a brilliant pioneering woman forging her own path in a world that constantly underestimates her. Through a cavalcade of joy, glorious song, and stunning dance, this is classical musical theatre at its best! "Put On Your Sunday Clothes" and catch this definitive musical "Before The Parade Passes By!"
Reviewed Performance: 5/27/23 – Opening Weekend
Type: Musical
World Premiere: No
Several or Few Scenes: Several
Several or Few Settings/Locations: Several
Prior Exposure/Knowledge Required: No
Defined Plot/Storyline: Yes
Live Band/Orchestra: Yes
Recommendation: See it, especially if you like old-timey musicals like The Music Man.
Was This the First Time I Attended a Production of this Show: Yes
Would I See It Again 3 Years from Now: Maybe if it was on Broadway or if it was a national tour
Rating Compared to Other Shows with the Same Production Value:
4 stars (Out of 5 Stars)
Equity Actors: 11
Total Number of Actors: 24
Perceived Pace of the Show: Medium speed
Length (Including Any Intermission): 2.75 hours
Intermission: Yes
Other Rave(s) Not Mentioned in Elevator Thoughts
Business Cards: When Dolly handed business cards throughout the show, it reminded me of Village Theatre's beta musical ZM. I wonder if Hello, Dolly! inspired the hillarious business card bit in ZM.
Advertising Theme: Cary Wong uniquely designed the stage with a vintage advertising theme. I don't think I've ever seen that on-stage. Almost every scene background was designed like a newspaper ad. Coupled with the warm bright lighting, the scenic designed conveyed a wonderful nostalgic feel.
Costumes: Just like the scenic design, the intricate costume design by Esther Garcia transported the audience back to a different era where people actually dressed up … as opposed to "Seattle casual!" See stunning costumes in the pictures at the end of this article.
Favorite Line: As an increasingly-cynical (male) feminist, I loved the line "marriage is a bribe to make a housekeeper think she's a householder."
Other Musing(s) and Observation(s)
Tap Dance: I sooo wish they included a tap dance number in the "Hello, Dolly" theme song. The performers moved their feet as if they were tap dancing but they weren't wearing tap shoes!
Theatre Company: Village Theatre
Venue: Village Theatre
Venue Physical Address:
Issaquah: 303 Front Street North, Issaquah, WA 98027
Everett: 2710 Wetmore Avenue, Everett, WA 98201
Price: Medium
Ticket Affordability Options: Check out their discount tickets page. TodayTix and Goldstar usually offer good options too.
Dates:
Issaquah: May 24 to July 2, 2023
Everett: July 7 to July 30, 2023
Seating: Assigned Seating
Parking:
Issaquah: Free street parking and some free parking lot. Lot parking availablity is pretty difficult to find though. I've basically given up on that. I usually end up parking on Rainier Boulevard North. As a last resort, I think you can always find parking at the library but it's a little far. Remember, there's a bottom floor parking lot under the library's main parking lot that most non-locals don't know about.
Everett: Free street parking and some paid parking lots/garages.
Like/Comment/Share my Social Media Posts About this Performance:
Instagram | TikTok | Twitter | Facebook | YouTube
Buy a Ticket or Learn More:
Other Video +/- Pictures: See pictures in video and under video by Angela Sterling.
@showsiveseen "Hello, #Dolly!" #musical at Village Theatre starring Bobbi Kotula as the iconic #matchmaker. Light, classic, traditional musical. Reminiscent of "The Music Man." Unique vintage ad-themed scenic design by Carey Wong. Directed by Timothy McCuen Piggee. Photos by Angela Sterling. Review: showsiveseen.com/5737 #theatre ♬ Hello, Dolly!