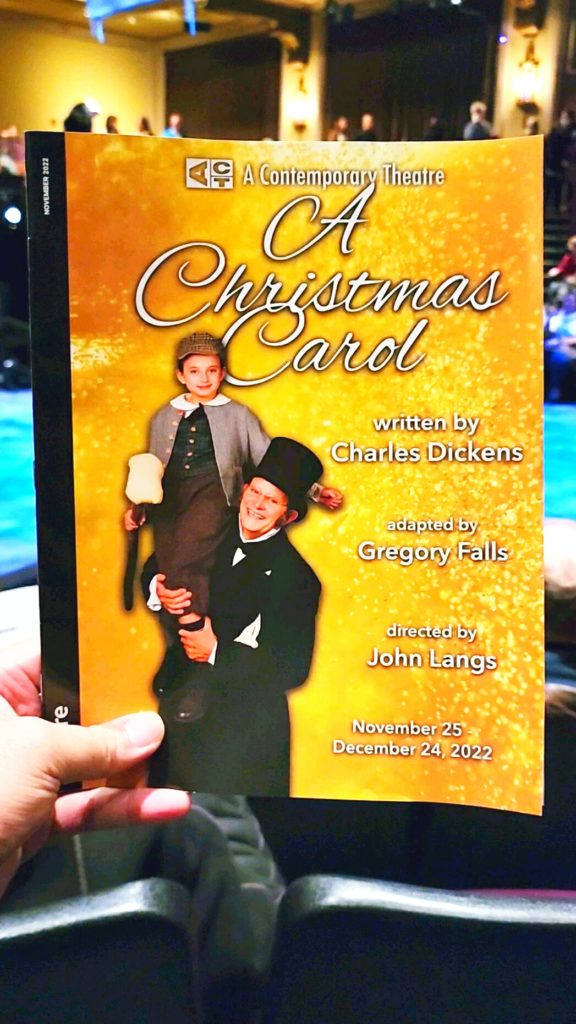 Elevator Thoughts (aka Tweet): A Christmas Carol at ACT Theatre. Play adaptation of the classic Charles Dickens novella. Kudos to young adult Scrooge for tearing up on-demand. Delightfully the angriest old Scrooge I've seen on-stage so far. Bah humbug! #xmas #AChristmasCarol #sentimental
Synopsis from the Theatre: Fill your heart with joy! Charles Dickens' enchanting tale of redemption and compassion as A Christmas Carol comes vividly to life beginning November 25. On a snowy Christmas Eve brimming with memorable characters, ghostly apparitions, and visits to the past, present, and future, miserly Ebenezer Scrooge discovers the joy of charity and redemption. Capture the timeless magic of Dickens' Yuletide classic, proudly returning for the 47th year. Get your tickets now.
Reviewed Performance: 11/27 Evening – Opening Night
Type: Play
World Premiere: No
Live Band/Orchestra: No
Recommendation: See it if you like Christmas plays or if you like traditional productions of this classic story.
Rating Compared to Other Shows with the Same Production Value:
4.5 Stars (Out of 5 Stars)
Equity Actors: 8 actors out of 17
Length: 90 minutes
Intermission: No
Other Rave(s) Not Mentioned in Elevator Thoughts
Singing: I was pleasantly surprised to find singing in this play. While the musical numbers were brief, they were still good.
Floor Entrances: The production used the floor for a couple dramatic entrances/exits like the gaudy accession of "Christmas Present," the creepy crawl of "Want and Ignorance," or the demonic visit from Marley. The gravestone lighting was also a nice dramatic touch.
Rant(s)
"Christmas Past" Set: It would have been nice to see more developed scenic design from the "Christmas Past" segment when they were pointing at specific landmarks. But it's probably hard to do that on an arena stage and not worth the short airtime.
Temperature: My companion and I were so cold and it had nothing to do with Scrooge's demeanor!
B-reel (Added 12/7/22): Unfortunately, ACT Theatre noticed an error in the B-reel used for the TikTok video I made and asked me to either re-edit the my video or take it down. I opted for the latter option as these videos take hours to make and I did not have time to correct their mistake. Sorry readers! But please enjoy their fantastic pictures below.
Other Thought(s)
Scrooge and Cratchit Family: It was kind of creepy that Scrooge identified the names of the Cratchit family when they never met. It was also weird that Scrooge asked to be Tiny Tim's father figure when they also never met.
Theatre Company : ACT Theatre
Venue: Allen Theatre at ACT Theatre
Venue Physical Address: 700 Union St, Seattle, WA 98101
Price: Medium to Expensive
Dates: November 25 to December 24, 2022
Seating: Assigned
Parking: Paid lot or paid street parking. If I don't walk to this theatre, I park in the Convention Center parking lot with the entrance between Seneca and Pike. There is indoor access from the garage to the ACT Theatre going through the convention center.
Social Media Posts About this Performance from Shows I've Seen: Instagram | TikTok | Facebook | Twitter | YouTube
I removed the social media links. See my rant above about the B-reel for an explanation why.
Buy a Ticket or Learn More:
Other Pictures: Pictures are by Truman Buffet Photography.