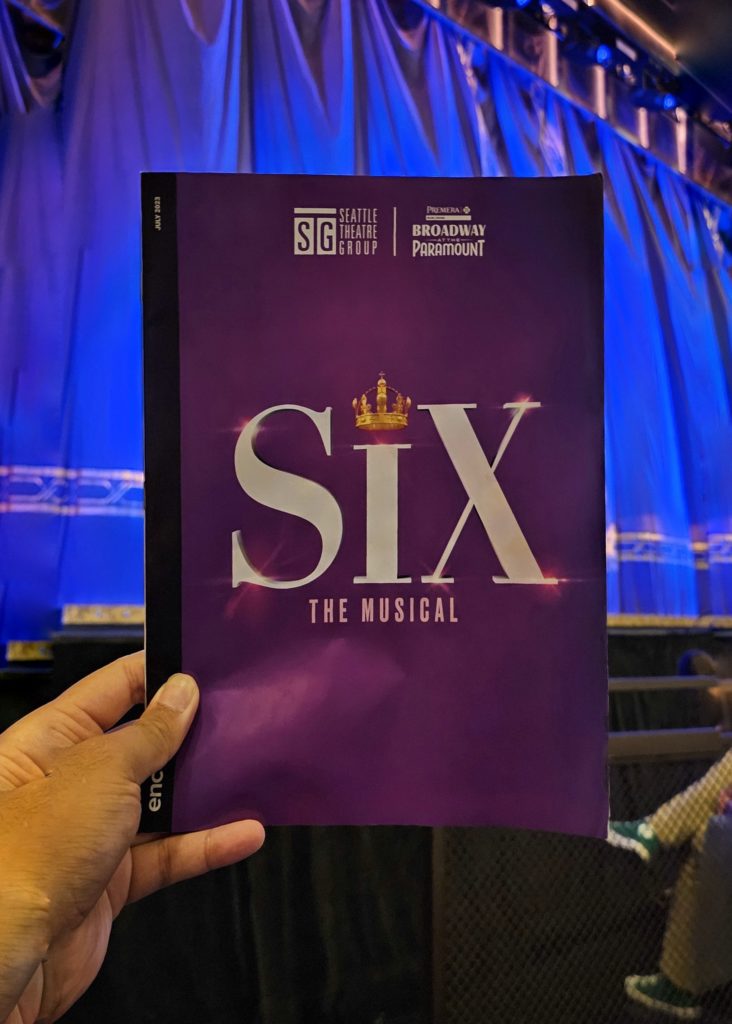 Giveaway: I'm giving away a free ticket to this show. See details here. (Update 7/20/23: Congrats to Rylie!)
Elevator Thoughts (aka Tweet): Amazing seats to Six The Musical by Toby Marlow and Lucy Moss at Seattle Theatre Group and Broadway at the Paramount Theatre. All-female cast/band portray the stories of King Henry VIII's #six queen wives and find individual significance independent of a man. Packed energetic audience. Shoutout to the incredible Khaila Wilcoxon and Storm Lever! #musical #girlPower #Tudor
Synopsis from the Theatre: Divorced, beheaded, died, divorced, beheaded, survived. From Tudor Queens to Pop Icons, the SIX wives of Henry VIII take the microphone to remix five hundred years of historical heartbreak into a Euphoric Celebration of 21st century girl power! This new original musical is the global sensation that everyone is losing their head over!
Reviewed Performance: 7/12/23 – Opening Night
Type: Concert-like Storytelling Musical
World Premiere: No
Several or Few Scenes: Storytelling several scenes
Several or Few Settings/Locations: Storytelling several locations
Prior Exposure/Knowledge Required: You might appreciate this more if you're familiar with King Henry VIII's wives. I personally only knew a little about Anne Boleyn.
Defined Plot/Storyline: Not really, it was 6 queens singing/telling their own separate stories
Live Band/Orchestra: Yes
Recommendation: See it if either you enjoy
Was This the First Time I Attended a Production of this Show: Yes
Would I See It Again 3 Years from Now: Probably not, but it was good
Rating Compared to Other Shows with the Same Production Value:
4 stars (Out of 5 Stars)
Equity Actors: The program didn't mention this, but I'd be surprised if all the actors in a national tour show like this weren't Equity.
Total Number of Actors: 6
Perceived Pace of the Show: Medium to fast
Length (Including Any Intermission): 1.5 hours
Intermission: No
Other Rave(s) Not Mentioned in Elevator Thoughts
Other Musing(s) and Observation(s)
Theatre Company: National Tour with Broadway Across America
Venue: Paramount Theatre
Venue Physical Address: 911 Pine St, Seattle, WA 98101
Price: Medium to Expensive
Ticket Affordability Options: Seattle Theatre Group might partner with an organization you're affiliated with for discount tickets. For example, I believe UW employees and students are eligible for an organization discount.
Dates: July 12 – 23, 2023
Seating: Assigned Seating
Parking: Paid street parking and paid garage parking. The best parking garage is under the convention center w/ the entrance on Pike around the Pike and Terry intersection. Last I checked, this is one of the cheapest, least busy, and closest garages. Alternatively, you can probably find street parking as you move closer to the West Precinct (810 Virginia St, Seattle, WA 98101). Do NOT park where the Paramount subscribers park. Last I checked, they usually park in the garage attached to the Cheesecake Factory. It'll take you at least 30 minutes to exit that garage after the show.
Like/Comment/Share my Social Media Posts About this Performance:
Instagram | TikTok | Twitter | Facebook | YouTube | Threads
Buy a Ticket or Learn More:
Other Video +/- Pictures: See pictures in video and under video by Joan Marcus and Patrick Gray.
@showsiveseen Amazing seats to @SIX 👑 by Toby Marlow & Lucy Moss at @Seattle Theatre Group & Broadway at the Paramount Theatre. All-female cast/band portray the stories of King Henry VIII's #six #queen wives & find individual significance independent of a man. Packed energetic audience. Shoutout to the incredible @Khaila Anye Wilcoxon & @Storm Lever. Photos by Joan Marcus & Patrick Gray. Review: showsiveseen.com/6075 #musical #girlPower #theatre #Tudor ♬ Ex-Wives – SIX