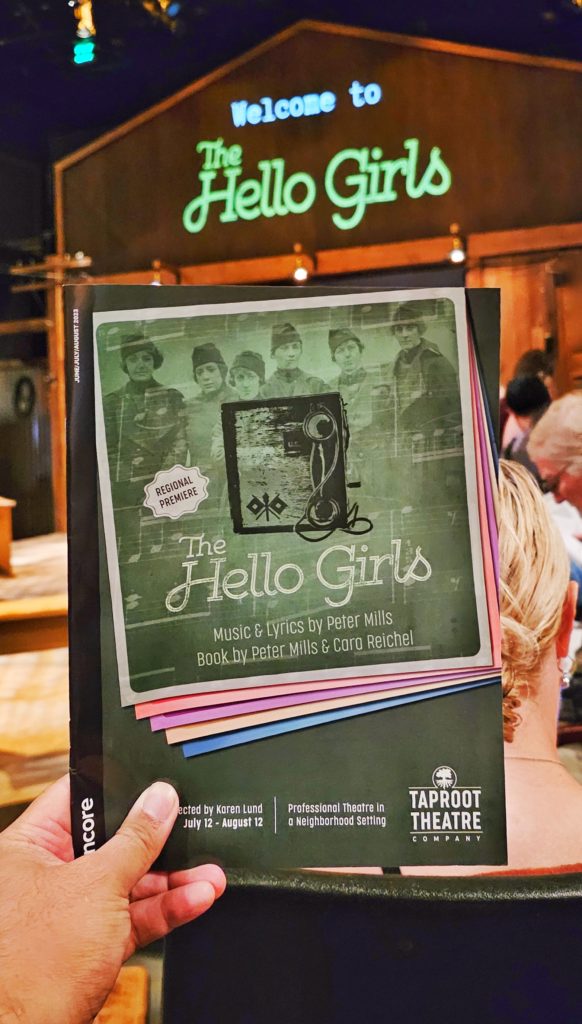 Elevator Thoughts (aka Tweet): The Hello Girls musical by Peter Mills and Cara Reichel at Taproot Theatre. Starring Cassi Q Kohl & Rico Lastrapes. Direction by Karen Lund and musical direction by Michael Nutting. Story about the unsung American female switchboard operators in WWI. #helloGirls #girlPower #war #theatre
Synopsis from the Theatre: "Imagine a time when the world was divided. … A world where freedom is under assault … A world where nationalism is on the rise… We're talking about the year 1918, of course." Helmet, check. Gas Mask, check… Lipstick, check. In this new musical, Grace Banker and her fellow switchboard operators are answering the call when the Bell Battalion Telephonic Ladies' Switchboard Unit #1 makes history as America's first female soldiers.
Reviewed Performance: 7/14/23 – Opening Night
Type: Musical
World Premiere: No
Several or Few Scenes: Several
Several or Few Settings/Locations: Several
Prior Exposure/Knowledge Required: No, but you might appreciate this more if you're a little familiar with World War I.
Defined Plot/Storyline: Yes
Live Band/Orchestra: Yes
Recommendation: See it if you enjoy the specific genre of shows Taproot Theatre tends to produce like A Civil War Christmas, Bright Star, and The Spitfire Grill. You might also enjoy this show if you like women's choral music like Seattle Women's Chorus since there was a lot of female harmonies.
Was This the First Time I Attended a Production of this Show: Yes
Would I See It Again 3 Years from Now: I'd consider another professional production
Rating Compared to Other Shows with the Same Production Value:
4 stars (Out of 5 Stars)
Equity Actors: 2
Total Number of Actors: 10
Perceived Pace of the Show: Medium speed
Length (Including Any Intermission): 2.75 hours
Intermission: Yes
Other Rave(s) Not Mentioned in Elevator Thoughts
Cassi Q Kohl: I didn't even recognize Cassi compared to her recent roles in Cinderella and Miss Step! It goes to show her versatility as an actress.
Other Musing(s) and Observation(s)
Actor Musicians: Some actors in the show also were part of the band. I saw Jeremy Steckler on the bass and Rebecca Cort on the guitar. But I didn't see the other actor musicians listed in the program like Rico Lastrapes on the clarinet, Jeremy Steckler on the guitar, Lauren Engstrom on the keyboard, and Casey Raiha on the keyboard. I wish I could also see these additional actors play their instruments. They were probably hidden in the back due to Taproot Theatre's stage space constraints.
Uniform Purchase Requirement: Did (does) the army really not pay for uniforms? If you're putting yourself in harm's way and contributing a specialized skill to the war effort, the least the government can do is pay for your uniform.
Switchboard: This production would have greatly benefitted from a switchboard prop.
Costume Legs: I've never seen such weird leggings on American military uniforms that resembled culottes or knee breeches. But I guess they're historically accurate since they resembled the pictures Google showed for "World War I American Uniform."

In background: Miranda Antoinette. Left to right: Fune Tautala, Jeremy Steckler, and Casey Raiha in The Hello Girls at Taproot Theatre. Photo by John Ulman.
Theatre Company: Taproot Theatre
Venue: Jewell Mainstage at Taproot Theatre
Venue Physical Address: 204 N 85th St, Seattle, WA 98103
Price: Medium
Ticket Affordability Options: Pay what you can days, GoldStar, and TodayTix.
Dates: July 12 – August 12, 2023
Seating: Assigned Seating
Parking: Paid lot or usually-free street parking. I always find free street parking on Greenwood Ave just South of the theatre.
Like/Comment/Share my Social Media Posts About this Performance:
Instagram | TikTok | Twitter | Facebook | YouTube | Threads
Buy a Ticket or Learn More:
Other Video +/- Pictures: See pictures in video and under video by John Ulman.
Cast and Production Team: See after pictures and video below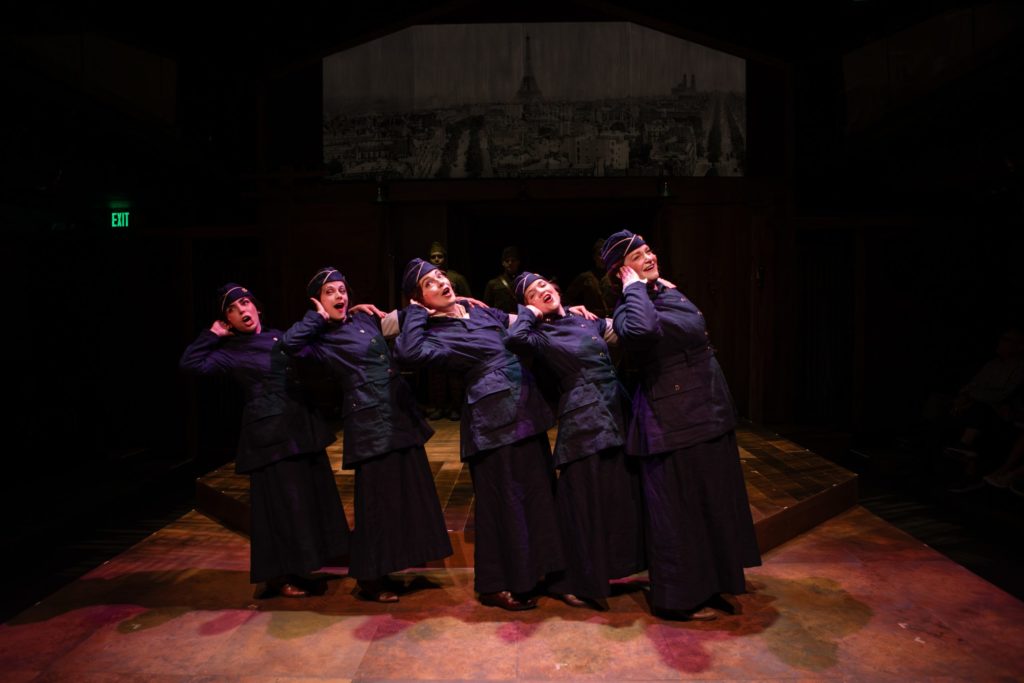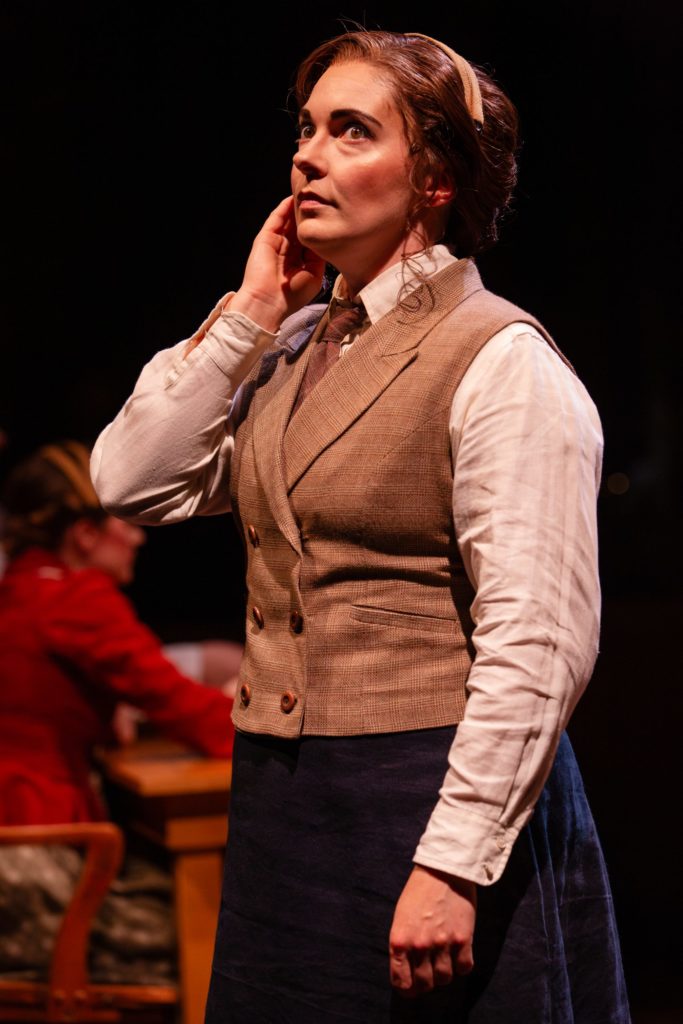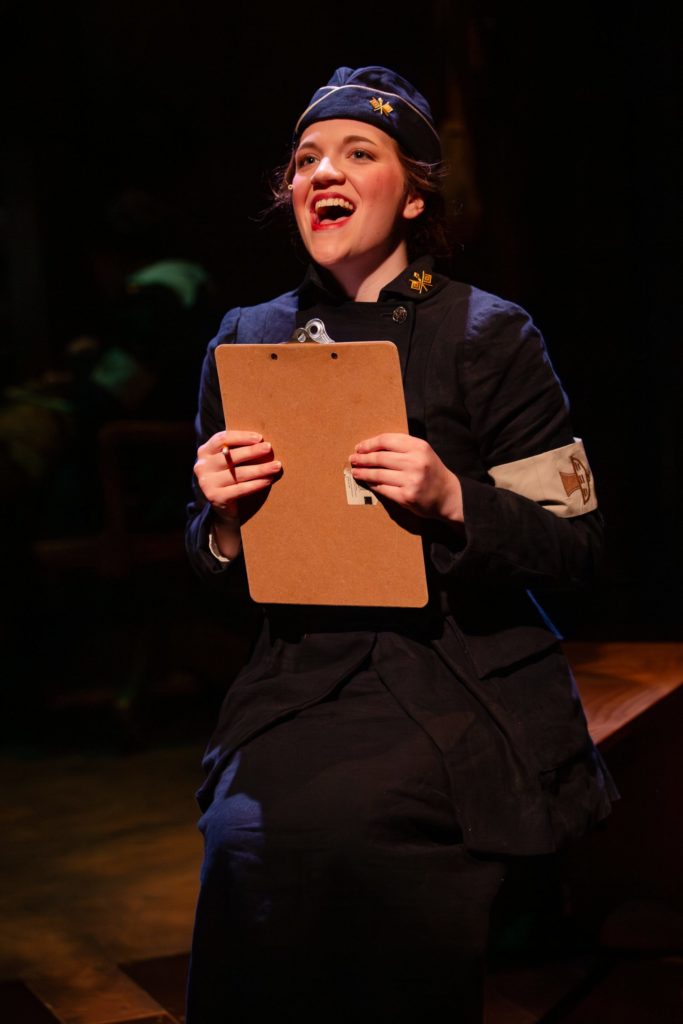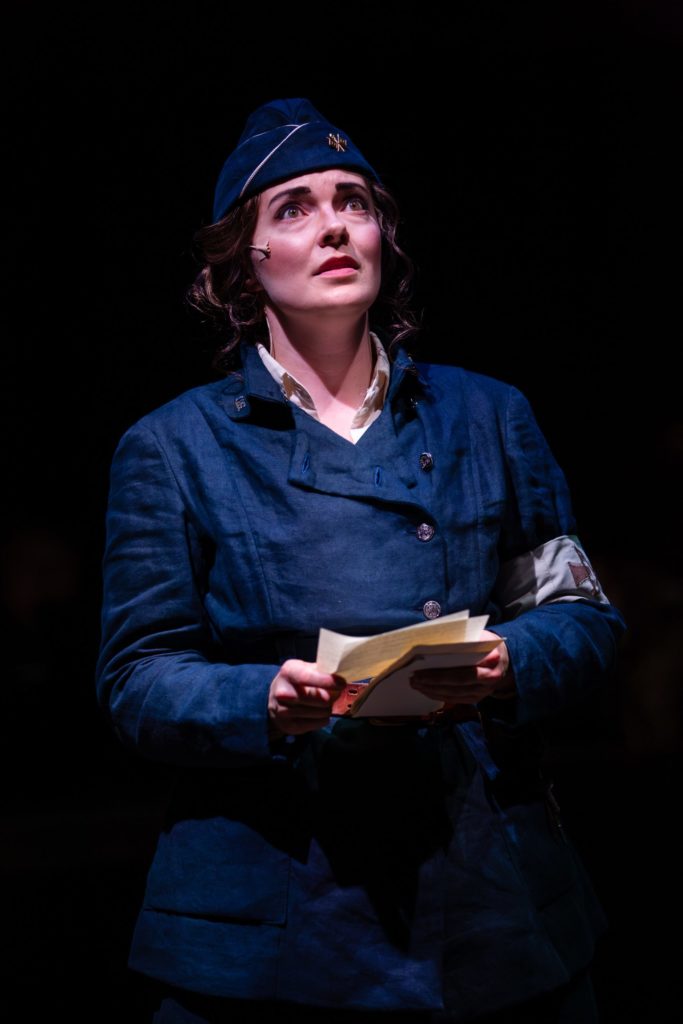 Role

Name

Suzanne Prevot
Rebecca Cort
Helen Hill
Lauren Engstrom
Bertha Hunt
Jessica Ziegelbauer
Louise Lebreton
Miranda Antoinette
Grace Banker
Cassi Q Kohl *
Man 2/PVT Eugen Matterson
Jeremy Steckler
Man 3/Dempsey/Morris/German Soldier
Casey Raiha
Man 1/Wessen/Ackerman/Beaumont
Fune Tautala
Gen. John Pershing
Jeff Church
Cpt. Joseph Riser
Rico Lastrapes *
—
—
Bertha Hunt / Suzanne Prevot (u/s)
Jacqueline Tardanico
Grace Banker / Louise Lebreton (u/s)
Keola Kapulani Holt
Helen Hill (u/s)
Abigail Brittle
Riser / Pershing (u/s)
Brandon Riel
—
—
Plano Conductor
Michael Nutting, David Taylor Gomes
Violin
Jeremy Lynch
Cello
Matthew Tevenan
Drums
Scot Sexton
Bass
Jeremy Steckler
Clarinet
Rico Lastrapes *
Additional Guitar
Rebecca Cort, Jeremy Steckler
Additional Keyboard
Lauren Engstrom, Casey Raiha
—
—
Director
Karen Lund **
Composer and Lyricist
Peter Mills
Playwright
Peter Mills, Cara Reichel
Music Director
Michael Nutting
Associate Director
Bretteney Beverly
Assistant Director
Nik Nolan
Scenic/Sound Designer
Mark Lund
Costume Designer
Nanette Acosta
Lighting Designer
Ahren Buhmann
Choreographer
Katy Tabb **
Stage Manager
Rachel Victoria Miller *
Dramaturg
Rowan Gallagher
Dialect Coach
Marianna de Fazio
*Appearing through on agreement between Taproot Theatre and Actors' Equity Association.
**Members of the Stage Directors and Choreographers Society