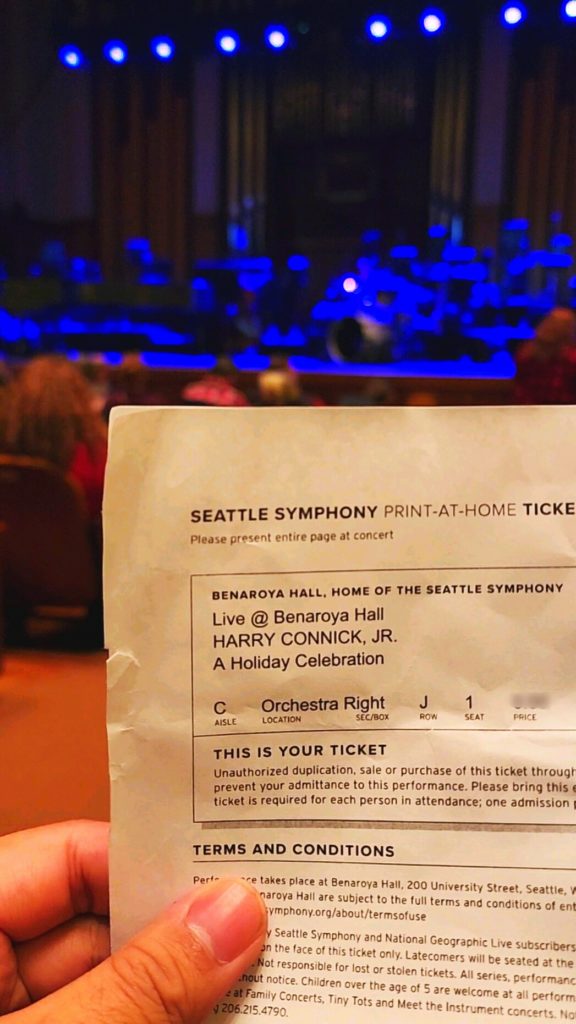 Elevator Thoughts (aka Tweet): Harry Connick Jr's Christmas concert at Benaroya Hall. He's still handsome, talented, & charming as ever. Classic xmas vocal jazz music w/ a novel New Orleans flair!
Synopsis from the Theatre: Harry Connick Jr. invites you to celebrate the holidays with him and his band as 2022 draws to a close. One of the most beloved artists performing holiday music, Harry has been thrilling audiences around the world for decades with his definitive take on Christmas classics, as well as his own originals and fan favorites like "(It Must've Been Ol') Santa Claus" and "When My Heart Finds Christmas." Harry Connick Jr. has exemplified excellence in every aspect of the entertainment world. He has received recognition with multiple Grammy and Emmy Awards as well as Tony nominations for his live and recorded musical performances, his achievements on screens large and small, and his appearances on Broadway as both an actor and a composer. He has sold millions of holiday albums which have become the soundtrack to Christmas for fans around the world.
Reviewed Performance: 12/19 Opening Night
Type: Concert
Live Band/Orchestra: Yes – It included strings, brass/reed, drums, bass, synthesizer(?), and a of course Harry on the piano. The brass section often performed downstage closer to the audience to showcase their talent. The string section actually mostly consisted of Seattle Symphony members!
Recommendation: See it if you're either a fan of Christmas music, Harry Connick Jr, New Orleans music, or jazz.
Was This the First Time I Saw a Production of this Show: Yes, this is the first time I've seen him live.
Would I See It Again 3 Years from Now: Yes
Rating Compared to Other Shows with the Same Production Value:
4.75 Stars (Out of 5 Stars)
Length: 2 hours
Intermission: No but we desperately needed one. Many audience members frequently stepped away mid-concert to use the restroom. I'm not sure how customary it is for concerts to include an intermission though. Michael Buble in the Tacoma Dome did not have one. I don't think Diana Krall at Chateau Ste Michelle Winery did either. However, Norah Jones in Benaroya Hall did include an intermission.
Other Rave(s) Not Mentioned in Elevator Thoughts
Voice: Harry's albums don't do his voice justice. He has a beautiful baritone that's especially rich with a pinch of vocal fry (in a good way) when he sings deeper notes. It was a treat listening to him with Benaroya Hall's superior acoustics.
"Not Boring" Jazz: Unfortunately, jazz has a reputation of being boring. Think of elevator music. Even an episode in The Office said, "There's nothing classier than boring jazz music." Fortunately, the performers kept the audience entertained and this concert didn't fall prey to the common stereotype. The only times I was close to getting bored was during the occasional long intros that jazz is known for.
Harpejji Instrument: Harry introduced many people in the audience to a new instrument that's part guitar and part piano. Imagine percussing your fingers directly on the strings of a tiny piano similar to how you would touch the strings on the neck of a guitar. The result sounds most closely to a guitar. It's possible to even modify the sound with vibrato hand technique that slightly oscillates the pitch. Harry also modified the sound with a wah-wah pedal that makes the harpejji sound funky.
Lighting Design: The colored lights projected on the walls of the stage were a nice festive touch. I don't think these lights are unique to this concert though. If I'm not mistaken, the Seattle Men's Chorus (which I was a part of!) does the same thing for their Christmas concert at Benaroya Hall.
Piano Talent: From the perspective of someone who was classically trained in piano and who sometimes sings while playing the piano, I was struck by Harry's effortless improvisation and his use of the concert grand piano keyboard's entire length. I was also impressed that he maintained complex finger-key technicality while singing without a hitch. I wish there was a good way to see his face and fingers at the same time but you usually get one or the other for piano players … or worse, the back. Speaking of face, it was fascinating to watch him closely track the band members during their solos as he determines when to chime in on the piano. He's not just a pretty face yall! Sometimes God gives with two hands.
New Orleans Flair: The heavy New Orleans big band influence on the repertoire was an innovative way to re-imagine the Christmas theme for those tired of the same old cash cow Christmas songs. It was also a fresh way for Harry to re-invent his jazz sound. I like how he explained New Orleans music. Basically, go heavy on the piano's base keys and sprinkle a little of the right hand like hot sauce … then you can occasionally slam down any couple of notes! I'll be honest, sometimes the piano or band sounded like cacophony at the climactic moments with this music style … in a good way! It's funny how he admitted that neither he nor his Cajun(?) step mom knew what one of the songs ("Papa Noel") was saying.
Drummer: It was entertaining watching Arthur Latin II's talent on the drums. This is coming from someone who typically doesn't find drums that interesting (albeit necessary in modern music). There were times when he was even playing the drums on one hand and the tambourine in the other. Apparently, Neal Caine (the bassist), Harry, and Arthur have been performing together since the 90s.
Charisma: There was a funny segment where Harry graciously stopped someone in the front row from excessively recording. He said something like, "Now I don't mind yall taking occasional videos or pictures but I noticed you've been recording since we've started the concert. You can already make a million dollars off that long footage! Now there's two reasons you shouldn't be recording so much 1) You gotta live in the moment especially when I'm 2 feet away from you! 2) Nobody looks good at the angle you're pointing your phone at me. It's 45 degrees below my face and my ENT doesn't even get to see this much up my nose." He then proceeded to take a selfie with her and mention her name frequently to his rendition of "Blue Christmas."
Audience Participation: Like many other typical Christmas concerts, Harry let the audience sing along with him for one song ("Silent Night"). Of course he had to say Seattle was the best audience he's heard on the tour! Also, at the ending encore, a couple started to dance in the aisle. Harry cheered them on but an usher told them to sit down! 🙁
Song Commentary: Harry's commentary on each of the songs was usually interesting or funny. For example, he remarked how "What Are You Doing New Years Eve" was basically a beta guy about to get turned down. And apparently, Judy Garland's original lyrics to "Have Yourself a Merry Little Christmas" were a downer especially with the line "Until then [Christmas] we'll have to muddle through somehow."
Rant(s)
Spotlight: They were sometimes aimed at the wrong person or mistimed. Maybe we can blame it on a case of the Mondays. What a weird day to host a performance! For theatre folks, Mondays and Tuesdays are basically their weekend.
Beginning: The concert started slightly shaky. Harry seemed a little awkward and not as energetic. Plus, I could hear him and the band slightly not in tune with each other. At least it shows he's not using autotune! After about 2-3 songs, they hit their stride. Again, Mondays!
Missing Favorite Songs: My favorite Harry Connick Jr Christmas songs were missing for the concert set list. I was looking forward to hearing "I'm Gonna Be the First One" and "The Christmas Waltz." To be fair, these are obscure songs in his old albums and he was trying to promote his new one. Although, I'd argue that he could have replaced the non-Christmas concert songs with these two.
Band Singing: It was difficult to hear what the band was singing in "It Must've Been Ole Santa Claus." Maybe they could add an overhead unidirectional microphone above the band for those short moments.
Other Thought(s)
Sheet Music Score: Who composes the score for the band and orchestra? Is it Harry? Let me know in the comments of my social media links below!
Accent: I didn't know Harry had a slight accent and I couldn't place the region. I never noticed it when he was a regular cast member on Will and Grace. Let me know in the comments of my social media links below what you think it is.
Center Band Member: There was a guy at a console centerstage behind Harry between the strings and brass. Sometimes, he would queue the band when Harry did not, which by the way could be difficult with not all band members (especially the bass player) directly facing this mysterious person. What was he playing? I think it was a synthesizer but I could only identify one song with synthesized sound (an organ). Let me know in the comments of my social media links below!
Variety: While this show is billed as a Christmas concert, they performed other styles like New Orleans (as mentioned above), a Jazz standard ("Someday When I'm Awful Low"), & his original blockbuster hit ("It Had to be You").
Set List: Below are the songs I could remember

Sleigh Ride
Santa Claus Is Coming to Town
When My Heart Finds Christmas
It Had to Be You (from the movie When Harry Met Sally… )
The Way You Look Tonight
Blue Christmas
Silent Night
I Pray on Christmas
The Christmas Song (Chestnuts Roasting on an Open Fire)
(It Must've Been Ol') Santa Claus
Please Come Home for Christmas (aka "Bells Will Be Ringing")
Papa Noel
Make it Merry (Title song of his new Christmas album)
Have Yourself a Merry Little Christmas
What are You Doing New Year's Eve
Someday When I'm Awfully Low
A New Orleans-style ending song with lots of colorful instrumentation that I couldn't identify … sorry!
Venue: Benaroya Hall
Venue Physical Address: 200 University St, Seattle, WA 98101
Price: Very Expensive
Dates: Only December 19 – 20, 2022
Seating: Assigned Seating
Parking: I usually walk or transit here especially since the lightrail station is directly underneath Benaroya Hall. Other than that, there's obviously paid garage/street parking since this venue is in downtown. I think the cheapest garage lot is generally the Russell Investments Center garage (1301 2nd Ave #1950, Seattle, WA 98101). I don't recomment parking in the Benaroya Hall garage since it's really expensive and I imagine it takes a long time to exit after a performance.
Like/Comment/Share my Social Media Posts About this Performance:
Instagram | TikTok | Facebook | Twitter | YouTube
Buy a Ticket or Learn More:
Other Video +/- Pictures: Additional pictures under below video are by Nick Klein Photography.