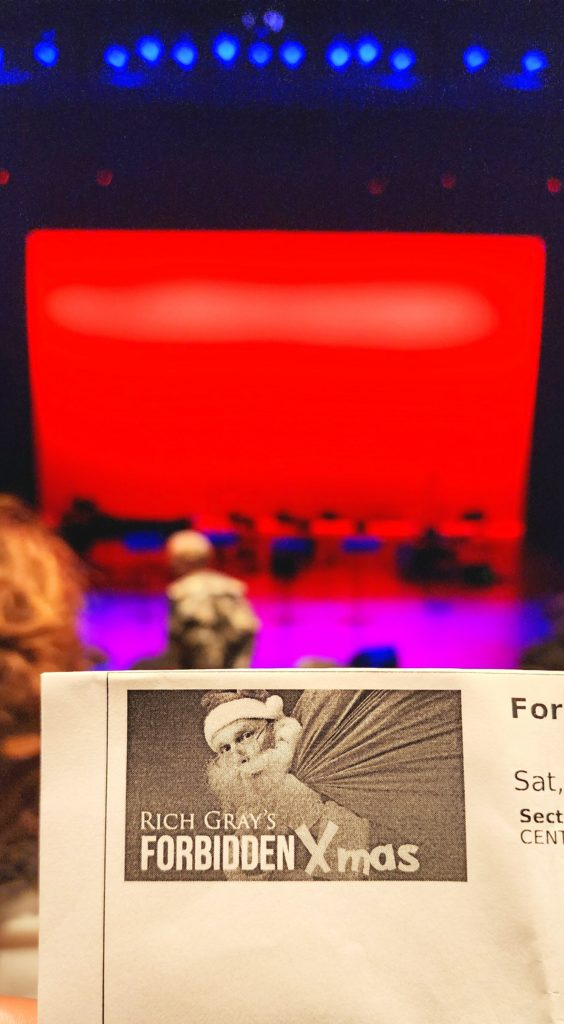 Elevator Thoughts (aka Tweet): Rich Gray's Forbidden Xmas w/ Showtunes Theatre Company at Cornish Playhouse At Seattle Center. Strong vocals in this revival of a satirical #cabaret-like #Christmas concert show celebrating life in #Seattle & #PugetSound. #theatre #PNW
Synopsis from the Theatre: Showtunes brings back a Seattle holiday tradition. Rich Gray's Forbidden Xmas is the perfect pairing for the 2022 holiday season in the northwest. A bit of silly seasonal satire for the whole family. Make this part of your holiday tradition this year. Forbidden Xmas was an annual holiday tradition for many years in Seattle. Written by Seattle's own Rich Gray, this holiday musical parody show is updated to poke fun and celebrate the northwest during the holidays. It's time to bring this hit back to the northwest with some new songs and sketches as well as some of the favorites from its past productions in the 90s. Showtunes brings back Forbidden Xmas to life at Cornish Playhouse this December 17 and 18 with an all-star Seattle cast.
Reviewed Performance: 12/17 Opening Night – THERE ARE ONLY TWO SHOWS in this limited run so buy your ticket today if you want to see this show!
Type: Cabaret-like Concert Show
World Premiere: No – This is an updated revival of an old annual show from the 90s.
Live Band/Orchestra: Yes
Recommendation: See it if 1) you like satirical cabarets with no plot 2) and if you've lived in Seattle for a couple of years. I've lived here for 6 years so I was able to appreciate most of the Seattle references.
Was This the First Time I Saw a Production of this Show: Yes
Rating Compared to Other Shows with the Same Production Value:
4 Stars (Out of 5 Stars)
Equity Actors: The program doesn't mention this but I wouldn't be surprised if all 4 main actors were Equity.
Length: 2 hours
Intermission: Yes
Other Rave(s) Not Mentioned in Elevator Thoughts
Song about Seattle Theatre: As a person who loves to watch musicals about musicals (like The Prom and Something Rotten!), I enjoyed the song that mentioned many Seattle theatre references. It was one of the first songs … maybe "Cash Cow". I'm proud to say that I understood all the sly references and saw all the shows they mentioned that are currently playing! 🙂
Theatre Kids Song: Other than the song mentioned above, I particularly enjoyed "In Her Eyes," which was about how children can still enjoy shows while adults (like me!) nitpick problematic elements.
Favorite Lines: When Jason Kappus said, "I'm gonna drain the ole goose. Honk! Honk!" Or when Billie Wildrick as a caroler greeted, "Wassail!" There was a funny lyric that said Seattle "men smell like moss and Women like it." During a song about Seasonal Affective Disorder (SAD) someone said, "I couldn't help but notice that you're singing in a minor key."
Rant(s)
Off-brand Songs: The show could have done without two songs that were randomly aboutthe Titanic movie and Seattle sports. These two songs felt out of place in a Christmas show. It didn't help that I don't like sports either.
Microphones: Most of the time, all 4 main performers were equally/adequately mic'ed. But I noticed in the beginning that 3 performers drowned out one person. There were also 4 "ensemble" performers who doubled as stage crew. The group microphone that the 4 minor performers shared was effective but when they had to speak/sing several feet away from their group microphone, it was difficult to hear them and it obviously didn't equalize well with the 4 main performers. I suggest giving the 4 ensemble performers microphones when they're not at their main group microphone.
Theatre Company: Showtunes Theatre Company
Venue: Cornish Playhouse
Venue Physical Address: 201 Mercer St, Seattle, WA 98109
Price: Medium
Dates: Only December 17 – 18, 2022
Seating: Assigned Seating
Parking: There are paid lots and paid street parking. I usually park on Mercer to the West of 1st Ave. There's usually also a lot of street parking around Safeway. If there's an event in Seattle Center or Climate Pledge Arena, street parking is usually limited and much more expensive. In those cases, I'll park further north up on Queen Anne Hill.
Like/Comment/Share my Social Media Posts About this Performance:
Instagram | TikTok | Facebook | Twitter | YouTube
Buy a Ticket or Learn More: