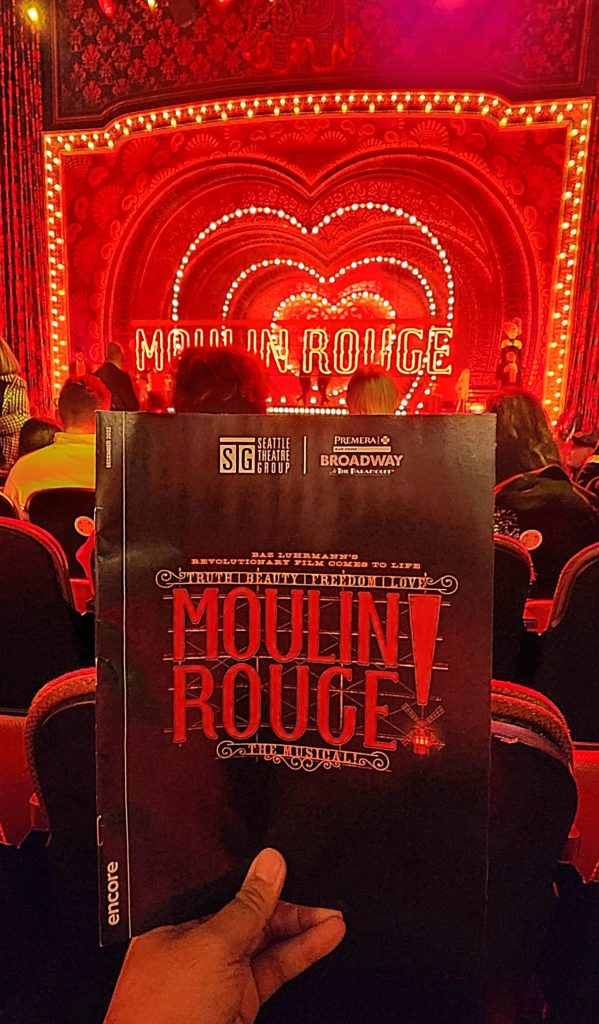 Elevator Thoughts (aka Tweet): Moulin Rouge! The Musical w/ Broadway at The Paramount & Seattle Theatre Group. Ostentatious dazzling scenic design. Fabulous costumes. Endless catchy modern pop culture song mashups not in the movie. Dances set to exciting heart-pounding beats. Truth, beauty, freedom, love! #bohemia #extravaganza #theatre #jukebox
Synopsis from the Theatre: Enter a world of splendor and romance, of eye-popping excess, of glitz, grandeur, and glory! A world where Bohemians and aristocrats rub elbows and revel in electrifying enchantment. Welcome to Moulin Rouge! The Musical! Baz Luhrmann's revolutionary film comes to life onstage, remixed in a new musical mash-up extravaganza. Directed by Tony Award® winner Alex Timbers, Moulin Rouge! The Musical is a theatrical celebration of Truth, Beauty, Freedom, and — above all — Love. With a book by Tony Award® winner John Logan; music supervision, orchestrations, and arrangements by Tony Award® winner Justin Levine; and choreography by Tony Award® winner Sonya Tayeh, Moulin Rouge! is more than a musical — it is a state of mind.
Reviewed Performance: 12/16 Opening Press Night – There were major call outs that required the understudies. Denzel Tsopnang portrayed the Duke, which was usually David Harris. Andrew Brewer portrayed Christian, which was usually Conor Ryan. And Adéa Michelle Sessoms portrayed La Chocolat, which was usually Harper Miles.
Type: Musical
World Premiere: No
Live Band/Orchestra: Yes
Recommendation: See it whether or not you watched the movie. I'm still in awe at how breathtaking and entertaining the show was.
Was This the First Time I Saw a Production of this Show: Yes but I've seen the movie
Would I See It Again 3 Years from Now: Yes!
Rating Compared to Other Shows with the Same Production Value:
5 Stars (Out of 5 Stars)
Equity Actors: The program doesn't mention this but I assume all of them are Equity.
Length: 2.5 hours
Intermission: Yes
Other Rave(s) Not Mentioned in Elevator Thoughts
Song Mashups: I'm simply amazed at the number of pop culture songs they fit into this jukebox musical. They must pay through the nose in royalties! The original classic songs in the movie (like "Diamonds Are a Girl's Best Friend") were outnumbered by reimagined mashups of more modern songs written after the film was released. There were times I couldn't determine if the heavy thump in my chest was from the orchestra's strong driving beat or my excitement from hearing songs like Britney Spears's "Toxic" and Lady Gaga's "Bad Romance." The chorus in Katy Perry's "Firework" was also particularly spectacular. A couple other favorites include Adele's "Rolling in the Deep," Regina Spektor's "Fidelity," Natalie Imbruglia's "Torn," & Sia's "Chandelier."
Scenic Designs: Gorgeous, stunning, gaudy, and glamorous! There were lots of diamonds, hearts, and saturated colors everywhere. At times, it felt like Valentines Day and Lisa Frank exploded on stage … in a good way! The sets of the Parisian scenes outside the Moulin Rouge establishment were starkly opposite and it definitely shows the range of talent from the scenic designers.
Male Lead Understudy: Andrew Brewer, the understudy for Christian, had such a nice voice.
Opening Scene: The performers effectively hooked the audience early on with the glitz and glamour of the Moulin Rouge establishment. This is in contrast to other musicals like Wicked and The Wiz that honestly start out a little boring.
Absinthe: Novel green-lit props showed absinthe's eerie properties and the amount the characters consumed.
Breakup Scene: Maybe it's the "Mean Girl" in me but the way Satine (Courtney Reed) cut Christian at the knees for his safety was particularly delicious.
Costumes: They were extravagant, interesting, and intricate. Two favorites were the tuxedo tutu dresses and the headpiece that looked like fallopian tubes.
Favorite Lines: A couple include "Gaga ooo la la? Hmmm … we might want to rethink that" and "I want to make desperate love to each and every one of you." The double entendre scene where Satine was talking about sex while Christian was talking about singing was also particularly funny. When Baby Doll replied, "Tell me about it" to Satine saying, "This corset hurts like hell, I'm all tied down," were they making a drag queen joke about tucking? Let me know in my social media links below!
Rant(s)
Trumpets: The actors playing the trumpets should make it look more realistic.
"Shut Up and Dance" Song: I was pleasantly surprised to hear them include this Walk the Moon song in the Moulin Rouge! The Musical repertoire since it's often played in my car playlist. But I was a little disappointed with the weak execution. I think it's an inherant problem with the composition since the original Broadway cast recording of this song sounds weak too.
Other Thought(s)
Tuberculosis: As a healthcare professional especially in the COVID era, I couldn't stop thinking about how Satine was just spreading her consumption to all her friends. Mask up gurl!
Sword Trick: What stage magic allowed the actors to swallow swords in the beginning? Leave a comment in my social media links below if you have any ideas!
Theatre Company: Broadway Across America Tour and Seattle Theatre Group
Venue: Paramount Theatre
Venue Physical Address: 911 Pine St, Seattle, WA 98101
Price: Expensive
Dates: Dec 14, 2022 – Jan 1, 2023
Seating: Assigned Seating
Parking: Paid street parking and paid garage parking. The best parking garage is under the convention center w/ the entrance on Pike around the Pike and Terry intersection. Last I checked, this is one of the cheapest, least busy, and closest garages. Alternatively, you can probably find street parking as you get closer to the West Precinct (810 Virginia St, Seattle, WA 98101). Do NOT park where the Paramount subscribers park. Last I checked, the usually park in the garage attached to the Cheesecake Factory. It'll take you at least 30 minutes to exit that garage after the show.
Like/Comment/Share my Social Media Posts About this Performance:
Instagram | TikTok | Facebook | Twitter | YouTube
Buy a Ticket or Learn More:
Other Video +/- Pictures: There are additional picture under below video below.