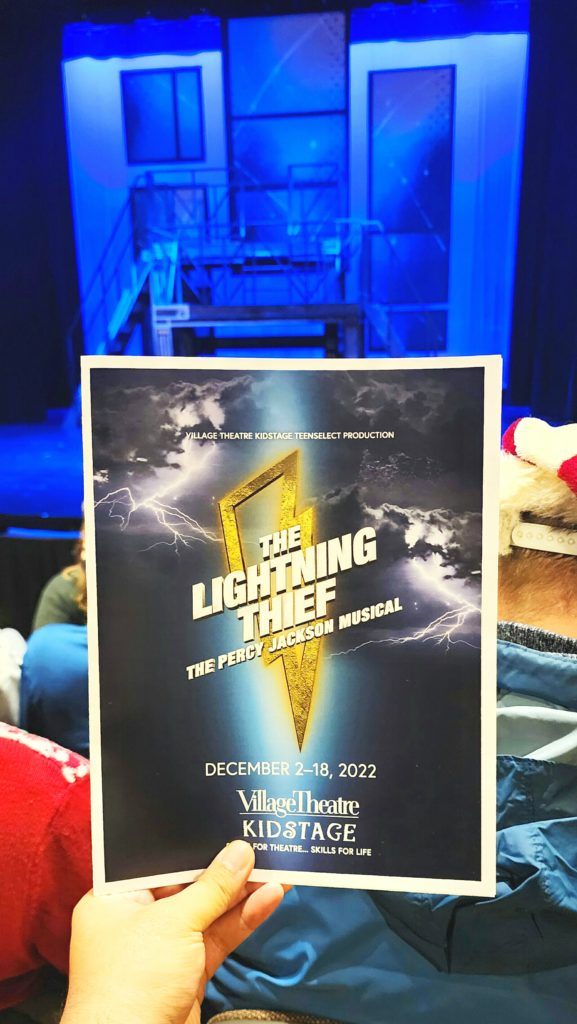 Elevator Thoughts (aka Tweet): The Lightning Thief: The Percy Jackson Musical at Village Theatre by developing youth actors. Interesting to see how a 6-7 person show works w/ 15 people. Favorite line was something like "He met a fury. No you're a furry!" #percyJackson #greekMythology #musical #theatre
Synopsis from the Theatre: As the half-blood son of a Greek god, Percy Jackson has newly discovered powers he can't control, a destiny he doesn't want, and a mythology textbook's worth of monsters on his trail. When Zeus's master lightning bolt is stolen and Percy becomes the prime suspect, he has to find and return the bolt to prove his innocence and prevent a war between the gods. To succeed on his quest, Percy will have to do more than catch the thief. He must travel to the Underworld and back; solve the riddle of the Oracle, which warns him of betrayal by a friend; and come to terms with the father who abandoned him. Adapted from the best-selling book The Lightning Thief by Rick Riordan and featuring a thrilling original rock score, The Lightning Thief: The Percy Jackson Musical is an action-packed mythical adventure "worthy of the gods" (Time Out New York). –Concord Theatricals
Type: Musical
World Premiere: No
Live Band/Orchestra: Yes
Recommendation: See it if you like supporting developing actors in high school. Many talented major Seattle actors participated in Village Theatre's Kidstage program growing up. For example, I think the Kataka Corn, who played Dorothy (lead role) in 5th Ave Theatre's The Wiz, is a Village Theatre Kidstage alumnus.
Would I See It Again 3 Years from Now?: Yes if it was an Equity production. This is actually the second time I've seen this musical. The first time was the national tour.
Equity Actors: 0
Length: 2 hours
Intermission: Yes
Other Rave(s) Not Mentioned in Elevator Thoughts
Playbill: Loved their new upgraded glossy playbill. In the past, Village Theatre Kidstage productions didn't print color graphics or actor headshots.
Favorite Actors: Powerful steady voice from Mia Basulto (Clarisse – Ares' Daughter) and good acting from River DeJong (Ares/Gabe/Ensemble)
Other Thought(s)
Deviations from the Original Productions: Did the tour or original production refer to the Oracle as a "mummy?" I don't remember that. Was the Medusa scene in the original productions or was that a new?
Theatre Company: Village Theatre Kidstage
Venue: Village Theatre First Stage
Venue Physical Address: 120 Front St N, Issaquah, WA 98027
Price: Cheap
Dates: December 2 to December 18, 2022
Seating: Assigned Seating
Parking: Free street parking and free lot parking. If you park in the lot, make sure the spot is not reserved for a business. As a last resort, I think you can always find parking at the library (10 W Sunset Way, Issaquah, WA 98027) but it's a little far. Remember, there's a bottom floor parking lot under the library's main parking lot that most non-locals don't know about.
Like/Comment/Share my Social Media Posts About this Performance:
Instagram | TikTok | Facebook | Twitter | YouTube
Buy a Ticket or Learn More: